Smooth, soothing and cooling water chestnut egg dessert – it's the perfect easy and quick cooking tong sui (Chinese dessert) to beat the heat.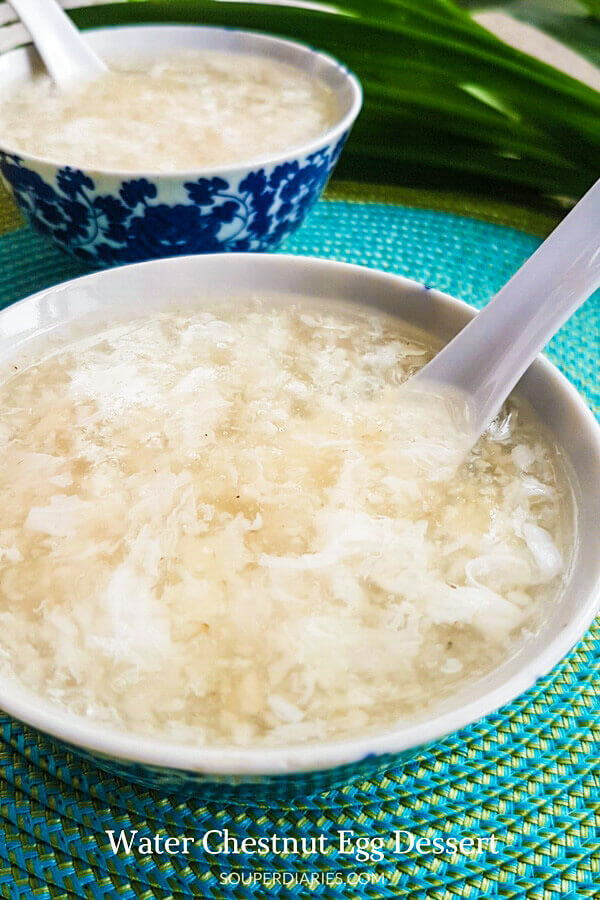 Ipoh, Malaysia is famous for its awesome food such as nga choy kai (bean sprouts chicken), salt baked chicken and white coffee, to name a few. I love the ubiquitous leong sui and desserts sold at the hawker food stalls. During one of my short trips there, I ordered a mah tai kang – a dessert of chopped water chestnuts and egg flowers but instead I was served a water chestnut drink.
Although I was slightly disappointed, it did not last long as I had a most wonderful lunch. My friend and I ate noodles with zhao liu – deep fried fish paste stuffed in an assortment of vegetables. Simple fare but oh so satisfying!
It was not long after I returned to Singapore that I decided to cook this water chestnut egg dessert to satisfy my craving. It isn't hard at all. The 'hardest' part was peeling the water chestnuts (if you detest peeling water chestnuts like I do). The thought of the yummy dessert that I would be having soon kept me going.
Fresh water chestnuts are widely available throughout the year. Wash the water chestnuts thoroughly if you're buying those covered in dirt. I found it necessary to scrub them to remove the stubborn mud.
The main ingredients for this dessert are the water chestnuts, rock sugar and egg white. The rest are optional. If you can't find water chestnut flour where you live, substitute with corn flour to thicken the dessert.
Water chestnuts can be eaten fresh or cooked in a variety of dishes from stir-fries to wontons, steamed meat patties to drinks and desserts. They are common in Chinese cuisine and pair very well with meat and other vegetables due to its crunchy texture and sweet taste.
I minced the water chestnuts finely for this dessert. If you don't like to munch on water chestnut bits, cut them up into big pieces.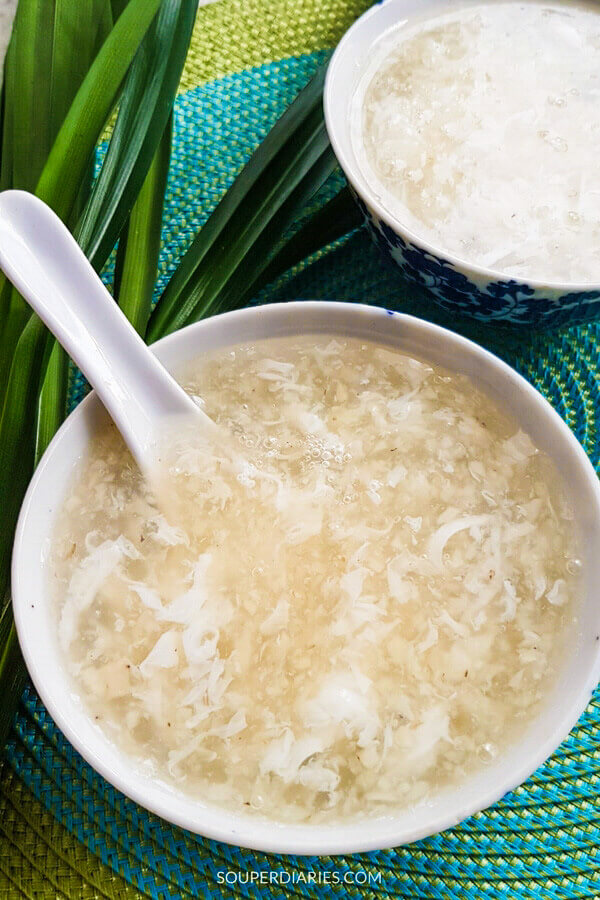 This water chestnut egg dessert is delicately sweet with a hint of 'egginess'. Serve it warm or chilled. Both are equally delicious. Enjoy!
Don't want to miss a recipe? Sign up for Souper Diaries newsletter delivered to your inbox! Connect with me on Facebook, Instagram, Pinterest, Twitter and Google+ for the latest updates. ?

Water Chestnut Egg Dessert
Ingredients
8 water chestnuts (about 250 g)
110 g rock sugar (or to taste)
3 tbsp water chestnut powder - mix with 4 tbsp water
3 egg white - beaten (use 2 eggs if they're large eggs)
5 pandan leaves - tie into a knot
2 tbsp small sago seeds (optional)
4 cups water
Instructions
Bring a small pot of water to a boil and cook the sago seeds till translucent. Refer to this post for full instructions.
Wash and scrub the water chestnuts thoroughly until the water runs clear. Peel and mince finely. (see note)
Bring water to a boil in a small pot together with the pandan leaves. Let simmer for about 5 minutes. Remove pandan leaves.
Add minced water chestnuts, sugar and chestnut powder mixture. Mix well and let simmer for 5 minutes.
Turn off heat. Swirl in the egg white and stir with a ladle. Cover lid for about 1 to 2 minutes. Spoon in the cooked sago. Serve warm or chilled.
Cooking Notes
1. Cut the water chestnuts coarsely if you prefer them to be in bigger pieces.