It's not hard to learn how to make wonton soup. This simple shrimp pork wonton soup recipe is so satisfying and comforting, especially on a cold, rainy day. I may be biased, but I think homemade wontons are simply so much better than those you eat outside!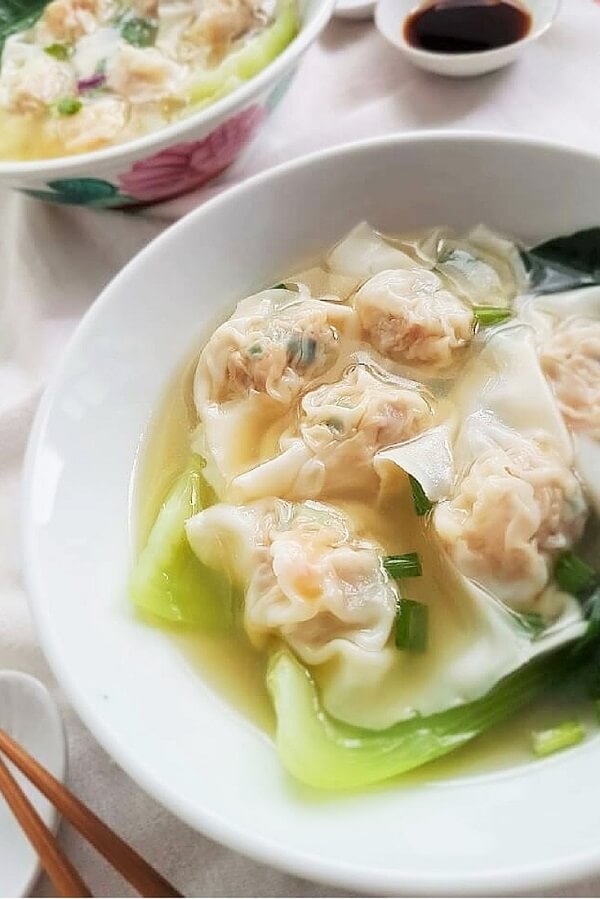 Making wontons may seem like a daunting task for those who haven't tried it before. It may be a slow process in the beginning when learning to make homemade wontons.
But once you get the hang of it, you may find that half the fun is in wrapping these cute little wontons. At least it was for me. I personally enjoy wrapping wontons and I find it a relaxing process.
Let's go through the steps in making a wonton soup.
1. Make the Wonton Filling
2. Wrapping Wontons
3. Prepare Wonton Soup
4. Boil Wontons
1. Make Wonton Filling
There are many types of ingredients that you can use for the filling but the classic combination of minced pork and shrimp will not go wrong. The amount of filling may seem very little in this recipe but it was enough for me to make 23 medium sized wontons.
I personally like a filling with shrimps so for this wonton recipe, I used a ratio of 2:1 for the shrimp to minced pork. Minced pork is included to bind all the ingredients together. It also enhances the flavor of the wontons.
When using shrimps in wonton fillings, it is better to cut them into pieces than to mince them so that the texture of the shrimp will not be lost. I love biting into the juicy shrimps when eating wontons. Fresh raw shrimps are the best choice but if you don't have time, frozen ones can be used too.
The addition of chopped water chestnuts adds natural sweetness and some crunch to the wontons. Trust me, they are so good! I also added a bit of minced ginger and chopped spring onions to the mixture.
2. Wrapping Wontons
So there are many different ways to wrap a wonton. This shape that I wrapped is a classic one and I call it the ingot. It is really easy to make and is great for a beginner to learn. See the recipe below for instructions on how to fold them.
Related post: How to Wrap Wontons (Ingot, Fish, Purse-Shaped and More)
Now let's talk about wonton wrappers.
Thick Wonton Wrappers vs Thin Wonton Wrappers
Other than the shape of the wonton wrappers (round or square), look out also for the thickness. Choose thin wrappers when making a wonton soup. With thin wonton wrappers, when you bite onto the wontons, you will taste more of the wonton filling rather than thick, doughy skin. Plus, they look so pretty with their soft, airy skins floating in the soup.
You can see from the photo above the difference between thick and thin wonton wrappers. Notice how the thin wonton wrappers look almost like a block of tofu from the side because they're so thin. The thicker wonton skins on the right would be more suitable for fried wontons.
Having said that, wrapping with thin wonton wrappers will be more fiddly as it is very delicate. You'll need to take extra care when handling them to avoid tearing the skins. Once you have wrapped about ten, cover them with a cheesecloth or damp towel to prevent them from drying out.
There was once after I wrapped a batch of wontons and I left them on a metal plate to have a quick lunch. When I returned, I notice to my dismay that most of them were starting to stick to the plate.
Consequently, I observed that the wrapped wontons did not stick much on a wooden surface compared to metal plates. So if you have a wooden chopping board, try to line them up there to prevent them from sticking.
Tip: To freeze wontons for another day, line a tray or baking sheet with parchment paper or wax paper (this prevents the wontons from sticking) and flash freeze for 1 hour or until they are partially hardened. Then transfer them to a freezer bag.
3. Prepare Wonton Soup
The wonton itself is already very flavorful so I prefer to use a mild and light wonton soup base. That way, the soup will not overwhelm the wontons. I used homemade chicken stock for this recipe and lightly seasoned it with light soy sauce and some sea salt. You can also use store-bought stock but try to get organic low-sodium ones.
I like having some leafy vegetables in my wonton soup and I used baby bok choy to add a little crunch and texture. Get the soup going while you're boiling the wontons. They both take a short time to cook. When your wontons are ready, pour the hot soup over them in a bowl. Wonton soup is best enjoyed immediately once cooked.
4. Boil Wontons
Boil the wontons in a separate pot so that the wonton soup does not turn cloudy and starchy. I used my Happycall Alumite Pot to cook them. Take care not to overcook the wontons. If not, the skin will become overly soft and mushy and will not taste good. Using a kitchen timer is a must for me.
These wontons wrapped with thin wonton wrappers will take about 4 – 5 minutes to cook on medium-high heat. Once they start to float, take one out. Break it apart and check whether it is fully cooked. If it is, remove the rest of the wontons immediately.
This simple wonton soup recipe can be eaten as an appetizer or a main meal. Feel free to double or triple the recipe portion. If you find wrapping a big batch of wontons a chore, get your family members to help you. Or watch the tv while doing it!
Freeze any unused wontons in a container for a quick weekday lunch or dinner. Use this recipe to make wontons for a wonton soup or to deep-fry. Remember to use the thicker wonton wrappers if you wish to fry them.
Tip: To cook frozen wontons (whether boiled or deep-fried), cook them right out of the freezer. Do not thaw. They'll take slightly longer to cook compared to freshly made wontons.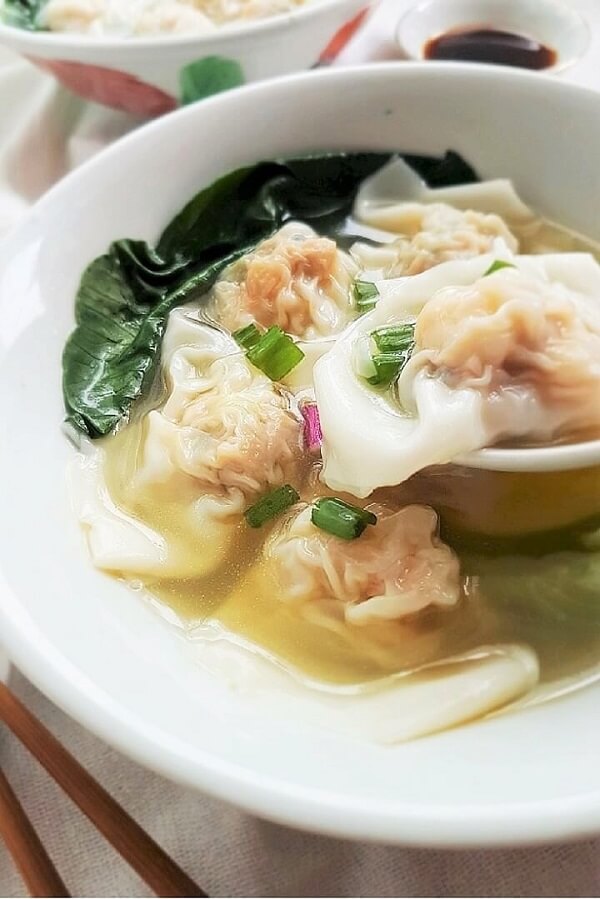 Yummm…. this bowl of wonton soup was SO delicious and satisfying. It was good to the last drop. The warm chicken broth complemented the tasty wontons very well. If you try this recipe and like it, please share it on your social media and tag #souperdiaries. I would love to see your pictures! 🙂
Don't want to miss another recipe? Subscribe to Souper Diaries to get the latest updates and recipes delivered to your inbox. Let's connect on Facebook, Instagram, Pinterest, Twitter and Google+! See you soon and happy cooking!

Shrimp Pork Wonton Soup
Wonton soup with prawn and pork filling. This recipe makes 23 medium sized wontons.
Recipe type:
Quick Soup Recipes
Ingredients
Wonton Filling
100 g peeled and deveined large shrimps (7 shrimps) - each chopped into 1 cm pieces
50 g minced pork (with slight fat)
3 tbsp chopped spring onions
2 packed tbsp of minced cilantro leaves and stems
2 tbsp chopped water chestnuts
¾ tbsp light soy sauce
¾ tsp salt
1 tsp minced ginger
1 tbsp sesame oil
1 tsp cornstarch
Pinch of ground white pepper
23 square thin wonton wrappers
Broth
4 cups chicken stock (homemade chicken stock or store-bought low-sodium chicken stock)
Baby bok choy (3-4 leafs per bowl)
Light soy sauce - 1 tsp or to taste
2 garlic cloves - smashed
Sea salt - to taste
8 stalks of spring onions - tear into half
Chopped spring onions and cilantro leaves for garnishing
Instructions
Combine all the ingredients for wonton filling in a bowl and mix well with chopsticks/spoon. The mixture should be slightly sticky. Before wrapping the wontons, get ready the following items on a flat work area: a small bowl of water, a cheesecloth or damp small towel, the wonton wrappers, 1 kitchen paper (to wipe your fingers) and a large plate/tray to put your wrapped wontons.

Wash your hands and towel dry. To wrap wontons, take a piece of wonton skin and place it on your hand or on a flat surface. Dab a little water on the top half of the wonton edge. Take about a tsp of the pork mixture and put in in the center of the wonton skin. Not too much filling or it will be harder to wrap.

Fold into a half and smooth out any air pockets. Then dab a little water on the bottom left of the wonton. The water acts like glue to seal the wonton skin.

Hold both sides and fold them to the center. Press on the bottom of the wonton firmly to seal it up.

Cover the wontons with a cheesecloth or a damp clean cloth to prevent them from drying up if you are not cooking them immediately after wrapping. Keep any unused wontons in an airtight container in the fridge and use within 1 day.

To prepare wontons, bring water to a boil in a wide pot. Add the baby bok choy and blanch for about a minute. Remove and arrange into individual serving bowls.

Gently put in the wontons and boil on medium-high heat for about 4 minutes. When they start to float, take one out and open it with spoon/chopsticks. If it is fully cooked, remove the rest of the wontons immediately and portion them on top of the bok choy. If not, boil for another minute or so.

To prepare the wonton soup, heat up chicken stock in a pot. Add the spring onion stalks together with the smashed garlic cloves. When it boils, remove the spring onions. You can leave the garlic in if you wish. Season with sea salt and light soy sauce. Turn off the heat. Sprinkle with chopped spring onions and parsley leaves. Then pour the hot chicken stock into the bowls. Finish with a drizzle of sesame oil. Serve hot.
Cooking Notes
1. If you make a big batch of wontons, freeze uncooked wontons by wrapping the tray/plate of wontons with a plastic bag and leave them in the freezer. Once they are completely frozen, transfer them into a ziplock bag. They can be kept in the freezer for about a month.

2. To store leftover wonton wrappers, seal them in the packaging they're in tightly and keep in a container (or wrap with newspaper) inside the fridge for up to a week. Or freeze them and thaw before using the next time.