What is a thermal cooker and thermal cooking?
The short. Think crock pot but cordless and non-electric.
A thermal cooker is a cooking appliance that slow cooks like a crock pot but without requiring constant electricity. It uses vacuum insulation to trap heat from the inner pot of the thermal cooker and then completes the cooking process without any gas or electricity.
Thermal cooking allows the full release of flavors by slow cooking with trapped heat in an insulated cooker. This prevents ingredients from burning and ensures meat and vegetables retain their shape and color.
The objective of a thermal cooker and thermal cooking is to cook with minimal power and zero supervision. This translates to savings in time, gas and money.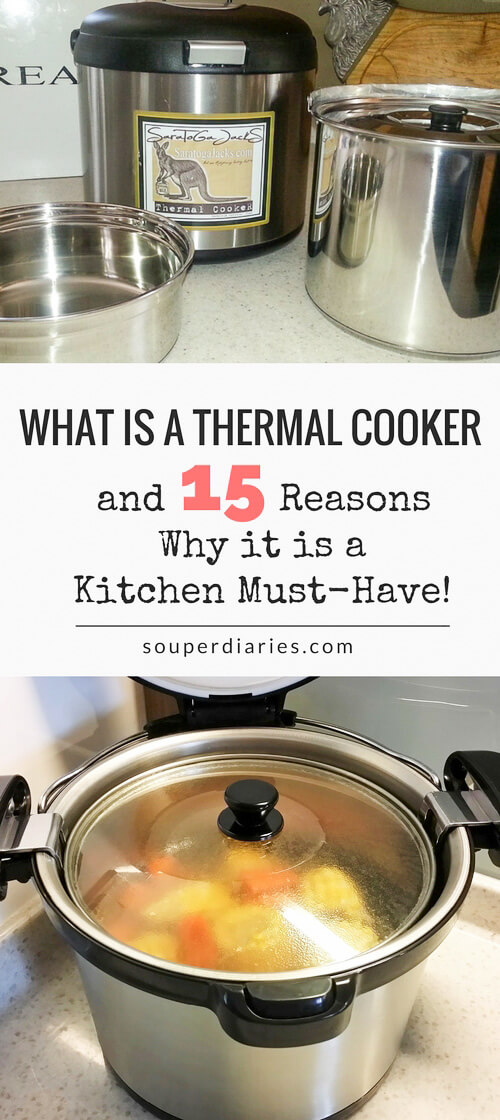 History of Thermal Cooking
The concept of thermal cooking is not new. It dates back to the medieval period in Europe. In the past, thermal cooking was made possible by heating a pot of food over fire before placing the pot into another larger pot or hole which is insulated with hay, moss and dry leaves and then covered.
Modern thermal cookers today retain the same cooking principles but with improvements in technology, they are much more convenient to use. They consist of two pots; an inner stainless steel pot contained within an outer insulated container. Some thermal cookers have a second inner pan for cooking a separate dish simultaneously.
How does a thermal cooker work?
To simplify how to cook with a thermal cooker, ingredients are first brought to a full boil before placing the inner pot into the outer container of a thermal cooker. Once the lid is put on for both the inner and outer pots, residual heat inside will allow all the ingredients to continue cooking slowly on its own.

How to Use a Thermal Cooker
Here are pictures of a chicken stew with mushrooms and potatoes that I made in the thermal cooker for the first time. I browned some chicken and garlic in the pot before adding mushrooms, potatoes, seasoning and water.
I realized that I could've put in more ingredients to fill up the pot more so I was concerned that the dish would not turn out well. As you can see in the picture, it was only about 1/3 full. I went ahead with the cooking as I was curious to know the final outcome.
The cooked stew after 2 hours. I was surprised and very pleased that the chicken was soft and the mushrooms (which were the thick meaty kinds) retained a good bite and were tasty. The potatoes were a little too soft for my liking but my kids loved it.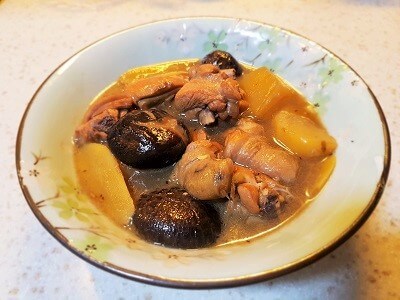 How to Cook Safely and Successfully with a Thermal Cooker
From what I've learned so far, the basic techniques to cook successfully in a thermal cooker include:
1. Fuller pot = More Efficient Cooking
The fuller the pot, the less amount of air is present in the inner pot so temperature can be retained for a longer time. However, that does not mean filling the inner pot to the brim. Check with the manufacturer's guidelines. Some thermal cooker models recommend not to exceed 80% of the inner pot.
2. Thaw Frozen Food
If you are using frozen ingredients, thaw first before cooking for food safety purposes. The food has to be completely hot before it is transferred into the outer container.
3. Full Boil Before Transition
Bring all ingredients to a rapid boil before transferring the inner pot to the outer container to slow cook.
4. Speed
The transition from the stove to the thermal cooker has to be quick to minimize heat loss.
5. Avoid opening lid
Don't open the lid unnecessarily before the cooking is finished to prevent rapid heat loss.
Care Instructions
Whatever you do with a thermal cooker, DO NOT use the outer container to cook! Doing so will totally ruin the thermal cooker. Only the inner pot can be used for cooking on a stovetop.
Not all outer containers can be washed. For detailed information on caring for your thermal cooker, check the manufacturer's instructions as only certain units (such as this Tiger NFH-G450) have a washable outer container. For me, using a damp cloth to wipe the outer container is sufficient. The inner pot is easy to clean. Just wash it with water and detergent as what you normally would with your other pots.
Why I love the thermal cooker
Initially, I was rather skeptical how a short cooking time would render food that normally require hours of cooking to be fully cooked and safe to eat. I mean, 30 minutes or lesser of cooking a stew, curry, soup and what-not and it will be ready in a few hours without any power source? Not only that, it could even cook rice, cake and yogurt?!
Curious and intrigued, I went ahead and bought one. Within the first week of using it, I was asking myself why didn't I buy one earlier. The convenience and freedom it offers to me is priceless.
Once, my younger daughter had a fever and I had to bring her out to see a doctor. I quickly prepped all the ingredients I needed for a soup and boiled it for about 20 minutes on the stovetop. Then I transferred the pot to the thermal cooker and went out. The food was hot and ready when we returned home for lunch.
Before getting a thermal cooker, there have been many occasions where I had to stop cooking halfway to run some errands, fetch my kids from school, etc. I wanted an appliance that would help me cook while I was out without leaving an electrical appliance turned on. A thermal cooker does that. And more.
On days when I'm at home, it saves me time on cooking as I do not have to watch over the pot. Once the food is transferred to the thermal cooker, I'm free to play with my children, watch the tv, work, etc. It's happy days in the kitchen.
Why A Thermal Cooker is a Kitchen Must-Have
These are some of the reasons why a thermal cooker is such a incredible device to have in the kitchen:
1. Unlike conventional cooking (stovetop, slow cooker, oven, etc) it is impossible to overcook or burn your food because liquid will not dry up with thermal cooking.
2. No electricity is required and short cooking time on the stovetop. Even though a thermal cooker isn't exactly cheap, you'll easily recoup the cost from savings in energy.
3. Set it and forget it. Cook in the morning/night and come back/wake up to warm food. The food will be ready for you when you are.
4. Keep your hot foods hot and cold foods cold. It not only cooks and keeps food warm for at least 8 hours but it can also be used as a thermal cooler.
5. Retains the taste and shape of all the ingredients in the pot. Food does not break apart.
6. Portable and cooks on the go. It's easy to bring out for road trips, potlucks, picnics, camping, special events, to the beach, on the boat, etc.
7. It is a safe cooking appliance. You can leave the house without worrying about forgetting to turn off the stove or power.
8. Cooks and saves space. Once the inner pot is placed in the outer container, it frees up space on your stovetop.
9. Considerably lesser clean-ups because the cooking is encased in the thermal cooker.
10. Highly nutritious meals. Since no evaporation occurs and it only requires a short cooking time on a stovetop, more nutrients and moisture is retained in the food.
11. A thermal cooker is perfect for sous-vide cooking (cooking in a specialized boiling bag immersed in water).
12. Perfect for busy individuals and families. No more watching over a pot. You can focus your attention elsewhere and have more time to enjoy with your loved ones.
13. A hot meal anytime, anywhere. Even if you live in a remote location with erratic electricity supply, you can still have a healthy and warm homecooked meal.
14. Alternative form of cooking. It is a great cooking utensil to add to an emergency preparedness supplies list.
15. Versatile cookware. Make soups, stews, yogurt, curry, pulled pork and more. See what you can cook with a thermal cooker here.
Thermal Cooker Brands
Below are popular brands of thermal cookers made by various companies in no particular order.
Ever since I bought my Tiger thermal cooker (review here), I've been using it to make most of my slow cooking soups.
It works like magic for soups; extracting the flavors from meat and vegetables even though I just boiled the soup for a short amount of time on the stove (30 minutes if I'm in a hurry and 45 minutes to an hour if I have more time).
Sometimes, I don't even need to season my soup as I find it already flavorful. No wonder a thermal cooker is sometimes called a magic pot!
All Tiger thermal cookers are vacuum insulated which is reportedly better than foam insulated to keep the heat in. I like that the inner pot has a slightly wider base compared to the other cookers so I can cook more comfortably.
When I cooked a stew, the chicken turned out reasonably tender even though I only filled the pot 1/3 full. I guess it is due to its vacuum insulation. Hence the higher price but it is worth it to me.
Tiger thermal cookers come in various sizes. Check them out here.
Thermos is the maker of the world's first thermal cooker – its Shuttle Chef® series revolutionized cooking with energy and time savings convenience. This brand is still going strong today and has various thermal pots to suit your requirements.
All their thermal cookers are vacuum insulated and are induction ready.
Compared to Tiger, Thermos thermal cookers are taller and slimmer. If you like to have a pop of color in your kitchen as well, certain units also come in colors like peach, apricot and white but take note that that the peach and white unit is on the small side (1.6L).
If you wish to cook 2 dishes at the same time, the Thermos 6 liter model comes with two stainless steel 3L pots.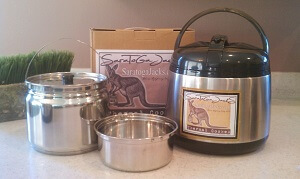 What I like about Saratoga Jack's thermal cookers is that their thermal cookers come with a second inner pot so you have the flexibility of cooking 2 dishes at the same time. They are also cheaper than Thermos and Tiger possibly due to the foam insulation.
All Saratoga Jack's thermal cookers are made of 304 – 18/10 surgical stainless steel.
Their cookers come in 2 sizes – 7L and 5.5L. The 7L cooker also comes with a deluxe version.
1. Saratoga Jacks 5.5L Thermal Cooker Deluxe
2. Saratoga Jacks 7L Thermal Cooker
3. Saratoga Jacks 7L Thermal Cooker Deluxe by Saratoga Jacks (this deluxe 7L version has a heavy bottom for both the large and small pan)
---
If you're a thermal cooker user, do share with us your thoughts and experience with your thermal cooker. For tips on choosing a thermal cooker and a more comprehensive review on the best thermal cookers, check out this article.
Please share this post and if you have any questions or comments, I would love to hear from you!