I love the smooth texture of cooked Chinese spinach. It's so delicious whether they're in soups or stir-fries. The ingredients for this Chinese spinach soup are all simple and humble and yet when combined together, they produce a very flavorful and comforting soup.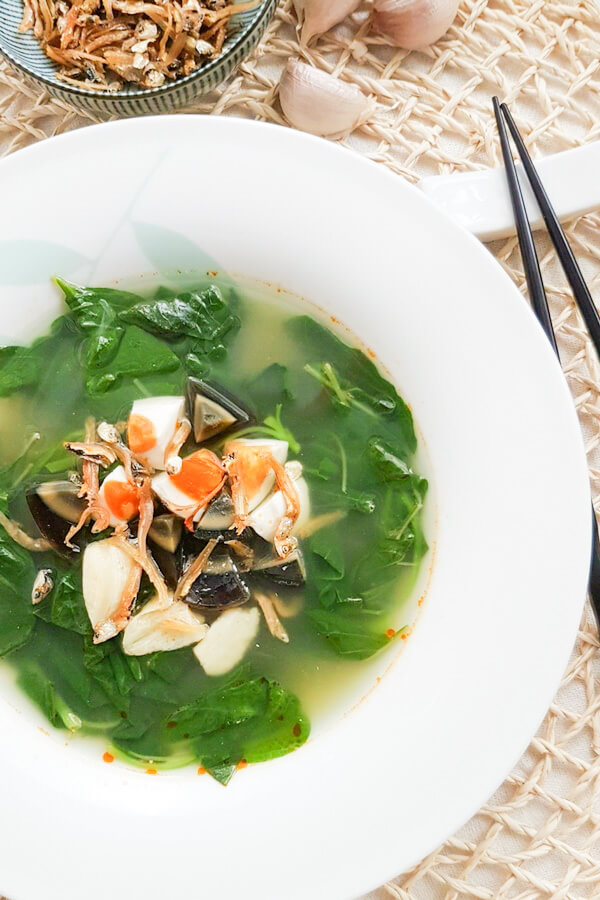 This is a soup that you can whip up in a jiffy as spinach cooks very quickly. Using a broth for this soup is a must. I used ikan bilis (dried anchovies) to make a stock from scratch (takes about 15 minutes). If you want, chicken stock (whether homemade or store-bought) or chicken bouillon will do too. My late mom used to fry ikan bilis before simmering them to make a simple soup stock whenever she made this soup. If you don't mind a cloudy looking soup, you may also do that. Otherwise, just simmer the dried anchovies.
The longest time spent on preparation for this soup would be on the Chinese spinach. I peeled away most of the fibrous layer on the stems. Sometimes when I'm in a hurry (or feeling lazy) I don't even bother with this step.
Chinese Spinach
Did you know that Chinese spinach and English spinach are not the same? Their flavors and texture when cooked are similar but the stems and leaves look different. Also, Chinese spinach is different from water spinach (kangkong) and Malabar spinach.
There are several varieties of Chinese spinach (round, sharp, red, baby) and they're all excellent for this soup. In Cantonese they're called yin choy and in Chinese xiàn cài (苋菜). You can easily find them in markets or supermarkets where they're sold in bundles. Sometimes, I use red spinach but my kids do not like how it turns the soup reddish so now I usually cook with the green ones.
The soft and smooth texture of this vegetable when cooked makes it one of the best first foods for babies. I used to add chopped spinach to my kids' porridge when they were introduced to solid foods. They're also favored by the elderly as they're easy to swallow and digest.
Now instead of ordering this soup in a restaurant, you can make one that's just as good at home. All you need for this delicious spinach soup are 5 ingredients. 6 if you count the water.
More Spinach Soup Recipes
There are many variations of this Chinese spinach soup. I especially like the century egg and salted egg version. They add a touch of richness and umami to the soup. Use room temperature salted eggs so that it will not crack when you hard boil it. You can also cook with raw salted eggs if you want. The soup will have a slightly different appearance with ribbons of egg white.
Besides century egg and salted egg, other popular ingredients for this soup include:
Minced pork
Wolfberry seeds
Chicken
Sliced fish
Fishballs
Related:
Century Egg Pork Congee
Steamed Three Eggs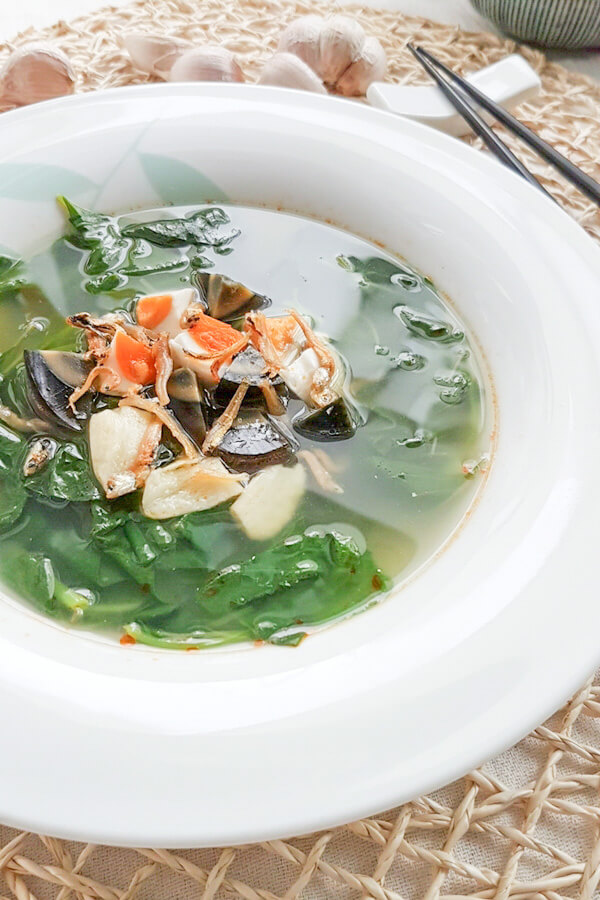 I added some fried crispy anchovies to the soup. They go really with the soft spinach and makes a very delicious meal. For more quick, delicious soups, check out this page.

Chinese Spinach Soup (Amaranth Soup)
Soft and smooth spinach cooked in a savory dried anchovies stock. The addition of salted egg and century egg takes it up a notch!
Recipe type:
Quick Soup Recipe
Ingredients
1 small bunch of Chinese spinach
50 g dried ikan bilis (dried anchovies) - rinsed and drained
1 handful of small ikan bilis (optional for garnish)
4 cloves garlic - skin removed and lightly smashed
1 salted egg (cooked and diced)
1 century egg - (diced)
4 cups water
½ tbsp cooking oil
Instructions
Prepare spinach. Cut off roots. Peel away some of the thin fibrous layer covering the entire stem. Cut the spinach into 3 inch length. Wash a few times to remove all traces of dirt till water is clear. Drain and set aside.

Prepare soup stock. Heat up oil in a soup pot or wok. Fry garlic till fragrant. Don't let get them burnt. Add dried anchovies and water.

Bring to a boil then simmer for 15 minutes. (Optional step: While the stock is simmering, fry small dried anchovies till crispy in a small pan. This is for the garnish.) Remove dried anchovies from soup with a slotted spoon. Leave the garlic in the soup. Bring the soup to a boil again.

Add spinach, salted egg and century egg. Stir gently and cook for about 2 - 3 minutes till the spinach is tender. Don't overcook or the spinach will be overly soft. Taste and add a pinch of salt if necessary. Garnish with crispy fried anchovies and serve hot.
Cooking Notes
1. Any type of Chinese spinach may be used for this recipe - sharp, round, red or baby spinach.
2. Use the smaller ikan bilis from Pangkor, Malaysia if you want to fry them for garnishing. They are tastier and sweeter compared to the larger variety.
3. If you can't find dried anchovies where you live, substitute with
chicken stock
. For
homemade chicken stock
, season the soup to taste with salt or light soy sauce.
4. The preparation time can overlap into the cooking time. Cook the salted egg while prepping the spinach and simmering the dried anchovies stock.