Slow cooking is easy and energy efficient with a thermal cooker. Whip up this homey chicken with potato stew in a tangy sauce with minimal hassle in under 30 minutes on a stovetop. Thereafter let the thermal cooker continue with the cooking process.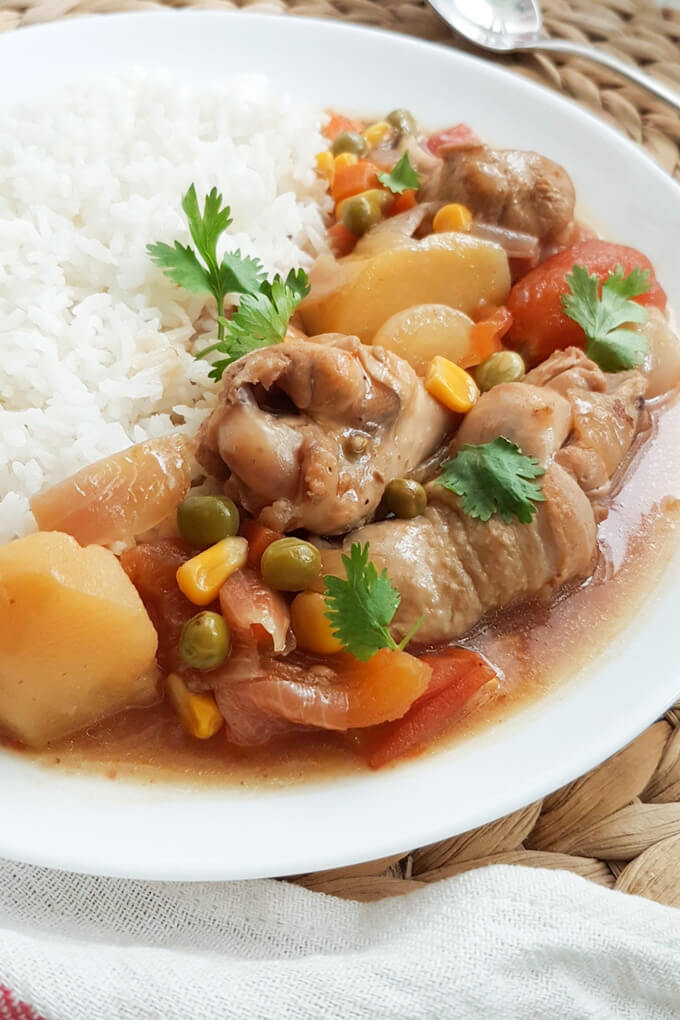 There's something very comforting about stews and braised dishes. It reminds me of home. My late mom used to make chicken stews quite often. Now it is something that I cook from time to time for my kids as they love it.
I love the flexibility of this dish. Each time I cook this, I vary the ingredients and sometimes even the steps. The main ingredients (chicken, onions, tomatoes and potatoes) are similar to an ABC soup. Use your favorite chicken parts (the only cut I won't recommend for this stew is the breast as they are too dry). Throw in some vegetables such as carrots and celery.
For seasonings, I love the addition of worcestershire sauce as it gives a tangy taste to the stew. It goes together really well with cooked tomatoes. You can definitely use your own favorite seasonings if you wish but I recommend keeping them simple.
One of the things that I really like about cooking in a thermal cooker is the shape of the ingredients do not change much (unless you cooked it long enough on the stove before transferring into the inner pot). The chicken does not over-shrink and dry up if let's say, you have to be out of home for hours at a stretch.
Note that if you've left the stew inside the cooker for longer than 8 hours, it is advisable to re-heat it on the stovetop before eating.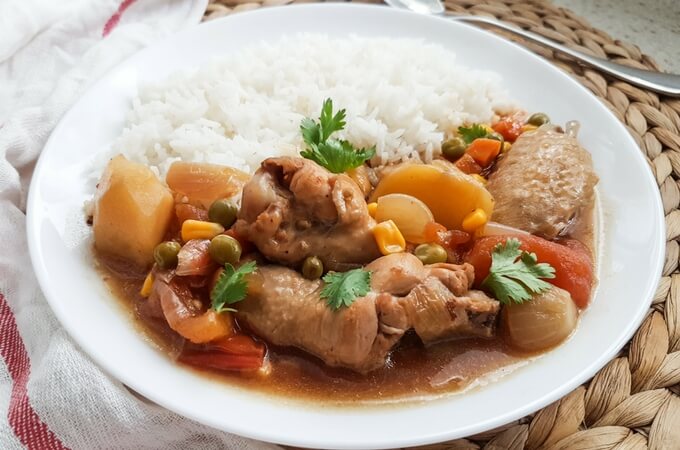 A Few Notes & Tips
#1. Choose whatever cuts you like but do not use frozen meat.
Even if you see the stew boiling, the meat may still be frozen on the inside. So for food safety purposes, I always use fresh meat when cooking in a thermal cooker. Whether you use chicken wings, skin-on-bone-in thighs or drumsticks they have to be cut into smaller pieces. I am partial to mid-joint wings as they're more flavorful and tender.
#2. Do not use too much water.
Use just enough liquid or you'll end up with a soupy stew. The tomatoes will also release some water as it cooks. Unlike cooking on a stovetop, there will be very little loss of liquid (if at all) as most of the cooking time is spent in the thermal cooker. You can't cook it down once it's inside. The amount of liquid added will remain more or less the same when you're ready to eat.
3. Avoid cooking with high heat.
Low to medium heat is recommended to prevent the food from getting burnt and sticking to the inner pot.
4. Cooking time guide.
After the stew is brought to a boil, cook it in the inner pot on the stovetop for 5 to 10 minutes. Then remove the pot and place it inside the thermal cooker. Leave it inside for around 2 hours. The thermal cooker will continue with the rest of the cooking process.
5. Thermal cooker size
I used a 5.2L thermal cooker for this recipe. You can certainly use smaller thermal cookers such as the following:
Thermos 2.8L Cooker
TIGER NFH-G450 Non-Electric Thermal Slow Cooker 4.75qts
Saratoga Jacks 5.5L Thermal Cooker Deluxe (use the bigger inner pot and fill the smaller pan with hot boiling water)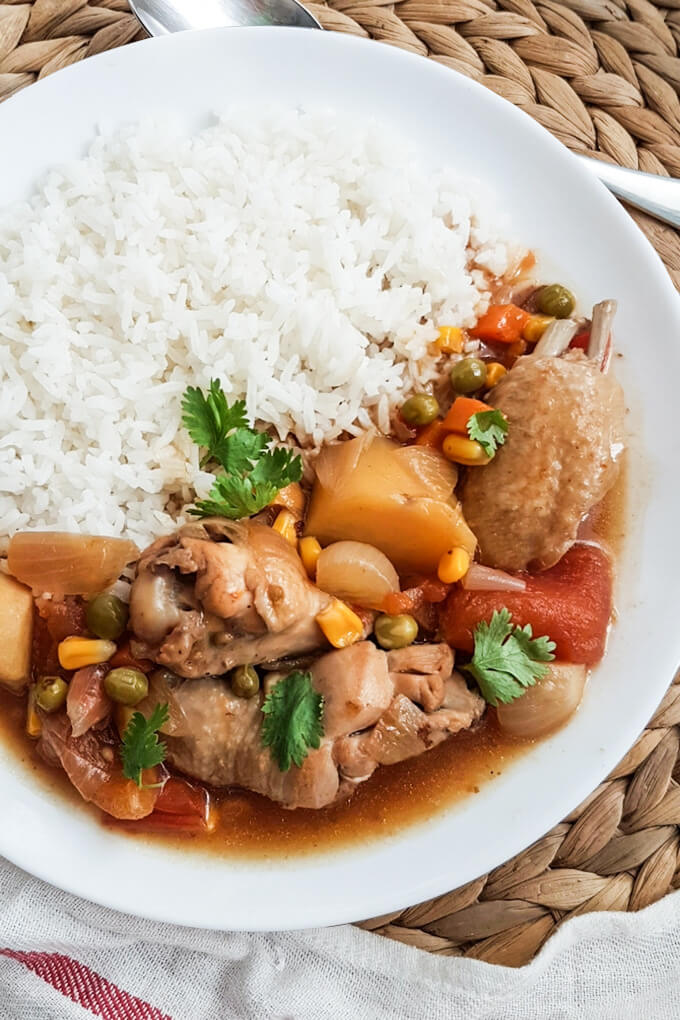 You may also like:
What is a thermal cooker
Tiger thermal cooker review
Tau Yew Bak (Braised Pork Belly in Soy Sauce)

Chicken and Potato Stew
Slow cooking is easy and energy efficient with a thermal cooker. Whip up this homey chicken and potato stew in a tangy sauce with minimal hassle in under 30 minutes on a stovetop. The resulting chicken is tender and juicy and makes a wonderful comforting meal.
Recipe type:
Thermal cooker recipe
Ingredients
600 gm chicken (mid-joint wings, drumlets or bone-in-thighs)
3 medium potatoes - peeled and cut into small pieces
1 cup frozen mixed vegetables (thawed)
2 small tomatoes - cut into wedges
2 medium red onions - chopped into small chunks
5 garlic cloves - chopped
2 tbsp potato starch (or sub with plain flour)
2 tbsp cooking oil
1 cup water (divided)
Seasoning
2 tbsp worcestershire sauce
2 tbsp light sauce
1 tbsp oyster sauce
Instructions
Wash, drain and pat dry the chicken as much as possible. This is to minimize oil splatters when frying and also to prevent the chicken from steaming up. Lightly season with salt and black pepper. Set aside while you prepare the rest of the ingredients.
Heat up oil in the inner pot. Swirl the oil around so that it coats the entire surface of the bottom. Add chicken and saute for 5 minutes on medium-low heat. Remove from pot and transfer to a plate.
If too little oil is left, reduce heat and warm up another teaspoon of oil. Add onions and cook till the onions are translucent and soft. Then add garlic and cook for about 30 seconds, stirring continuously.
Mix potato starch with ½ cup of water in a small bowl and add into the pot. Stir to loosen any brown bits from the bottom of the pot. Add chicken, potatoes, tomatoes, seasoning and remaining water. Stir, cover lid and bring to a boil.
Once it starts boiling, add the mixed vegetables and cook for 10 more minutes on lowish heat. Turn off heat and carefully transfer the inner pot into the vacuum insulated outer container. Leave it inside for 1 to 2 hours.
Taste and season with salt if required. Garnish with coriander and serve with steamed rice.
Cooking Notes
1. The cook time is for the cooking time on a stovetop. Thermal cooker cooking time is 1 - 2 hours.