It's been a long time since I last cooked a beetroot soup. Unlike most other soups, this is one soup that my kids will not drink much of as they don't like the earthy taste of beetroot (红菜头). The rich red color of the soup does not help either. "Why is the soup so red?", my Piggy asked. So I guess there's no way I can hide this ingredient in the soup.
I think it's one of those "unpopular" vegetables like bittergourd. But no matter. I decided to get them to make this soup when I saw some lovely and plump beets at my local market.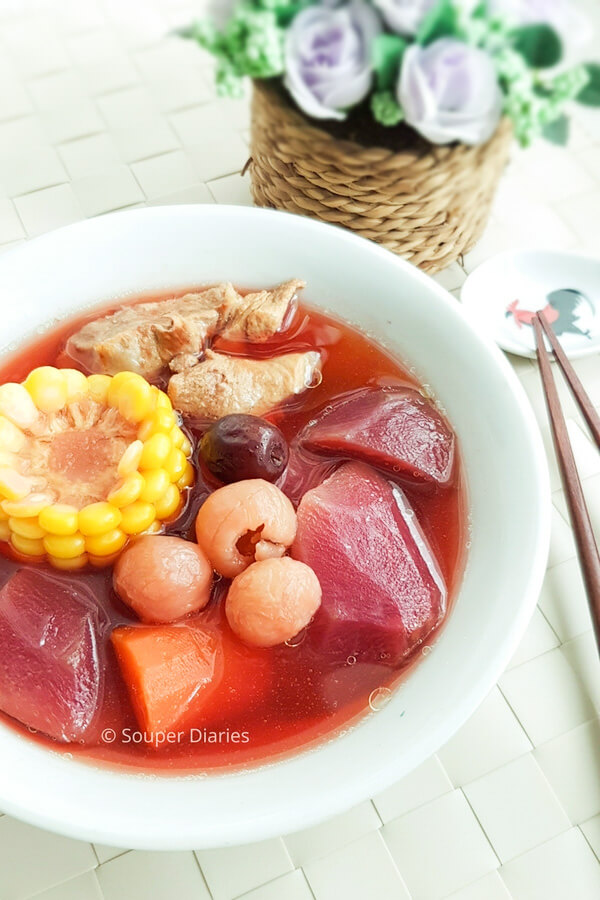 My first encounter with beetroot was when I was little. My late mom used to make beetroot soup quite often with some pork and onions. At that time, beetroot was like an 'exotic' vegetable for me and I used to marvel at the color of the soup. In later years, I found out that beets are used as a natural red food coloring in many types of food.
A root vegetable, beets have many health benefits. They are rich in folate (particularly important for pregnant women), fiber and manganese. They also contain other vitamins and minerals such as vitamin B, vitamin C, phosphorus, potassium, iron, nitrates and zinc and very low fat content (less than 1% per 100g). Beetroot soup is great for detoxifying purposes as it cleans our internal system.
Beets have a distinctive earthy taste that do not endear them to some people. "It tastes like radish" (according do Piggy, my younger girl). So she will only take some of the soup, corn and carrot but she refuses to eat the beets. Perhaps it's one of those foods that will have to grow on her. Personally, I find the rich red color of beets very attractive. I especially like them when they're chilled in salads.
When choosing beetroots, go for those that are firm with no blemishes on the skin. If they're soft, it is an indication they're old and past their prime. You also won't need those with leaves for this soup.
I had some leftover chicken feet from another soup so I added them into the beetroot soup as well. It is optional and you can leave them out if you wish. Some find them gross but I don't. Chicken feet or pig's feet, bring them on! They're rich in collagen, which is a big plus factor for me. Chicken feet is not only good for the skin, they're delicious. I like to eat them with some light soy sauce and bird's eye chilies.
You may like these recipes:
Chicken Feet Peanut Soup
Pig Trotter with Ginger and Sweet Vinegar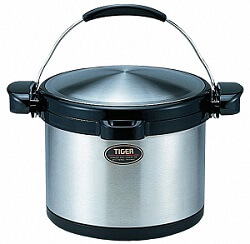 Whenever I boil soups, it is usually enough for 2 meals. Thermal cooking is great for keeping a soup warm for at least 6 hours without any power source. I don't bother to re-heat when I'm ready to eat but if you like your soup to be piping hot, just take the inner pot out from the thermal cooker and re-heat on the stove.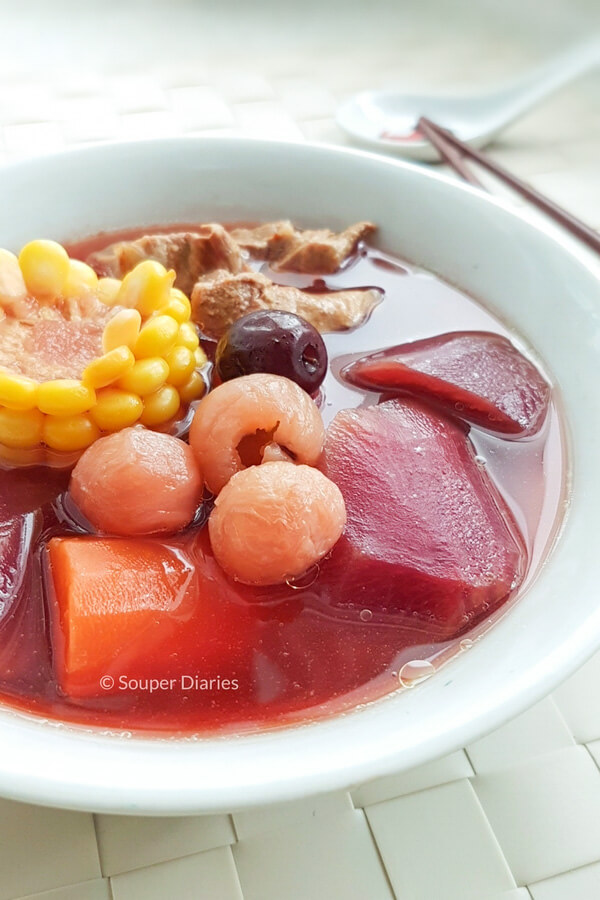 Have a go at this Chinese beetroot soup recipe and let me know what you think. You can't beet a healthy bowl of soup! 🙂
More Chinese soup recipes: 
Slow cooking soups
Quick soup recipes

Beetroot and Corn Soup (Chinese Style)
Healthy and delicious Chinese beetroot soup. Great on its own or with some steamed rice!
Recipe type:
Slow Simmer Soup
Ingredients
300 gm pork spare ribs or soup bones
8 chicken feet (optional) - nails removed and cleaned
1 beetroot (about 400 gm)
1 sweetcorn
1 medium carrot
8 dried red dates
20 dried longan
Water
Instructions
Parboil pork and chicken feet in boiling water for about 5 minutes to remove dirt. Remove, rinse and set aside.
Peel beetroot and carrot and cut into small chunks. Cut corn into segments.
Place all ingredients into the inner pot of a thermal cooker. Add just enough water to immerse the ingredients and bring to a boil. Then cook on medium-low heat for 30 to 45 minutes. Turn off heat and transfer the inner pot (with lid on) into the thermal cooker. Close the lid and leave it inside for about 2 hours.
Season with salt to taste and serve.
Cooking Notes
If cooking on a stovetop, after bringing the soup to a boil, simmer on low heat for 1.5 hours or until the meat is tender.