(This article first appeared on Jan 2016 and now updated with new pictures and recipe.)
There are some food which I find completely gross (pig's brain for example) but not when it comes to chicken feet.
I. Love. Chicken. Feet. I can't say I have a favorite way to eat them. Whether they are braised, boiled, steamed, etc, I like them all.
Recently, I made some chicken stock at home and had some leftover chicken feet. Using them to make a pot of chicken feet soup was a no brainer for me. I paired them with some peanuts and other ingredients and the result is this delicious soup.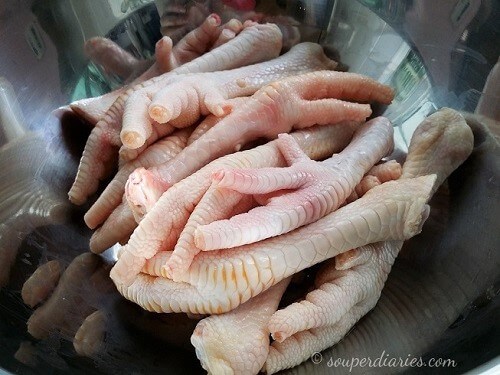 I always buy chicken feet from a wet market as they are sold with skin and nails removed. If you're buying from a supermarket, you'll have to give them a pedicure yourself but it is a very simple and quick process. Remember to wash and blanch them in boiling water to remove all the nasty stuff before transferring to your soup pot.
Also known as phoenix claws, chicken feet is full of collagen. And collagen, as we know, maintains skin's elasticity and promotes youthful looking skin. This is definitely a beauty soup for me! 🙂
If cooked long enough, chicken feet will become very soft and gelatinous as they consist mainly of skin, tendons and cartilage. Cooking collagen transforms it into gelatin which explains why a soup or stock with a high concentration of gelatin will solidify when cooled. Collagen also contain trace minerals which are beneficial for our hair, nails and joints. It helps with the healing and repair of the body's damaged tissues. And all these goodness at very little cost as chicken feet and bones are inexpensive.
So, even if you don't eat chicken feet, don't toss them away. Save them to make homemade chicken stock or soup. They are a natural super health supplement. Why pay more for expensive collagen and glucosamine supplements when you can have it cheap, right?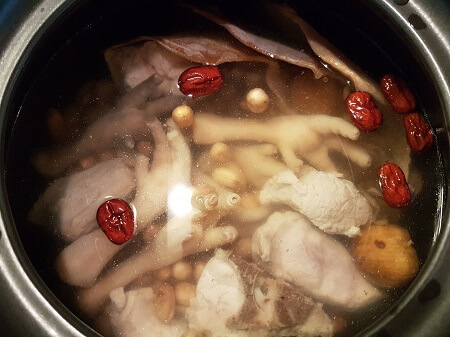 Any soup pot can be used for this soup but I'm partial towards my claypot and thermal cooker. Do not overboil the soup or the chicken feet meat will become too soft and shrink.
How to Soften Peanuts for Soup
Soak peanuts in hot boiling water for 2 to 3 hours before cooking to soften them. In the past, I boiled them without any prior soaking and they turned out slightly crunchy despite simmering them for nearly 2 hours on the stovetop.
How to Eat Chicken Feet
The way to eat chicken feet (at least that's how I do it) is firstly, dip them in some soy sauce mixed with bird's eye chillies. Then bite off the toes and suck out the skin and whatever 'meat' that's sticking on them. Repeat the process on the 'palms'. Spit out Discard the bones.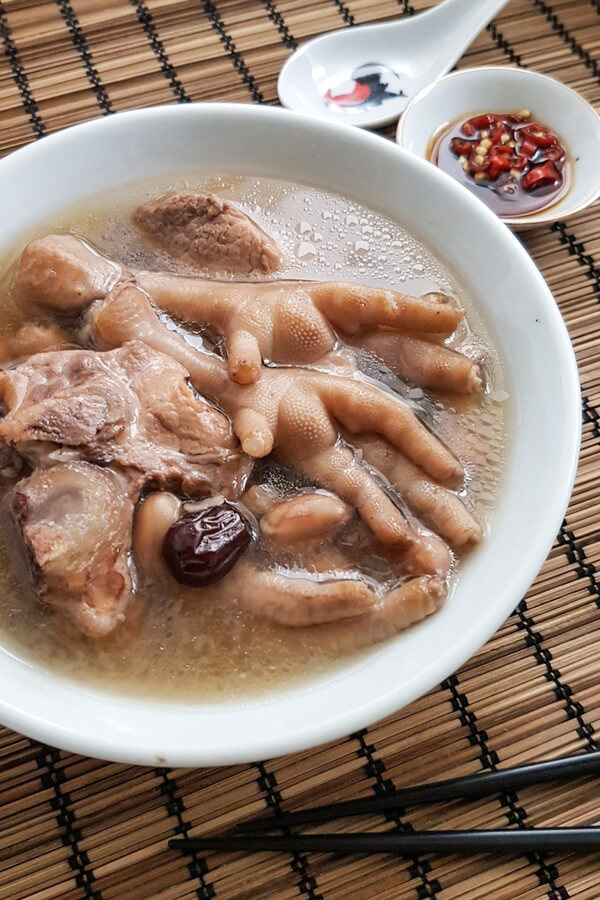 So, have you tried this beauty soup yet? Excuse me while I go finish up my bowl of soup. Take care and eat well. 🙂
See also: Pig's Trotter with Ginger and Black Vinegar Stew.

Chicken Feet Soup Recipe
Chicken feet peanut soup is full of collagen. Great for skin, hair and bones.
Recipe type:
Slow Simmer Soup
Ingredients
20 chicken feet
280 g pork spare ribs
200 g peanuts - soaked in hot boiling water for 1 - 2 hours. Discard soaking water
8 dried red dates
3 small dried cuttlefish
2 large dried honey dates
20 g ginger - sliced into thick pieces
9 cups water
Salt
Instructions
Blanch chicken feet and ribs in boiling water for about 3 - 5 minutes to remove scum and dirt. Remove from pot, rinse and set aside.
Put all ingredients into a soup pot and bring it to a boil. Then let it simmer for 2.5 hours. Season with salt to taste and serve hot.
Cooking Notes
1. Prep time does not include soaking time for the peanuts.
2. If you cook this in a
thermal cooker
, put in all the ingredients and bring to a rolling boil. Then simmer for about an hour.
When you are ready to transfer the inner pot to the outer pot, turn up the heat and let it boil vigorously. Remove the pot from the stove and transfer it into the outer insulated pot. Let the trapped heat continue to cook the soup for 1-2 hours. Season with salt to taste.