I think I'm falling in love. With this pear soup that is. Hehehe.. Seriously, this soup turned out so sweet and delicious I think I'm going to make it again soon. Perhaps with a different variety of pear the next time.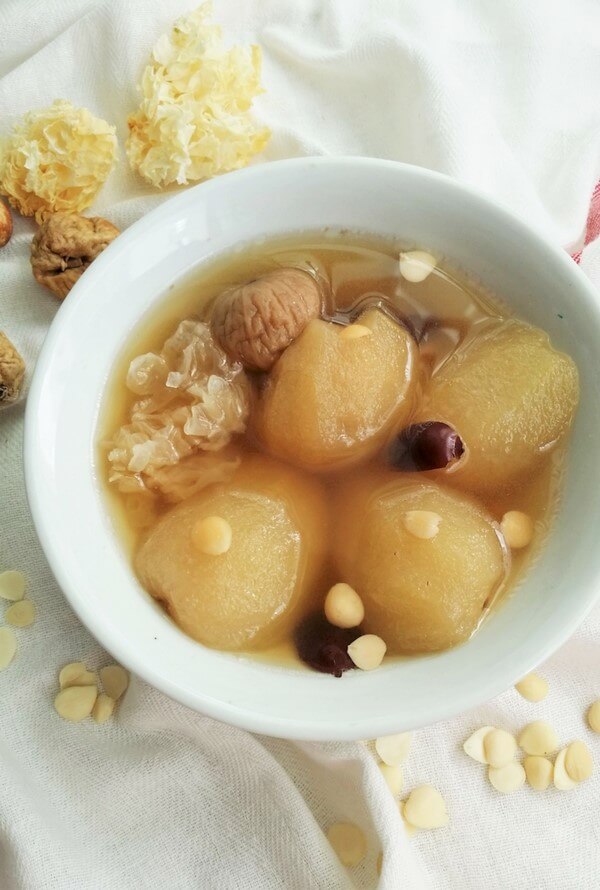 Cooking with Pears
Did you know that fruits can taste so good when boiled into a soup? I confess that I haven't cooked this soup for a long time so my memory of the taste was a little hazy. But one thing I remember clearly is that my late mother used to boil this soup using fragrant pears and I'm re-creating her recipe with little twists of my own. You can see the image of the fragrant pears that I used below.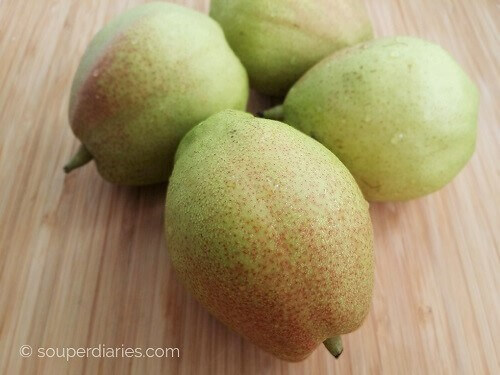 The fragrant pears that I bought were smallish; about 150 gm each so I used 4 of them for this soup. Even though they were small, I was pleased that the soup still turned out sweet.
These pears live up to its name. It has a fruity and floral aroma with a sweet, juicy and crispy texture when eaten raw. According to National Nutrient Database for Standard Reference, fresh pears contain almost 85% water per 100g. My children love them so much because they are soooo delicious. Be sure to leave some for a healthy snack after you make this soup. 🙂
Pears are a good source of dietary fibre, vitamin C, various minerals such as copper, iron, potassium, manganese and magnesium as well as B-complex vitamins such as folates, riboflavin and pyridoxine (vitamin B-6). Further reading on the nutritional facts of pears can be found here.
You can also use other varieties of Chinese pears like Yali, the bronzed-tone Hosui (also known as Snow Pears) and Golden. I would try using bigger pears when I make this soup the next time. Bigger pears means there's more luscious and juicy pear flesh that you can sink your teeth into. Yummy! 🙂
Dried Apricot Kernels
Apricot kernel helps to relieve coughs and sore throats. Sometimes I will boil these kernels with some rock sugar when I have a cough. There are 2 kinds of apricot kernels – Northern Apricot Kernels (北杏仁) and Southern Apricot Kernels (南杏仁). The former is bitter while the latter is on the sweet side.
You can use a ratio of 1:2 of the kernels for this soup or only the Southern Apricot Kernels. They provide a crunchy texture and complement the softness of the boiled pear really well. Take a whiff of the kernels before you add them into the soup. They smell so lovely!
White fungus the Beauty Food
The pictures below show the white fungus in its dried form and soaked form. Also known as white wood ear, silver fungus, snow fungus and silver ear, white fungus looks pale yellow when dry but once immersed in water, it will puff up in minutes and turn semi-transparent.
Doesn't it look beautiful? You do not need to use too much of it since it is able to expand and double its original size. According to Traditional Chinese Medicine (TCM), white fungus is very suitable for this group of people:
Someone who has chronic cough and dry cough with no phlegm

Someone who has dry skin or constipation

Someone who smokes and has dry throat and dry cough. White fungus can help reduce lung damage from smoking.
You can read more about the medicinal benefits of snow fungus here. For ladies reading this, it is believed that eating white fungus will beautify and moisten our skin. White fungus is also known as a "poor man's bird nest" as it has similar anti-aging properties but at a more affordable price. You can purchase them at Chinese herbal shops and also on Amazon.
This Chinese Pear Soup recipe is both sweet and savoury at the same time. The pork ribs provide the savoriness while the dried red dates, dried figs and honey dates will sweeten the soup.
It is also very versatile. Turn this savory soup into a tasty, sweet dessert by cooking without the meat and adding some rock sugar. Serve it warm or chilled.
Other soups that help to soothe sore throats and cough:
Luo Han Guo with Watercress Soup
Apple Pork Ribs Soup
If you love eating fruits, try this delicious Green Papaya Fish Soup too. It is especially good for breastfeeding women but can also be taken by everyone else. 🙂

Other Chinese soup recipes with fruits you may like:
Bitter Melon Pineapple Chicken Soup

Chinese Pear Soup Recipe
A delicious anti-aging soup that nourishes your throat and lungs and has anti-aging properties.
Recipe type:
Slow Simmer Soup
Ingredients
4 fragrant pears (about 150g each) - peel, cut into halves and cored
250 gm pork ribs
3 tsp of sweet apricot kernels (南杏)
4 dried figs
2 honey dates
10 g snow fungus
4 dried pitted red dates
Water - Just enough to immerse all the ingredients
Instructions
Soak white fungus for about 15 minutes (longer if you can) in water to soften it. Cut off the hard bottom and discard. Cut the remaining white fungus into smaller pieces and set aside.
In a pot of boiling water, blanch the pork ribs for about 5 minutes to remove scum. Do not skip this process if you want a clear pot of soup. Remove pork ribs from the pot. Rinse and set them aside.
Add blanched pork ribs, pears, snow fungus, dried figs, honey dates, dried red dates, sweet almonds and water into a soup pot and bring it to a boil. Once boiling, lower the heat and simmer for around 1.5 hours or until meat is tender.
Season with salt if desired.
Cooking Notes
1. If you have a
thermal cooker
, you may use it to cook on the stove top for 30-45 minutes before turning off the heat and letting it continue to cook for a few hours until ready to be served.
2. For larger pears (Snow or Yali variety), you'll need just 2 or 3 for this recipe due to the larger size.
3. Estimate 1 pear per person. So, if more people are taking the soup, add more pears and use enough water to immerse all the ingredients by about an inch.