Green papaya fish soup (青木瓜鱼汤) is traditionally taken during the confinement period after giving birth. It is a zuò yuè zi (坐月子) food that the Chinese believe will help to boost milk supply for breastfeeding mothers.
The last time I had this soup was during my confinement month and that was 11 years ago. I remember as I gave birth to my eldest child by c-section. I had sheng yu soup (生鱼汤– also known as Haruan or Snakehead Murrel) cooked by my mother-in-law. Sheng yu is usually eaten by those who had undergone surgery as it is believed to aid the healing of wounds.
I am using seabass fish head for today's green papaya fish soup as I find the flesh and texture of this fish suitable for soups. Other fish that can be used include pomfret, snapper, cod and threadfin. I read that carp can be used too. Fish head or fish fillet are both suitable for this soup. It just depends on which part of the fish that you'd prefer to eat.
What You'll Need
Below are the basic ingredients for a green papaya fish soup. You'll need fish meat or fish head, ginger and of course the green papaya. Be sure to only use fresh and good quality fish and produce.
Fish that is not fresh will definitely have a fishy smell and is not suitable for this soup. As far as possible, try not to scrimp on ingredients during the confinement period when your body need the best possible nutrients for you and your baby.
I bought the seabass fish head from a wet market today and I got the fishmonger to chop it for me into big pieces as it was very big. I also purchased some fish fillet but I ended up using the fish head for this soup.
I'm glad I did. The soup turned out naturally sweet and tasty and my daughters loved it too. I was pleasantly surprised how tasty the soup can be using an unripe papaya. The green papaya had a delicate sweetness and the texture was soft after boiling. Even though I cooked with fish head, the soup was not fishy at all as the fish was very fresh. And as usual, my often used condiment for dipping is some soy sauce with bird's eye chilli. Yum!
If you take this soup during your confinement month, you can increase the amount of ginger if you wish. Crush the ginger with a mortar and pestle to release the juice.
Tips for Using Fish Head in Soups
#1. Try to get the larger fish heads as smaller ones do not have much meat.
#2. Keep the head whole or chop it into big pieces if the fish head is too large. Do not chop it into small pieces as there are many bones in a fish head and it may cause the bones to be smashed.
#3. If you do not wish to eat the fish but just want to take the soup and papaya, place the fish in a soup bag for convenient disposal.
#4. If you're not using a soup bag, avoid stirring the soup vigorously or at all to prevent the fish from falling apart in the soup.
Fried Fish for Fish Head Soup Recipe
When cooking fish head in soups, I find that frying help hold its shape better when boiled and prevent it from disintegrating into the soup. It will also be more fragrant and have a less fishy taste.
Use a frying pan/wok to fry the fish on both sides till brown. I am using my Happycall alumite ceramic pot (3 qt – orange). Remember to pat dry the fish first before frying to avoid oil splatters.
Increase Breast Size Food
Did you know that apart from increasing breast milk suppy naturally, green papaya is also a "big breast food"?
This article made me LOL. In Chinese culture, it is believed that eating green papaya from a young age will encourage the growth of big boobs. Whether this theory is true or not, I wish that my late mom knew about this when I was little. It's a shame that I'm past the age for this "to work". If you want to test out this theory on yourself or your children, do it when they are in their pre-teens or teens when their bodies are still growing. It will be much harder for the boobs to grow if you are 30 or 40. And forget about 50 or older.
Even if this soup does not help with low milk supply issues nor breast size, there is no harm in drinking this delicious and nutritious soup every now and then.
Please note that the high latex concentration in unripe papayas make it unsafe to be taken during pregnancy. Green papayas should be eaten only after cooking or in cold salads.
Green papaya is often used by the Chinese to boost lactation in nursing women. For other foods that help to increase breast milk supply, check out this post.
The gingery warmth of this soup is perfect for cold weathers or when you're feeling cold. I added some crushed ginger to boost the warming effect. If you enjoy fruity soups, you may also want to try this Pear Soup with Pork Ribs which is a favorite of mine.
Green papayas can be purchased in wet markets and Chinese supermarkets. But if you can't find them, Amazon sells them too. The price is much higher than buying from a market/supermarket but it is very convenient if you can't access your local supermarket.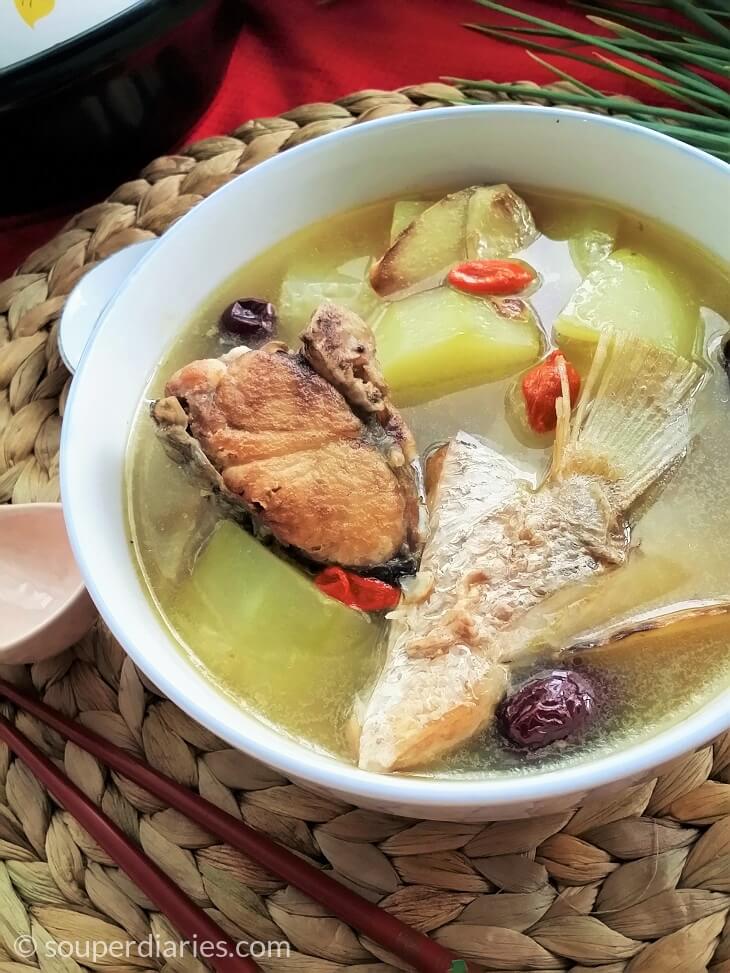 For more soup recipes, check out my Slow Cooked Soup and Quick Soup Recipes. Please share this post on your social media if you've enjoyed this post. Leave a comment if you've tried this recipe, snap a photo and tag @souperdiaries on Instagram! Sharing is caring 🙂

Green Papaya Fish Soup (青木瓜魚湯)
Recipe type:
Quick Boil Soup
Ingredients
Fish head or fish meat (500 g)
1 small green papaya (I used half of one green papaya) - about 400g
4 dried red dates
60 g ginger - cut into slices
1 tbsp of wolfberry seeds
1 tbsp of sesame oil
5 cups of water
Instructions
Wash the fish clean. If using a fish head, make sure that the cavity is thoroughly cleaned. Chop/cut into big pieces (I get the fishmonger to cut the fish head). Pat dry with paper towels and rub some salt on all sides of the fish. Set aside.
Bring water to boil in a soup pot.
While waiting for the water to boil, peel the papaya with a vegetable peeler. Remove all the seeds and cut it into bite-sized chunks.

Heat up sesame oil in a separate frying pan/pot. Fry half of the ginger for about a minute before adding the fish to fry. Brown the fish on both sides until it is completely cooked.

When the water starts to boil, put in the red dates, fried fish, green papaya chunks and the rest of the ginger into a claypot or any suitable soup pot. Avoid stirring the soup to prevent the fish from breaking. Let it simmer for about 30 minutes.

Season with salt if necessary. Optional: Pour ⅛ tsp of sesame oil into the soup if desired. Serve hot.
Cooking Notes
1. The fish used must be fresh otherwise the soup would be fishy and not taste as good.
2. If you can't find green papayas, papayas that are half ripe can be used too but green papayas are recommended for this soup during the confinement period.
3. If you plan to serve this soup to children, you can place the fish into a soup bag to boil in a deep pot.
4. You may pound the ginger to release more of the ginger juice if cooking this soup for confinement.