Green Papaya Fish Soup (青木瓜魚湯)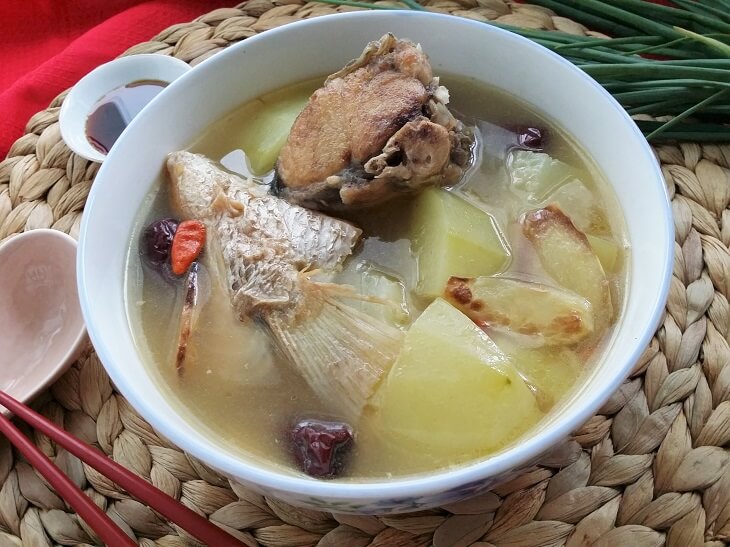 Recipe type:
Quick Boil Soup
Fish head or fish meat (500 g)
1 small green papaya (I used half of one green papaya) - about 400g
4 dried red dates
60 g ginger - cut into slices
1 tbsp of wolfberry seeds
1 tbsp of sesame oil
5 cups of water
Wash the fish clean. If using a fish head, make sure that the cavity is thoroughly cleaned. Chop/cut into big pieces (I get the fishmonger to cut the fish head). Pat dry with paper towels and rub some salt on all sides of the fish. Set aside.
Bring water to boil in a soup pot.
While waiting for the water to boil, peel the papaya with a vegetable peeler. Remove all the seeds and cut it into bite-sized chunks.
Heat up sesame oil in a separate frying pan/pot. Fry half of the ginger for about a minute before adding the fish to fry. Brown the fish on both sides until it is completely cooked.
When the water starts to boil, put in the red dates, fried fish, green papaya chunks and the rest of the ginger into a claypot or any suitable soup pot. Avoid stirring the soup to prevent the fish from breaking. Let it simmer for about 30 minutes.
Season with salt if necessary. Optional: Pour ⅛ tsp of sesame oil into the soup if desired. Serve hot.
1. The fish used must be fresh otherwise the soup would be fishy and not taste as good.
2. If you can't find green papayas, papayas that are half ripe can be used too but green papayas are recommended for this soup during the confinement period.
3. If you plan to serve this soup to children, you can place the fish into a soup bag to boil in a deep pot.
4. You may pound the ginger to release more of the ginger juice if cooking this soup for confinement.
Recipe by
Souper Diaries
at https://souperdiaries.com/green-papaya-fish-soup/