ABC Soup is often cooked with either pork ribs or chicken, potatoes, tomatoes, carrots, onions and sometimes celery. It is a nourishing soup that many Chinese children have grown up with and is one of my family's favourite soup.

You may wonder why this soup is called ABC Soup. ABC soup sounds like it contains alphabets inside the soup right? But no, you won't find any letters in the soup.
There are many reasons as to how this soup got its name but my guess is it's simply because it's as easy to make as A-B-C! Apparently, it is called ABC soup due to the vitamins from the vegetables in this soup; vitamin A (carrots), vitamin B (potatoes) and vitamin C (tomatoes). This is easily one of the soup that I cook most often at home as the ingredients are almost always available in my kitchen.
The essential ingredients for this soup are carrots, tomatoes, potatoes, onions and some meat. Choose meat-on-the-bone if possible. It makes the soup richer and more flavorful. Other vegetables that are sometimes used for this soup include celery and sweet corn. Throw in some smashed peppercorns if you want to add some heat to the soup.
Which Potato To Use?
Both starchy and waxy potatoes may be used. So which spud is better? It all depends on the texture that you like. Russet potatoes have a soft, fluffy and powdery texture when cooked. Waxy potatoes are harder and retain its shape better after long hours of boiling. I personally prefer russet potatoes for this soup.
ABC soup is suitable for both adults and children. Most kids will like this soup. Whenever I make this soup, my Piggy and Rooster will know as the wonderful aroma will permeate the kitchen and sometimes the living room.
Sometimes they help with the chopping and peeling of the vegetables for this soup. Another recipe that my kids love to help with is this Pork Tomato Stew.
Clean Eating Chicken Soup
For those who are going on a diet and like clean eating, this soup is a good choice. No oil or cream is used and it is low in fat. And best of all, you get all the wonderful nutrients in this soup – vitamin A, B and C!
Best Soup Pots
I like to use either my Happycall Alumite Ceramic Pot or thermal cooker to cook many of my soups and this soup is one of them. Check out my Happycall review for my personal experience with this range of cookware. Or, you could read about choosing the best soup pots here.
Do not be deterred by the seemingly long cooking time in the recipe. The actual cooking time on a stove with a thermal cooker is about 45 minutes. Or 30 minutes if you're in a hurry. Then place the inner pot into the outer chamber for 2 – 4 hours to continue cooking. A thermal cooker cooks without using any gas or electricity. It relies on trapped heat inside the cooker to cook.
This unfussy, comforting soup is a family favourite and it is super easy to cook. No fancy schmancy ingredients or long hours of cooking in the kitchen. Just use basic ingredients that you chop, boil and eat.
Having said that, I firmly believe that any food tastes better when it is cooked with love. Whenever I'm not in the mood to cook, it reflects in the dishes that I cooked. So, even for simple recipes, cook with love and taste the difference.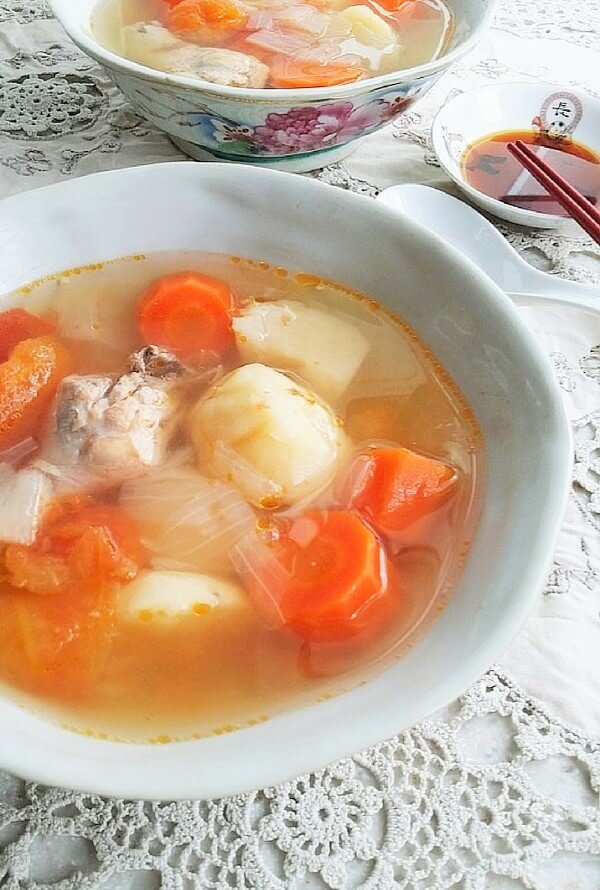 This soup is great on its own or with some rice and vegetable dish. Or even with boiled macaroni. Questions or comments? I would love to hear from you!
Would you like to become a food blogger like me? Or are you passionate about other hobbies/niche that you would like to share? Whether you're a novice or an experienced blogger, Wealthy Affiliate offers you all the tools and support to help you create a successful website. There's a 7 day trial that is absolutely FREE! Details here.

ABC Soup Recipe
A healthy, low fat soup made with carrot, onions, potatoes, tomatoes, celery and chicken. Suitable for the entire family.
Recipe type:
Slow Simmer Soup
Ingredients
400g fresh chicken-on-the-bone (skin removed)
2 carrots, peeled and cut into chunks
2 tomatoes, quartered
2 russet potatoes, peeled and cut into chunks
1 - 2 celery sticks - cut into 1 inch pieces (optional)
1 large onion, roughly cut or quartered
20g ikan bilis (dried anchovies) - rinsed
8 cups water or just enough to submerge all the ingredients by about an inch
Salt to taste
Instructions
Blanch the chicken parts in a pot of boiling water to get rid of excess scum and oil. After about 5 minutes, remove from the pot. Rinse and drain. Set aside.
Place the parboiled chicken and the rest of the ingredients into a thermal cooker. Bring to a vigorous boil and then simmer for about 45 minutes. Turn off the fire and cover with lid.
Transfer the inner pot into the outer pot of the thermal cooker and leave it inside for 2 hours.
Season with salt and serve.
Cooking Notes
1. Add in ½ tsp of crushed peppercorn if you like a little heat in your soup.
2. If you are using a regular stovetop pot, after step 1, bring the soup to a boil then simmer for around 1.5 hours or until the chicken is tender.