Green Bean Soup – A Naturally Detoxifying Dessert
Green bean soup (also known as mung bean soup) is a classic Chinese tong sui (sweet soups). A cooling (yin) dessert, this sweet soup is light yet nutritious and can be taken warm or chilled.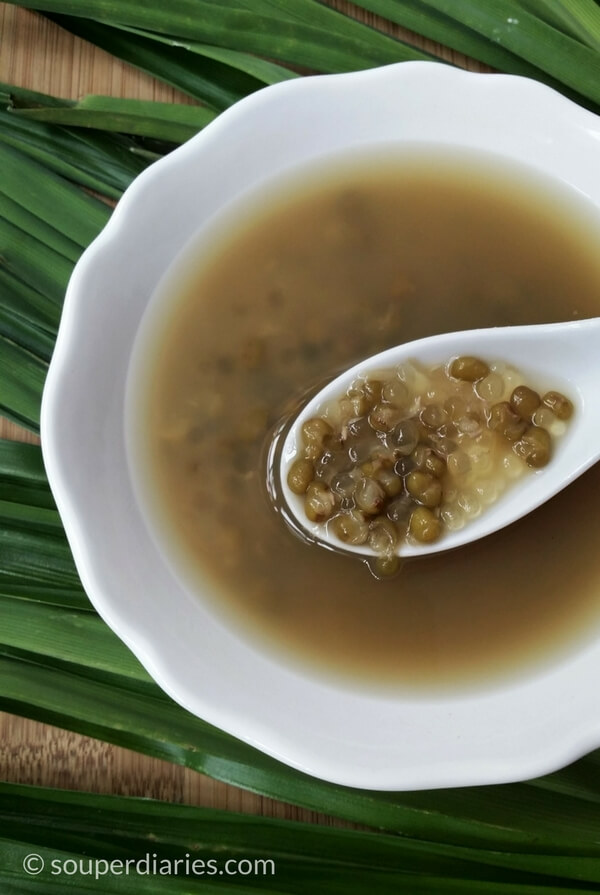 Green beans are a good source of fiber and protein and also contain vitamins (B1, B2, B3, B5, B6, C,E, K)and minerals like iron, magnesium and potassium. It is also a traditional home remedy to clear toxins, reduce body heat and promote healthier skin.
In perpetually hot countries like Singapore, this cooling drink provide a wonderful relief from the scorching heat and heat-related symptoms like dry skin, headaches and skin rashes. Drinking this soup is a must for me especially during haze periods which seem to occur almost every year in Singapore.
As I am writing this, air quality in Singapore has crossed over to the unhealthy range of above 200 P.S.I. so it is good to drink more detoxifying soups like this to flush out toxins from our body. Another detoxifying drink that is very easy to cook is barley water which I often make at home.
Although green bean soup has many health benefits, it is not suitable for some people. Those who have diarrhea and cold hands and feet should avoid eating green beans.
The basic ingredients that you'll need are green beans, water and rock sugar. Sago pearls and pandan leaves are optional but I find that they really enhance the enjoyment of the soup.
If you want, you can also add the following ingredients into the green bean soup:
Gingko nuts (for convenience, use vacuum packed ones)
Lotus seeds
Candied winter melon
Sago pearls are flavorless on its own but once you add it into desserts like this, it gives the soup a smoother and more interesting texture. It also enhances the appearance of the soup, don't you think? Refer to this post on how to cook sago.
Do you like green bean soup with a thicker consistency or a more watery texture? For a thicker soup, mash up some of the softened beans with the back of a spoon against a sieve. Ladle up some soup and pour it through the sieve to let the mashed beans return to the soup. (refer to recipe for full instructions) Simmering for a longer time will also thicken the soup. And if you like a more watery consistency, turn off the heat once the beans have softened and opened up. Another easy recipe for a bean dessert is this Red Bean Soup.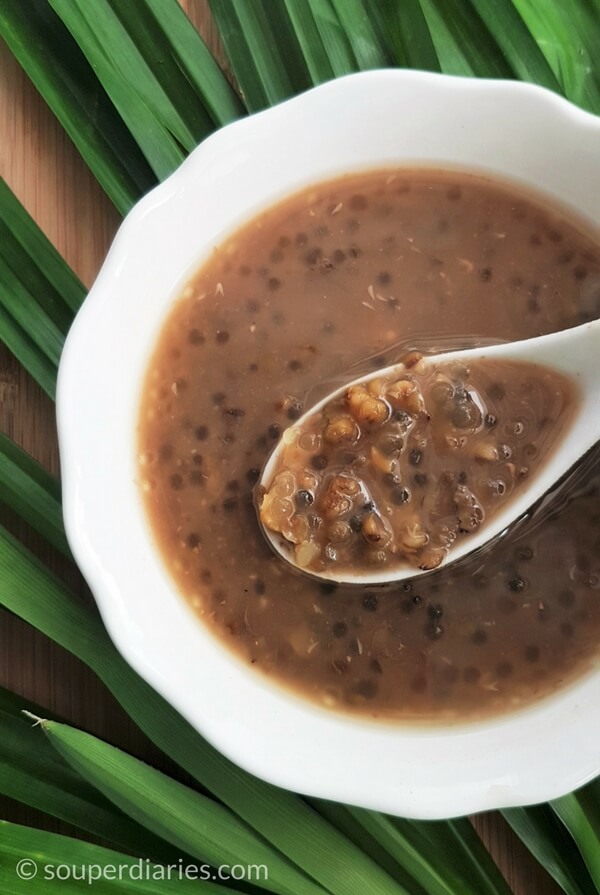 Green bean soup with a thick or thin consistency. Which one do you like?
If you enjoy soups, check out my Slow Cooked Soups and Quick Boil Soups too. Thanks for reading and happy cooking!

Green Bean Soup
A delicious dessert soup to cleanse, detox and cool the body.
Recipe type:
Drinks and Desserts
Ingredients
1.8 liters water
150gm green beans - soaked overnight or at least 2 hours, rinsed and drained
Rock sugar/honeycomb sugar - to taste
3 tbsp sago seeds (see this post on how to prepare sago seeds)
5 Pandan leaves (screwpine leaves) washed and tied into a knot
Optional Ingredients:
Vacuumed packed gingko nuts or lotus seeds
Candied wintermelon
Instructions
In a soup pot, add green beans and knotted pandan leaves and bring to a boil. Remove the pandan leaves once it starts boiling, You can also leave it in the pot and remove it when the soup is done but it will be messier that way. If your pot is deep enough you may cover it. Otherwise, partially cover the pot when you simmer as the soup boils over easily.
Add in the optional ingredients now if you want to. Simmer for about 45 minutes or until the soup reaches your desired consistency. Add water if necessary.
Optional step: If you wish to thicken the soup, place some of the cooked and softened green beans in a strainer over a bowl. Mash them with the back of a spoon so the soft part of the beans go through. Then ladle up some soup and pour it through the strainer to let any remaining mashed beans return to the soup. Pour the strained beans in the bowl back into the soup pot and discard the leftover husks in the strainer.
Add in sugar and sago pearls. Stir gently and let simmer for a few more minutes. Turn off heat. Serve warm or chilled.
Cooking Notes
Tip: It is advisable to consume this dessert on the same day. I find that it will turn mushy if you keep it refrigerated till the next day.