After all the rich and decadent dishes during the Lunar New Year which just ended a few days ago, I thought it would be good to return to something simple and uncomplicated. Stir fry pork with salted vegetables is one of those dishes that I eat from time to time and it's so easy to make.
This dish pairs really well with plain porridge or plain white rice as it is salty and slightly spicy. Porridge is also light and easy to eat so it's great for kids and the elderly. It's also perfect for me as I am having an ulcer in the mouth right now. I guess it's probably due to too much of CNY snacking. So porridge it is for my lunch today. 🙂
Soak the salted vegetables for about 10 minutes before cooking to remove excess salt. You don't have to soak it for too long though as you'd want to retain some of the saltiness which is essential for this dish.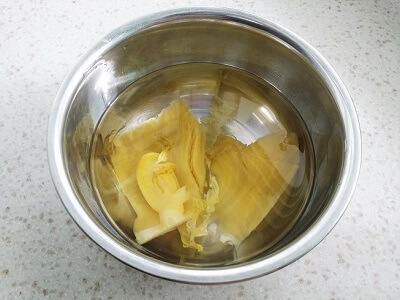 This is one of those dishes that is really quick to whip up and it's great for busy days when you just want to cook something tasty and get it on the table quickly.
You can use either pork slices or minced pork for this dish. I have both in my fridge but I decided to cook this dish with minced pork today. It's faster and easier cooking with minced pork since you save time on cutting the meat. When using minced pork, I prefer it with some fatty bits as lean pork would be a little dry.
You'll need to be quick when stirring the minced pork during cooking to prevent them from clumping up. Practice makes perfect.
So there you have it. Stir-fried pork with salted vegetables – a light and comforting dish popular in many Chinese households. Try the recipe and let me know what you think!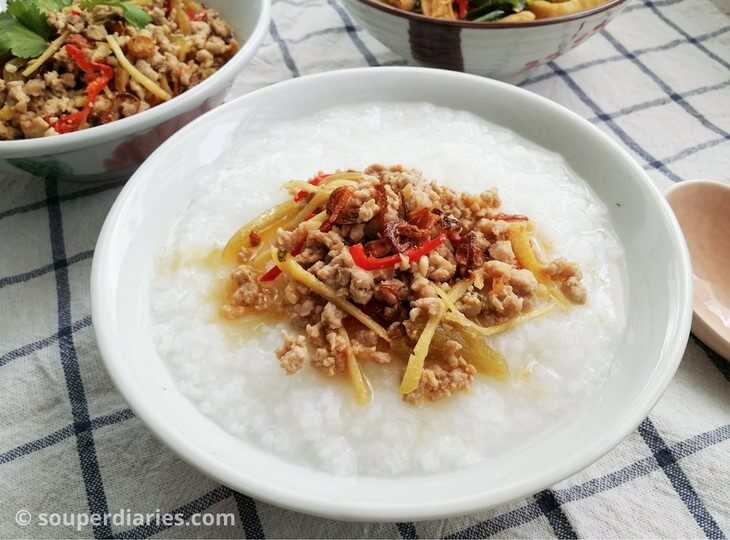 I love having this dish with plain congee. If you like congee too, check out this Congee with Century Egg and Pork too. Thanks for reading and happy cooking! 🙂

STIR-FRIED PORK WITH SALTED VEGETABLES
A quick and easy savory, appetizing and slightly spicy pork dish. Goes very well with plain congee and rice.
Recipe type:
Pork Recipes
Ingredients
80 g salted vegetable – soaked for about 10 - 15 minutes
200 g minced pork (seasoned with 1 tbsp soy sauce and 1 tbsp fried shallot oil)
3 cloves of garlic – chopped
40 g ginger – cut into thin strips
1 fresh red chili – deseed and cut into thin slices or small pieces
1 – 2 tbsp light soy sauce – to taste
½ tbsp dark soy sauce (or more if you prefer a darker color)
¾ cup water
Instructions
Discard soaking water for the salted vegetables. Cut into strips.
Heat up oil in a wok/medium sized pot till very hot.
Add garlic and fry till fragrant and translucent before adding the sliced ginger. No need to brown.
Add chilies and continue to stir-fry for a few seconds.
Using high heat, wait for a few more seconds for the pot to heat up. Then, add minced pork and stir so that it does not clump.
Keep stirring for about 3-5 minutes and break any clumps with your spatula if necessary.
Add salted vegetables and mix everything well.
Pour in 1 tbsp light soy sauce, ½ tbsp dark soy sauce and about ¾ cup of water. Turn heat to medium-high. Cover with lid and simmer for about 2 - 3 minutes.
Taste and adjust seasonings if necessary. Serve hot with rice or porridge.