I've always enjoyed the texture of black fungus and try to incorporate this ingredient into my cooking whenever possible. Paired with chicken and dried lily buds and steamed, it produces a comforting and textural dish. This steamed chicken with black fungus and dried lily buds is not only delicious but also healthy as well.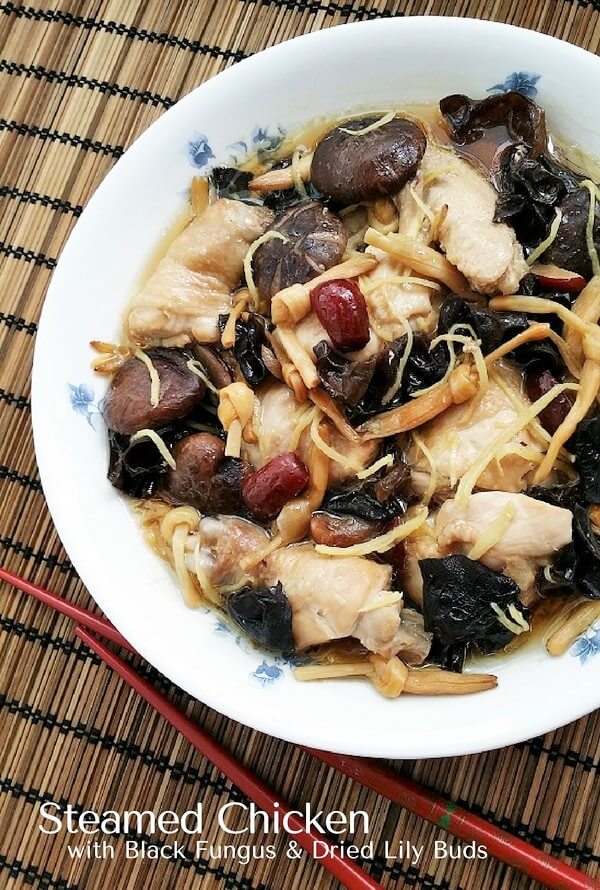 What Is Black Fungus?
If you have never heard of black fungus before, it is a type of edible mushroom that grows on both living and dead wood. Black fungus (also known as cloud ears fungus or wood ears fungus due to its odd shape) is often used in Asian cooking in dishes such as soups, stews, salads, stir-fries and steamed dishes like this steamed chicken with black fungus.
The name black fungus may put off some people but it is delicious when cooked. It doesn't have a distinct taste of its own but absorbs the flavor of other ingredients it is cooked with. The texture is slightly crunchy or slippery depending on how long you cook it.
Nutrition wise, it has a host of benefits including lowering cholesterol and blood sugar, nourishes and cleanses the blood, improves blood circulation, prevents iron deficiency anemia and is rich in iron, protein and vitamins B1, B2 and D. A good source of calcium, it reportedly has twice the amount of calcium compared to milk. It also has seven times the amount of iron compared to pig's liver!
Black fungus is usually sold in dried form and comes in 2 varieties – thick ones and the smaller and thinner types. I am using the smaller and thinner ones for this recipe. Soak it first before cooking. Once rehydrated, it can expand up to 2-3 times its original size. Then, cut off the hard stems and shred them to smaller pieces and use as required in the recipe.
The picture above shows you the dried ingredients listed in the recipe. I forgot to add some goji berries. If you have them, you may add a tablespoon or two to steam with the rest of the ingredients.
For the dried shiitake mushrooms, you do not need to use the expensive and thicker types for this recipe. In fact, I like to use smaller ones here so that no cutting is required (except for trimming off the hard stems) and I can simply pop a whole shroom into my mouth.
All these Chinese dried goods are relatively inexpensive. I usually stock them up in my pantry (except the ginger) so that I can whip up dishes like this one easily.
Dried Lily Bud (金针)
An ingredient commonly paired with the black fungus is dried lily buds. Dried lily buds come from the unopened flowers of the daylily plant. It is a popular edible flower in Chinese cuisine. Tie them into a knot and soak for around 15 minutes. Any longer and they will fray easily and lose its musky earthy flavour. The knots not only make them more appealing but serve to improve their bite and texture.
They are an essential ingredient in Chinese vegetarian dishes like Lo Han Zhai (Buddha's Delight) which some people refer to as chap chye. Another popular dish where you'll find these dried lily buds is the hot and sour soup.
Commonly known as golden needles, they are easily confused with the golden needle mushrooms. Golden needle mushrooms (enokitake) are thin and long looking mushrooms with a pearly cap on top. So do be sure which golden needles are required when you see them listed in a recipe.
To make this dish more flavorful, marinade the chicken, black fungus and mushrooms overnight in the refrigerator. Or at least for 2 to 3 hours. This will let the them absorb more of the seasoning.
This steamed chicken with black fungus is simple, comforting and full of Cantonese flavours. I really enjoyed all the different flavors and textures coming together. I hope you'll love the recipe too. Ready to start cooking?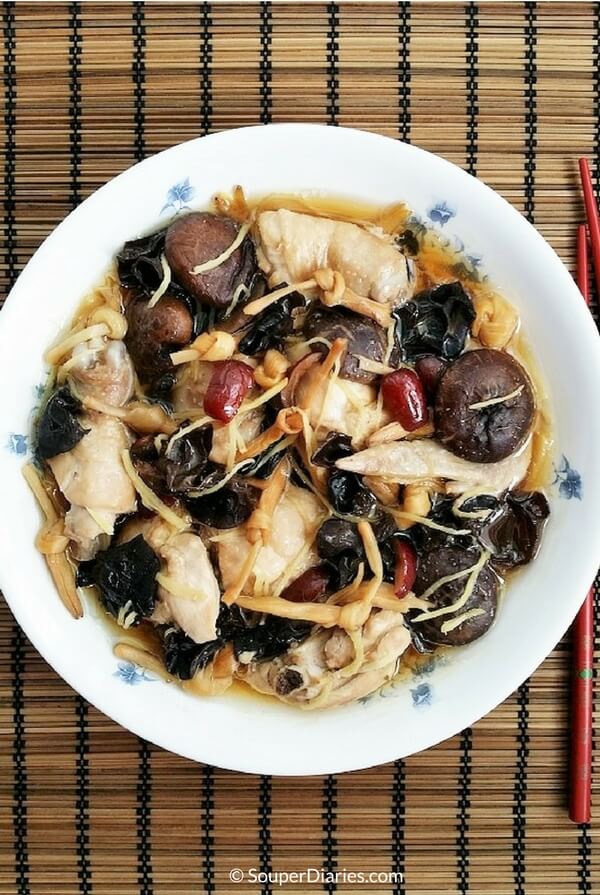 Don't want to miss a recipe? Sign up for Souper Diaries newsletter delivered to your inbox! Connect with me on Facebook, Instagram, Pinterest, Twitter and Google+ for all the latest updates. See you again and happy cooking! 🙂
Other chicken recipes you may like:
Chinese Chicken Curry (Thermal Cooker Recipe)
Braised Chicken with Mushrooms
Chicken Egg Drop Soup
Chicken with Potato Stew
Claypot Chicken with Bitter Gourd

Steamed Chicken with Black Fungus
A healthy dish of steamed chicken dish with black fungus, dried lily buds and dried shiitake mushrooms.
Recipe type:
Chicken Recipes
Ingredients
450 g fresh on-the-bone chicken - washed and cut into small pieces
10 g black fungus - soaked till soft enough to cut off hard stems. Then shred into smaller pieces.
15 g dried lily buds - tied into a knot and soaked till soft for about 15 minutes
5 dried red dates - cut into smaller pieces and remove seeds
6 dried shiitake mushrooms - soaked till soften and cut off the hard stems
30 g ginger - peeled and julienned
1 tbsp goji berries (optional)
5 tbsp water

Ingredients for Marinade:
Instructions
In a large bowl, mix chicken, black fungus and mushrooms with the marinade ingredients for at least 30 minutes.
Prepare your steamer. Fill a wok/pot with about ⅓ water and bring it to a boil.
Meanwhile, add the rest of the ingredients into the bowl of marinated chicken and mix well.
Arrange them in a single layer on a wide steaming plate and steam on medium-high heat for about 15 to 20 minutes or until chicken is cooked.
Serve hot.
Cooking Notes
The longer you marinade the chicken, the more flavorful it will be. You can marinade the chicken and leave it overnight in the fridge if you wish.