Apple pork ribs soup helps to moisten the throat and lungs and soothes coughs and sore or phlegmy throats. Naturally sweet tasting, it is one of my favourite soups and definitely help to quench my thirst during hot and humid weather.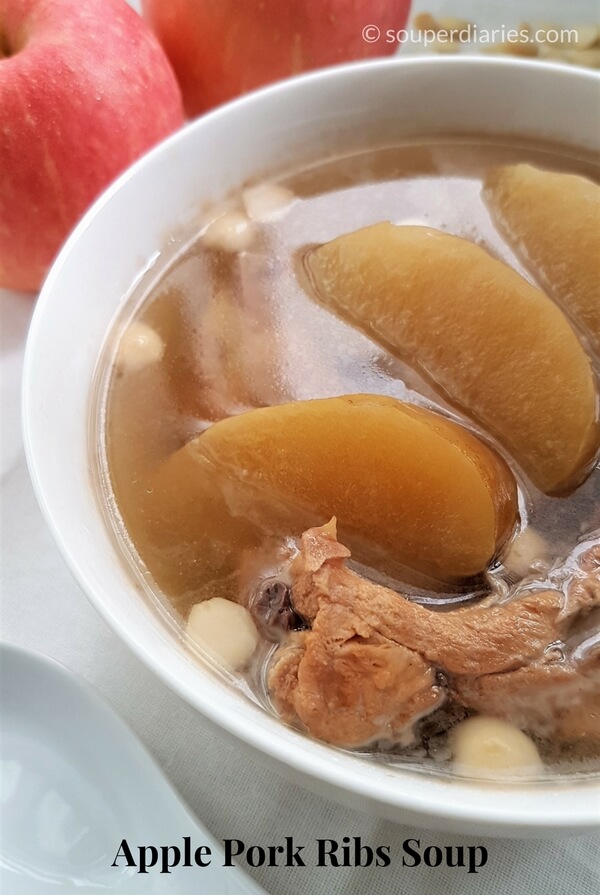 For many Chinese, we believe that drinking soups regularly is beneficial for our skin, promotes a glowing complexion and good health. I am no exception and often boil soup for my family. This apple soup is so easy to prepare. The main ingredients are the apples and pork. I added dried red dates and dried honey dates to further sweeten the soup. The apricot kernels in this soup provide a little crunch and they complement the softness of the boiled apples.
Any type of red apples can be used for this soup but I highly recommend Fuji apples as they are super juicy and sweet. I bought some at my local Giant Supermarket as there was a promotion. My girls love to eat apples. I had to fend them off from eating the apples and quickly photographed the apples before they were all gone! After the photos were taken, I relented and allowed them to have one each. Piggy wanted another apple after finishing one. So I said to her, "An apple a day…" and she laughed. 🙂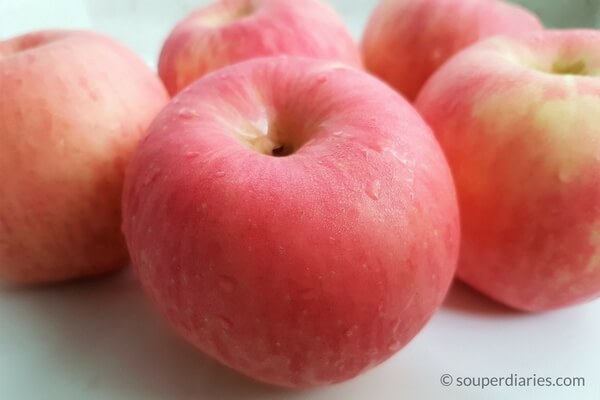 Food As Medicine
In a Western diet, food is evaluated based on its nutritional content. From a Traditional Chinese Medicine perspective however, food has medicinal purposes and energetic properties. They can be selected and prepared to balance the body's yin and yang and nourish the body to good health.
Below is the functions of the dried ingredients in this soup:
Dried red dates hongzao (红枣)
Strengthens the stomach and spleen, improves immunity, counters insomnia and fatigue and build up energy levels and blood. It is traditionally boiled with dried longan and taken by Chinese women undergoing confinement after giving birth.
Bitter apricot kernels běi xing (北杏)
Slightly bitter tasting, it helps to relieve cough and asthma, unblock the bowels, moistens the intestines and unblocks the bowels. It is mildly toxic so avoid taking regularly or in large doses. More information here.
Sweet apricot kernels nán xing (南杏)
Neutral in nature, non toxic and they help to relieve heatiness and soothes coughs.
Dried honey dates mi zao
A jujube preserved in sugar, dried honey dates are commonly used in Chinese soups for a natural sweet taste.
Some Points to Note
#1. Wash the apples thoroughly as they will be boiled with the skin on. You can also peel the skin if you wish but I prefer to have the skin on as much of its valuable nutritional content reside in the peel. If you are concerned about pesticide and other agricultural chemical residues on the skin, use a fruit and vegetable wash.
#2. Do not overboil the soup or the apples will become too soft and will break easily when you ladle the soup. Simmer on low heat for 1.5 hours to 2 hours if you're cooking on a stovetop. For pressure cookers, cook for about 40 minutes.
#3. Dessert option. If you don't fancy cooking fruits with meat, you can turn this soup into a delicious apple drink. Make this soup sans pork and add some rock sugar towards the end of the cooking time.
Other Chinese soup to soothe cough and sore throat include Pear Soup and Lo Han Guo with Watercress Soup.
Serve this soup on its own or with some steamed rice. For more soup recipes, check out my Slow Cooking Soup and Quick Soup recipes.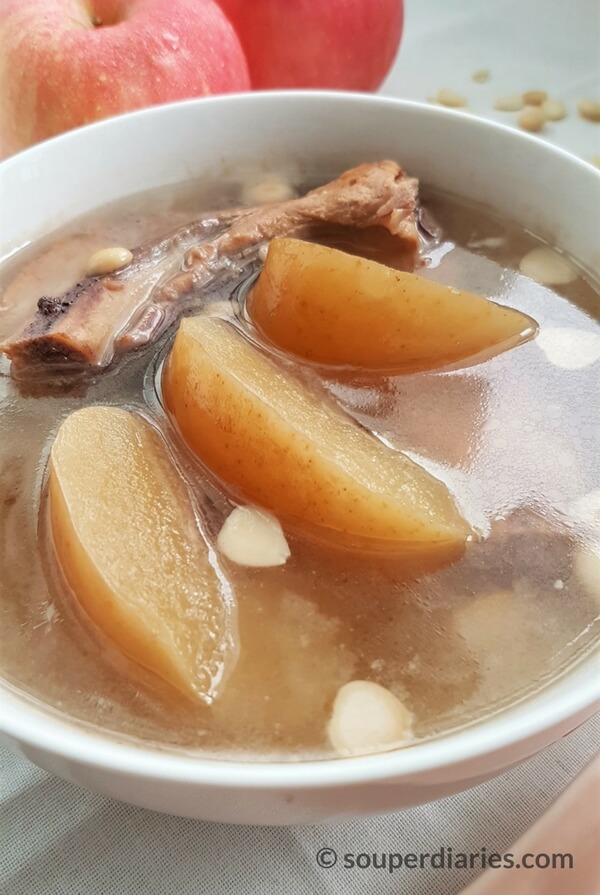 Don't want to miss a recipe? Sign up for Souper Diaries newsletter delivered to your inbox! Connect with me on Facebook, Instagram, Pinterest, Twitter and Google+ for the latest updates. See you again and happy souping! 🙂

Apple Pork Ribs Soup
Recipe type:
Slow Cooked Soup
Ingredients
2 large or 3 smaller red apples
350 g pork ribs
6 dried red dates
4 honey dates (use 2 if you prefer a less sweeter soup)
10 g bitter apricot kernels
10 g sweet apricot kernels
6 cups water (or enough to cover the ingredients)
Instructions
Blanch pork ribs in boiling water. Remove, rinse and set aside.
Rinse apples thoroughly. Cut into sections and core.
Rinse all the dried ingredients (red dates, honey dates and apricot kernels).
Put all ingredients (except apples) into a soup pot and bring to a boil. Once boiling, add the apples, lower heat and simmer for 1.5 to 2 hours at the most. Do not over-boil or the apples will be too soft and break easily when you scoop up the soup.
Season with salt if required and serve.