Ginseng with Chicken Soup
For centuries, ginseng has been highly esteemed by the Chinese for its reputation for its amazing health benefits. Ginseng is perhaps most well known to boost our memory power and energy levels. Regular intake of ginseng helps to strengthen our vitality and strength, increase metabolism, refresh the mind, strengthen the physique and promote longevity.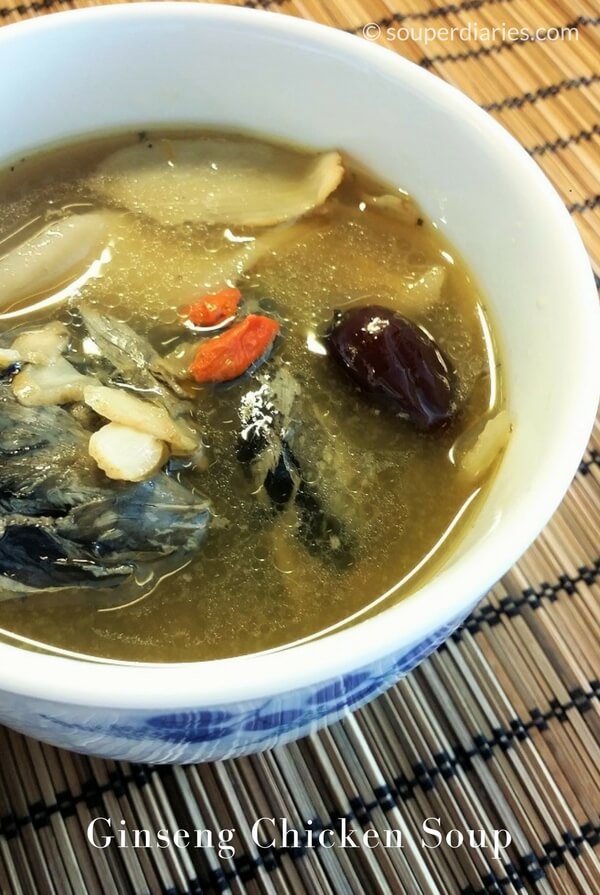 Ginseng is widely accepted to belong to one of 3 main types – Chinese ginseng (ren shen); American ginseng (yang shen) and Korean ginseng (gao li shen). Their names are not indicative of their country of origins but rather the species itself. They can be further divided into 2 categories – wild and cultivated. Wild ginseng is much more valuable and expensive and it can run into thousands of dollars for the rarer grades.
I used to think that all ginseng soups are considered 'heaty' but this is not true. Korean ginseng for example, is more 'heaty' compared to Chinese and American ginseng. American ginseng is more cooling and is usually sold in 3 parts – the head, the root and the "beard" which looks like thick threads. Learn more about American ginseng here.
Ginseng has a bitter flavor so it will take a little getting used to if you're not accustomed to the taste. Reduce the quantity of ginseng in this recipe if you're new to ginseng. But if you don't mind slightly bitter tasting food, I recommend that you try out this soup. In Traditional Chinese Medicine (TCM), bitter flavors can help our bodies to clear heat.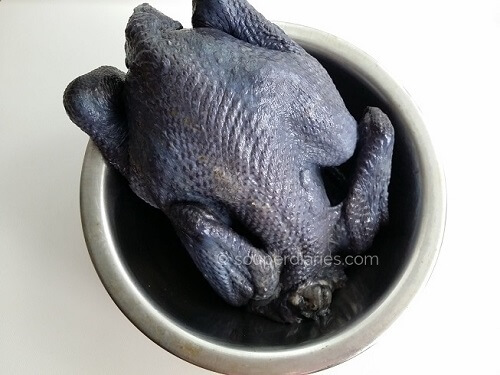 I used black chicken for this soup but you can also use a regular chicken. Black chicken are also known as Silkie (sometimes spelt as Silky) as they have a fluffy plumage that is said to feel like silk. Black chickens are generally smaller than their more common counterparts and is valued as a curative food in TCM.
The meat and bones of this chicken looks black and even the organs too. It was easier for me to cut it into pieces compared to a 'regular' chicken due to its smaller size. I find the taste of this little black bird to be slightly gamey compared to a paler breed.
Other ingredients I added into this soup were dried red dates, goji berries, huai shan and yu zhu. They help to balance the bitter flavor of the ginseng. You may substitute the ginseng here with other types of ginseng; depending on what you have purchased. If you're using dried Korean ginseng, you'll need to use a smaller quantity as it is stronger and more potent.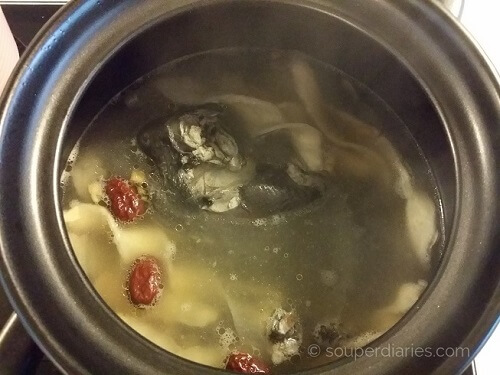 Cook the silkie chicken whole or cut it into large pieces. Parboil the chicken first before adding it into your soup pot. I used a claypot to simmer this soup for about 2 hours and the chicken meat turned out really tender. Slow cooker is also another cookware that is suitable for cooking herbal soups.
Don't want to miss a recipe? Sign up for Souper Diaries newsletter delivered to your inbox! Stay in touch on Instagram, Pinterest, Twitter and Google+ for the latest updates. See you again and happy souping!
Ginseng with Black Chicken Soup
Black chicken
Recipe type:
Slow simmer soup
Ingredients
1 small black chicken/silkie chicken - cut into big parts
15g American ginseng
20g yu zhu
20g goji berries
20g huai shan (dried Chinese yam)
5 big dried red dates (or 10 small ones)
2 dried honey dates (optional)
1.6 litres water (or enough to submerge all ingredients by about an inch)
Salt - to taste
Instructions
Blanch chicken in a pot of boiling water for about 5 minutes to remove scum and dirt. Drain and put it aside.
Place all ingredients and soaking water except the goji berries into a soup pot and bring it to a boil. Then lower the flame to the smallest setting and let it simmer for about 1.5 - 2 hours.
Add in goji berries into the soup in the last 10 minutes of cooking. Season with salt to taste.
Cooking Notes
Regular chicken may be used if preferred.