It is nearing December and the weather has been chilly in Singapore lately so today I made sweet red bean soup to keep me as warm as toast even though it's windy and cold outside :). Red bean soup (紅豆汤 hóng dòu tāng) is an all time classic Chinese dessert soup.
This post was first published on Dec 4, 2015 and now updated on 18/11/16 with improved recipe and photos.

The basic ingredients for this red bean soup recipe are red beans (also known as adzuki beans), dried tangerine peel and rock sugar. For this recipe, I added ginkgo nuts and sago for extra texture to the soup. If you have pandan leaves, tie a few into a knot and throw them into the soup pot as well to add some fragrance.
Other variations of this soup include the addition of ingredients like lotus seeds, red dates, dried longan, glutinous rice balls and coconut milk. If you're using coconut milk, consume the red bean soup as soon as you can as it will not stay fresh nor keep well for long. Substitute with low-fat coconut milk for a healthier option.
Compared to green beans, red beans take a longer time to cook and soften. Soak the beans overnight in lots of water to shorten the cooking process. Doing so will also prevents flatulence.
From my observation, the quality of the beans you use will also affect the length of the cooking time. The previous batch of red beans that I bought took a much longer time to cook than my latest purchase. Try not to keep raw beans for long periods of time as it will affect their quality.
Health benefits of Red Beans
In Traditional Chinese Medicine, red beans is believed to reduce fluid retention, alleviate oedema, promote diuresis, eliminate skin heat and toxins, and help with weight loss. Consumption of ginkgo nuts treat coughs and fluid discharges, alleviate asthma and helps to preserve the functions of the brain. Dried tangerine peel (called chen pi) is a warming ingredient high in antioxidants and helps with indigestion, reduces nausea and treats diarrhea. Tea made from dried tangerine peels has many health benefits and one that I particularly like is that it helps to alleviate morning sickness in pregnant women.
Dried tangerine peels add a citrusy flavor and scent to the soup. Try not to omit this ingredient as it really does give the soup a lovely aroma. Do not add too much of it though or the soup will turn bitter. The first time I made this, I added about 5-6 pieces and it made the soup bitter. My daughter took a sip and cringed. So, lesson learnt. 1 piece is quite sufficient. A little goes a long way. If you think you need more, add another piece later only after you've tasted the soup.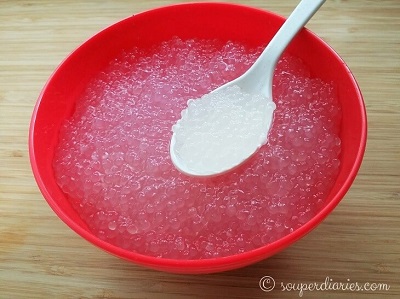 Sago gives a soft jelly texture to the red bean dessert. The picture above shows sago that has already been cooked. Refer to this post on how to cook sago.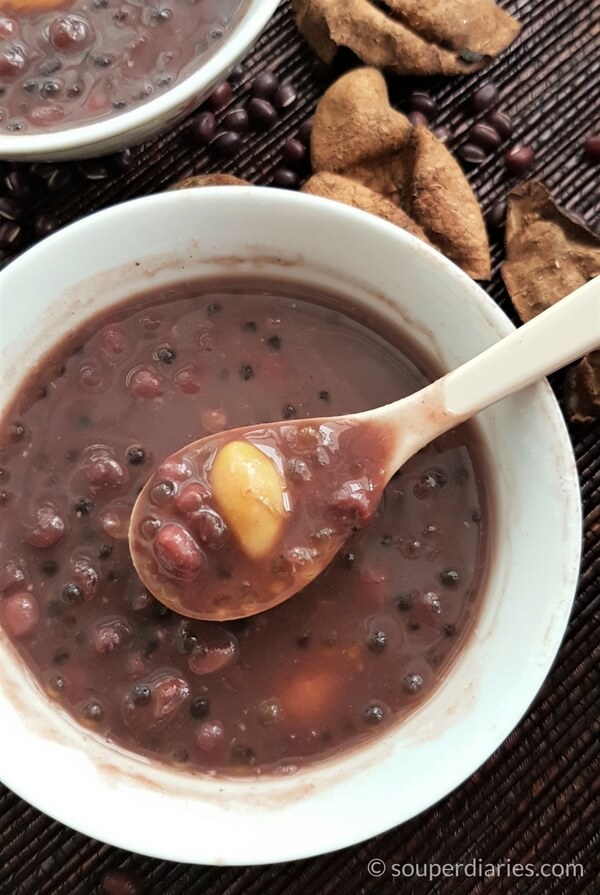 Some like this soup with a thick consistency while others prefer it thinner. I am personally partial to the thicker version. To thicken the red bean soup, you can either use a blender to blend the softened beans or manually mash them with the back of a spoon. I am personally partial to the thicker version.
Other Bean Soups To Try:
Green Bean Soup (Quite similar to Red Bean Soup but it has cooling properties as green beans are a cooling ingredient)
Black Bean Soup (A savory soup to nourish blood and maintain overall good health)
Delicious Red Bean Ideas:
#1. Leftovers of this sweet soup can be freezed up and made into delicious popsicles.
#2. Serve the red bean soup with a scoop of ice-cream for a refreshing and yummy treat!
Don't want to miss a recipe? Sign up for Souper Diaries newsletter delivered to your inbox! Stay in touch on Instagram, Pinterest, Twitter and Google+ for the latest updates. See you again and happy cooking!
Red Bean Soup Recipe
Nutritious and delicious red bean soup. Great as a dessert for any time of the day!
Recipe type:
Desserts and Drinks
Ingredients
1 cup red beans - soaked overnight and discard soaking water
1 piece dried tangerine peel - soaked for 10 - 15 minutes till soft
100 g rock sugar - or to taste (may be substituted with brown sugar)
6 cups water
Optional Ingredients
60 g vacuumed packed ginkgo nuts
4 pandan leaves - washed, trim off dry ends and tie into a knot
⅓ cup small sago
Instructions
To cook sago: Bring a small pot of water to a boil. Pour in sago seeds and let it simmer for around 5 minutes. Turn off heat and keep the pot covered for about 10 - 15 minutes. Let the remaining heat finish cooking the sago until it is all translucent and gelatinous. Once fully cooked, rinse the sago to remove any residual starch. Keep sago pearls submerged in some water (to prevent sticking) until ready to use in your dessert.
Use a spoon and scrape off the white pith from the inside of the dried tangerine peel. Rinse. This will reduce its bitterness.
Put in red beans, pandan leaves, dried tangerine peel and water in a soup pot. Bring to a boil for about 5 minutes. Lower the heat and simmer for about 1.5 to 2 hours or until the red beans are broken and soft.
Optional Step: For more intense red bean flavors, mash half (or all if you prefer) the beans with the back of a spoon in a strainer placed over a bowl. Do this when the beans have softened and opened up. Ladle up some soup and pour it through the strainer to let any remaining mashed beans return to the soup. Transfer the strained mixture back into the soup pot and discard the empty husks in the strainer.
Add the ginkgo beans 1 hour into the cooking time. If you prefer it to be very soft then add them in step 3.
When the soup reaches your desired consistency, remove the pandan leaves and dried tangerine peel. Add rock sugar and stir till it dissolves. Turn off heat and serve.
Cooking Notes
Preparation time does not include soaking time of the beans.