Welcome to Souper Diaries! I'm Yvonne. Do you lead a busy and hectic lifestyle? Would you like to learn how Chinese soup can help you achieve optimal health for you and your family?
In today's modern society, many of us lead a stressful lifestyle juggling long working hours, family and personal life. Eating well and taking good care of our health are just some of the ways we can reduce stress.
This blog was created to share delicious and healthy Chinese soup recipes to nourish the body and strengthen one's immune system and overall health. Here you can also find tasty and easy South-East Asian recipes, most of them foods that I grew up eating.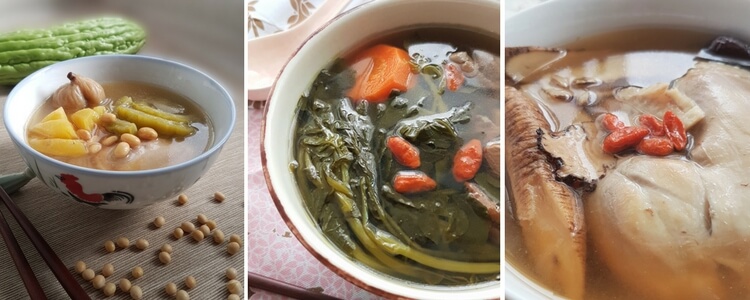 Why Chinese Soup?
I love soups of any kind; especially Chinese soups – they remind me of home and family. Drinking soup is a beloved and deep-rooted tradition of Chinese food culture.
From a Chinese medicine perspective, every individual has a unique body constitution and food has therapeutic properties to balance one's qi (vital energy). Food does not just satiate a person's hunger. It also serves to nourish and when taken correctly, acts as a tonic for a multitude of ailments and balances your body's weaknesses and strengths.
The Cantonese in particular, are famous for their 'old-fire soups' – soups slowly simmered for 2 – 3 hours to release the essence and health benefits of natural ingredients into the soup. Many Cantonese people practice food therapy and base their everyday diet according to the body's condition.
I'm a firm believer in drinking Chinese soups regularly to delay the effects of aging even as the numbers climb up each year. That and a good night's of sleep – it really helps with preserving good health too!
Chinese soups helps to promote a glowing complexion and facilitates graceful aging. It is also low in fat and calories as no oil nor cream is used. Therefore, it is very suitable for those who are on a healthy diet.
In this blog you will also find reviews by me. They are cookware that I personally use or something that I would want to use myself and I do not recommend anything that I don't trust. Note that the links are my affiliate links and you may read the disclosure here.
About Me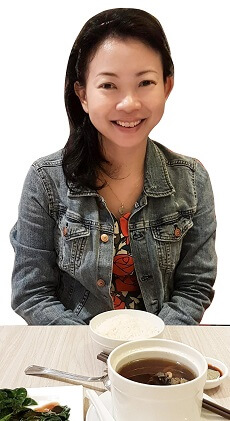 My name is Yvonne and nice to see you here. I was a full-time stay home mom for more than a decade before I decided to return to the workforce.
I started my blogging journey after the birth of my youngest child. It has been a rewarding experience for me as I can improve my cooking skills and help others at the same time. In case you're wondering, I learnt how to start a blog from this site.
I love trying out new foods, reading cookbooks and experimenting with recipes in my tiny kitchen. I aim to create easy, delicious recipes with minimal fuss on mostly well known dishes to encourage you to try it at your home too.
Keep reading if you can't get enough about me…?
Firstly, I am a child of God and to God be all the glory in everything I do. In Him is my refuge and strength.
I spent my childhood and teenage years in Ipoh, Malaysia before coming to Singapore to work and study around 1997. It was not my plan to stay on and call Singapore home, but here I am. It was in Singapore that I met my husband and settled down. We are blessed with 2 girls and a boy and I often call them by their nicknames – Rooster, Piggy and Jemmy.
I hope that you find something useful and tasty while you are here and to inspire you to make a delicious bowl of Chinese soup for you, your family and friends.
First Time Visitor?
---
Link to my medical disclaimer here.