I first tried salmon belly miso soup more than 10 years ago at a Japanese restaurant and it was love at first sip. Everything about it was wonderful; from the flavorful and rich tasting soup, the silky tofu pieces to the creamy and smooth salmon belly. The tantalizing waft hinting of deliciousness coming from the hot soup was simply irresistible.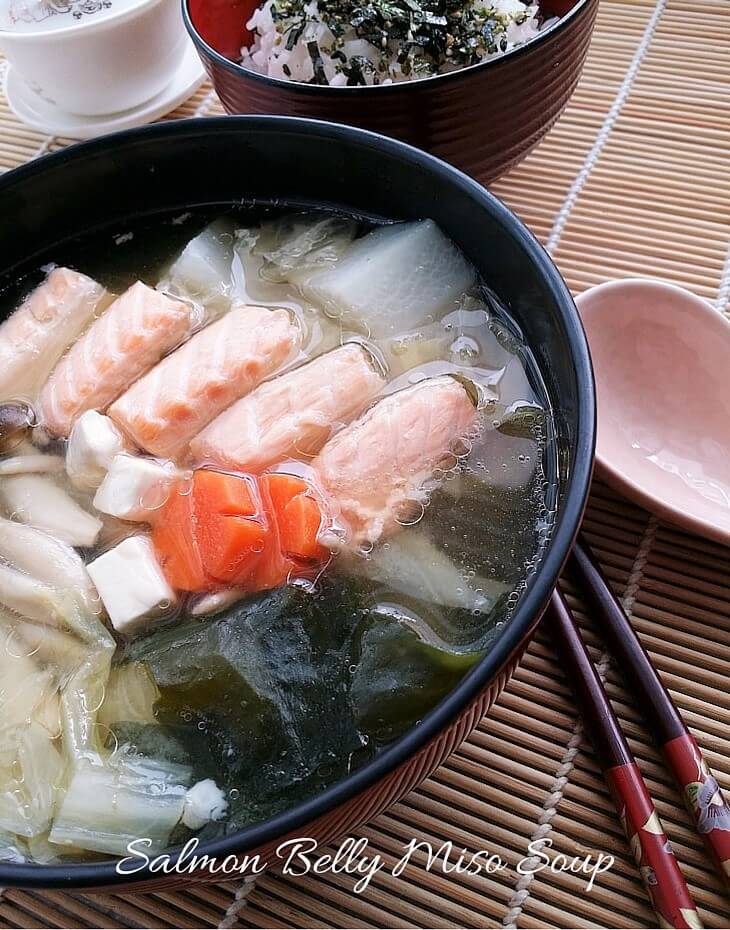 I started cooking my own salmon belly miso soup at home last year and ever since then I've been making them regularly. I was surprised at how easy it was. With a little effort, you can have a hearty and comforting one-pot meal at any time of the year.
The main ingredients in miso soup are miso and dashi. Miso is a naturally fermented paste usually made from soybeans and sometimes other grains such as barley and wheat. Miso makes the flavour of the soup rich and earthy and gives it body. It is commonly cooked together with dashi (a Japanese fish broth) to make miso soup.
Dashi
I was shopping at the supermarket in Isetan two weeks ago when they were having a Japanese Food Fair. The sampling that I was given from a stall selling miso paste and dashi was really tasty and I ended up buying the dashi and miso (pictured below) to try.
At $16 for 14 packets, this dashi is more pricey than instant dashi granules but I think they're worth it. It is MSG-free and made of only 3 ingredients: dried bonito shavings, dried mackerel shavings and kelp. There is a subtle smoky taste to it.
Miso Paste
The miso that I bought (picture below) is called Kanena barley miso and it is from Miyazaki, Japan. A huge mound of the barley miso was placed on a large dish and you could specify how much of the miso that you want to purchase and it will be scooped into containers as shown above.
This barley miso is handmade from barley, rice, soybeans and sea salt. There is no MSG, no preservatives, no alcohol and no heat is used. I was told that the miso yeast is still alive and the flavours will continue to develop. According to the lady manning the stall, it will not harden even if I freeze it! I didn't try keeping it in the freezer though. I kept it in the chiller and that is where it's going to be.
Different types of miso paste
The types of miso paste commonly available can be categorized by the following colours:
White Miso (Shiromiso)
Light yellow in colour, this type of miso has the least amount of soybean and it is milder than other types of miso. It can be used in a wide variety of dishes including salad dressings, miso marinades and soups.
Red Miso (Akamiso)
The saltiest of the misos that is usually dark reddish brown in colour. Use sparingly and adjust to taste.
Mixed Miso (Awasemiso)
A blend of red and white miso.
Some miso paste come together with pre-added dashi. Those are usually labelled as dashi-iri. Alternatively, you can try cooking with this instant dashi powder which is MSG-free. It is a short-cut to cooking your own dashi stock. I liken instant dashi powder to a chicken stock cube.
Where to buy miso
Miso can be found in Japanese supermarkets, Japanese food stores or the Japanese section of some local supermarkets. It is not only affordable but an incredibly healthy food as well. It can be a mind-boggling task trying to choose a suitable miso paste to get especially with the wide array of choices to choose from. Check the labels and try to find non-MSG ones. The cheapest ones are usually very strong in flavor so I tend to avoid those.
If you're unsure, I recommend getting the yellow or white miso as it is an all-purpose miso which you can also use for making other dishes like salad dressings and marinades.
You can also purchase white miso, red miso and mixed miso on Amazon.
Cooking salmon belly miso soup
I use my Happycall pot to boil many of my soups including this salmon belly miso soup. I've used it for braising, frying, soups, porridges, stews, etc. The 4qt (about 4 litres) size is just right for me when boiling soups as I usually boil enough for 2 meals. You can find out more about Happycall Alumite Ceramic Pots from my review.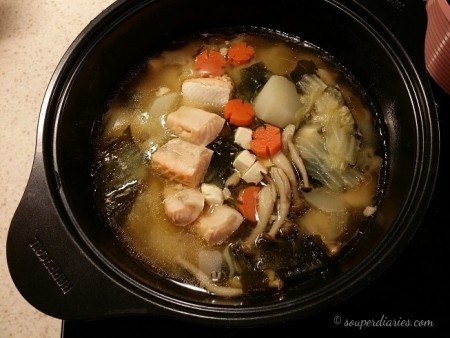 For this salmon belly miso soup recipe, you can use salmon bones or salmon belly or a combination of both. I added some daikon to balance the richness of the soup and the creaminess of the salmon. If you enjoy eating daikon you may like to try this soup too.
The ingredients for this soup are very flexible. You can use leftover vegetables for this soup and turn it into a complete meal. Have some tofu and mushrooms in your fridge? Throw that into the pot as well.
So, with the many types of miso paste available in varying degrees of saltiness you might want to try out a few kinds and see which ones you like. This soup is perfect served with a bowl of steaming hot rice. Or just enjoy it on its own!
Would you like to become a food blogger like me? Or are you passionate about other hobbies/niche that you would like to share? Learn how to create your own website and much more at Wealthy Affiliate. There's a 7 day trial that is absolutely FREE! Find out more here.
SALMON BELLY MISO SOUP
A delicious and comforting one-pot soup meal that will satisfy your tummy!
Recipe type:
Quick Boil Soups
Ingredients
6 cups of water
2 tbsp miso paste - or to taste
1 to 2 packets of dashi powder sachet or ½ tbsp dashi powder (refer to the dashi packaging instructions)
300 g salmon belly - rinsed and cut into 3-4 cm lengths
300 g daikon (white radish) - peeled and cut into bite sized pieces
1 small carrot - peeled and cut into small pieces
200 g napa cabbage - chopped coarsely
150 g enoki mushrooms - ends trimmed and rinsed
1 block of silken tofu - cut into small cubes
2 tbsp dried wakame (Japanese seaweed)
Instructions
Bring water and dashi packet to a boil in a pot. Once the water is boiling, scoop out some into a small bowl and add in the miso paste. Mix thoroughly until no lumps remain. Set aside.
Add in daikon, carrots and napa cabbage. Simmer for about 10 minutes or until they are softened. Gently add in salmon, mushrooms and tofu and simmer till the salmon is cooked. Add in the wakame.
Pour the dissolved miso from step 1 back into the pot and stir gently. Turn off the heat. Do not continue to boil or the miso would lose its flavour.
Remove the dashi packet from the pot and serve the soup hot.
Cooking Notes
1. When heating up leftovers of this soup, do not heat it to boiling point so as to preserve the properties of the miso.
2. You can also use a combination of salmon belly and salmon bones for this recipe.