When Happycall cookware debuted on the cookware scene some years ago, I didn't really pay much attention to it as I thought it was just another one of those cookware fads that come and go. I finally bought and I've been using Happycall Alumite Ceramic Pots for the past 2 years and it has been one of my best kitchen investments.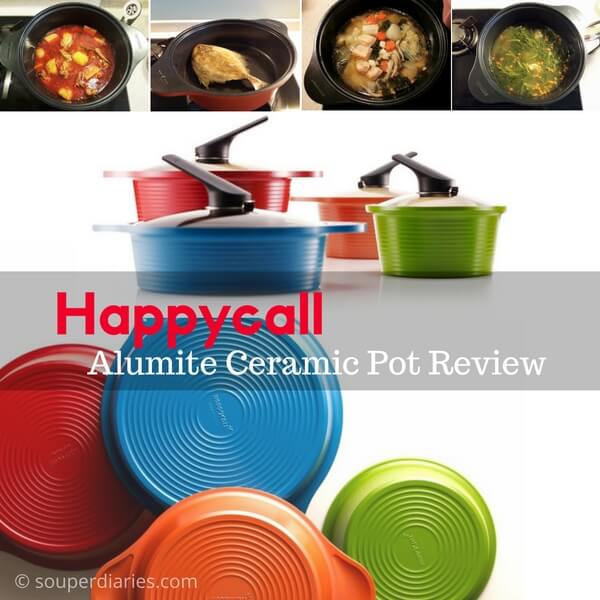 There are so many features that I love about this cookware. It is highly scratch-resistant compared to other non-stick cookwares that I've tried before. This is due to the special Alumite processing that is applied to the inside and outside of the pots.
I've lost count of the many non-stick cookware that I've thrown away over the years as it turned rusty from scratches. So, I was really glad when I came across Happycall. So far, there is not a single scratch mark on my pots and I use them almost every day!
It doesn't take long for the pot to heat up so food cooks quickly and evenly. This is helpful and I have more time to do other things. I'm sure many busy moms like me will appreciate any free time. It sears meat and fish beautifully too when I fry food.
If you have limited countertop space like me, you will love the tempered glass lid with self-standing feature. Just let the lid rest vertically to save you some valuable space when cooking. Many times when I cook, my counter top gets really cluttered so this is a feature that I find very useful.
I love the see-through glass lid as it lets me check on my food without having to open the lid often. This prevents heat from escaping and helps the food to cook faster.
Another feature which I like about this cookware is its non-rivet handles. This is a very distinctive feature about Happycall Alumite Ceramic Pots. It makes it much easier to clean and you don't have to worry about rust forming. However, as the handles are highly heat conducive, remember to use a pair of gloves or silicon mitts when handling them during cooking.
When I first bought these pots, I forgot about that and got a very 'hot' surprise when I touched the handles during cooking. But once you're used to this cookware, you will remember not to handle the pots directly with your hands when cooking. The only exception to this is the 1.8 liters green saucepan as the handle for that pot is not heat conductive.
Watch this short video and see why cooking is delightful and a breeze with Happycall Alumite Ceramic Pots.
The Products
Product: Happycall Alumite Ceramic Pot
Manufacturer: Happycall Co., Ltd
Origin: South Korea
There are 5 products in Happycall's Alumite Ceramic Pot range and they come in different colours, sizes and price. I use different pots for specific purposes. The 4 qt pot (red) is what I use when making soups as I usually cook enough for 2 meals.
The great thing about cooking with the 3qt pot (orange) is that it can go straight from the stove to the dining table. As it has a low wall, I use it to serve food and that saves me from washing one more plate. Sometimes I use it to fry food as it is quite shallow and food will not stick to the surface.
The green saucepan is ideal for sauces, instant noodles, etc. I like to use it for making shallot oil, garlic oil and par-boiling meat when I boil soups.
| Product | Size | Volume | Colour | Price |
| --- | --- | --- | --- | --- |
| | 7" | 2 qt (1.8 lt) | Green | $32.23 USD |
| | 8" | 3 qt (2.5 lt) | Blue | $59.15 USD |
| | 9" | 3 qt (2.8 lt) | Orange | $63.36 USD |
| | 9" | 4 qt (4 lt) | Red | $58.41 USD |
| | 11" | 6 qt (6.3 lt) | Brown | $59.99 USD |
These individual pieces are also sold in sets like these:
7-piece pot set with lids,
10-piece pot set with lids and
13-piece pot set with lids.
Explore the full range here.
Happycall Alumite Ceramic Pot Features
Ripple-patterned exterior with Eco-Friendly
Porcelain Coating significantly improves
thermal heat distribution.


Star-patterned Embossing Interior
for Excellent Non-sticking Quality.



Active steam vent prevents
overflow with special handle for easy handling.


Non rivet handle prevents
corrosion and rusts and makes cleaning easier.


Tempered Glass Covers with
"Self-standing" & "Anti Over-flow" Features.
Enjoy more space and lesser clean ups.

3-Layer Hi-Tech Pure Ceramic:
environmentally friendly, anti-corrosive &
highly resistant to scratches.



What is Alumite Special Method & High Purity Ceramic Coating?
Alumite special processing is an anti-corrosion method that is used in airplanes, ships, semiconductors, etc worldwide. This processing method is composed of 8 phases. A fine ceramic oxide film is created on the pots, making them able to resist corrosion, stronger and lasts longer. This special Alumite processing is applied to the inside and outside of the pots.
Cooking with Happycall Alumite Ceramic Pots
This video shows you some of the foods that you can cook with Happycall Alumite Ceramic Pots.
I love using this cookware for cooking different foods like soups, stews, sauces and much more. Besides that, you can also cook frittatas, stews, rice, porridge, roasts (with the 6 qt pot), steaks, casseroles, curries and noodles. I've watched on youtube how a cake can be made with this pot though I haven't personally tried it yet.
Here are some of the food that I cooked using my Happycall pots. Click on the photos if you'd like to view the recipe. This section will be updated whenever I have a new recipe post cooked using Happycall pots.
Happycall Alumite Pot Useful Add-Ons
Happycall Potmate Pair Silicon Pot Holders
This cute little butterfly shaped silicon mitt holders may be small, but they are big enough to keep your hands from getting burnt when you grip your pot handles. They also double up as a pot mat and look good in your kitchen too! 🙂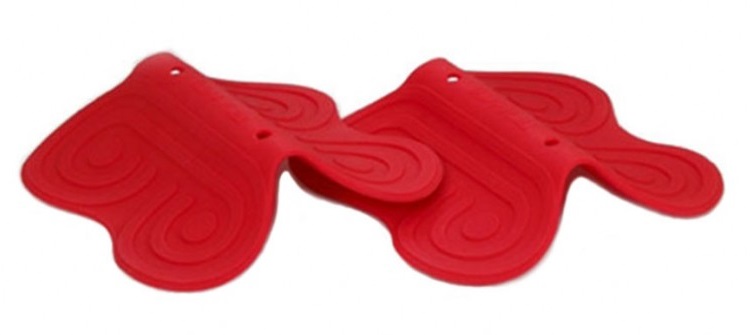 – Heat-resistant silicone
– Convenient use as a pot rest
– Made in Korea
– Heat-resistant silicone
– Comes in a pair
– Great for hot pots and pans
– Great for grabbing skewers on the grill
– Ergonomically designed
Happycall Stainless Steel Steamer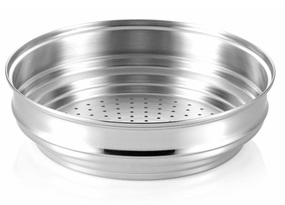 Happycall stainless steel steamer saves me time and energy as I can cook two or more things at any one time. When I'm boiling my soups, I use this to steam foods like fish, tofu, vegetables, meat, etc.
– Also used as a pasta and vegetable strainer.
– 18/10 Stainless Steel
– Convenient sizes – Available in 3 sizes: 8″, 9″ and 11″
– Durable and lightweight.
– Fits perfectly with Happycall pots and lids.
How to Care For Your Happycall Alumite Ceramic Pot
– Before the first use, wash with a neutral detergent before cooking.
– Do not use this product in a microwave. It is suitable for stoves and ovens but the lids are not oven safe due to the Bakelite handle and tempered glass.
– Never touch the handles or pot with your bare hands during cooking as there is a risk of burns. Use a pair of silicon oven mitts or gloves to handle the pot.
– Avoid using sharp metallic cooking utensils. Use silicone or wooden cooking utensils which would be more suitable.



Cleaning Is A Breeze
Cleaning up is a breeze as there are little or no spills on my counter top. As I hardly find any residual food sticking to my pot, all I do is to use a kitchen paper to wipe off any excess oil/gravy. Then gently clean the pot with a sponge and a little dish detergent. An added bonus is that the pot is surprisingly light so it is very easy to lift up and clean. No fuss, no muss.
For a thorough cleaning, use a little liquid scrub. It cleans tough stains with minimal effort. This video shows you how it is done.
Final Thoughts
I am a fan of Happycall Alumite Ceramic Pots as it meets all my kitchen needs and makes cooking in my kitchen a lot happier and easier. It is style and quality all in one. The pots come in different sizes to fit all my kitchen requirements.
I love its scratch-resistant quality so I don't need to be worried about it turning rusty. With proper care and correct usage, I hope to be able to pass down this cookware to my children. This is definitely a keeper! 🙂
Where Can You Get It?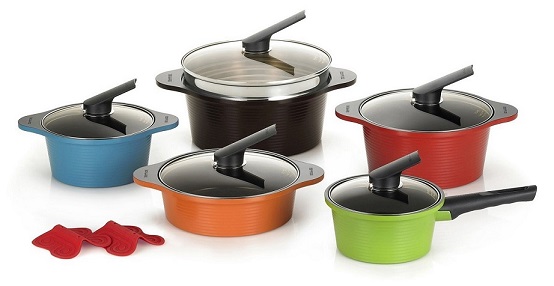 Find the right Happycall pots for you and the best prices at:
(shipping within the United States and Canada)

For international shipping, check out
For delivery to Singapore addresses only, check out
What do you think about Happycall Alumite Ceramic Pots? Are you eager to try them out?
If you've enjoyed this review, please share it with your family and friends. 🙂