If you ask me what is my favorite kitchen cookware, Happycall alumite ceramic pots would easily be one of them. I've been using their Happycall Alumite Ceramic pots for years now and this is my experience with their products.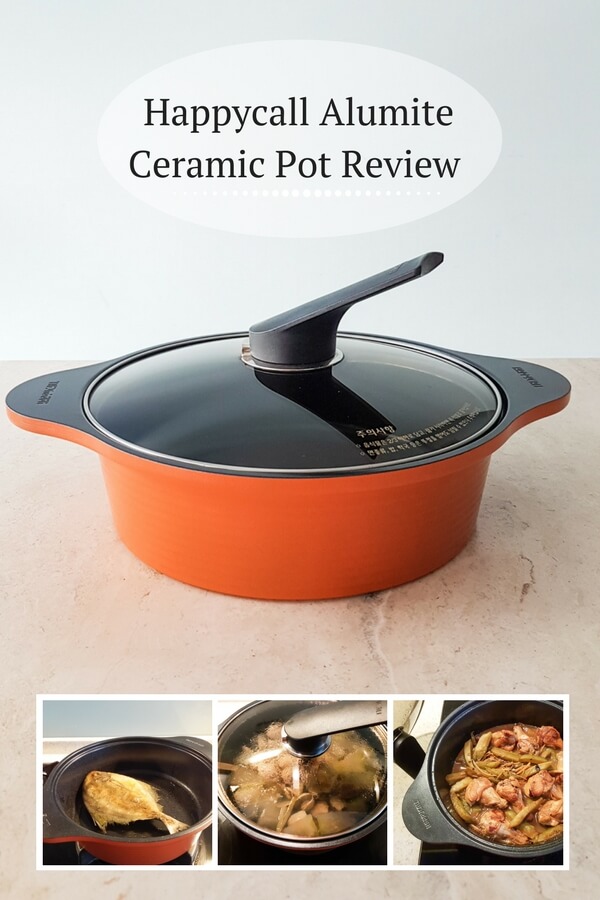 (this post is not sponsored but contains my affiliate links and personal opinions)
Product Overview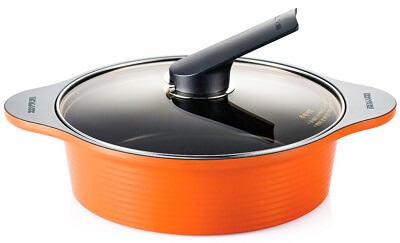 Specifications
Product type: Soup/stew pot (also doubles up as a frying pan)
Pieces included: Pot and lid
Manufacturer: Happycall Co., Ltd
Country of origin: Republic of Korea
Capacity: 3 qt
Dimensions: 26.5 cm x 33.9 cm, H 8 cm
Diameter: 9 "
Pot material: Die cast aluminium
Lid material: Tempered glass and stainless steel
Coating: Ceramic coating for both interior and exterior
Color: Orange
Stove type compatibility: Gas, electric and glass
Induction Safe: No
Oven safe: Yes up to 400 degrees F (only for pot, not lid and 2 qt saucepan)
Microwave safe: No
Non-stick surface: Yes
Scratch resistant: Yes
Stain resistant: Yes
Nonreactive: Yes
Cheapest Price: Amazon
Note: Happycall silicon pot holders and stainless steel steamer are sold separately.
Certifications
ISO 9001
ISO 14001
Heavy metal test passed
PFOA free
Features
Happycall uses aerospace technology known as alumite processing to create strong surface strength and corrosion-resistance. This is applied to die cast aluminium to create its lightweight yet durable structure. In addition, this pot keeps its anti-corrosion characteristics when cooking salty food.
Comes with a self-standing lid which includes an automatic steam vent. Saves space and prevents boiling-over.
Non rivet handle makes cleaning easier and prevents rust and corrosion.
Star-patterned embossed interior reinforces nonstick properties and improves heat efficiency.
It is applied to die-cast aluminum to retain aluminum's light-weight properties yet rigid structure. Comes with the Happycall self-standing glass lid which includes a wide steam vent.
Eco friendly ceramic interior/exterior coating for easy cleaning and cooking
Ripple-patterned exterior improves heat distribution.
What I love about Happycall Alumite Pot
#1. Low Wall: Happycall alumite ceramic pots come in various sizes and colors. What I really like about this 3 qt model is its low wall; making it suitable not just for cooking but for serving food. It goes straight from the stove to the dining table and that saves me from washing one more plate.
The low wall also makes this pot excellent for pan frying. I use it to fry tofu, fish and more.
#2. Non-stick surface: Although it has a non-stick surface, it is not made of teflon but high-purity ceramic coating. Food does not stick to the surface of the pot even with minimal oil.
#3. Heats up quickly: It takes just seconds for the pot to heat up and food cooks quickly and evenly. This is helpful and I have more time for other activities. It sears well when frying.
#4. Highly scratch-resistant: Usually with a non-stick surface, it gets scratched easily but amazingly, there is not a single scratch nor stain mark on my Happycall pot and I've been using it for 3 years now! Of course, I treat it with care and do not use sharp cooking utensils and abrasive cleaning materials. Till now, it is still in pristine condition.
#5. Rivet-free body: This gives Happycall Alumite Ceramic Pots its distinctive 'clean' appearance. Pots with riveted handles make it impossible to clean the inside of the pot thoroughly so I'm really pleased with Happycall's non-rivet handles. As there are no rivets, I don't have to worry about rust forming and gunk collecting on the rivets.
As the handles are joined to the pot, it's a must to use a pair of gloves or silicon mitts when the pot is hot. I was so used to cooking with a pot with non-conducive handles that I forgot to use them when I first started using this pot and got a very 'hot' surprise when I touched the handles during cooking. But once you're used to this cookware, you will remember not to handle the pots directly with your hands when cooking. (The only exception to this is the 2 qt green saucepan as the handle for that pot is made of bakelite).
#6. See-through and self-standing glass lid: I love the convenience of the see-through glass lid as it allows me to check on the food without having to open the lid. This also prevents heat from escaping.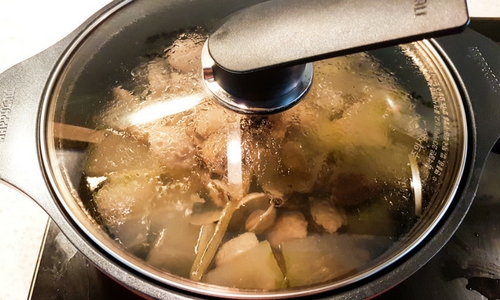 If you have limited counter top space like me, you will love its self-standing feature. Just let the lid rest vertically to utilize less kitchen space. My counter top gets really cluttered during cooking so this is a feature that I find very useful.
#7. Stylish design and fun colors: Who doesn't like a pop of color in their kitchen? Besides orange, Happycall pots also come in other colors such as red, blue, green and brown. Click here to see the full range of colors.
#8. Cleaning is a breeze. Food does not get stuck easily and the surface is very easy to clean.
Other cool features:
#1. Oven safe: It can go straight from the stove to the oven but without the lid. (Only the 2qt saucepan is not oven safe due to the bakelite handle). I have not personally baked with this pot yet but I've seen other users making rice and cake in the oven with it.
#2. Lightweight: Although it looks and is a very solid piece of cookware, it is surprisingly light and easy to clean. You get the benefits of quick heating aluminium-light pan but the results of cooking with heavy cookware such as stainless steel.
What can you cook with Happycall Alumite Ceramic Pots?
A versatile cookware, I use this pot to cook soups, fried fish, stews, pasta sauces and Chinese desserts. This video shows some of the foods cooked with Happycall Alumite Ceramic Pots.
How to Care For Your Happycall Alumite Ceramic Pot
I received some comments from a few Happycall users that their pot turned sticky after some time. This may be due to the pot not being thoroughly cleaned after each use. These are some tips on keeping your Happycall pots in tip top condition from my personal experience.  Please refer to the manufacturer's instructions for their recommendations on how to care for the product too.
Never use sharp metallic cooking utensils to avoid accidental scratches. Use silicone or wooden cooking utensils as they are gentler on the pot.
Do not use this product in a microwave. It is suitable for stoves and ovens but the lids are not oven safe due to the Bakelite handle and tempered glass.
If you find stubborn stains or the pot turning sticky, use a little Cif cream cleaner (it is a non abrasive multi-surface cleaner that works like a charm) and a non-scratch scrub sponge to gently clean.
Although this product is dishwasher safe, I always hand wash the pot and wipe dry after every wash.
Who is Happycall pots for?
If you:
✔ are looking for a pot with durable and highly scratch-resistant non-stick surface
✔ are tired of changing worn out pots every few years
✔ like colorful and stylish cookware
✔ want a strong yet lightweight pot
✔ want a multi-purpose pot that can be used for frying, boiling, steaming and baking
✔ are moving house and want to purchase a new set of cooking pots
Then I strongly recommend this Happycall pot.
Summing it up…
I've been using this Happycall pot for 3 years now and it looks and works just as great as the day I got it. If you like this pot, check out the complete set too as they are cheaper compared to the individual pots. But if you don't cook that often or just want to get one to try out first, then this Happycall pot is suitable for you.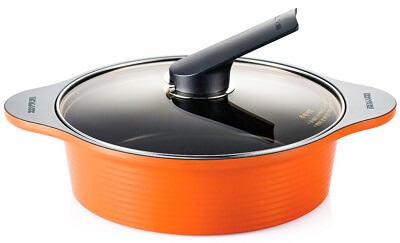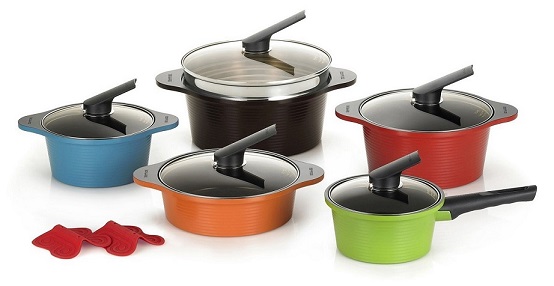 For delivery to Singapore addresses only, check out 
Have you tried Happycall alumite ceramic pots before? Let me know your experience by commenting below.