This Chinese herbal chicken soup recipe never fail to perk me up whenever I feel tired or under the weather. For centuries, Chinese herbs have been used in cooking to promote general well-being, boost energy and strength and treat various body ailments. Used correctly, they not only enhance the flavor of a dish but herbs with specific curative properties may help in healing and maintaining good health.
Note: This article was first posted in Nov 2015, now updated with new photos and improved recipe.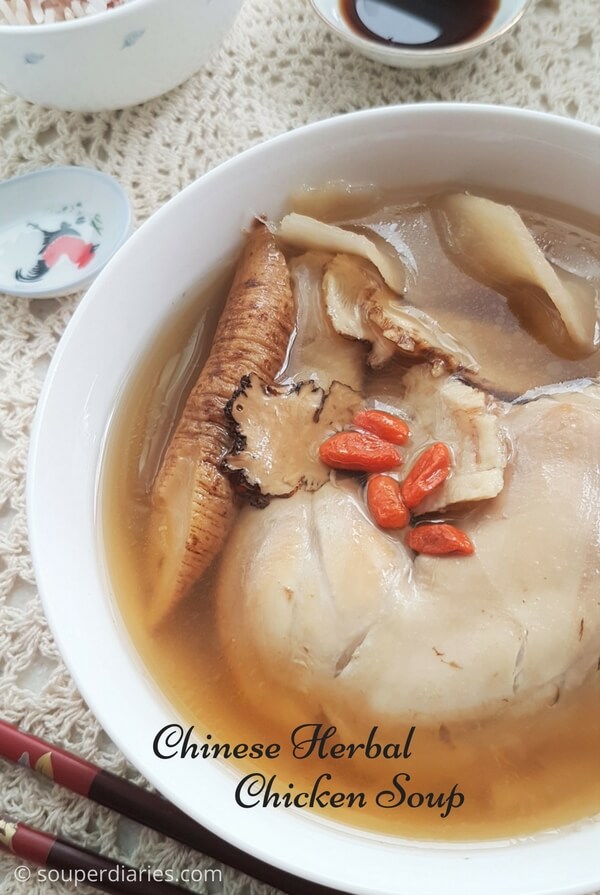 The Herbs
These are the Chinese herbs that I used for this Herbal Chicken Soup. They can be purchased from any TCM shop or even online.
Basic herbs like goji berries (wolfberries), dried Chinese yam (Huái Shān), solomon's seal (Yù Zhú) and dried red dates are mild and can be taken by the whole family. I prefer a stronger herbal taste in my soup so I added the rest of the other herbs and used the amount required according to a pre-packed herbal soup that I tried.
The Health Benefits of Chinese Herbs
Below is a brief description of some of the Chinese herbs used in this soup and its curative properties.
1. Dried Chinese Yam – Huái Shān (淮山)
Chinese yam strengthens the spleen and stomach to aid digestion, nourishes kidney, lowers blood sugar, promotes longevity, treats loss of appetite, body fatigue, diarrhea and other diseases
http://www.chineseherbshealing.com/chinese-yam/
2. Wolfberries – Gǒu Qǐ Zǐ (枸杞子)
Wolfberries have many nutritional values. Among them, it improves immune function, increases energy and has anti-fatigue effect, anti-cancer, improves eyesight, improves brain function and enhances learning and memory capabilities.
http://www.chineseherbshealing.com/goji-berry/

3. Soloman's Seal – Yù Zhú (玉竹)
These slivers of curly herb are yellowish in colour and is believed to treat ailments related to the lungs and throat. It helps with dry cough, sore throat and thirst.
4. Astragalus Root – Běi Qí (北芪)
Astragalus is said to prevent and treat common colds and upper respiratory infections, and it's usually combined with other herbs that also help support and strengthen the immune system, such as ginseng, angelica and licorice.
http://www.canyonranch.com/your-health/health-healing/healing-therapies/eastern-medicine/introduction-chinese-herbs
5. Codonopsis Root – Dǎng shēn (当参)
Main Codonopsis uses and indications include deficiency in lung and spleen, shortness of breath and heart palpitations, reduced appetite, loose stools, deficient asthma and cough, and heat diabetes.
http://www.chineseherbshealing.com/codonopsis-dang-shen/
6. Dried Red Dates – Hóng Zǎo (红枣)
Dried red dates balances qi and nourishes the blood. It also helps to improve insomnia, reduces cholesterol and protect the liver.
http://www.pingminghealth.com/article/636/chinese-dates-and-insomnia/

If you don't have these herbs at home or don't cook herbal soups often, buying pre-packed Chinese herbal soups will be more practical and convenient. For me, it is much more economical to buy my own Chinese herbs as I cook herbal soups from time to time. Storing them in the refrigerator will help to preserve their freshness.
The Best Soup Pot for Chinese Herbal Soups
Some Chinese herbs will react to metal so it is not advisable to cook herbal soups in metal pots. If metal pots are your only option, use stainless steel and avoid those made with aluminium, cast iron and copper. A pot with a lid is a must.
The ideal soup pots for cooking Chinese herbal soups include:
double boilers
clay pot (my personal favorite)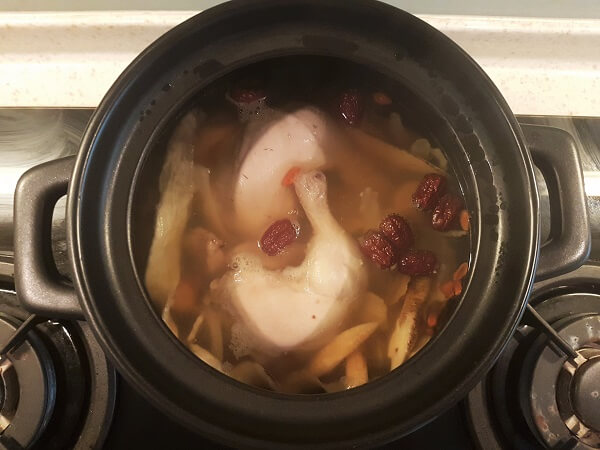 The smell that fills my entire kitchen when I boil this soup is simply amazing! I just love the herbal aroma.
Since young, I've been told that wolfberry seeds are good for my eyesight so I try to include them in my cooking whenever I can. One of the dishes is this steamed chicken with black fungus dish.
If you don't already know, it is standard practice to avoid taking white radish in any form within 24 hours after consuming a herbal brew or any traditional Chinese medicine. Radish have strong detoxification properties thus it will weaken and reduce the effectiveness of any herbs.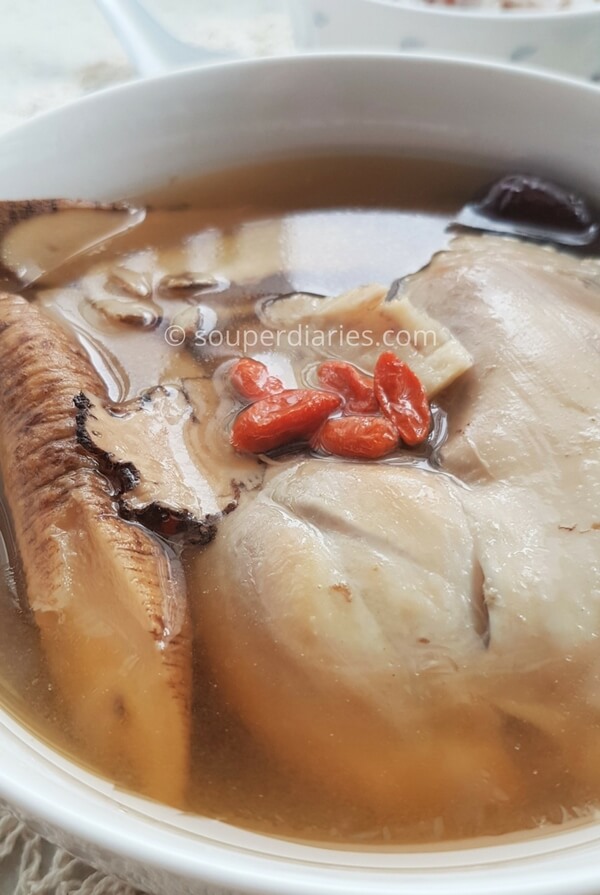 Don't want to miss a recipe? Sign up for Souper Diaries newsletter delivered to your inbox.
Other soup with Chinese herbs:
Chinese Herbal Chicken Soup Recipe
This Chinese herbal chicken soup recipe helps to nourish our health and is good for overall well-being.
Recipe type:
Slow Cooked Soups
Instructions
Blanch chicken pieces in a pot of boiling water for a few minutes until you see the scum and dirt float up. Remove and set aside.
Rinse all the dried herbs briefly to remove dust and dirt. Put the dried herbs and water into a claypot and bring to a boil. Once the water starts boiling, add the chicken parts.
Lower the heat to the smallest flame and simmer for at least 1.5 hours or 2 hours the most. The chicken should be tender but not falling apart.
Season with salt before serving.
Cooking Notes
1. This recipe serves four. If you plan to use less chicken (say about 350 g), reduce the amount of water to 6 cups.
2. Chicken on the bone is recommended for this recipe and not chicken breast as the former is more tender.