Winter melon clam soup has diuretic effects and helps to relieve heat and clears toxin in our body. Enjoy the delicate, sweet flavors of the ocean with this simple, easy and delicious soup. It can be served as an appetizer, a side dish or a light meal.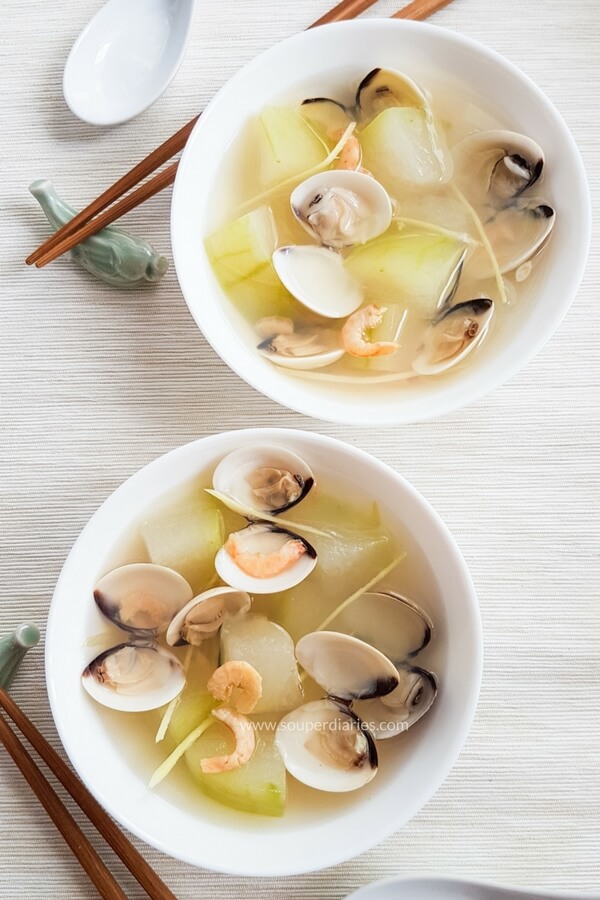 Winter melon is one of my favorite ingredients to use in a soup as it pairs easily with many types of ingredients from seafood to meat to vegetables. As winter melon itself tastes bland, you'll have to prepare a soup base before adding the winter melon in the last 10 – 20 minutes of cooking. I've cooked many winter melon soup over the years. Some of them include:
Winter melon with barley soup
Winter melon with lean pork and straw mushrooms soup
Besides using winter melon in cooking, did you know that it is also an ingredient in Chinese pastries such as lao po bing (wife cake)? This is a snack that I absolutely love, love, love. Once, a friend of mine brought boxes of them back from Hong Kong and they were so good that I devoured almost everything in the box! 🙂
Health Benefits of Winter Melon
Winter melon (冬瓜 dong gua), is also known as white gourd, wax gourd and winter gourd. Among some of its health benefits are:
Clears internal body heat
Detoxify
Decrease water retention
Promotes weight loss
Improves metabolism
Promotes digestion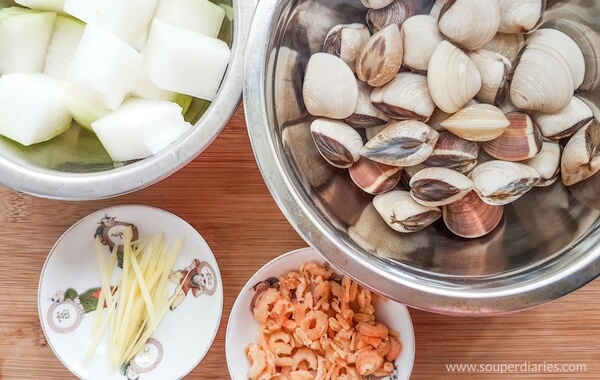 Now let's talk about the clams. You may use any type of clams but if you can, get the meatier ones. The clams that I bought for this soup, though fresh and sweet, were much too small for my liking but they were the best ones available when I was there.
Purchase the clams only on the day that you plan to cook. When buying clams, don't buy them opened and don't pry them open to eat if they still clam up after cooking. Discard any clams that are open BEFORE cooking as that is an indication that it is dead. Keep clams alive in salted water if you bought them in the morning for cooking at night.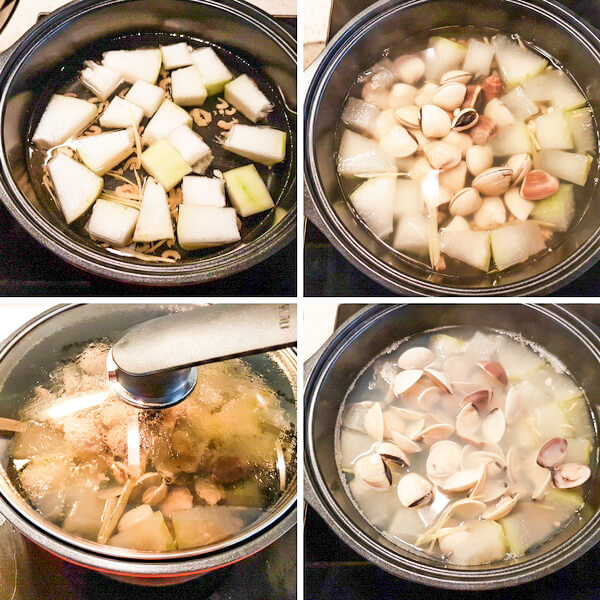 Cooking notes
Winter melon cooks and softens quickly so do not boil it for too long or it will become too soft.
Use fresh and meaty clams for best results. If the clams are not fresh, the soup will have a fishy taste.
Soak clams in salt water (as salty as the sea) for 2 hours to remove sand and grit. Rinse before cooking.
This soup is not suitable for re-heating as the clams will harden if overcooked. It's best to enjoy this soup when it's still hot.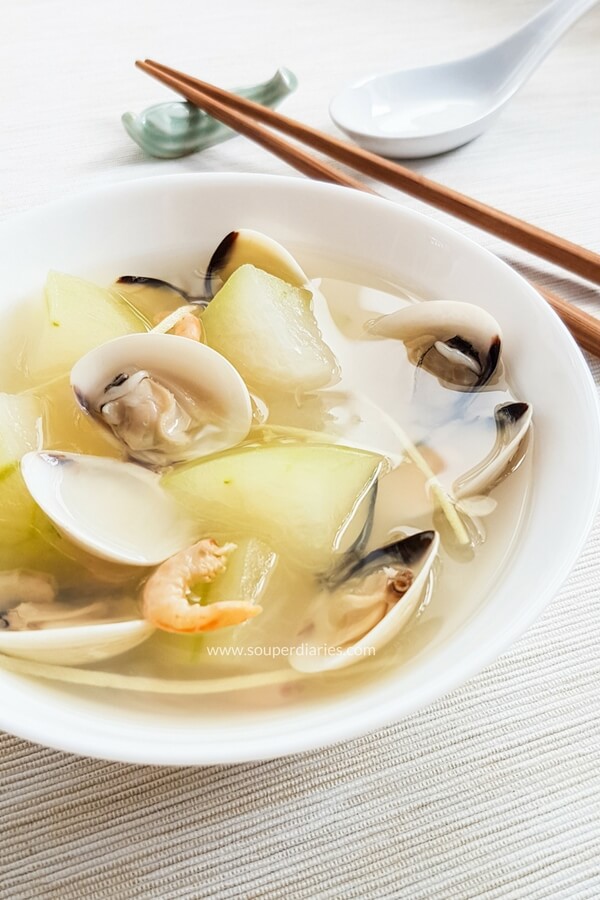 This clear soup has a sweet oceanic taste and I didn't even have to add any salt. It also has a hint of ginger and the subtle taste of the winter melon. Thanks for reading and I hope you'll enjoy this winter melon clam soup.

Winter Melon Clam Soup
This delicious winter melon clam soup has diuretic effect and helps to relieve heat and clears toxin in our body.
Recipe type:
Slow Simmer Soup
Ingredients
500 g clams
500 g winter melon - skin and seeds removed and cut into pieces
10 g ginger - julienned
15 g dried shrimp (xia mi) - soaked for 10 minutes and drained
3 cups water
1 tbsp Chinese rice wine - (or to taste)
Instructions
Soak clams in salt water for about 2 hours to remove dirt. Rinse and drain.
Add winter melon, ginger, dried shrimps and water into a medium sized soup pot and bring to a boil. Reduce heat and simmer for 10 minutes.
Add clams and cook for about 2 - 3 minutes or until the shells open. Turn off heat. Add Chinese rice wine and salt if required and serve immediately.
Cooking Notes
1. Preparation time does not include soaking time for clams.
2. If you can't find winter melon where you live, you could also cook with just fresh clams, ginger and water. Reduce the water to 2 cups and add more ginger if not using winter melon.