Winter melon, also known as Ash Gourd and Winter Gourd is known to be a neutral and slightly 'cooling' food in Traditional Chinese Medicine (TCM). It is often consumed to bring down heat in a person's body. This Winter Melon with Barley Soup helps to eliminate excess fluids, clears internal heat and weight loss.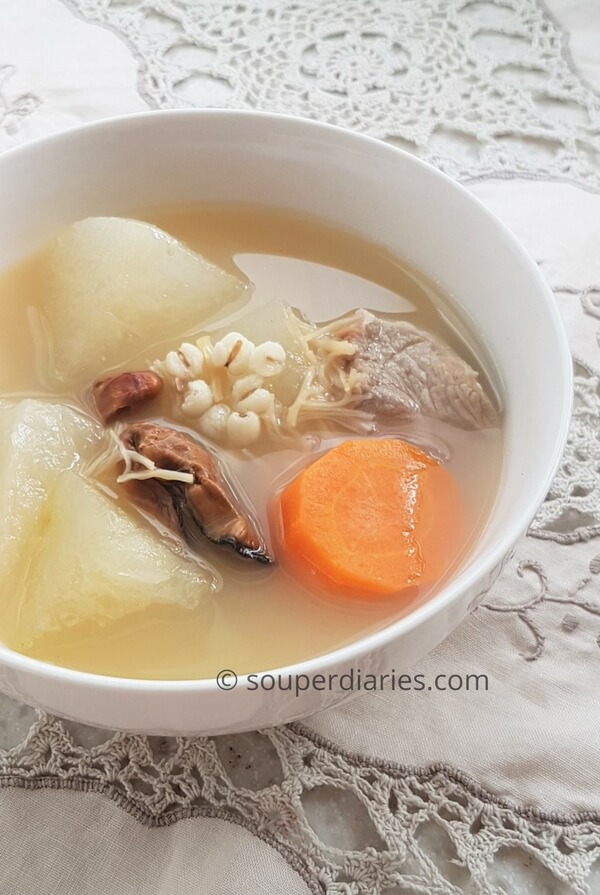 Winter melon goes well with most meats such as pork, chicken, duck and also seafood like prawns, fish and crab meat. The soup needs to be flavorful in order for the winter melon to absorb the flavors as it is bland on its own.
Chicken stock can be used as the soup base or you can sweeten the soup by adding ingredients such as dried cuttlefish, dried oysters, dried honey dates or dried scallops. They are commonly available at local Chinese dried goods stalls and Chinese medical halls.
Although it is called winter melon, it needs very warm weather to grow. The reason for its name is because it can be stored for as long as 12 months – even throughout winter. However, once cut, it will be like a 'normal' vegetable and will not last as long.
Winter melon can be cooked in many ways and for this recipe, I added barley to boost its diuretic and cooling effect. People who are weak with loose stools should eat winter melon in moderation.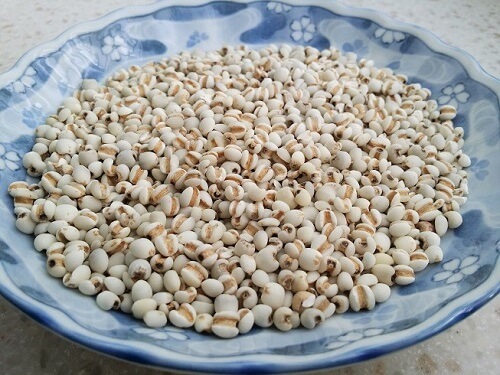 This is the barley I used for the soup. Note that they are different from the smaller barley variety. Called Job's Tears, they are also known as coix seeds. It is a common ingredient and available in any Chinese medical shops or the Asian dried goods section of your local supermarket. Although they are commonly marketed as Chinese pearl barley, they are not related to the barley family.
Job's tears is a popular medicinal herb to help remove excessive dampness in the body. They are cooling in nature and clears heat associated with sores with pus, as well as lung and intestinal abscesses. As the lung is related to the skin, eating Job's tears can make skin smooth and white. (source: mao.co)
Interestingly, they can be strung up and made into personal adornment in the form of a necklace. I don't think I would mind wearing one of those! 🙂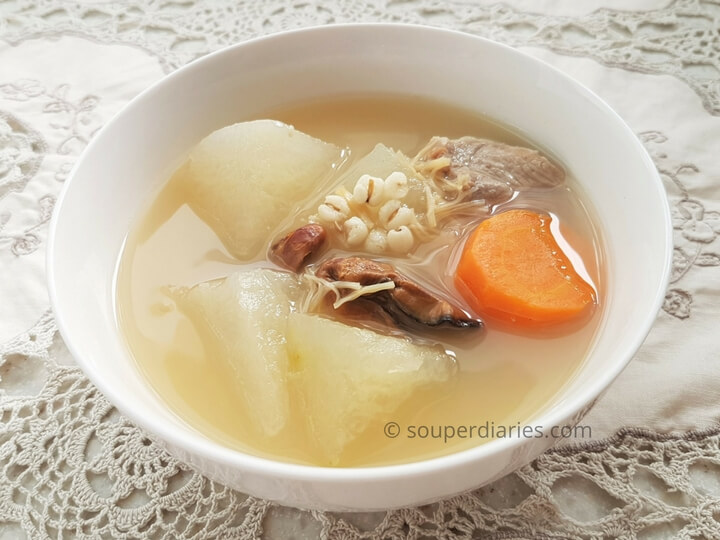 This winter melon with barley soup is light and goes well with heavy and oily foods. I love having soup after a heavy meal to 'wash' everything down.
Related recipe: Winter Melon Soup with Lean Pork and Straw Mushrooms
Don't want to miss any new recipes? Subscribe to Souper Diaries newsletter and have the latest recipes and updates delivered to your inbox! Let's connect on Facebook, Instagram, Pinterest, Twitter and Google+. See you soon and happy cooking!

Winter Melon with Barley Soup
Winter Melon Soup with Barley helps to eliminate excess fluids, clears internal heat and weight loss.
Recipe type:
Slow Simmer Soup
Ingredients
1 winter melon disc (about 600g) - peel skin and cut into chunks
300 g pork ribs
60 g barley (about ¼ cup) - washed
20 g dried small shrimp - washed and soaked for 5 minutes
1 carrot - peel skin and cut into bite-sized chunks
2 dried honey dates
5 dried oysters - washed
5 dried scallops - soaked in hot water till softened
6 cups water (or enough to cover the ingredients)
Salt to taste
Instructions
Blanch pork ribs in a small saucepan of boiling water to remove impurities for about 5 minutes. Pour away the water and rinse the meat. Set aside.
Combine all the ingredients except winter melon into a soup pot (I used a clay pot) and bring to a boil. Then reduce heat to low and simmer for around 1.5 hours. Add the winter melon only in the last 30 minutes of cooking.
Season with salt to taste and serve.
Cooking Notes
If you want the winter melon to have more 'bite' and not become too soft, add them in the soup only in the last half hour of simmering.