Learn how to steam smooth and silky eggs with this step-by-step easy Chinese Steamed Egg Recipe.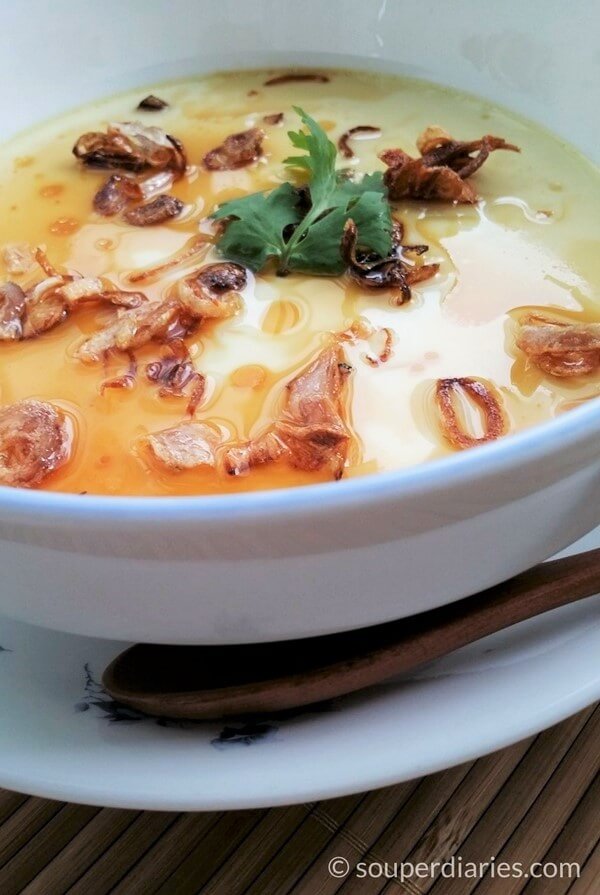 I've always loved steamed eggs since I was little. Plain steamed eggs, eggs steamed with meat or with savory or spicy toppings – I enjoyed them all. What I love most about them is the melt-in-your-mouth silken texture. A meal in a Japanese restaurant is not complete without a bowl of chawanmushi. The soft and delicate eggs always warms my tummy and my heart.
Chinese steamed eggs is an easy and comforting dish that can be rustled up fairly quickly and easily. It is a very versatile dish that you can easily customize. Make it fancy or simple, an appetizer or a main dish simply by adding different ingredients or garnishing.
A silky smooth Chinese steamed egg requires minimal chewing as it has the texture of silken tofu. Done right, you can just slurp it down if it has no other accompanying ingredients. My kids love this dish so much they can eat an entire bowl of it by themselves.
There are only 2 main ingredients in this steamed egg. Eggs and water/stock. The stock can be homemade or store bought. Remember to season with some salt if you're using homemade stock.
Although simple, there are certain tips to remember if you want to make Chinese steamed eggs with that velvety smooth texture. The main pointers are:
1. water to egg ratio
2. steaming time
3. heat control
4. covering the egg mixture when steaming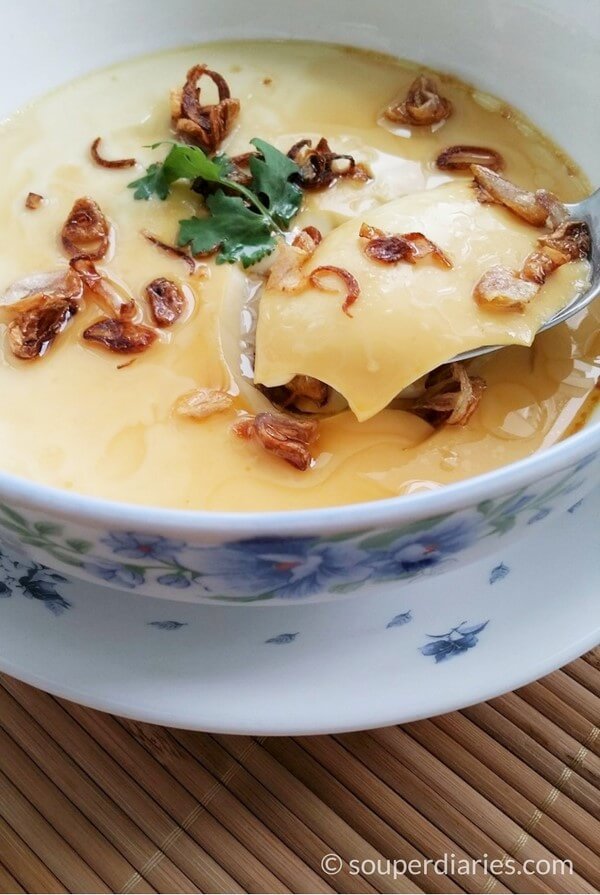 Alright, are we ready to steam our eggs now? Let's get started!
You'll Need:
4 Eggs
Homemade chicken stock / Store bought low sodium chicken stock
Fine Mesh Strainer
Steamer
Salt to taste
Garnishing: Chopped spring onions or fried shallots or sesame oil
1. Crack the eggs into a big bowl and whisk with an egg beater or fork. Don't worry if you see bubbles forming as you will strain the egg mixture soon.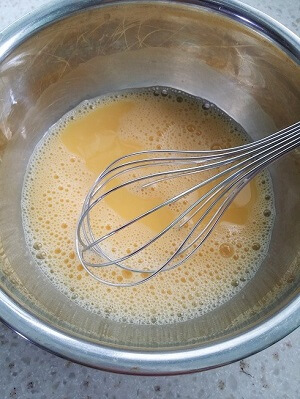 2. For every egg, add 3 half egg-shells of room temperature boiled water/stock. It helps if the eggs are cracked into more or less half in size. Too little water will result in a stiffer egg texture while too much water will make it difficult for the eggs to set. The size of the eggs does not matter assuming that you're using eggs of about the same size. (For even softer steamed eggs, you may use up to 1/2 cup of water per egg but do note that it will take slightly longer to set).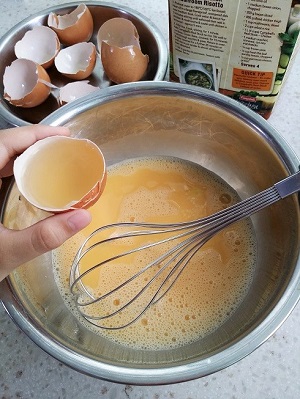 3. Strain the eggs through a fine mesh sieve. If there are bubbles in the egg mixture, scoop it up with a spoon after you're done straining the eggs.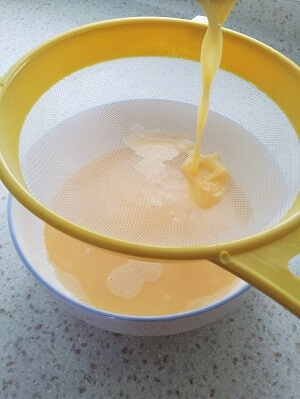 4. Place your bowl on a steamer and seal it with cling wrap or aluminium foil. Personally I prefer using cling wrap as it is transparent so I can see the eggs easily. This is to prevent any water droplets drip onto the eggs mixture during the steaming process or it will create a honeycomb effect on the eggs.
If you don't have a steamer, prepare a makeshift one by setting up a metal rack over a pot of water. Make sure that the metal rack is higher than the water level so that your steaming bowl does not come into contact with the boiling water. When the water boils, put in your steaming bowl and lower the heat to medium low. Close the lid.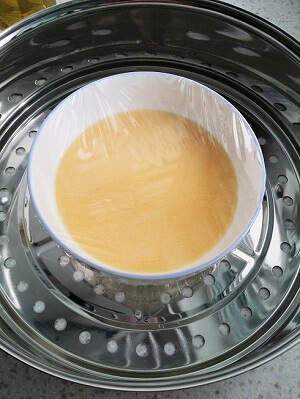 5. Steam the eggs for around 15 minutes on medium low heat. Make sure that your bowl/plate is higher than the water level. Note that the steaming time will vary according to whether you're using a deep or shallow dish (eg. a deep bowl will require a longer steaming time) and also the the type of dishware used (eggs will cook faster in a metal bowl compared to ceramic).
To check whether the eggs are properly cooked, open up the cover slowly and shake the bowl/dish gently. It should be jiggly yet firm. If you tilt the bowl/dish a little, nothing should seep out of the eggs if it is fully set. If you see any runny eggs seeping out, that means they are undercooked.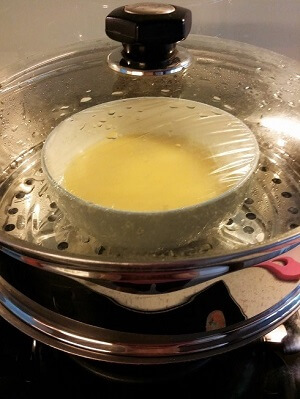 And that's it! The eggs are ready now. Simple and unpretentious. Sprinkle with your favorite garnish and serve immediately.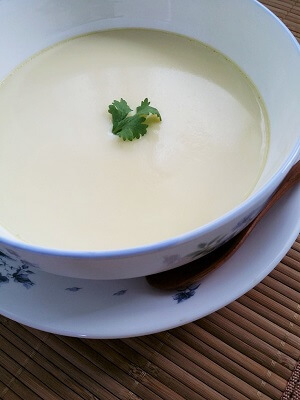 Once you have mastered these steps, it will be eggstremely easy to cook steamed eggs. Feel free to experiment with different ingredients and garnishes/toppings to add into them. I poured sizzling shallot oil over the eggs and drizzled with a little soy sauce. The oil helped the sauce to glide over the eggs smoothly and gave the eggs a pretty, marbled look.
If you're looking for a light and tasty dish, have a go at this easy Chinese Steamed Egg recipe! I hope you'll enjoy it 🙂
Don't want to miss a recipe? Sign up for Souper Diaries newsletter delivered to your inbox! Stay in touch on Instagram, Pinterest, Twitter and Google+ for the latest updates. See you again and happy cooking!

Chinese Steamed Egg Recipe
Make delicious silky smooth eggs with this easy Chinese Steamed Egg Recipe
Ingredients
4 eggs
12 half egg-shells of cooled boiled water/low sodium stock (or 6 half-shells of water and 6 half shells of stock)
Salt to taste if not using stock/seasoning
Instructions
Whisk eggs in a bowl. Strain them through a sieve into a steaming bowl (mine was about 3-inch deep bowl) to get rid of bubbles.
Pour in water/stock to beaten eggs and stir till well combined. Remove any bubbles with a spoon. Seal with a cling wrap/foil.
Get your wok ready by filling it with about ⅓ full with water. Cover and bring water to a rapid boil.
Place the eggs on the steamer and put it on top of the wok. Reduce heat to medium-low and steam for about 15 minutes.
Turn off the flame and remove your bowl from the steamer. To check whether the eggs are set, give the bowl/dish a gentle shake. It should be jiggly yet firm.
To serve, drizzle with sizzling hot shallot oil and a few drops of soy sauce.
Cooking Notes
1. I used 4 eggs in this recipe but if you're using more or less eggs, please adjust the water/stock accordingly. For every egg that you use, add in 3 half egg-shells of cooled boiled water/stock.
2. To make shallot oil, cut up some shallots finely and fry them till golden brown and fragrant. Remove from oil and drain on paper towels. The hot oil is now infused with the aroma of the fried shallots. Drizzle some of the hot shallot oil on the steamed eggs and sprinkle some crispy fried shallots on top. Once cooled, store remaining fried shallots in an air-tight container to retain its crisp texture.