One of the dishes that I craved for when I moved to Singapore many years ago is this dish called Tau Yew Bak (Braised Pork Belly in Soy Sauce). My mother used to cook this dish at home quite often so it is a dish that is very close to my heart.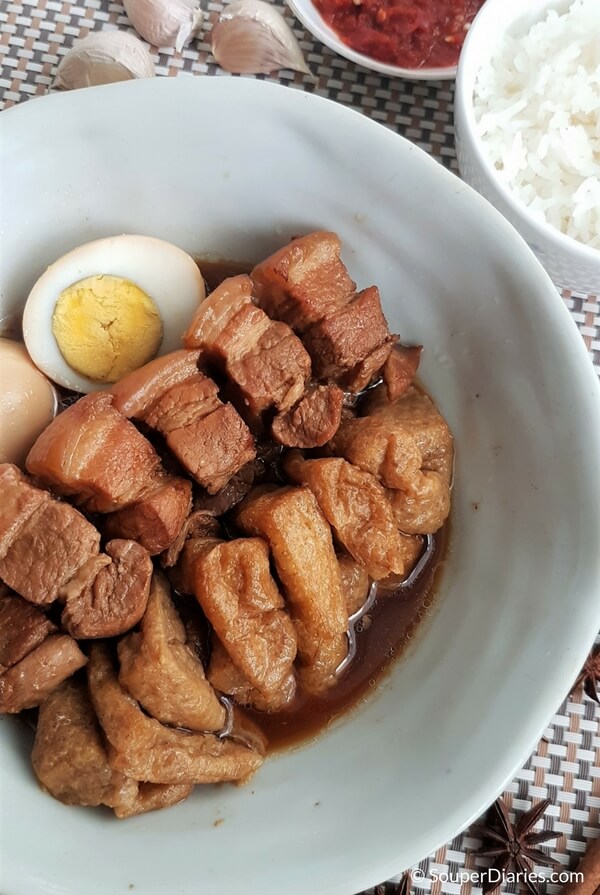 Translated literally, Tau Yew Bak means soy sauce meat in the Hokkien dialect. I cook this regularly at home and I love how easy and simple it is to make. It is comfort food for me since my childhood days. This is a dish that many Chinese have grown up eating it too.
Even though I feature pork in many of my recipes, can you believe that a few years ago, I abstained from eating pork? I had this idea after watching the movie Babe. However, my determination was short-lived. My hubby does not eat chicken so I could only cook pork and seafood dishes for him. Whenever pork was a main dish, I had to cook something else for myself. After awhile, it became tiresome and eventually I resumed eating pork. I'm sorry babe but you do taste delicious.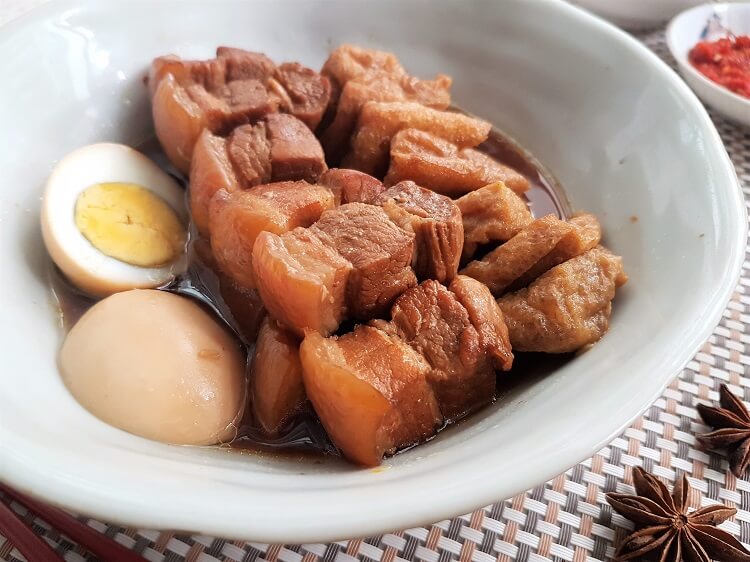 Most families have their own version of tau yew bak. Besides the pork belly, soy sauce and garlic are also essential ingredients in this stew. Sometimes, I'll add hard boiled eggs, tao pok (fried tofu puffs), tau kwa (firm tofu) and dried shiitake mushrooms.
For the soy sauce used in this recipe, I used Kwong Cheong Thye brand. It is fragrant and tasty without being overly salty. I use it in almost everything – dipping, marinating, stir-fries, braising, etc. As for the dark soy sauce, it is just a thicker version of the light soy sauce. Don't use too much of it as it will cause the gravy to turn very dark and salty.
Here are step-by-step photos to make this simple yet delicious Chinese comfort food:
Scald pork belly briefly in boiling water before cutting them up into your desired bite-sized pieces. Cut the meat into slightly larger pieces as they will shrink during cooking. Scalding removes excess blood and scum and makes it easier to slice.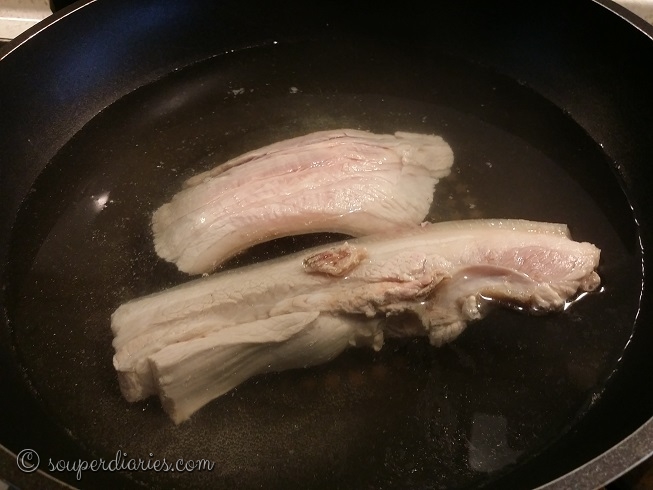 Heat up a little oil in a pot. I used my Happycall Alumite Ceramic pot to cook this dish. You can also use a claypot, wok or dutch oven. Fry the spices and garlic till fragrant.
Add pork belly and fry on both sides.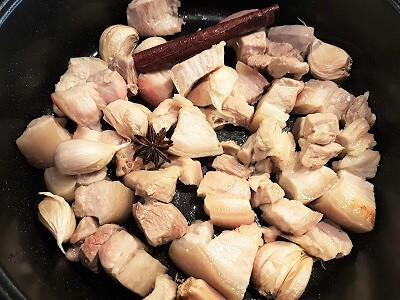 Next, add the sauce ingredients and mix well to coat the pork.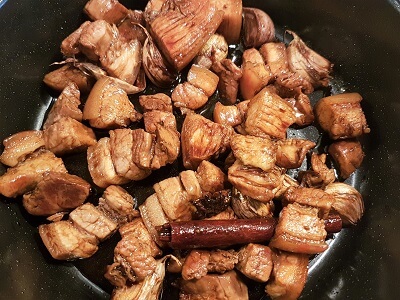 Pour in enough water to slightly cover all ingredients. Bring to a boil then simmer on low heat with the lid on until meat is very tender.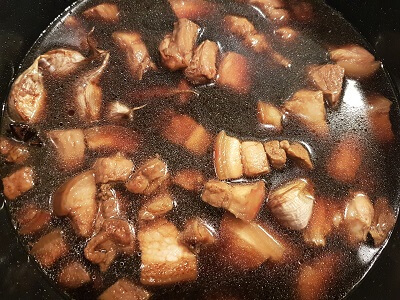 If you wish to include additional ingredients such as hard boiled eggs, tofu and tau pok (fried tofu puffs), add them in the last half hour of cooking. Other optional ingredient such as dried shiitake mushrooms may be added earlier.
If necessary, add a little water to prevent the stew from drying up. Taste the stew and adjust to your preference. Use more light soy sauce for saltiness and dark soy sauce for color.
The longer it is simmered, the thicker the gravy. If you prefer to have more gravy, turn off the heat when the meat has softened enough. Otherwise, you can simmer on very low heat till the gravy has reduced to a glaze like consistency.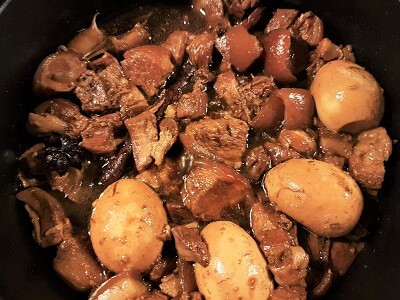 Cooking Notes
Don't prolong the cooking time. Turn off the heat once the pork is sufficiently tender. Overcooking will toughen the meat, shrink it considerably resulting in less juicy meat.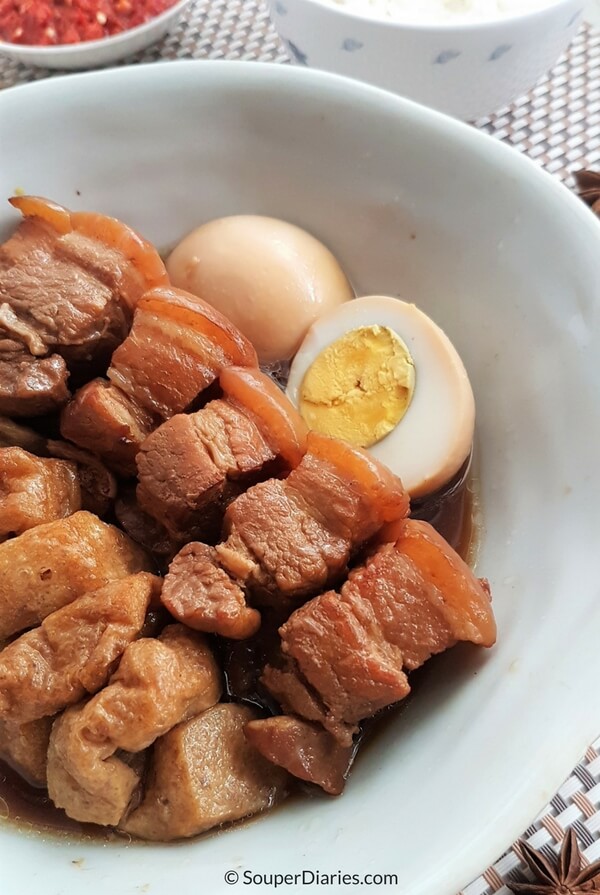 This dish is best enjoyed with plain steamed rice and some sambal belacan (a spicy condiment made with pounded red chilies and shrimp paste spiked with some lime juice). Thanks for reading and happy cooking!

Tau Yew Bak (Braised Pork Belly in Soy Sauce)
Tender and delicious pork belly stew slowly braised in soy sauce and spices. A perfect accompaniment to steamed rice, porridge and steamed mantou (Chinese bun).
Ingredients
500 gm pork belly
1 star anise
1 cinnamon stick
2 cloves
5 cloves garlic - lightly smashed with skin on
4 hard boiled eggs- optional
10 pieces of tao pok (fried tofu puffs) - optional
1 tbsp cooking oil
Water - about 2 cups or just enough to cover all the ingredients
For sauce
2 tbsp dark soy sauce
50 ml light soy sauce
5 cubes of rock sugar (or to taste)
Instructions
Scald pork belly briefly in boiling water. Remove and cut into bite-sized pieces. Set aside.
Heat oil in a pot. Add cinnamon stick, star anise, cloves and garlic and stir fry till fragrant.
Add pork slices and fry on both sides. Then add light soy sauce, dark soy sauce and sugar. Stir well to coat the pork slices.
Add water till it is just enough to cover all the ingredients. Bring to a boil. Reduce heat to the lowest setting and simmer for about 1.5 hours or until meat is tender to your liking.
If adding hard boiled eggs and tao pok, add them in the last half hour of cooking. Taste the stew and adjust with more water or light soy sauce if necessary Once the meat is soft, turn off the heat. Serve with rice and sambal belacan.