I can't resist this steamed herbal chicken dish. It is a simple but delicious dish of marinated chicken wrapped and steamed with Chinese herbs. The result is tender and moist meat infused with a wonderful herbal aroma.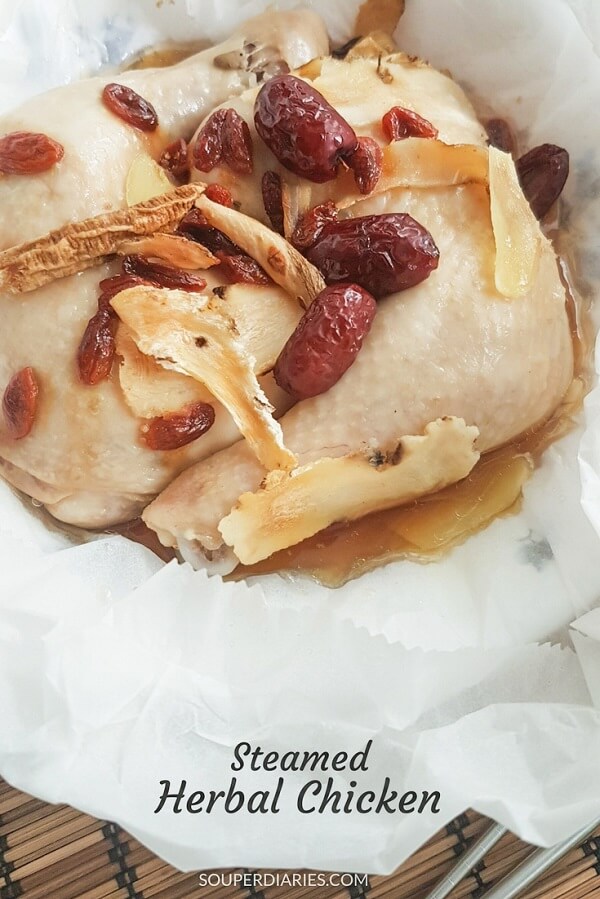 The herbs used for this dish is similar to a Chinese herbal chicken soup. The most dominant herb in this dish is Chinese angelica (more commonly known as dang gui). A warming herb, it has a strong, pungent fragrance (that is not unpleasant) and is also sweet and slightly bitter.
Dang gui has many medicinal benefits and without doubt the most well known is its blood nourishing properties. In TCM, it is frequently prescribed to treat a host of women's ailments such as pre-menstrual syndrome, menstrual cramps, menopausal discomforts, fibroids and blood deficiency. It also counters general weakness and lethargy. Read more about this amazing herb here.
It is really easy to cook this dish especially if you already have all the required herbs. If not, get them from a Chinese herbal shop. For those who often cook with Chinese herbs, it is more economical to get these herbs individually as they can also be used for other dishes.
Wrap the chicken with parchment or cooking paper to seal in the juices and herbal aroma and keep the chicken moist. The parchment paper that I cut out for this dish was too big but it did its job. Try to get good quality parchment paper (I bought mine from Phoon Huat) as inferior ones will tear easily. Wrap with 2 layers of parchment paper if it is too thin.

If you order this dish when eating out, the chicken will most likely be contained in a cellophane film paper (that resembles plastic) and sealed with aluminium foil. I prefer to wrap with parchment/cooking paper since I'm only using 2 chicken legs and not a whole chicken.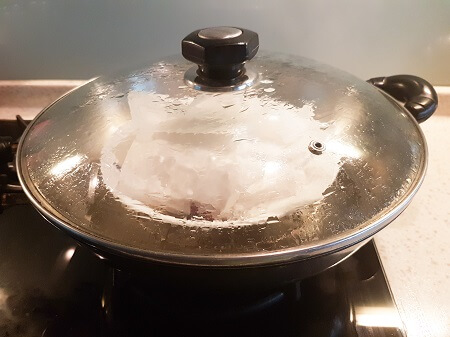 Steam the chicken for 45 minutes on medium-high heat. Check on the water occasionally. Add more water if it dries up too much.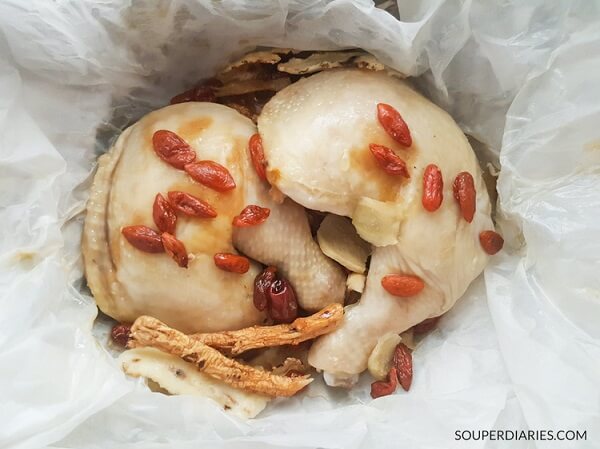 Other delicious steamed food recipes:
Teochew Steamed Fish
Steamed Pork Ribs in Black Bean Sauce
Steamed Pork with Salted Fish
Steamed Chicken with Black Fungus

Steamed Herbal Chicken
Delicious and tender chicken wrapped in parchment paper and steamed with Chinese herbs.
Recipe type:
Chicken Recipe
Ingredients
2 chicken thighs
5 slices of ginger
Marinade
1 tsp light soy sauce (or to taste)
1 tsp salt (or to taste)
1 tsp sesame oil
1 tbsp shaoxing wine
Herbs
5 g dang gui (about 6 to 7 pieces)
5 red dates - halved
10 g dang shen (2 pieces)
10 g yu zhu
2 tbsp gei qi
Others
1 piece of parchment or cooking paper
Instructions
Remove fats from chicken thighs and rinse. Marinade chicken thighs for at least an hour.
Place a sheet of parchment paper on a heat-proof plate. Place half the herbs on top of the parchment paper followed by the chicken legs. Then scatter the remaining herbs on the chicken and pour the marinade sauce over them. (If you want some sauce with the chicken, add 2 to 3 tbsp of water.)
Fold the paper over the chicken lengthwise and seal the sides. Alternatively, you can also tie it up into a parcel.
Fill a wok/steamer with enough water to steam. Steam over medium high heat for about 45 minutes. Check occasionally to ensure there is enough water. If the water dries up too much, top up with some water. Serve hot.