Refreshing, minty and tasty Mint Egg Drop Soup. Ready in 15 minutes!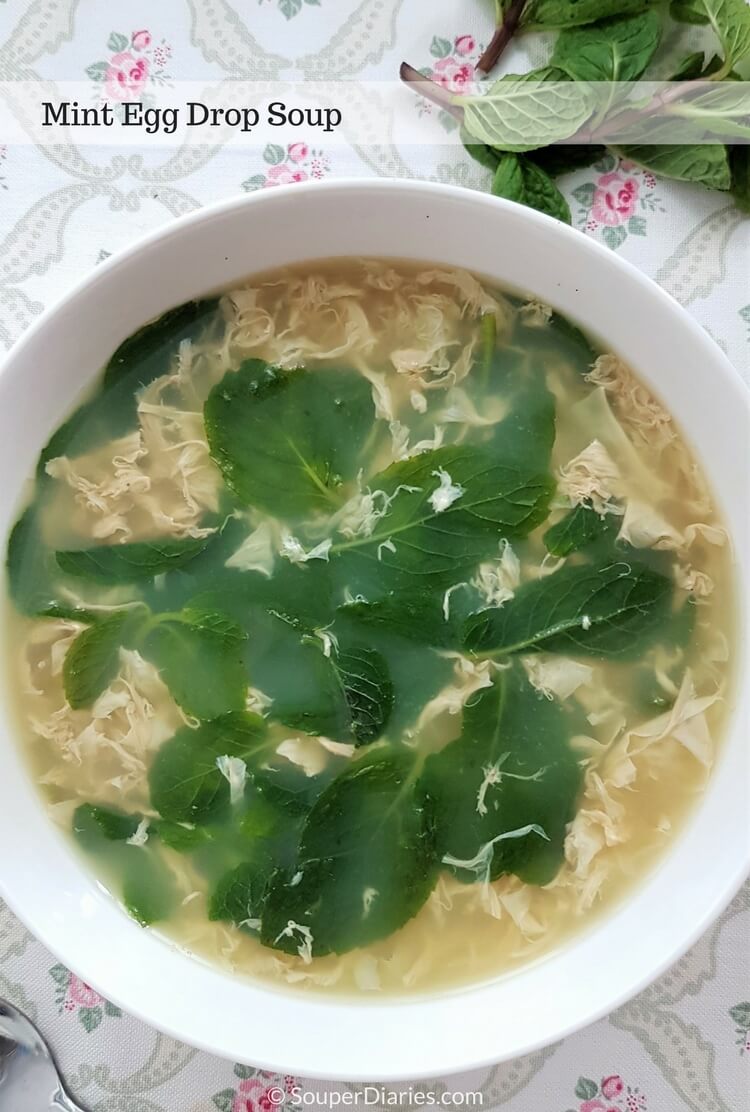 Mint egg drop soup brings back memories of my late mother as she cooked this soup quite often with mint that she grew herself. She had green fingers; anything she grew flourished. A gift that I wish I have. She was much better at gardening than she was with cooking.
Her garden was filled with a variety of plants and flowers in front of the house. Her roses were my favorite. The back garden was where her vegetables were planted in neat rows. I avoided going to her vegetable patch as they were stinky at times. This was because she used to fertilize her plants regularly.
Her passion for gardening provided us with many homegrown veggies which made their appearance regularly on the dinner table. There were brinjals, okra, bok choy, chan choy (Malabar spinach), chilies, lime and many others. Mint was also one of them.
Whenever she cooked mint egg soup, she would fry and boil some ikan bilis (anchovies) in a soup pot to make a light stock. Once the stock was ready, mint leaves, eggs and some salt were added. It was a simple soup but tasty nevertheless.
I've always associated mint with candy, breath fresheners and mint jelly as a dipping for lamb chops. Did you know that mint have potent antioxidants, promotes digestion, decongests, removes gas from the body, eases nausea and headache and is a natural stimulant? These are just some of its health benefits.
For this mint egg drop soup recipe, I used ikan bilis stock cube for convenience. Alternatively, if you can't find ikan bilis stock cube, chicken stock cubes or homemade chicken stock can be used too.
Once harvested, fresh mint leaves do not last very long so they should be used as soon as possible. Pluck out the leaves and discard the stems for this soup.
There are 2 ways to make this soup.
Method 1: Remove the mint leaves (as shown in the picture above) as soon as they're ready and portion into individual bowls. Then proceed to make the egg drop and pour the soup over the leaves. This method will give a better presentation.
Method 2: Cook the mint leaves till soft before you swirl in the beaten eggs. For this method, you will find that the eggs will cling onto the mint leaves and it will be harder to do the egg drop. If you like chunks of eggs in your soup, use this method. My elder daughter actually prefers large chunks of eggs in this soup.
Taste wise, there isn't any difference to both methods. I'm using the first method for this recipe for aesthetic purposes. Since this is a Mint Egg Drop Soup, I have to make it look more like an egg drop soup, right? 🙂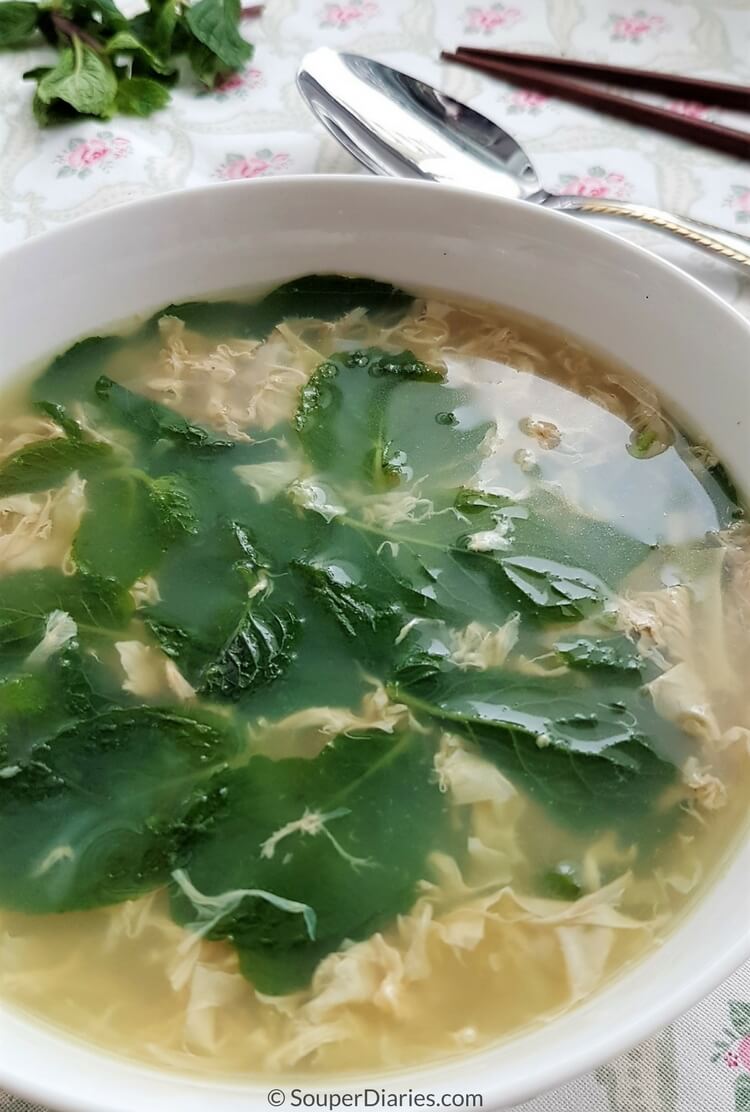 The aroma of this soup is so fresh and inviting. I hope you'll enjoy it as much as I do. Try it and let me know what you think!
If you like egg drop soups, check out my other egg drop soup recipes:
Mint Egg Drop Soup
Recipe type:
Quick Boil Soup
Ingredients
4 cups water
1 ikan bilis stock cube (I used Knorr)
1 bundle of torn mint leaves - wash to remove all sand and dirt
3 eggs - lightly beaten
Instructions
Put ikan bilis stock cube and water into a small pot and bring to a boil. Stir to ensure that the stock cube is completely dissolved.
Once the soup starts boiling, add the mint leaves and cook for about 3-5 minutes depending on how soft you want them. Remove the mint and portion into individual bowls.
Turn off the heat. Pour in the eggs slowly with one hand and with your other hand, stir with a chopstick/fork. Cover with lid for about a minute to let the eggs set completely. Pour the soup into the bowls and serve immediately.