I have nothing against store bought stock but there is so much to be said about homemade ones. In the past, I always bought ready made stock but once I knew how to make chicken stock from scratch, there has been no stopping me.
Whatever dish you add homemade chicken stock in, it adds another depth of flavor that makes it so delicious and good. And the best part is, it is all made from healthy and natural ingredients and so easy to do.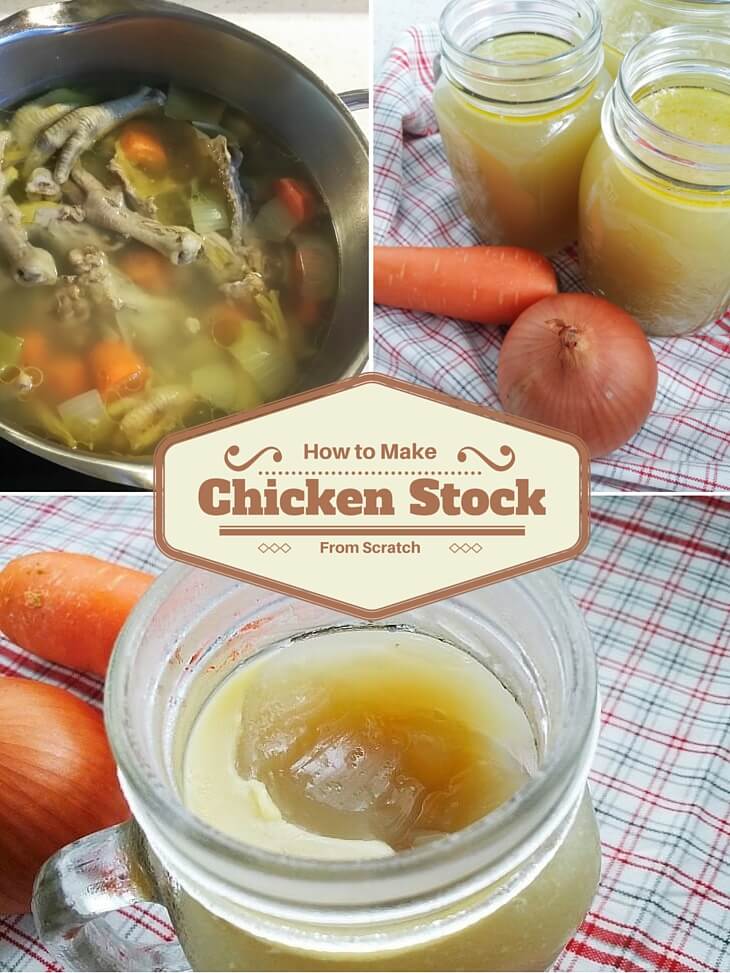 There are different ways you can make a chicken stock – standard method on the stovetop, pressure cooking and slow cooking. Yes, it does take hours to cook your own chicken stock using the traditional method on a stovetop but if you, like me, enjoy having your kitchen smelling, well, aromatic then stick with this stovetop method. This article talks about how using different cooking methods will affect the flavor and body of the end product.
I read that adding 1 – 2 tbsp of apple cider vinegar will draw out minerals out of the chicken bones and these minerals will be leeched into the stock. I haven't tried that so far but if you have, do let me know how your chicken stock turned out in the comment section below!
What You'll Need
Raw chicken carcasses/roasted chicken bones or whole chickens. Chicken feet and necks are great too.
Aromatics like celery, carrot, onion, bayleaf, peppercorn, fresh thyme, fresh parsley and/or garlic. Use whichever is available in your kitchen. Besides the chicken, the aromatics used will also influence the color and flavor of the stock so add or reduce the amount accordingly.
A big and deep stockpot.
A big bowl.
A sieve.
Glass jars and ice-cube trays (to keep your chicken stock)
Step by step guide on how to make chicken stock from scratch
Prepare your chicken for making stock. Wash the raw chicken carcasses or whole chickens or use leftovers from a roasted chicken if you want a darker looking stock. It is worth noting that the more chicken you pack into your stockpot, the richer and more gelatinous the stock will turn out. For this homemade chicken stock, I used chicken carcasses and feet.
Dice the vegetables and set aside. Leave the skin of the onion on if you want a darker color for the stock. Otherwise, peel away!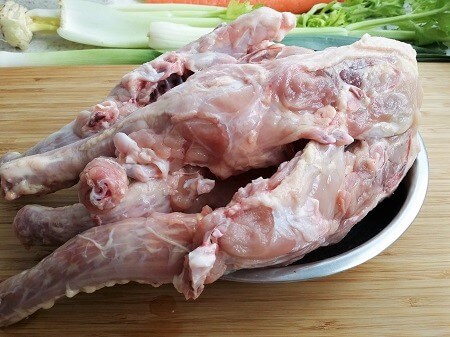 Bring water to a rolling boil in a wok or pot. Then add the chicken carcasses and feet and simmer for around 5 minutes to get rid of all the blood and nastiness. Remove, rinse and set aside. If you skip this step, there will be lots of floating scum when cooking your stock so skim that away from the stock pot.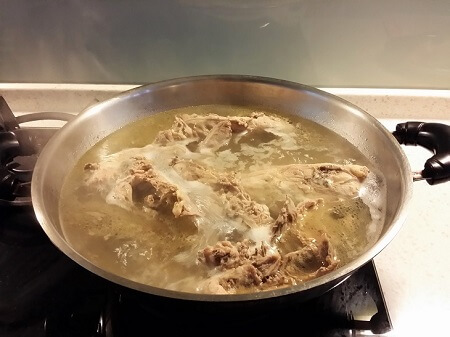 Dump all the chicken bones and vegetables into a big stockpot. Then fill it with enough cold water to submerge everything by about an inch. Bring it to a boil. Then reduce heat to low and gently simmer for at least 4 hours or longer if you can.
In the meantime, go find something else to do and let the stock do its thing for the next couple of hours. I set a timer to remind myself to check on the pot but sometimes it isn't necessary because the whole kitchen just fills up with the wonderful aroma of the chicken stock in progress.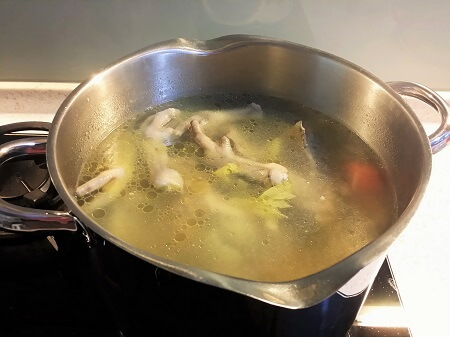 After 4 hours of simmering, the liquid has reduced significantly. If you have limited space in your fridge like me, it's a good idea to simmer it down for storage purposes unless you plan to use the stock immediately. Moreover, the longer you simmer the stock, the more concentrated and richer it will be.

Strain the stock through a sieve and let it cool for awhile. Or strain the stock through a sieve and a cheesecloth placed over it into a large bowl if you want a clearer stock. Usually, I would just strain it with just a sieve.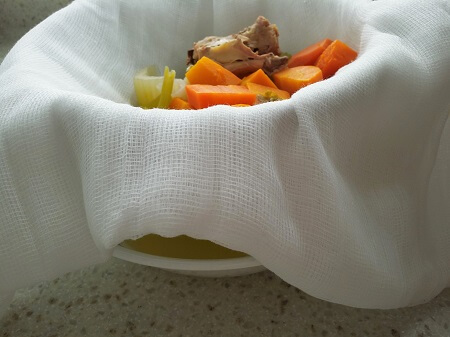 Pour and store the chicken stock (I call it liquid gold now) into glass jars of various sizes. Keeping some in an ice-cube tray is useful for times when you need a small amount like for stir-fries. Keep in the refrigerator if you plan to use it soon (within 5 days) or freeze it for later.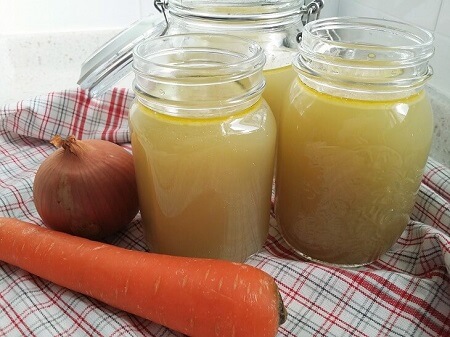 Once refrigerated and cooled, you will notice a layer of fat on top. The hardened fat prevents air and bacteria from going into your stock so keep it on till you're ready to use it.
That's the refrigerated and cooled chicken stock the day after. I love how it has gelled up. That's precious gelatine extracted from simmering the chicken bones for hours. Don't fret if the stock doesn't gel up the next day. It's still good stuff! Now you can use it to cook with whatever you fancy.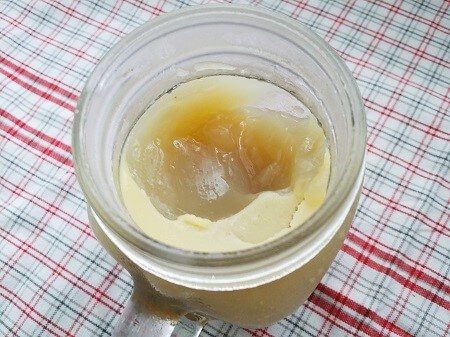 I like to season the stock only when using it for its intended purpose and not when cooking. That way, it won't be overly salty if you want to reduce the stock to make a sauce. Think of stock as a building block or base that can be further developed into something more complex.
How To Use Chicken Stock
There are endless ways to use chicken stock really. Here are some tasty ways to use chicken stock:
#1 Use chicken stock to replace water when making the sauce in a vegetable stir-fry.
#2 Egg drop soup. Use stock when the recipe calls for water. Remember to season with salt as the stock has not been seasoned.
#3 Stews.
#4 Check out my Winter Melon Soup with Lean Pork and Straw Mushrooms recipe where you can also use this chicken stock.
#5 Wonton soup. Homemade chicken stock and wontons is so delicious and satisfying! You have to try it.
I encourage you to make your own homemade chicken stock because it not only makes your dishes more flavorful, it is also made from natural and healthy ingredients. Better than chicken stock cubes? You bet! And no, I'm still not against using them 😉
Homemade Chicken Stock Recipe
Healthy homemade chicken stock made with chicken bones and feet.
Recipe type:
Slow Simmer Soup
Ingredients
6 chicken carcasses (about 1.2 kg)
300 g chicken feet
2 sticks of celery - cut into pieces
1 large carrot - cut into chunks
1 white onion - diced
1 bayleaf
Instructions
Wash the chicken parts. Bring water to a rolling boil in a wok. Parboil the chicken carcasses and feet for about 5 minutes to remove scum and dirt. Remove and set aside.
Put in all the chopped vegetables, chicken carcasses and feet into a tall and deep stockpot. Fill with enough cold water to submerge the ingredients by 1-2 inches.
Bring water to a boil. Once it starts boiling, reduce heat to medium-low and simmer for about 5 hours. Check the stockpot from time to time to ensure that it doesn't dry out.
After 5 hours, turn off the heat. Place a fine-meshed sieve on top of a large bowl. Strain the chicken stock through the sieve into the bowl. Let it cool before pouring into glass jars. Use within 5 days if kept in the fridge. Store the rest in the freezer and use within 1 month.
| | |
| --- | --- |
| | |