Create a fragrant and delicious one-pot meal with this easy yam rice recipe. Great and convenient for busy days!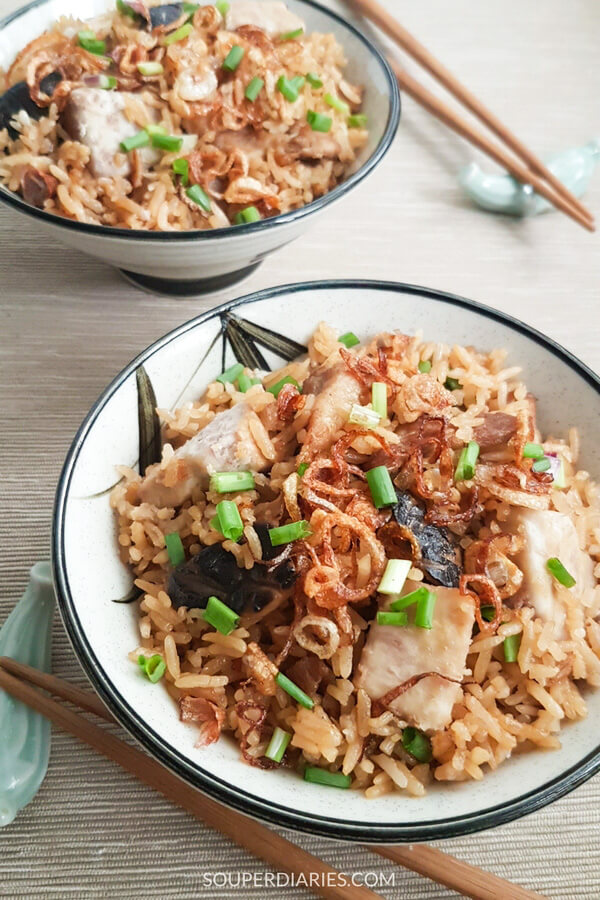 What is the difference between a yam and a sweet potato?
Let's clear up an important point first. The yam that I'm using for this recipe is the taro root and not a sweet potato. I had always taken for granted that a yam is a yam for everyone. Then I found out that in certain parts of the world (United States and Canada), yam is often used to refer to the completely unrelated sweet potato.
In Asia however, when we say yam we mean taro. Taro or yam is the starchy tuberous root vegetable native to Southeast Asia and India but is cultivated all over the world.
Taste-wise, sweet potatoes are sweeter and more moist while yams are drier, nuttier with a floury texture.
Back to the Yam Rice Recipe..
I've been cooking a lot of one-pot rice meals recently and this was one of them.
"Mummy, can you cook this yam rice again but without the yam?" Rooster (my eldest girl) asked when I cooked this rice the first time. She and Piggy (her younger sister) had both pushed all the yam pieces neatly to the side of the plate.
"No, I can't. I like yam. Besides, it won't be a yam rice if there's no yam right?", I said. Without hesitation she requested for the yam to be cut into bigger pieces the next time so that it'll be easier for her to pick them out. Which is why the yam pieces you see in the pictures below are so chunky. You can of course, cut them into smaller bite-sized pieces.
Kids.. they don't know what's good for them. Yam is high in fiber, vitamins A, C, and E, promotes healthy vision, helps keep skin healthy, reduces risk of diabetes, boosts immune system and blood circulation. These are just some of its health benefits.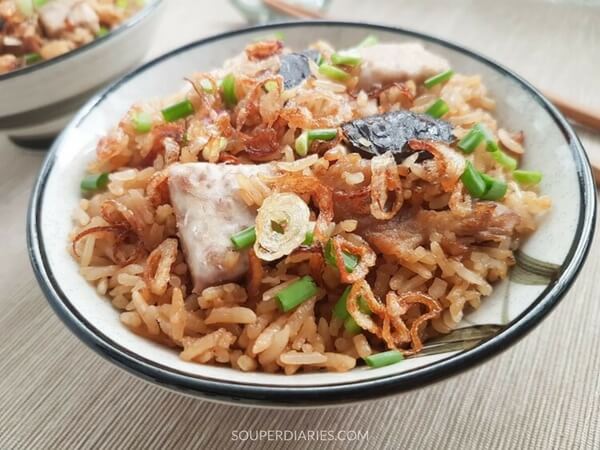 I love any food with yam. Ice-cream, chips, cake, candied yams, wu tao gou (taro cake), nian gao with yam, you name it. Sometimes if I'm lucky to see fried yam at a yong tau fu stall, I'll be sure to order it.
Yam (or taro depending on which part of the world you're in) has a floury texture and is rather dry so it's best to pair it with fatty meat. Pork belly, twee bak, Chinese sausages, roast pork and roast duck are good choices. Chicken could work too. Just don't use chicken breast or lean pork for this yam rice recipe as their texture is too dry.
The cooking part is really easy but you'll need to spend some time to get all the ingredients ready. I spent about 30 minutes to prep but if you're quick, it will take a shorter time. 🙂
The Cooking Process
Fry shallots in a wok till fragrant. They get burnt easily so keep a close watch. Remove and set aside once the color turns golden brown.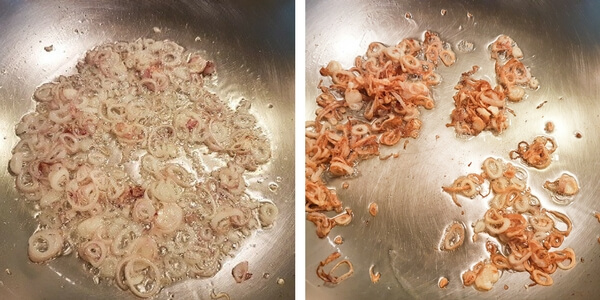 Stir-fry chopped dried shrimps (you can leave them whole if you wish) till fragrant before adding meat, mushrooms and yam. They don't have to be thoroughly cooked at this point as the cooking process will be completed in a rice cooker.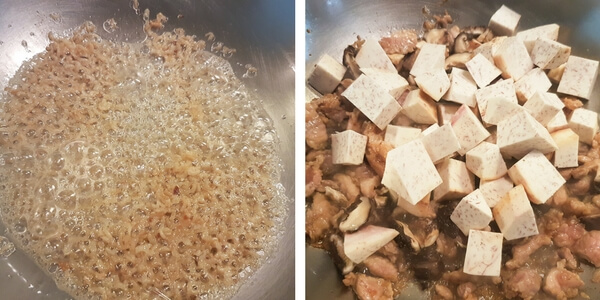 Pour in rice and seasonings. Mix well to coat all the grains evenly. Then transfer everything from the wok into a rice cooker. Add water. The water does not have to cover the rice. Otherwise, you'll end up with mushy rice. Refer to the yam rice recipe below for the full instructions.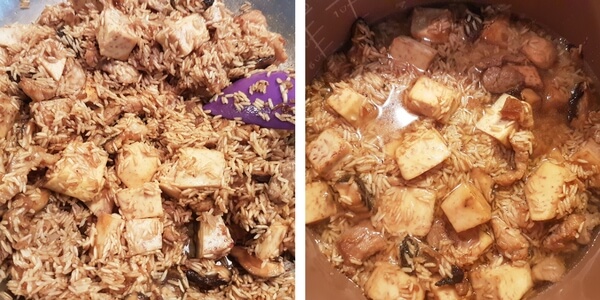 The aroma from the rice as it is cooking in the rice cooker is really wonderful. It'll whet your appetite in no time!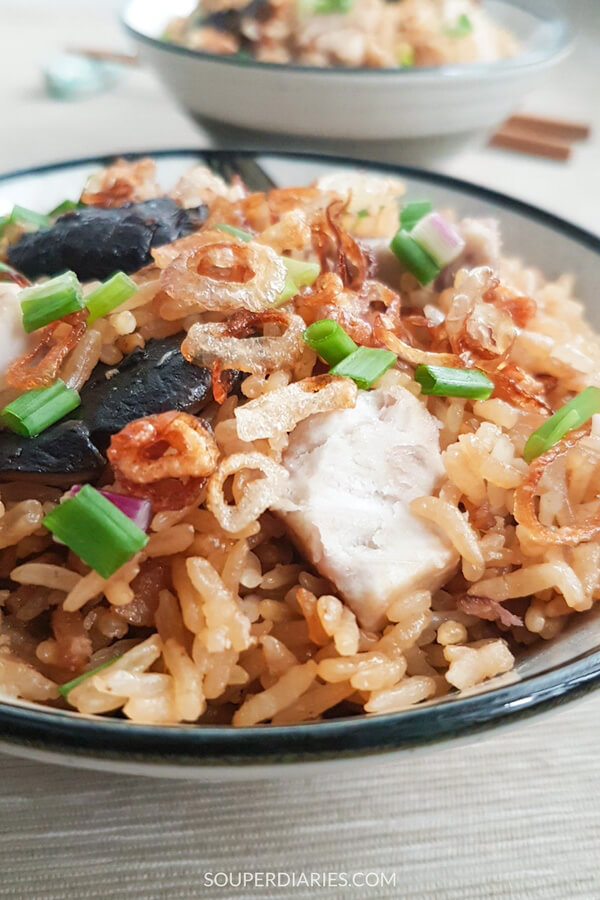 Pair this yam rice with a savory soup and you'll have yourself a very satisfying meal.
Love this recipe? Be sure to subscribe via email to get the latest updates! Follow me on Facebook, Instagram, Pinterest, Google+ and Twitter.

Yam Rice (Taro Rice 芋头饭)
Delicious and flavorful one-pot yam rice with meat and mushrooms.
Recipe type:
Rice Recipes
Ingredients
3½ cups uncooked rice (measured with rice cooker cup) - washed a few times and drained
300 gm yam - peeled and cubed
280 g pork belly (see notes) - sliced thinly
8 shallots - peeled and sliced thinly
8 dried shiitake mushrooms (soaked till soften and sliced)
40 g dried shrimps (xia mi) - soaked for 5 mins, drained and roughly chopped
4 tbsp cooking oil
600 ml water
Marinade for Pork
1 tbsp light soy sauce
1 tsp corn flour
3 dashes of white pepper
1 tsp sesame oil
Seasoning for Rice
2 tbsp light soy sauce
1 tbsp oyster sauce
1 tbsp dark soy sauce
2 tsp sesame oil
½ tsp salt (or to taste)
Garnish
Spring onions - chopped
Fried shallots
Instructions
Cut pork belly into thin slices. Marinade it, set aside and prep your other ingredients.
Get all your ingredients ready and place them near the stove. Heat up oil in a wok. Fry the shallots till fragrant. Keep a close watch so that they don't get burnt. Remove and set aside.
With remaining oil, fry dried shrimps till fragrant. Then add pork and stir fry for about a minute followed by mushrooms and yam. Continue to stir fry.
Add rice and seasonings. Lower heat to medium-low (so that rice do not get burnt and stick to the wok) and mix well. Turn off the heat.
Pour the rice mixture into a rice cooker. Add water. Press the start button and get the rice cooking. Once done, wait for about 5 minutes. Stir gently to loosen the grains. Garnish with chopped spring onions and fried shallots.
Cooking Notes
1. If you're afraid of 'porky' smell from the pork belly, parboil it in boiling water before cutting.
2. If using roast pork, roast duck or Chinese sausages to replace the pork belly, skip the marinating part.
3. The yam rice recipe yields enough for about 6 - 7 persons but you can also split it into 2 meals for 3 - 4 persons.