A dish of Hakka origins, stuffed bitter gourd is also loved by other dialect groups. This stuffed bitter melon recipe has become a favourite of mine and it reminds me very much of yong tau foo where bitter gourd slices are also stuffed but with fish paste instead of meat.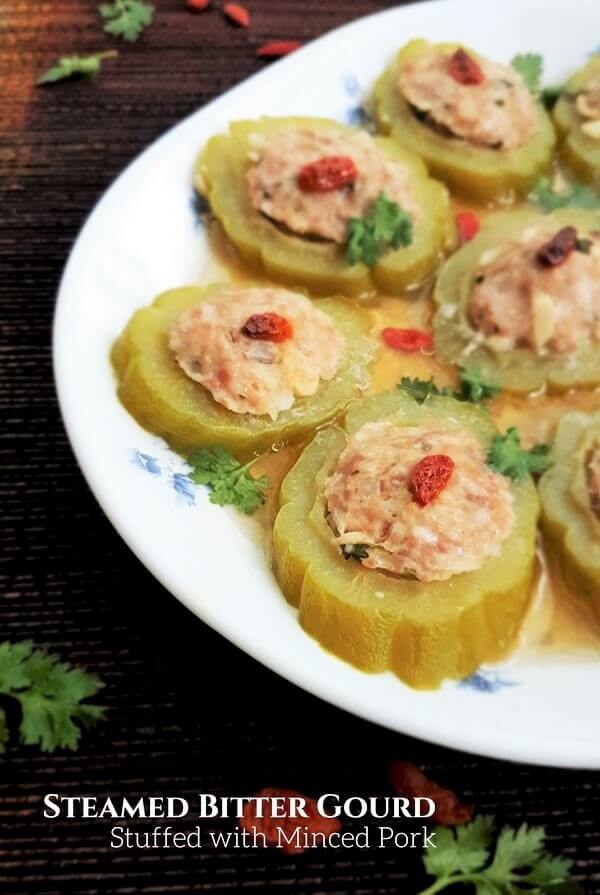 A nutritionally rich vegetable-fruit, bitter gourd is something you either love or hate. As its name implies, it is bitter tasting and typically an acquired taste for the uninitiated. For me, I only learned to like it when I was an adult.
This underrated gourd can be enjoyed in so many ways. Bitter gourd, also known as bitter melon, 苦瓜 (kŭ guā) or karela (in India) can also be stir-fried, braised, boiled, steamed, pickled, roasted, juiced, cooked with curries, scrambled with eggs, etc. There's also bitter gourd tea and capsules. Isn't that amazing?
Bitter Gourd and Diabetes
In addition to being a food ingredient, bitter gourd is also known to be highly beneficial to diabetics. This is due to a chemical called charantin which has hypoglycemic effects. In an article by The Open Medicinal Chemistry Journal in 2011, it was reported that M. charantia contains insulin like properties. Results from tests showed that it can regulate how much glucose is absorbed by the gut and stimulate glucose uptake just like insulin.
Traditional Chinese medicine considers indigestion as one of the causes of diabetes. As bitter gourd is able to remove heat toxins and stagnation from the digestive system, thus it can help reduce the symptom of diabetes. Along with exercise, choosing the right type of food to eat is important to help manage diabetes. Bitter gourd is one of these foods.
Related recipe: Bitter Melon Pineapple Soup
How to Reduce Bitterness in Bitter Gourd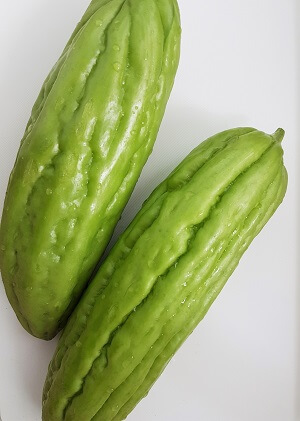 You can't remove the bitter taste entirely. At least not from my experience. If you want to remove the bitter taste completely you might as well not eat bitter gourd. But you can try to tone it down. Personally, I don't mind the bitter taste but I know many are repelled by its bitterness.
My late mom used to rub salt all over the gourd and set it aside for awhile before draining the juice and rinsing off the excess salt. I tried this method too but the bitter taste is only reduced by a little, if at all. Perhaps I should have given more time for the salt to work its magic. But I don't have the patience to wait.
A quick search on the internet show some articles recommending squeezing out as much juice as possible from the bitter gourd after the salt treatment. I didn't follow that method to avoid breaking the bitter gourd rings and loss of nutrients.
Other methods you can try:
Soaking the bitter gourd in salt water for 15 to 30 minutes.
Soak the bitter gourd in tamarind water for 30 minutes. Strain and rinse.
Blanching the bitter gourd in boiling water for about 2 minutes.
To offset the bitter taste, I added chopped water chestnuts (马蹄) to the meat paste. They balanced the bitterness and provided a crunchy texture at the same time. My Piggy commented that they look like rocks in this picture. Lol!
Slice the bitter gourd into 1 cm rings. You can slice them diagonally like I did or straight cross wise. Then use a spoon to remove the white spongy part.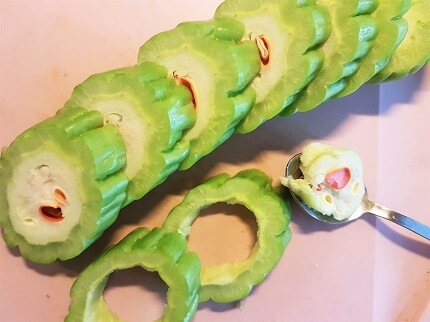 Stuff each sliced bitter gourd with the meat paste till it bulges slightly. I listened to Andrea Bocelli as I prepared this steamed stuffed bitter gourd dish from start to finish. Such a beautiful voice and a rare talent. You're MAGNIFICENT, Andrea! xox 🙂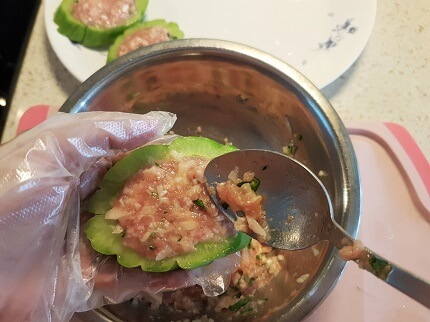 I added a goji berry (枸杞子) on top of each bitter gourd slice. Not just for aesthetic purposes, they also add a natural tinge of sweetness to this dish. You can also include them into the meat paste if you wish. Goji berries are good for your eyes, skin and immune system. It contains vitamins B1,B2, B6, C and E among a host of other health benefits. I love to add them into steamed dishes such as this Steamed Chicken with Black Fungus and also soups.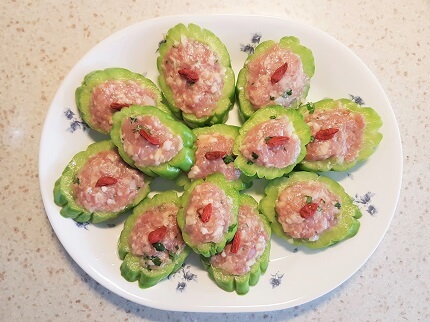 Steam the bitter gourd with a wok/pot and steamer. Pictured below is my trusty wok and steamer which I've been using for a decade now. If you don't have a steamer, you can also place the plate on a trivet to steam which is what I sometimes do.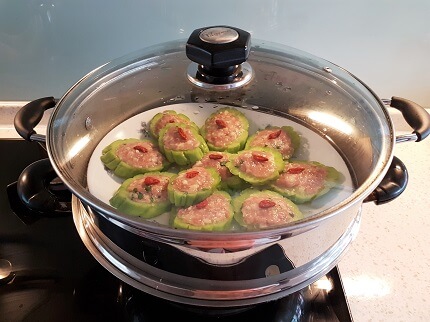 The longer you steam, the softer the gourds will be. 20 minutes was just nice for me. Too long and it'll turn mushy. You can also use this recipe to stuff dried shiitake mushrooms, tofu, chilies, etc.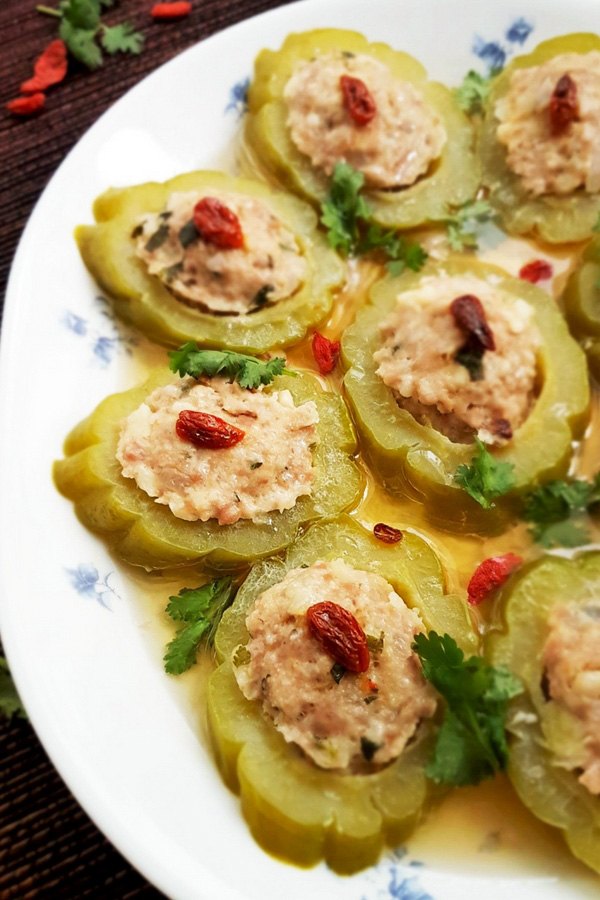 The broth from the steamed bitter gourd was good to the last drop. The steaming process infused all the flavors into the broth making it delicately sweet and subtly bitter all at once. Savor the juicy and delicious meat as you bite into each slice.
Related recipe: Braised Chicken with Bitter Gourd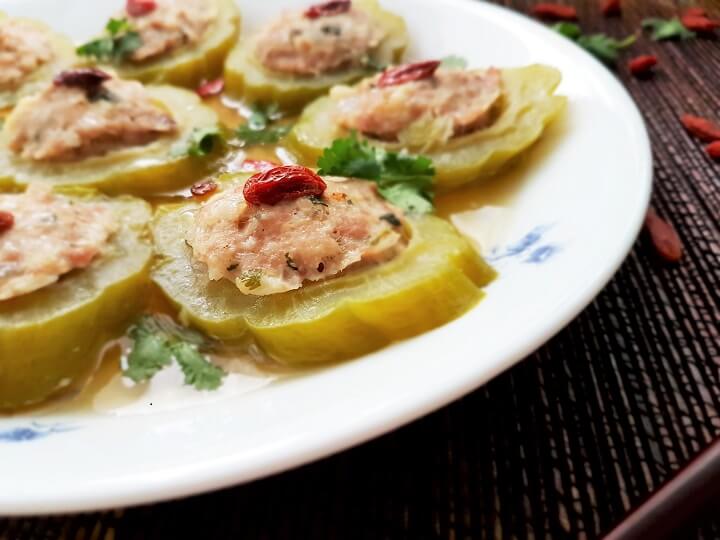 Once you begin to like this vegetable, you'll savor and appreciate its bitterness. As the Chinese adage goes, people who can 吃苦 – chīkŭ (literal translation: eat bitter) are able to endure hardships.
How do you like to cook bitter gourd? Share with me on the comment box below.
Don't want to miss a recipe? Sign up for Souper Diaries newsletter delivered to your inbox! Connect with me on Facebook, Instagram, Pinterest, Twitter and Google+ for all the latest updates. Thanks for reading and happy cooking!
Other healthy steamed food recipes you may like:
Cantonese Style Steamed Fish
Steamed Chicken with Black Fungus
Steamed Herbal Chicken

Steamed Stuffed Bitter Gourd with Minced Pork
A classic and healthy Chinese dish of steamed bitter gourd stuffed with minced pork. The addition of water chestnuts and goji berries add natural sweetness and crunch to the meat paste. The steaming process infuses the broth with a delicate bitter sweet taste.
Ingredients
1 medium sized bitter gourd (about 400g)
300 gm minced pork
1 small red onion (60 g) - chopped
4 water chestnuts - roughly chopped
Goji berries (wolfberry seeds) - 1 for each bitter gourd ring
½ tbsp fried shallot oil (for drizzling)


Seasonings
1 tbsp oyster sauce
1 tbsp light soy sauce
½ tsp of salt
A little pepper
½ tbsp fried shallot oil
1 tbsp corn flour
½ tbsp water
Instructions
Rinse bitter gourd and cut into 1 cm thick rings. Remove seeds and white spongy part with a spoon.
To reduce the bitter taste, sprinkle salt liberally on the bitter gourd rings. Mix well and let stand for 30 minutes. Drain away juices. Rinse 2 - 3 times and set aside. If you don't mind the bitter taste, skip this step and proceed to step 3.
Meanwhile, combine minced pork with the chopped red onion, water chestnuts and seasonings. Mix well with a spoon or a pair of chopsticks.
Stuff the bitter gourd cavities with the minced pork mixture making sure there're no gaps. Let the meat bulge a little. Smooth the paste with the back of a spoon.
Place 1 goji berry on top of each stuffed bitter gourd. Scatter some on the plate. Arrange the bitter gourd rings on a heatproof plate. Drizzle with ½ tbsp of fried shallot/garlic oil.
Bring water to a boil in a wok. Put the plate on a steamer and place it on top of the wok. Steam on medium-high heat for 15 minutes OR 20 minutes if you want the bitter gourd to be softer. Don't steam for too long or the bitter gourd will become mushy.
Turn off heat and remove from the wok. Garnish with coriander leaves and serve immediately.
Cooking Notes
1. If you don't have a steamer, you can also place a trivet on the wok and carefully lower the plate on the trivet when the water comes to a boil.
2. Depending on how much meat you use to stuff each bitter gourd, you may have some leftover meat. Suggestion: Use them to make meatballs and steam them together with the bitter gourd rings.