Whether you're cooking for a crowd, your family or for yourself, a delicious chicken curry with potatoes is always a crowd-pleaser. This quick and easy curry chicken recipe takes about 30 minutes to cook with instant curry paste, potatoes and yogurt. It's great for days when you want a quick fix for homemade curry.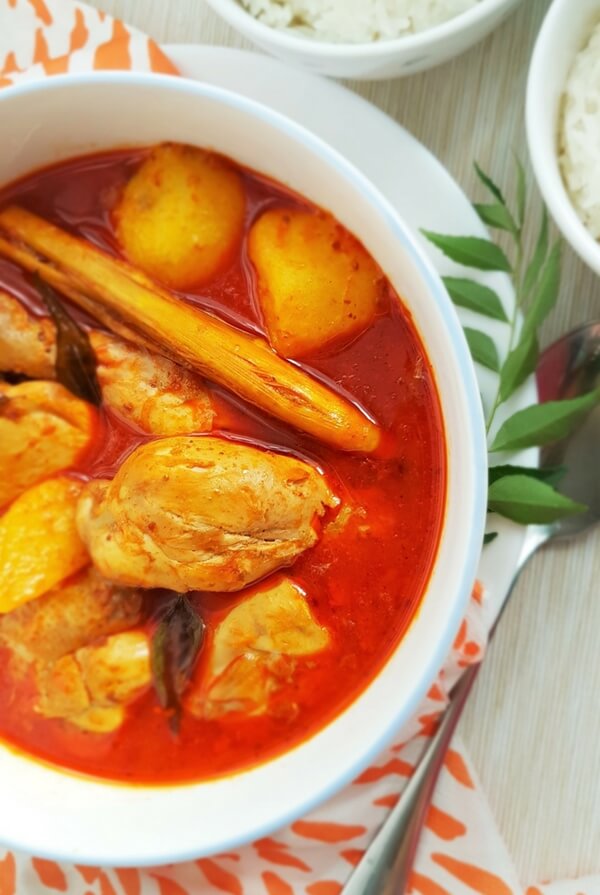 In one of my previous posts, I shared a Nyonya chicken curry recipe where I made curry from scratch by pounding and blending fresh spices manually. Although it was more time consuming that way, it was well worth the effort to me. However there're times when I want a quickie homemade curry. Using an instant curry paste is the answer. It's not only fast but super easy and delicious as well.
Instant Curry Paste
When it comes to instant curry paste, no two paste is alike in terms of taste and level of spiciness. Use your favorite brand of instant curry paste for this chicken curry with potatoes recipe (I used A1) or experiment and find out which one you prefer.
Some popular brands for curry paste include Baba and A1. In Singapore, they're commonly available in dried goods stalls and supermarkets. I always scrutinize the ingredients list and try to avoid those that contain MSG. If you prefer a milder tasting curry, use half of the instant curry paste.
Try not to skip the curry leaves and lemongrass in the recipe. The fragrance of lemongrass and curry leaves add warmth and depth to the flavors of the curry. Another ingredient I love to add in curries is yogurt. It gives the curry a hint of sourness and elevates the piquant taste. Yogurt also tones down the heat of the curry so my kids can enjoy it too.
Related Post: How To Make Yogurt At Home 
If you want, add some vegetables into the curry and make it a one-pot meal. Sometimes, I'll throw in some ladies fingers, eggplant and tomatoes. My kids love the potatoes more than the chicken itself so whenever I cook curry, I'll add more spuds into the pot. I like using my Happycall alumite pot when making a curry as the curry paste do not stick easily to the bottom of the pot when cooking.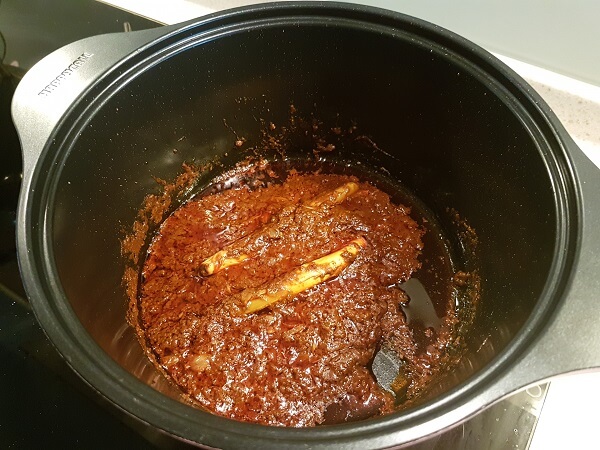 Leftover curry can be refrigerated for the day after. Curry is one of those dishes that tastes even better the next day like this Jiu Hu Char dish which I also adore.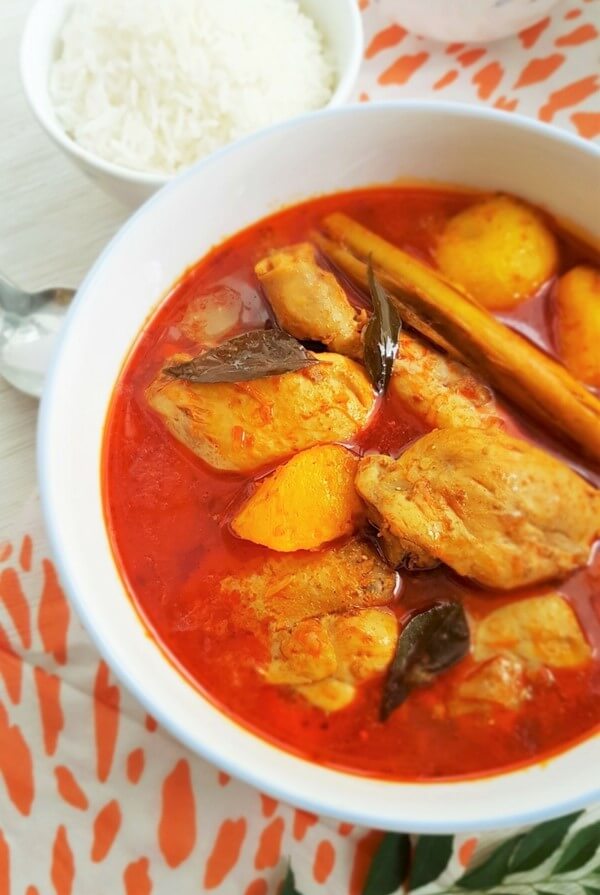 This bowl of delicious curry is perfect with steamed rice or bread. It's definitely one of my favorite chicken dishes. Happy cooking!
Don't want to miss any new recipes? Subscribe to Souper Diaries newsletter and have the latest recipes and updates delivered to your inbox! Connect with me on Facebook, Instagram, Pinterest, Twitter and Google+.

CURRY CHICKEN WITH POTATOES
Quick and easy recipe for curry chicken with potatoes, prepared with tender chicken thighs, instant curry paste, lemon grass, curry leaves and yogurt for a slightly tangy taste.
Recipe type:
Chicken Recipes
Ingredients
Fresh chicken parts (about 1kg)
1 packet instant curry chicken paste
3 to 4 potatoes - peeled and cut into wedges
2 lemongrass - white part only (bruised)
5 shallots - peeled and cut into thin slices
1 sprig of curry leaves
1 cup plain yogurt
2 tbsp cooking oil
2 cups water (refer to notes)
Salt
Instructions
Heat oil in a deep pot. Stir-fry shallots till fragrant. Add lemongrass, curry leaves and curry paste and stir fry till it is fragrant and oil bubbles through. Keep the heat moderately low and be careful not to burn the paste.
Add chicken pieces and stir to coat well with the curry paste. Fry for 3-5 minutes before adding water. Cover and bring to a boil.
Once it starts boiling, add potatoes and simmer on low heat for another 10 - 15 minutes or until the chicken is tender and the potatoes are cooked through. Season with salt to taste.
Turn off heat. Add yogurt a spoonful at a time and mix well. Serve immediately with some steamed rice or bread.
Cooking Notes
1. Adjust water as necessary. Use just enough to cover the chicken.
2. The yogurt will curdle if it is exposed to high heat so add it towards the end.