Intrigued by this type of melon that I always see at my local wet market, I decided to give it a try today. This melon is called shark's fin melon because (you may have guessed it) when it is cooked, the melon flesh will turn to strands resembling shark's fins. In vegetarian meals, shark fin melon is used as an alternative to the real McCoy as it looks similar to shark's fin soup.
This article was first posted on March 17, 2016. Updated on November 30, 2016 with improved recipe and pictures.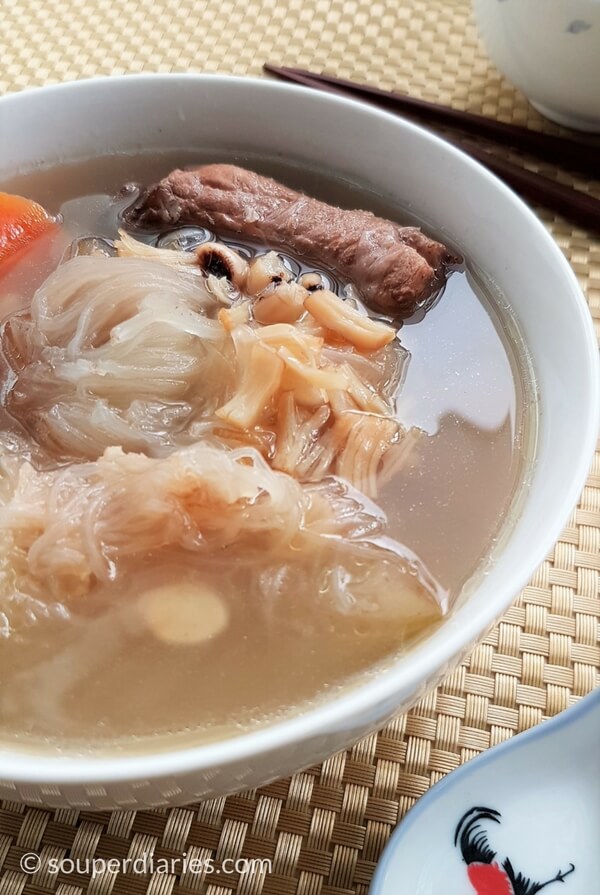 What is Shark Fin Melon?
A hardy vegetable, shark fin melon (scientific name Cucurbita ficifolia) can last without decomposing for several years if kept dry after harvest! Eating shark fin melon is said to help people with diabetes due to its high D-Chiro-Inositol content as explained in Wiki. It is also low in calories making it suitable for those who wants to lose weight. This melon is similar to the spaghetti squash as their flesh will both come off in strands like spaghetti when cooked.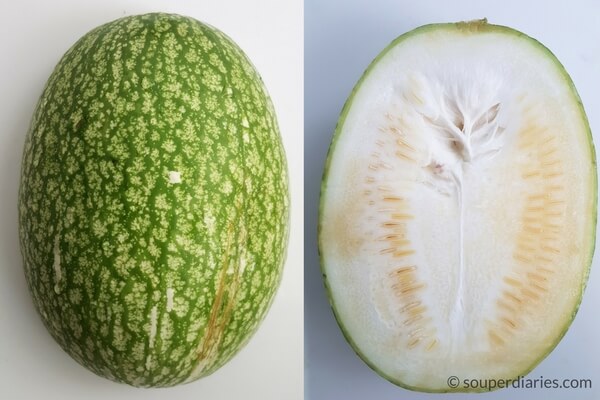 This is how the shark fin melon looks. You don't have to buy a whole melon for this soup as it is huge. Normally, they are sold in sections. If I'm boiling this soup for just 1 to 2 persons, I will request the vegetable seller to cut it into a smaller section for me.
In my original recipe for this shark fin melon soup, I peeled the skin and removed the seeds. I find that it is too tedious and time consuming so this time round, I decided not to peel and de-seed the melon. Surprisingly, the seeds turned out soft and were edible after cooking. There is also less wastage this way. The skin also helps to hold the flesh; much like old cucumbers when cooked in a soup.
I added black eye beans this time. They're cream colored beans with a small black speck that resembles an eye hence the given name. These beans helps with digestion, provides fibre, protein, potassium, folate and iron. They're also low in fat and calories. I can eat a bowl of rice with just this soup alone as it is quite filling.
Cut the shark fin melon into big chunks. This way, you'll have longer 'noodle strands' when the soup is done.
I used a clay pot for this shark fin melon soup. Clay pots are one of my favorite soup pots. I find that it helps to bring out the flavors better and it retains heat well. Read this article for more soup pot choices. Usually when I boil soups, I would use enough water to submerge all the ingredients. But for this soup, the I use slightly lesser water than the ingredients as the shark fin melon will shrink and also release some liquid as it cooks.
Now comes the fun part. The eating! This soup is a big hit with my children as they love the strands of 'noodles'. The soup has a sweet yet savory taste from the dried scallops, dried honey dates and pork ribs. I'll let you in on a little secret. I didn't even have to season this soup with any salt! But go ahead and season with some salt if you wish.
It's quite amazing to see the melon flesh falling away from the melon into noodle-like strands. The texture is like noodles too. Just that it is … vegetable noodles? If you have little kids at home, I think they will like this soup too.
For more soup recipe ideas, check out my Quick Boil Soup Recipes and Slow Cooking Soup Recipes. If you've enjoyed today's post, please share it on your social media! 🙂

Don't want to miss a recipe? Sign up for Souper Diaries newsletter delivered to your inbox! Stay in touch on Instagram, Pinterest, Twitter and Google+ for the latest updates. See you again and happy cooking!
SHARK'S FIN MELON SOUP RECIPE
Healthy and nutritious shark's fin melon soup cooked with pork spare ribs, dried scallops, black eye beans, carrots and honey dates.
Recipe type:
Slow Simmer Soup
Ingredients
Shark's fin melon section (about 1 kg)
350 g pork spare ribs
100 g black eye beans - rinsed
3 honey dates
2 small carrots - peeled and cut into chunks
6 dried scallops - soaked in hot water till softened (retain water for soup)
About 8 cups of water
Instructions
Blanch pork ribs in hot boiling water for a few minutes to remove impurities. Remove and set aside.
Wash shark fin melon and cut into big chunks.
Put all ingredients into a soup pot and bring to a boil. Then simmer over low heat for around 2 hours. Season with salt to taste and serve hot.
Cooking Notes
1. This recipe is enough for 2 meals for a family of 5. You can adjust the amount of ingredients according to how many people are eating.