Ikan Asam Pedas – Love At First Bite
One of the joys for me of living with neighbours of a different race is that I get to learn about their culture and the food that they eat. My nearest neighbour, who is an Indian, cooks curries almost every day and was the one who first introduced me to this fabulous Malay curry called Ikan Asam Pedas (Spicy Tamarind Fish).
One spoonful of the curry stew and I was instantly hooked. Spicy and sour, it was soo appetizing that I practically drank up the curry like a soup and had a second helping of rice; something which I rarely do. I knew I had to get to the bottom of this Asam Pedas recipe!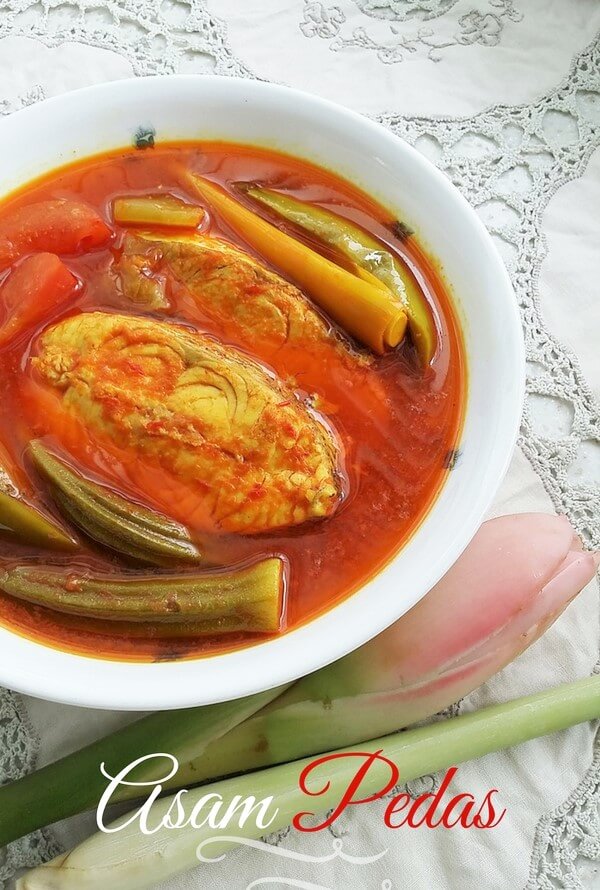 A classic Malay dish, there are many versions of Asam Pedas as different cooks make their own interpretation of this dish. While this dish is very popular in Malaysia and Indonesia, its exact origin is unclear.
Different spices (eg. addition of bunga kantan, laksa leaves, black pepper, etc) and types of fish may be used but the end result is always the same. Spicy and tart. And that's the way I love my curries.
Popular choices of fish for this dish include red snapper, ikan pari (stingray), tenggiri (mackerel) and angoli (gold band snapper)and white pomfret. You can use the fillet, tail, head or slices of fish cut thickly.
What You'll Need
The picture below shows the ingredients to make the curry paste. Please refer to the recipe for the quantity that I used. If you make a bigger batch of the blended paste, it can be refrigerated for about a week and longer in the freezer. So, anytime when you have a craving for Asam Pedas, you have your paste ready to fry. It will save you some preparation time and that is really convenient when you want to whip up this dish quickly on a busy day.
Do all the preparation work for the ingredients so that the cooking process will be much smoother.
The Beautiful and Edible Bunga Kantan (Torch Ginger Flower)
See the flower that is beside the Asam Pedas dish on my main picture. Called bunga kantan (torch ginger flower), it is not merely an ornamental flower but is used in many Asian dishes such as Penang asam laksa, rojak (a popular fruit and vegetable salad dish), sauces and curries. Some recipes call for this torch ginger flower to be used in this dish.
Personally for me, I find that its flavor would be overshadowed by the lemongrass so I did not use it this time. If you wish to use this flower, slice the bud thinly and sprinkle it into your curry for extra flavor. Discard the stalk.
Sometimes I see it sold at the vegetable stalls in a market. However, if you can't find this ginger flower, don't fret as your dish will still taste great. Read more about this torch ginger plant here.
Blend it!… like Beckham?
Usually, when it comes to spices, I prefer to pound it manually (eg. for the Sambal Belacan) but in this case, I find it is more convenient to just blend it as you want the paste to be very fine. Add a little water into the blender before you blend the spices. The chilli paste in this recipe can also be used for other types of seafood like prawns, squid and also poultry.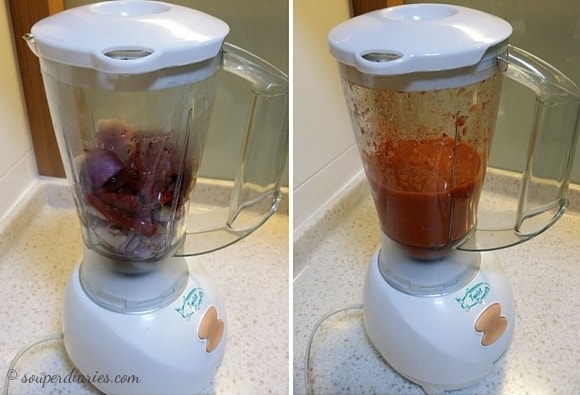 Fry, Fry Baby!
Fry the paste until the oil separates from the spices. This oil is now perfumed with all the goodness of the spices and will make the dish taste even better. These spices have to be well cooked to bring out their aroma but be careful not to burn it. Stir constantly and keep a close watch.
I wish you could take a whiff of the frying in progress now. It is SO good! The smell alone is enough to whet my appetite.
I fried all the blended spices in my Happycall Alumite Ceramic Pot; my wonderful kitchen helper. It is a very versatile pot; great for cooking all kinds of dishes from soups, stews to curries.
Taste and season with some salt and sugar before you add the fish and vegetables. I used ladies fingers, brinjal and tomatoes. Don't overcook them or they will become very soft and mushy.
Cooking Notes
There are two important things to note when cooking this dish.
1. The spices have to be well fried.
This takes about 10 – 15 minutes depending on how much spices you are using.
2. Don't Add Too Much Water
Add just enough water to the curry as too much water will cause the dish to become soupy and mute its fiery heat.
The first time I made Asam Pedas, I used 20 dried chillies and it was too spicy for my children. So, I've toned down the heat level this time by using about 14. It is moderately spicy for me but my princess said it is still too spicy for her. Sigh… Feel free to adjust the amount of chilies to suit your preference.
The ingredients for this Asam Pedas recipe may seem like a lot but don't let that deter you from trying out this recipe! If you cook this and plan to make it again, I recommend that you make a bigger batch of the curry paste as it can be refrigerated or kept in the freezer. So the next time, you'll just have to get the fresh ingredients as you already have your paste.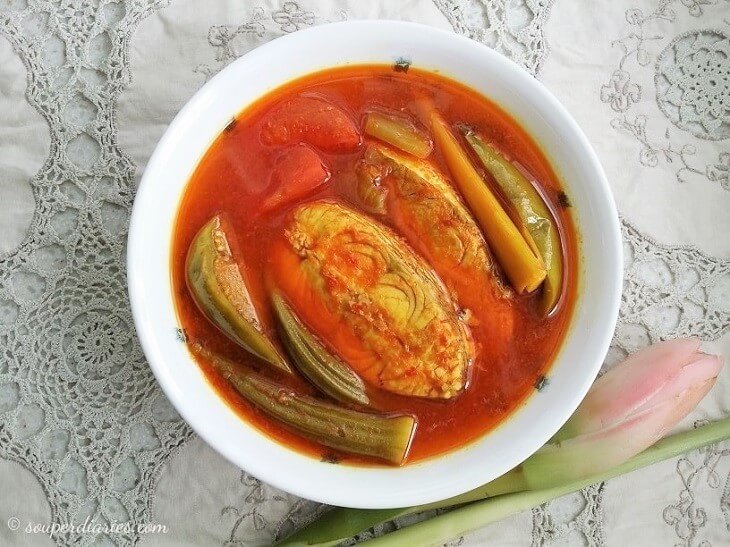 This spicy and sour fish stew is very addictive and appetizing and if you eat rice, I guarantee you'll be eating lots of rice with it. I hope this recipe is a keeper for you as it is for me. Please share this post on your social media.
Try this Asam Pedas recipe and let me know what you think. Would you like to stay connected? Subscribe to my newsletter and get the latest updates and new recipes delivered to your inbox. Happy cooking!

ASAM PEDAS
An appetizing Malay spicy and sour fish stew with vegetables.
Recipe type:
Seafood Recipes
Ingredients
Ingredients A:
2 pieces 1-inch thick fish fillet (about 250 g each)- washed and set aside
80 g tamarind pulp
2 stalks of lemongrass (white part only) – bruised slightly
8 - 10 young ladies fingers – keep whole if small and cut half if it is long
1 tomato – cut into sections
1 small brinjal (eggplant) - cut into quarters horizontally
50 g salted vegetables (optional) - cut into1 inch pieces
Oil for frying - about ½ cup
½ tsp turmeric powder
Salt and sugar – to taste


Ingredients B (Blend into a fine paste):
14 dried chilies - cut each dried chili into 3 sections and boil in a small pot of water till softened. Discard water.
3 large red onions OR 15 small shallots – peeled and roughly cut
4-5 garlic cloves – peeled and roughly chopped
10 g belacan (shrimp paste) - lightly toasted
Instructions
To prepare tamarind extract, mix tamarind pulp with 1.5 cups of water. Use your fingers to squeeze and press the tamarind pulp to separate the seeds from the pulp. Strain with a sieve for the juice and discard seeds. Set aside.
Heat up oil in a medium sized pot or wok.
Fry the blended ingredients over medium-low heat until it is fragrant. Add in lemongrass and stir. Stir continuously and make sure the paste does not dry up. Cover and let it boil for 1-2 minutes.
Open the lid. Continue to stir until the chili paste is drier and well cooked. Pour in tamarind water and about 2 - 3 cups (refer to notes) of water. Let it boil. Now is the time to taste and season with some salt and sugar to taste.
Add the fish and salted vegetables. Boil for about 2 minutes. Add ladies fingers and brinjal. Cover and boil for about 3 minutes. Lastly, add the tomato sections. Boil for about 30 seconds and turn off the heat. Serve hot with rice.
Cooking Notes
1. Tomatoes are added last so that it retain its shape and does not become overcooked.
2. Do not overcook ladies fingers or they will become too soft and mushy.
3. Fish meat can be substituted with fish head, fish tail or other types of seafood like prawns and squid.
4. When blending the spices, add some water into the blender or it will be difficult to blend.
5. Adjust the amount of water to your own preference. Use more water (but not too much or it will be too soupy) if you want a more watery curry and lesser water if you'd like a thicker curry. Personally, I like it somewhere in between.
5. Adjust the spices to suit your taste buds. If you prefer the dish to be spicier, use more dried chilies. And for a more sour taste, add more tamarind water into the curry.