Lotus Root Soup with Pork Ribs and Peanuts ( 排骨莲藕汤 )
The combination of lotus root with pork ribs and peanuts is a classic Chinese soup. In Cantonese, we call lotus root soup ling ngau tong (莲藕汤). Lotus root signifies abundance and prosperity to the Chinese so this is a popular soup for many who celebrate Chinese New Year.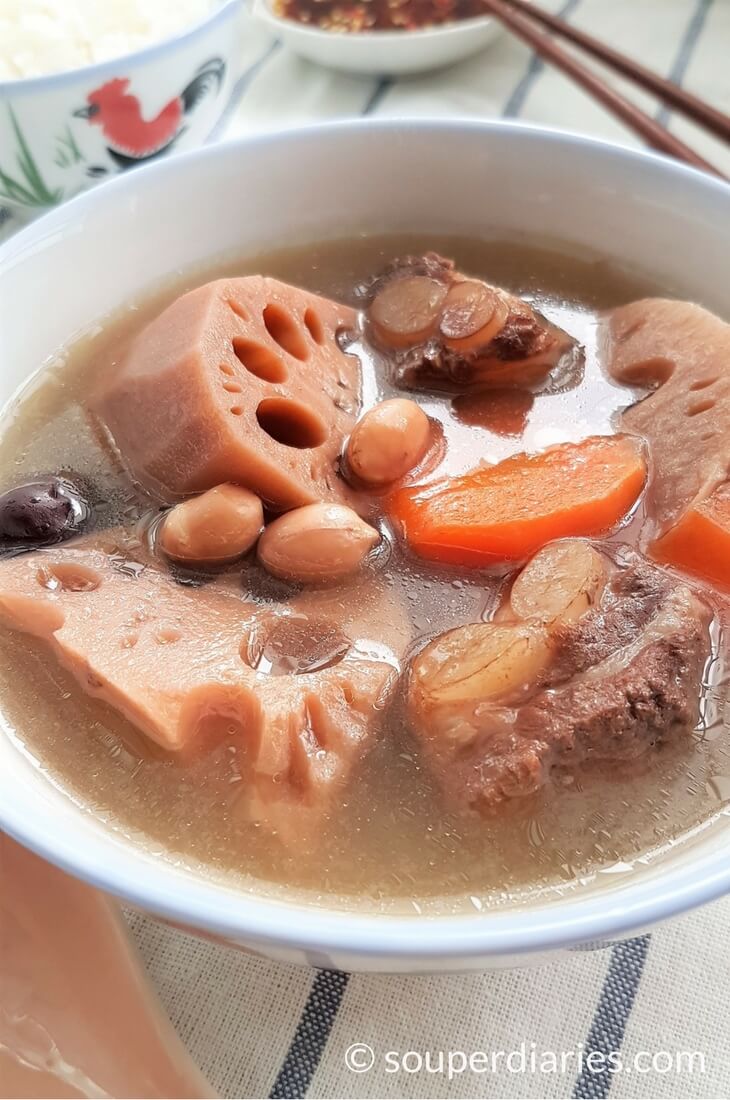 This soup brings back bittersweet memories for me as it was the last soup that I cooked for my late mother before she passed on a week later. I was really glad when she said that she liked it.
In addition to the lotus roots and pork ribs, I added dried scallops, dried red dates and dried squid. The pork ribs, dried scallops and dried red dates impart sweetness to the soup while the dried squid gives it an umami lift.
Sometimes if I happen to see arrowroots (not to be confused with arrowhead) when grocery shopping, I would get some and add them to this soup. Arrowroot is a tough tuber root and takes a bit of work to skin it but once cooked, it turns soft and sweetens the soup. But for this recipe, I will be using the basic ingredients which work great.
I used my Happycall Alumite Ceramic Pot to boil this soup but any soup pot will do too. This pot is one of my favourite kitchen helpers. Read about it in my review.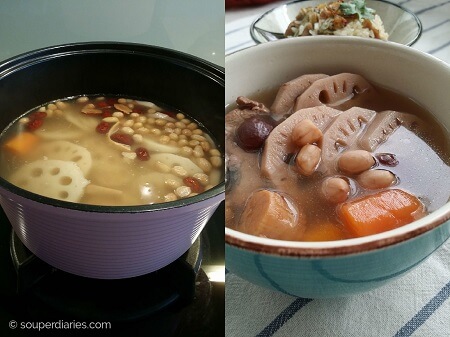 Lotus Root
The picture below shows the lotus root before cutting and after cutting. It is not the best specimen but it was what I could find from my local supermarket at that time. Visually, they look more appealing once you've peeled and cut them. Don't they look like cute little wheels with all those holes?
Try to look for heavy and firm ones with no soft spots. This vegetable grows deep in the soil of pond and river bottoms so sometimes they are still covered in mud when buying them from the market. Wash them to get rid of dirt or mud (if you're buying the fresh ones) before peeling and cutting.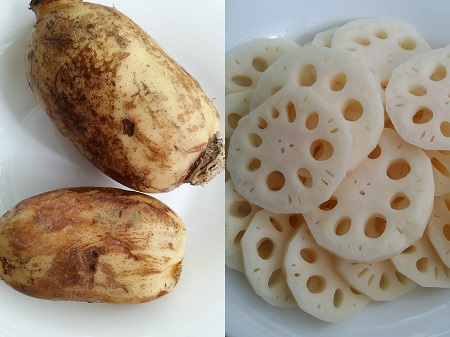 Nutrition wise
, lotus root is rich in dietary fiber, vitamin C, copper, iron, potassium, thiamin, manganese and is very low in saturated fat. On its own, it has a mild taste and a soft crunchy texture. Once cooked, they will absorb whatever flavors that are in your soups and dishes.
Almost every part of this plant can be used for cooking. The root (stir-fried, steamed, boiled, braised, made into candied lotus root), leaves (for wrapping food especially Chinese zongzi) and the petals are sometimes used as garnish. Lotus seeds can be eaten raw and can also be boiled with other ingredients to make tong sui (dessert soups). The seeds can also be grounded into a paste which is a popular and common ingredient in mooncakes and daifuku (Japanese round mochi).
Lotus Root with Peanuts
Peanuts and lotus root pair well together for this soup. Like lemon and cheese. Or bacon and eggs. Fish and chips. You get the idea.
You can de-shell the peanuts before cooking for a clearer soup but you can skip this step if you don't have the time. Personally, I won't be bothered to as it does not make a difference to how the soup tastes. If you don't care for peanuts or you're allergic to them you may replace them with arrowroot as mentioned above or simply omit it altogether.
How to Soften Peanuts
To soften peanuts like the ones shown below, soak them in hot boiling water for about 30 minutes before you cook them. I've found that this method always work for me. Otherwise, the peanuts may still be slightly crunchy after cooking.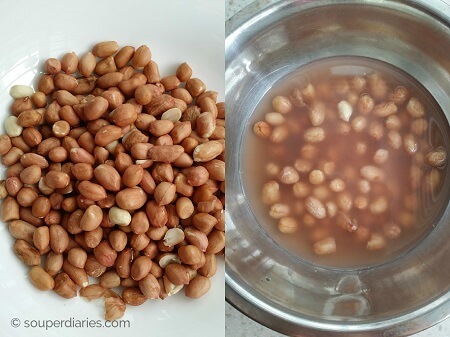 When boiling soups, I use fatter and rounder peanuts but I prefer smaller peanuts in stir-fried dishes and nasi lemak (a fragrant rice dish cooked in coconut milk and pandan leaf). If you enjoy eating peanuts, you may also wish to read about this soup.
Did I mention before that I absolutely adore peanut butter? I just love them so much. Chunky, creamy or with fruit spreads, they're all yum! I could eat stacks of bread with it. And have you ever tried Reese's peanut butter cups? They satisfy my sweet tooth cravings everytime.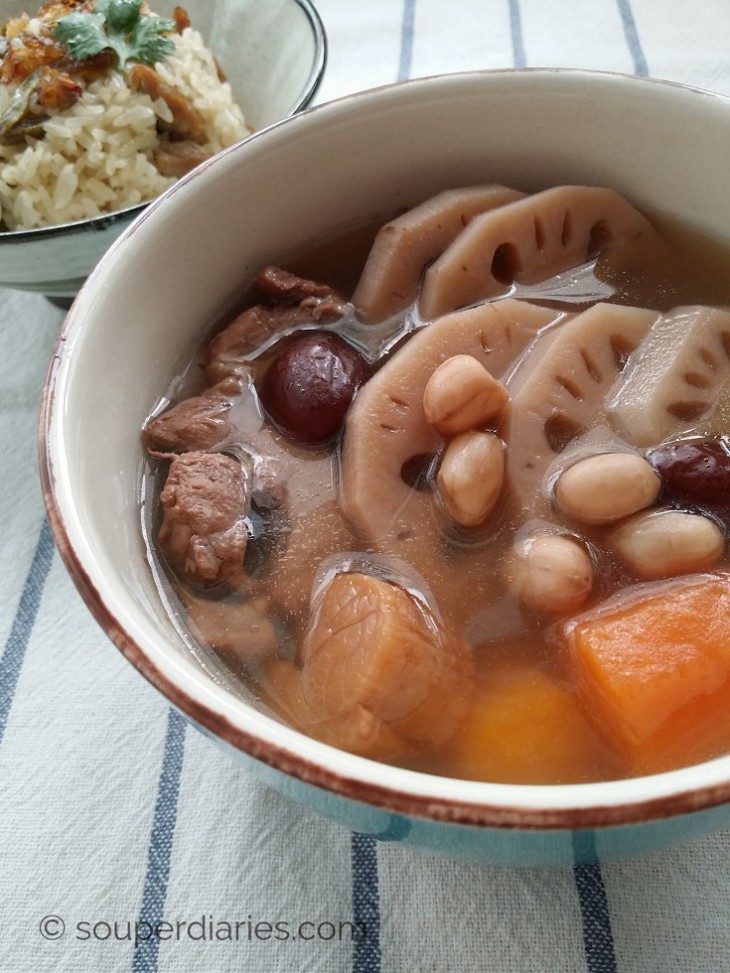 Do you enjoy Chinese and Asian food? Subscribe and get the latest recipes and updates from Souper Diaries delivered to your inbox. If you have any questions or comments about this soup, I would love to hear from you in the comments section below! 🙂

Lotus Root Soup with Pork Ribs Recipe ( 排骨莲藕汤 )
A one-dish meal soup that is flavorful, rich and nutritious.
Recipe type:
Slow Simmer Soup
Ingredients
1 long lotus root (about 500 g)
500 gm pork ribs
100 gm peanuts
1 carrot - peeled and cut into chunks
1 dried cuttlefish - rinsed (optional)
4 dried scallops - softened in a bowl of hot water for about 10-15 minutes (optional)
6 - 8 dried red dates
Water
Salt - to taste
Instructions
Soak peanuts in hot boiling water for about 30 minutes. Discard the soaking water.
Blanch pork ribs in a small pot of boiling water for about 5 minutes to remove impurities.
While waiting for the pork ribs to be ready, wash, peel and cut the lotus roots into 1 cm slices or irregular bite sized pieces .
Remove pork ribs from pot and set aside.
Put in all the ingredients in a soup pot. Add in enough water to submerge all ingredients by about 1 to 2 inches.
Bring to a boil and then let it simmer on the lowest heat for about 2-3 hours until the meat is very tender. Season with salt and serve hot.