A 'warming' tea, red dates longan tea helps to nourish the blood, builds up qi and strengthen the spleen and stomach.
Updated on: 20/3/18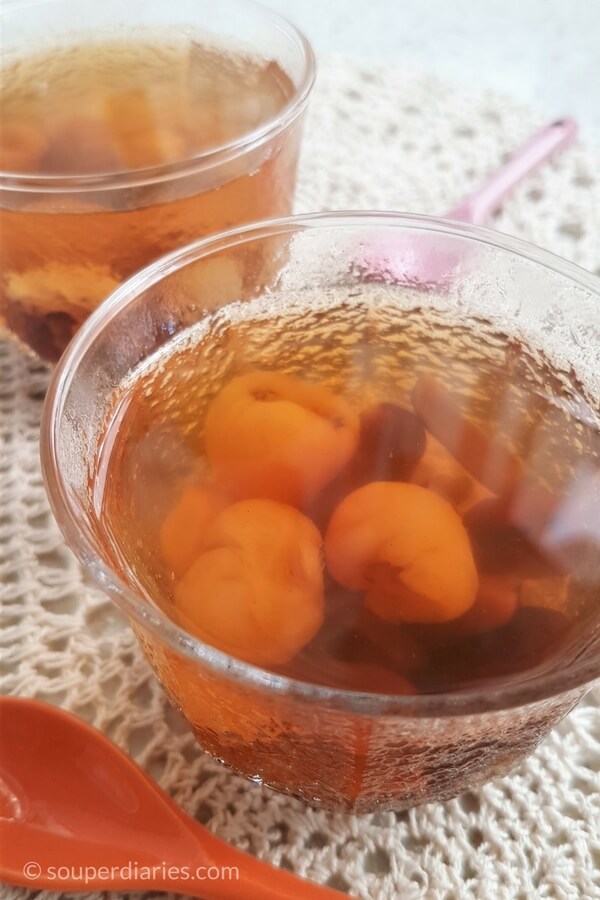 In my mother's family, this tea is always served on the first day of the Chinese New Year to our guests and also to ourselves. Growing up, I remember helping my mother cutting the dried red dates on CNY eve on our dining table. This was because the first day of CNY would be a busy day for visiting and entertaining our relatives.
Continuing with the tradition now, I too boil the red dates longan tea every CNY. Usually, I would make a big pot of it and drink it throughout the day. My kids love this tea as it is naturally sweet and easy on the throat. I did not even have to use any sugar as the longans and dates were already sweet to begin with. But of course, feel free to add some sugar if you wish.
Dried red dates (also known as jujubes, how cute is that!) have a wide array of health benefits and different minerals. They include magnesium, calcium, potassium, iron and copper. They also contain a whopping 70 – 80 times higher levels of Vitamin C compared to grapes and apples!
Widely known to replenish and nourish the blood and improving blood circulation, it is used in herbal teas for women after giving birth. During my confinement month, I had this tea for an entire month (dried red dates boiled with water alone).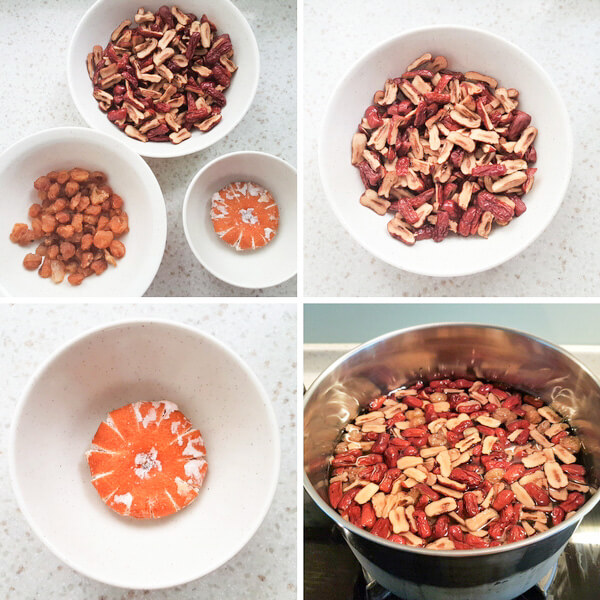 I added a dried whole candied tangerine into the tea. It is called jú bǐng (橘饼) in Chinese and is commonly found in herbal shops in Singapore. Dried tangerine is used in TCM in the treatment of coughs, phlegm and chest problems. It also makes the tea more fragrant. If you can't find it where you live, you may omit it.
You can also make variations of this tea by adding pandan leaves or goji berries.
Once the water starts to boil in the pot, there is an unmistakable aroma from the dried red dates and longan. I love the slightly smoky and woody scent with a hint of citrus aroma.
For more Chinese desserts and drinks, check out this page.
---
Further reading on the health benefits of dried red dates:
http://www.pingminghealth.com/article/636/chinese-dates-and-insomnia/
http://www.health-galaxy.com/Jujube-fruit-benefits.html
https://food-nutrition.knoji.com/jujube-fruit-its-gastronomical-uses-and-nutrition/
Red Dates Longan Tea
Tasty and warming Red Dates Longan Tea. The dried longans impart sweetness and a slight hint of smokiness. This tea is also popular as a confinement drink for postpartum women.
Recipe type:
Desserts and Drinks
Ingredients
150 g dried red dates (about 2 cups)
½ cup to 1 cup of dried longan (depending how sweet you'd like)
1 dried sugar coated tangerine (橘饼) - optional
12 cups water
Sugar to taste
Instructions
Briefly rinse the dried red dates. Cut into small pieces. This is for presentation purposes. You may skip this step and use the whole dried red date if you wish.
Place the dried red dates, dried longan, dried orange and water into a soup pot. Bring to a boil then simmer for about 30 to 40 minutes. Add sugar to taste if desired.
To serve, scoop some longans and dates into individual cups and pour the tea.
Thermal Cooker Instructions.
Place all ingredients into the inner pot of a thermal cooker. Bring to a boil and keep it boiling rapidly for 2 to 3 minutes. Remove lid and add sugar to taste. Bring back to a rolling boil. This will take about 30 seconds. Transfer the inner pot into the thermal cooker and leave inside for 2 to 8 hours.
Cooking Notes
This red dates longan tea is cooked in a 5.2L thermal cooker. You may have to adjust the quantity if you're using a different sized cooker.