Tiger Thermal Magic Cooker Review (NFB-C520) – Energy and Time Saving Kitchen Tool
If you are reading this Tiger Thermal Magic Cooker review, you're most likely looking for a reliable thermal cooker. But if you haven't heard of a thermal cooker before, read this article on What Is A Thermal Cooker.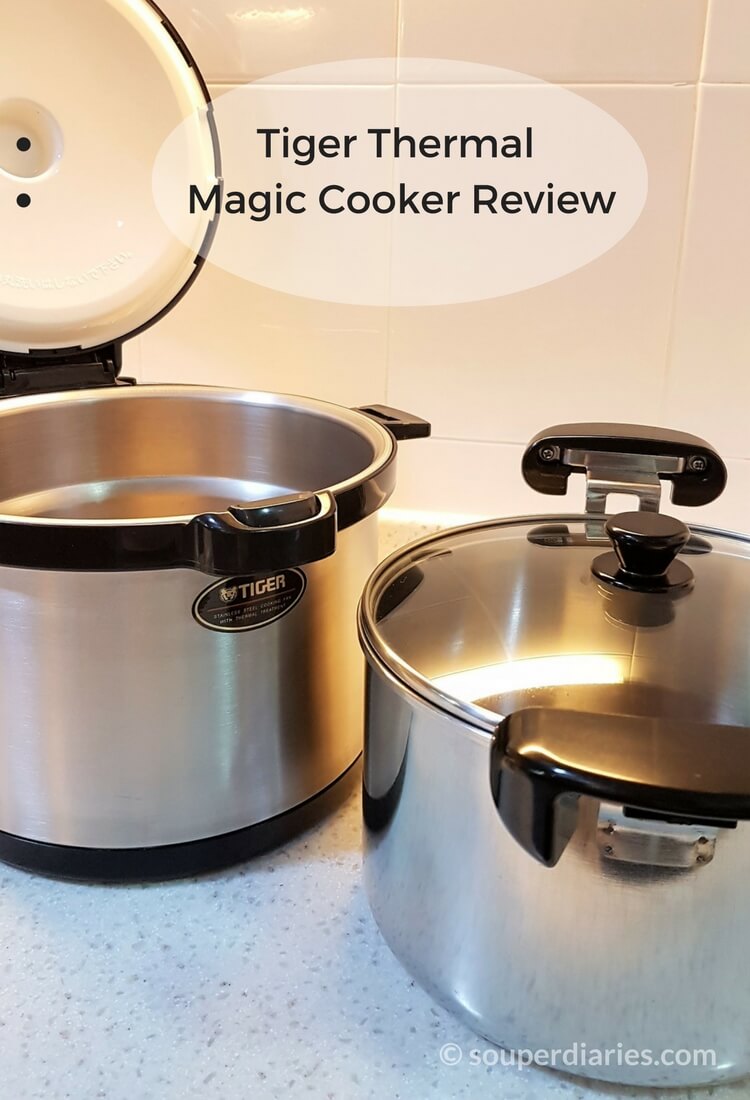 Tiger thermal magic cooker NFB-C520 is one of the 5 thermal cooker models available from Tiger. It is made in Japan and it contains a 5.2 L (5.49qts) stainless steel inner pot with a tempered glass lid, one-touch pop-up lid and a carrying handle.
My Experience with Tiger Thermal Magic Cooker
Before getting a thermal cooker, there have been many occasions I had to stop cooking halfway when I left the house to run some errands, fetch my kids from school, etc. I wanted an appliance that would help me cook while I was out without leaving an electrical appliance turned on or racking up big utilities bill.
The first thing that I cooked with my Tiger Thermal Magic Cooker was a soup. Usually for a slow simmer soup, it requires 2 to 3 hours of cooking time on the stovetop. But with the Tiger Thermal magic cooker, I only had to cook it for about 45 minutes on the stovetop.
No electricity nor heat source was required once the inner pot is inside the outer container. I was very pleased to discover that it was able to coax out the flavors from the ingredients into the soup even though I cooked it for a much shorter time than I normally would. Not only that, it stayed warm after 8 hours and I didn't have to re-heat. Isn't that amazing?
Besides soups, one of my favourite thing to make with the Tiger thermal magic cooker is yogurt. It is a wonderful incubator and my yogurt turns out delicious and thick every time. My kids really enjoy the homemade yogurt.
When my son goes to school in the morning, often times I'm in a rush to get things done. These are the times when I find the thermal cooker especially useful. I use it to get a soup going and when the inner pot is transferred to the outer cooker, my work is already done. It also frees up space on my stovetop.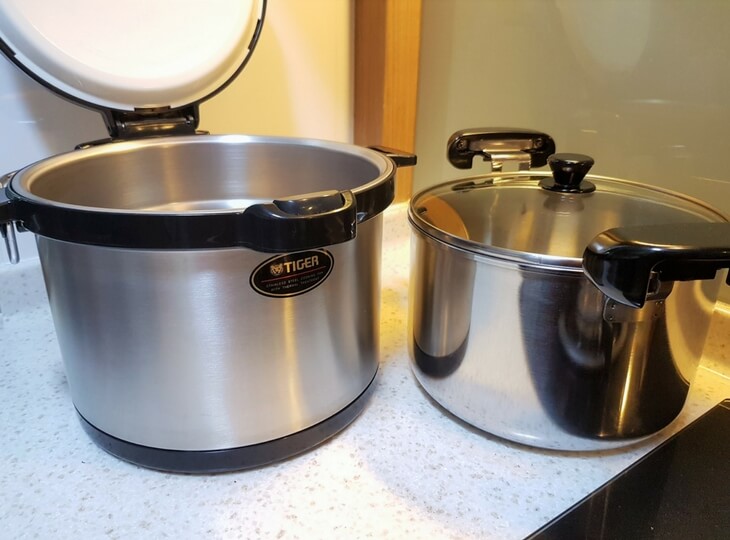 If you love soups, this is a God-send. I use it regularly to make soups. Check out a thermal cooker soup recipe here.
Tiger thermal cooker can retain heat and soften food effectively. Therefore, less cooking time is required on the stovetop. This translates to savings in utilities bills. You may see the cooking process in the example below.
---
How Effective is the Tiger Thermal Magic Cooker?
Recently, I've been boiling barley water quite regularly as my little boy had a recurring fever and drinking barley water will help to cool his body. I did a little experiment to see how well the thermal cooker would 'perform' with just 10 minutes of cooking time on a stovetop. (Note that the duration does not include the time to bring the water to a boil).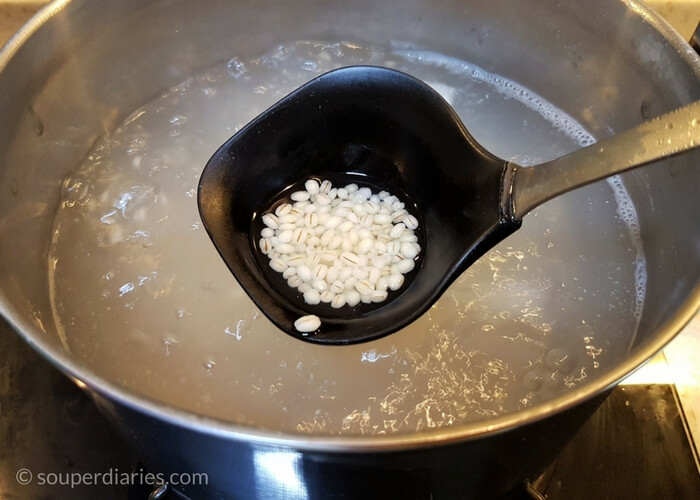 First, the barley water is brought to a rapid boil. Then I cooked it on medium-high heat (with lid on but slightly opened to prevent the barley water from bubbling out) for 10 minutes. At this stage, the barley is still slightly hard and the water not 'thick' enough.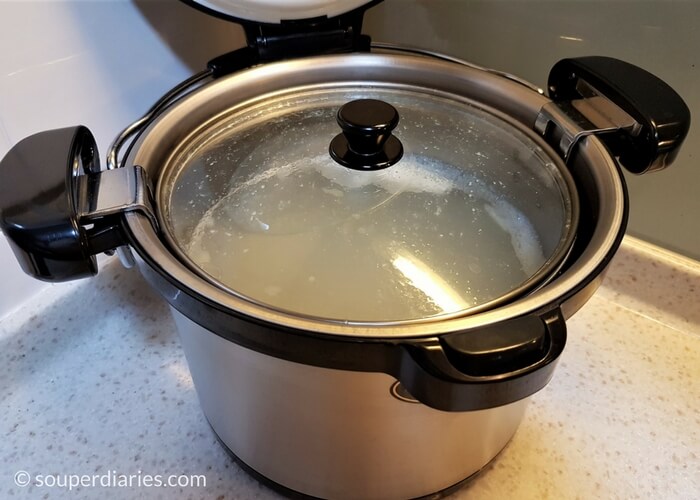 After 10 minutes of cook time on the stove top, I placed the inner pot into the outer container. This has to be done carefully yet quickly so as to conserve as much heat as possible inside the thermal cooker. Close the lids for both the inner and outer container and let the trapped heat finish the cooking.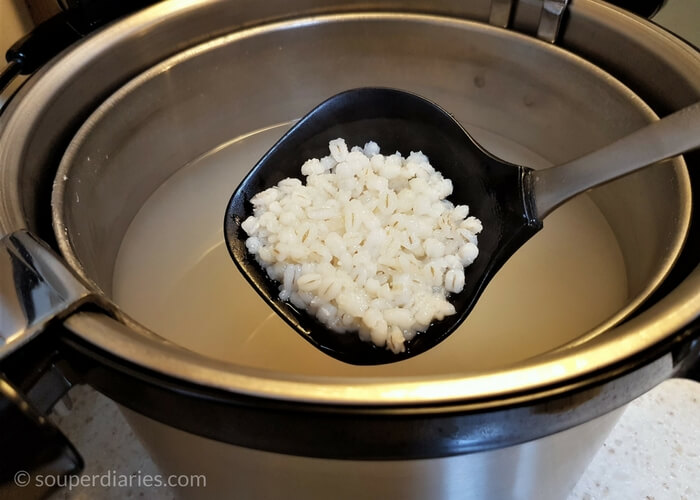 After 1 hour in the thermal cooker, the barley has softened nicely and the water is cloudy and 'milky' enough for my liking. They will get softer the longer you leave them inside.
After 6 hours, the barley water is still warm.
---
Why I Chose Tiger Thermal Magic Cooker
There are many thermal cooker models in the market so it made choosing a suitable thermal cooker rather difficult. Finally, I decided on Tiger as it has a slightly wider inner pot compared to other models. I figured this would make cooking with it a more comfortable experience.
Even so, once I got the cooker, I had some regrets initially due to the size of the pot. I thought that I had to fill up the pot as much as possible to retain more heat for cooking. With this NFB-C520 model, this would work out to about 15 cups of water which is too much for me.
I've since learnt (from the operating instructions) that for the most effective cooking, I should not overfill the inner pot. 80% full is the recommended amount. So phew, this size is just right for me after all as I usually fill the inner pot with about 8 cups of water when boiling soups.
However, this thermal cooker is not without its flaws. Whenever hot food is placed in the inner pot for several hours, I noticed some water droplets on the inside of the outer container when I opened the outer lid. But this is a minor gripe. It does not detract from its cooking abilities. What I do is simply wipe them away with a kitchen towel. Problem solved.
What Do Other Users Say?
Tiger thermal cooker reviews on Amazon are mostly favorable. However, I noticed an Amazon user commented that his cooker (model NFH-G450) had marks on the inside of the inner pot after cooking.
I have experienced that too. To solve this issue, I just use a little Cif cream cleanser to clean the stains. Then rinse with water and wipe dry. Voila! My pot looks as good as new. The picture below shows the inner pot of my Tiger thermal cooker after 1 year of usage. No stain marks at all.
---
Specifications and Features
Model : NFB-C520
Capacity: 5.2 L
Heat retention: Over 68°C (154°F) – 6 hours after boiling
Internal diameter: 21.8cm (8.58″)
External dimensions: W35.9 x D32.6 x H22.5
Weight: Approximately 3.9kg
One touch pop up lid
Carrying handle for easy use
Stainless steel inner pot with tempered glass lid
Inner pot is compatible with induction cookers
Only the inner pot is washable. To clean the outer container, just wipe with a damp cloth.
---
This short video below presents the Tiger thermal cooker and the different sizes available.
---
Price
At the moment of writing, Tiger thermal cookers are priced in the range from $155 to $225 (depending on size). Compared to some other thermal cooker brands, Tiger thermal cookers are more expensive as it uses vacuum insulation. The wall of the outer container contains 2 layers of stainless steel and the air in between is vacuumed out to create perfect thermal insulation. This is the same principle used for keeping food/liquid warm or cold in vacuum bottles.
I am using the 5.2L model and it is just nice for my family of 5. Choose the size that is most suitable for your cooking needs as the thermal cooker works best when the inner pot is 80% filled with ingredients and liquid. Check out the various sizes here.
Conclusion
I've been using the Tiger Thermal Magic Cooker ( NFB-C520 ) for about a year now. In my opinion, it is a worthwhile investment for the kitchen. If you have better things to do than to labor over the stove then this will be an awesome kitchen tool. I wish that I bought this earlier as it helps me to save on time, energy and money. Also, no more worrying your crock pot might croak.
Bottom line. It offers convenience and an energy efficient way to cook.
If you want to check out other thermal cooker brands, click here.
Buy From Amazon
I hope this review was useful to you.
Please share it with others
on your favorite social media. If you have any questions or comments, I would love to hear from you.