Braised shiitake mushrooms with broccoli is easily one of my favourite mushroom dish. Very tasty and healthy, these braised shiitake mushrooms have a rich, smoky flavor and they are high in vitamins and minerals like copper, selenium, zinc, manganese, choline, vitamin B6, B3, D and many more.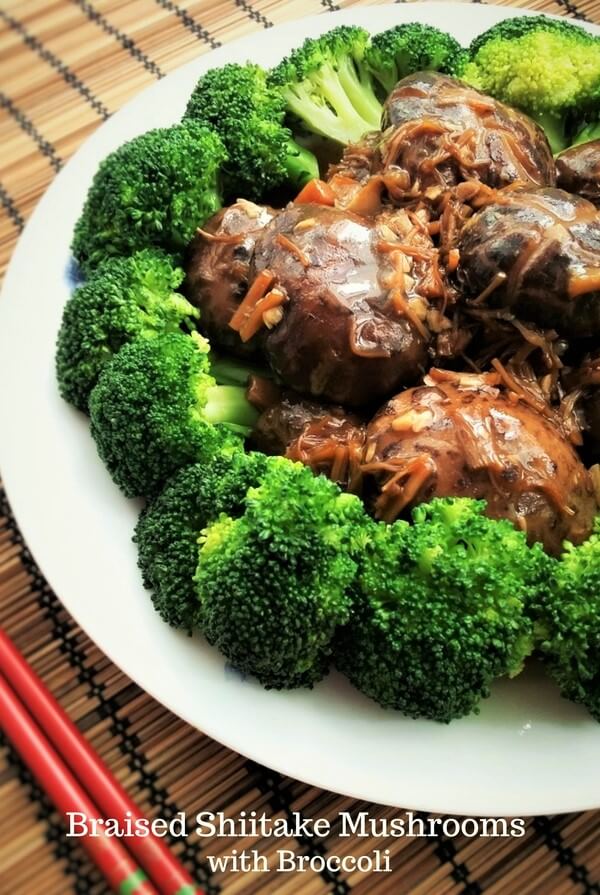 When buying
dried shiitake mushrooms
, get the thicker flower shiitake mushrooms for this dish. They are more suitable for braising compared to the thinner variety that are often used in stir-fries. These mushrooms are meaty and appear to have 'cracks' on their caps. These little crevices give the mushrooms a better texture and mouth-feel when you bite onto them. 
Soak the dried shiitake mushrooms before cooking. Retain the soaking water for braising as it will enhance the flavor of the braising liquid.
For this braised shiitake mushrooms with broccoli recipe, I added some dried scallops for extra texture and flavor. Sometimes I'll add black moss but my children do not enjoy eating it so I decided to cook with dried scallops this time.
Dried scallops, as with other dried foods, have very concentrated flavors and they give considerable depth to any dishes that you add them in. I love their natural sweetness and oceany taste. They're expensive so I save them for dishes such as this and also in some of my favourite soups.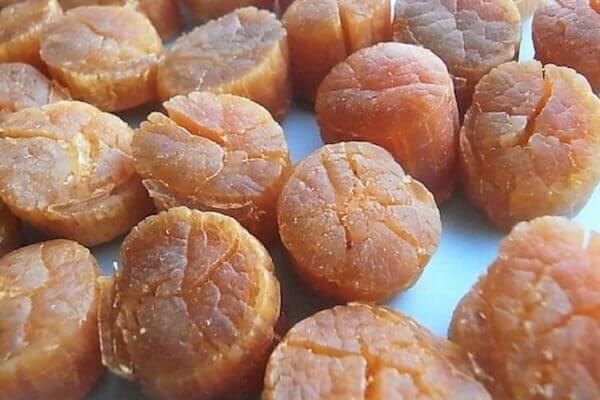 To soften dried scallops, soak them in hot water till they are soft enough for you to shred them into little pieces. Be sure to retain the soaking water as it is very flavorful and you can use it as part of the braised mushrooms.
Besides dried scallops, this braised mushroom dish is also very tasty paired with other ingredients like abalone, sea cucumber, black moss, dried/fresh scallops and dried oysters among others.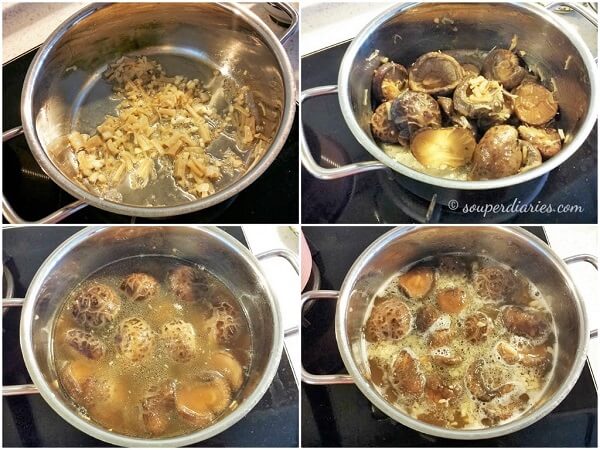 The aroma from the mushrooms braising in the pot is simply wonderful. They smell very woody, earthy and appetizing. Don't go overboard with the seasonings or it will be too salty. Taste the sauce and adjust the seasonings towards the end.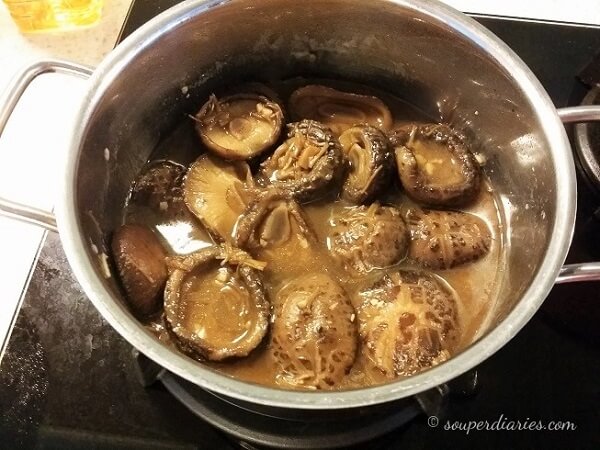 Braise the mushrooms until the sauce has reduced to about a quarter. Usually, it will take about 1 hour or so depending on the amount of mushrooms and water used to cook. This dish keeps well in the refrigerator and you can use any excess braising liquid for other dishes like noodles, etc.
Don't want to miss a recipe? Sign up for
Souper Diaries newsletter
delivered to your inbox! Connect with me on
Facebook
, 
Instagram
,
Pinterest
,
Twitter
and
Google+
for the latest updates. See you again and happy cooking!
Braised Shiitake Mushrooms Recipe
A tasty and healthy dish of braised shiitake mushrooms with broccoli.
Ingredients
2 heads of broccoli - washed and cut into florets
20 dried Chinese mushrooms (soaked till softened and retain soaking water)
4 cloves of garlic - skin removed and chopped
5 dried scallops (soaked overnight and retain soaking water)
3 tbsp cooking oil
Marinate (for mushrooms):
1 tbsp light soy sauce
½ tsp salt
1 tbsp cornflour
Seasonings for braising:
2 tbsp oyster sauce
1 tbsp light soy sauce
½ tsp salt - or to taste
1 cube of rock sugar - or to taste
Instructions
To prepare mushrooms, cut off the stems and squeeze out some of the water. Mix the mushrooms with the marinade ingredients and set aside for about 15-20 minutes.
Heat up oil in a medium sized pot. Stir-fry the chopped garlic till fragrant. No need to brown. Then add in the dried scallops and continue to stir fry for awhile.
Add in mushrooms and stir-fry for 1-2 minutes. Pour in the oyster sauce and light soy sauce and continue to stir-fry. Pour in reserved mushroom water and dried scallop water. Mix everything well and bring to a boil.
Once boiling, lower heat and simmer for about 45 minutes to an hour until the mushrooms are soft and the sauce reduced considerably (about ¼).
While braising the mushrooms, prepare to blanch the broccoli in boiling water. Add 1 tsp of cooking oil and 1 tsp of salt into the water. Blanch broccoli for about 1-2 minutes. Remove with a slotted spoon and arrange on a serving plate to form an outer circle.
Taste the mushrooms and sauce before you turn off the gas. Adjust the seasonings if necessary. When ready to serve, arrange the mushrooms in the center of the serving plate and pour some of the gravy over the mushrooms. Serve hot.
Cooking Notes
1. Check on the mushrooms during the braising process to ensure that there is sufficient sauce.
2. You can also use abalones, sea cucumbers or dried oysters in place of dried scallops.
3. Broccoli may be replaced with other vegetables (lettuce, bok choy, etc)
Adjust amount of mushrooms according to the number of people eating.