I thought I was never going to get this honey lemon chicken recipe post out at the rate I was eating. One after another, I kept popping them into my mouth as I took the photographs. They were SO good! Crispy fried chicken coated in a tangy sweet lemony sauce. Yumm..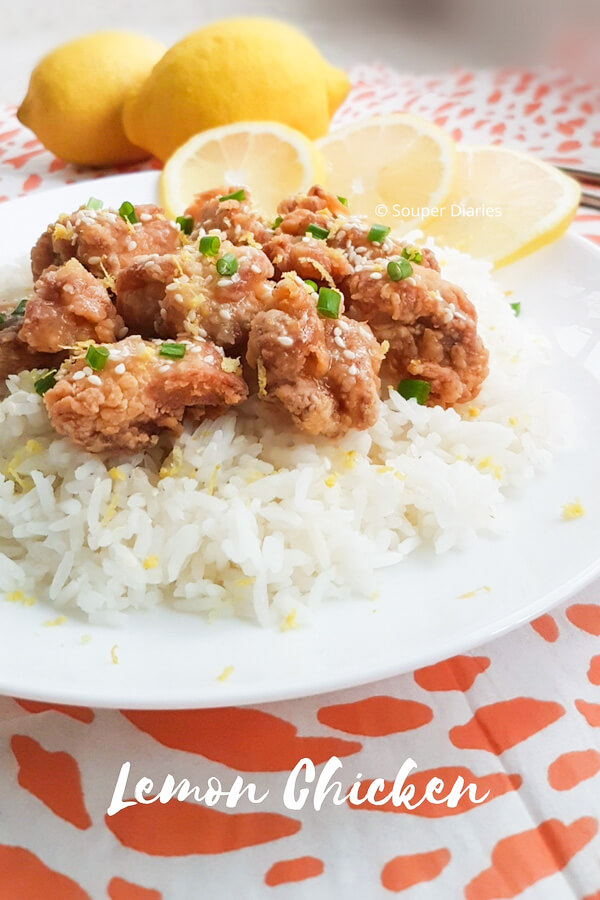 This post is another version of my previous lemon chicken recipe. This time, I made some adjustments to the sauce and the batter used for the chicken. The combination of 2 types of flour (plain flour + corn flour) and a little baking powder makes the chicken crispy when fried.
You can cut the chicken into cubes like I did or leave the chicken breasts/thighs whole. Then cut it up after it's fried. I personally prefer the first method as the chicken will be easier to eat. Just like chicken popcorn but coated with a delicious, citrus-y and tangy sauce. 🙂
Related recipe: Sweet and Sour Whole Fish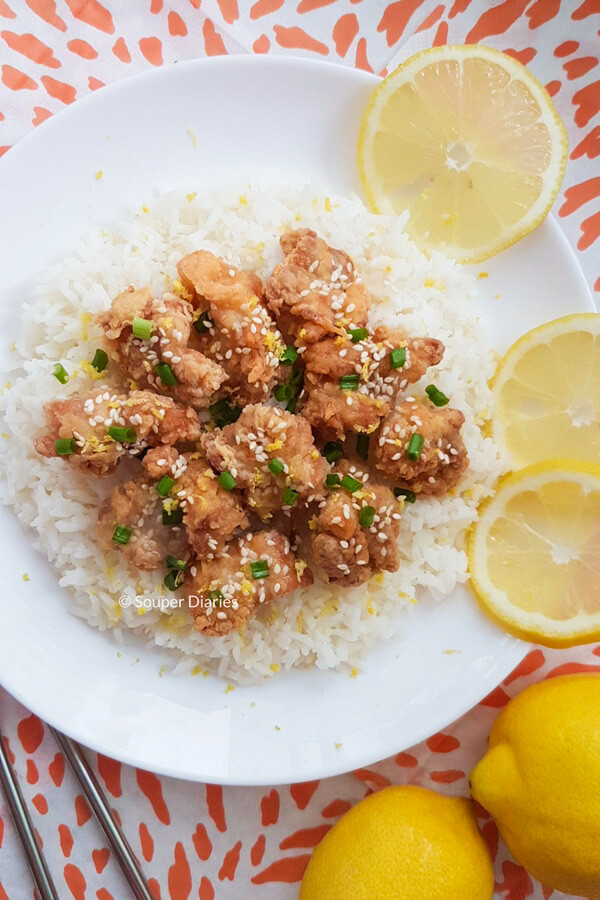 I rarely deep-fry at home. One of the reasons is because deep-frying requires much more oil than other forms of cooking. It is pricey to toss away the leftover oil from frying a batch of chicken. So I did some research and found out that deep frying oil CAN be reused. The number of times it can be recycled will be determined by several factors.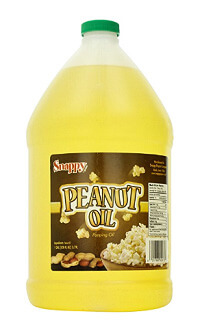 The type of coating used for the battered food. Breaded food and flour-dredged foods will leave behind the most food particles so the used oil is not suitable for more than 3 to 4 uses.
The type of food that is fried. Vegetables will produce the cleanest leftover oil compared to fatty meats. Deep-frying meat will cause the oil to break down faster as the fat from the fried meat will mix with the frying oil.
The choice of cooking oil. The higher the quality of oil that you start cooking with, the more times it can be reused. Every oil has its own smoking point; the temperature when it starts to break down and smoke. You'd want to use oil with a higher smoking point than the temperature for frying. Oils with high smoke point include peanut oil and canola oil.
Oil storage. Keep the oil away from exposure to light and air as they will cause the oils to turn rancid or taste bad.
In case you're wondering – yes, I did re-use the frying oil. After it cooled down, I strained it and kept it inside a container, covered. I will slowly but surely make my way through the oil for my stir-fries and general cooking.
Don't reuse the oil too many times. After every use, its smoke point will drop. Also, never reuse cooking oil if it foams up during cooking or smells rancid.
Read more about 'Can You Reuse Frying Oil' from Epicurious.
Pour the sauce over the chicken right before serving. This is to maintain the crispiness for a longer time. Serve the honey lemon chicken with some steamed rice and vegetables or just eat as is. Enjoy!
You need to make this. Pronto. 🙂
Don't want to miss a recipe?
Subscribe
to my newsletter to get the latest recipes and updates delivered to your inbox! Connect with me on
Facebook
, 
Instagram
, 
Twitter
, 
Pinterest
and 
Google+
for all the latest updates.
Honey Lemon Chicken
Crispy fried chicken coated in a tangy sweet lemony sauce.
Recipe type:
Chicken Recipes
Ingredients
2 boneless, skinless chicken breasts / thighs – cut into bite-sized cubes
1 tsp white sesame seeds
1 egg – beaten
Cooking oil
For Marinade
For Coating
1/4 cup all purpose flour
¼ cup corn flour
¾ tbsp baking powder
½ tsp salt
For Sauce
1/2 cup of water
½ tsp lemon zest
4 tbsp lemon juice
1 tbsp honey
Sugar to taste
Slurry
3/4 tbsp cornstarch, dissolved in 2 tbsp water
Garnish
Lemon zest
Chopped spring onions
Instructions
Marinade the chicken pieces for about 30 minutes.
Mix the ingredients for the coating and sift. Set aside.
Prepare sauce. Add all ingredients for sauce (except honey) and mix well in a saucepan. Stir and bring it to a boil. Lower heat, add honey, stir and do a quick taste. Add more sugar if it is too sour. Slowly pour in cornstarch slurry to thicken the sauce to your preferred consistency.
To fry, dip the chicken pieces into the beaten egg first before coating with the mixed flour. Shake off excess flour.
Heat up oil in a wok or dutch oven (till 180°C). Carefully add the chicken pieces into the dutch oven. Do this one at a time to prevent the chicken pieces from sticking and in 2 batches. Deep-fry till golden brown. Let the oil heat up again before putting in the next batch. Don't overcook the chicken pieces or the meat will be tough. Remove the chicken with a slotted spoon and transfer to a plate lined with paper towels to soak up excess oil.
Pour lemon sauce over the chicken and coat well just before serving. Sprinkle with sesame seeds and garnish with spring onions and lemon zest. Best to serve immediately.
Cooking Notes
Use a cooking thermometer to check for the readiness of the oil before deep frying. It should be between 350 °F (177 °C) and 375 °F (191 °C). If you don't have a cooking thermometer, test with a wooden chopstick or spoon. Dip it into the pre-heated oil. If the oil starts to bubble steadily around the chopstick/spoon, it is hot enough for frying. If there is very few bubbles, it is not hot enough.
If you try this recipe, snap a pic and hashtag
#souperdiaries
on
Instagram
,
Facebook
and
Twitter
!