One of my favorite ways to cook pumpkin is to make this Chinese-style pumpkin soup with pork ribs. It is rich in nutrition and imbued with the natural sweetness of pumpkin and corn.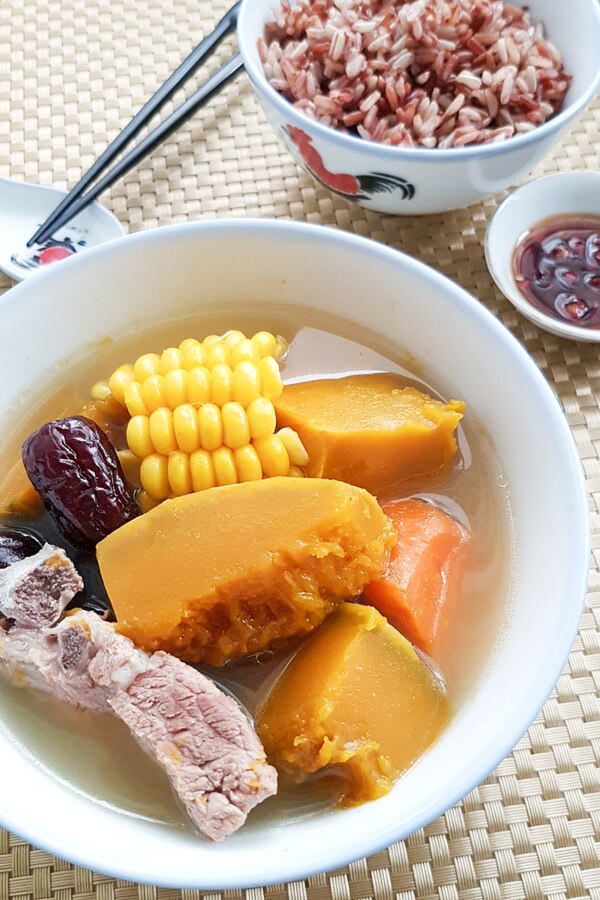 Pumpkin was one of the ingredients that I used when I introduced solid foods to my children when they were a few months old. Every now and then I would make pumpkin congee for them. Cooked pumpkin is very soft so I could easily mash them into the congee and they enjoyed the naturally sweet taste of the squash.
Pumpkins are much more than a Halloween decoration or a Thanksgiving pie filling. They are rich in vitamins and minerals but low in calories.
Nutritional Benefits of Pumpkin
Orange foods and vegetables have always been associated with the presence of beta-carotene, a precursor of vitamin A. Pumpkin is one of them. Vitamin A is important for good vision, reproduction, helps protect your ticker and lowers blood pressure.
Other health benefits of pumpkin include:
Helps with weight loss.
May reduce cancer risk
Protect the skin
Improves your mood
Boosts immune system
Nutrition of Pumpkin in Traditional Chinese Medicine (TCM)
In Traditional Chinese Medicine, pumpkin is used to relieve dampness and eases bronchial asthma by promoting discharge of mucus from the lungs, bronchi and throat.
The seeds (nan gua zi) are beneficial for the intestines and helps to ease constipation. It is used to expel nasty gut parasites such as tapeworm and roundworm. For this purpose, pumpkin seeds are taken by boiling into a strong tea known as a decoction or grinding into a powder to be taken with water. (source)
For breastfeeding women, pumpkin seeds can help promote breast milk supply and postpartum fluid metabolism (especially hand and feet swelling).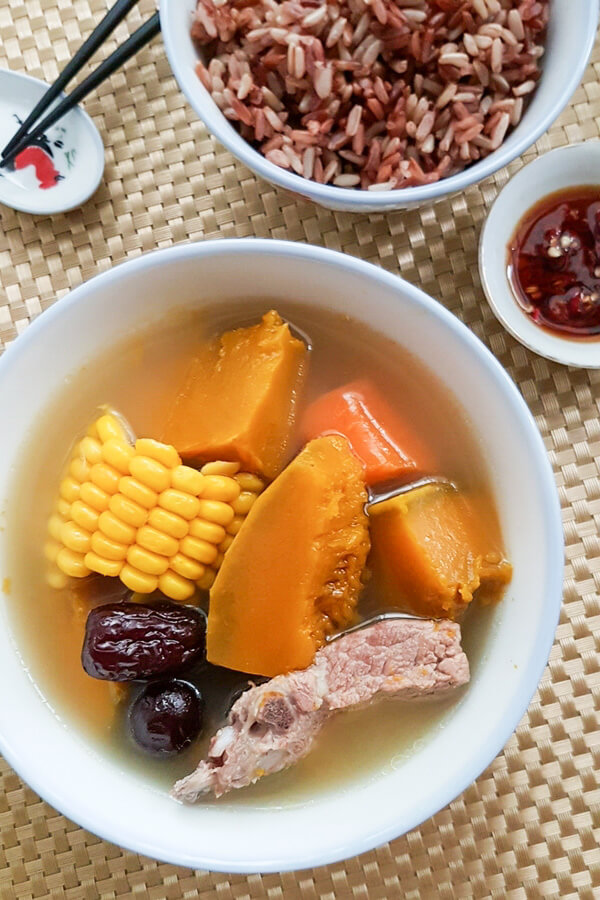 Pumpkin cooks rather quickly so it's not necessary to add them in right at the beginning of the cooking time. I only added them in the last 20 minutes of cooking. If you want to put them in early, leave the skin on or they will disintegrate easily into the soup.
The soup is tasty and naturally sweet from the pumpkin, corn and dried red dates. I didn't have to add any salt at all but you can go ahead and add some if you want to. Dunk the pork ribs into some light soy sauce and eat with bird's eye chili. Simply yummy!
Pumpkins are affordable and easily found all year round. Do try out this Pumpkin Pork Ribs Soup recipe and let me know what you think!
Do you like Chinese soups? Follow my board on Pinterest for more Chinese soup recipe inspirations.
Other recipes with pumpkin:
Pumpkin Pork Ribs Soup (Chinese Pumpkin Soup)
Nutritious and tasty pumpkin pork ribs soup. Pumpkins are beneficial for good vision, immune system, improve lactation, lowers blood pressure and more.
Recipe type:
Slow SImmer Soup
Ingredients
600 g pumpkin - skin and seeds removed, cut into chunks
350 g pork spare ribs
1 carrot - peeled and cut into chunks
1 corn - shucked and cut into sections
4 dried red dates
6 cups water (or just enough to immerse ingredients)
Instructions
Scald pork ribs in hot boiling water for about a minute to remove scum and dirt.
Bring water to boil in a soup pot. (I used a clay pot). When it starts boiling, add pork ribs, corn, dried red dates and carrot into the pot. Simmer for an hour.
Add pumpkin and simmer for another 20 minutes.
Season with salt to taste if required and serve.