Many hawker stalls that sell double boiled soups in Singapore offer rice such as pumpkin rice and yam rice. I'll always order these if they're available as they're so flavorful compared to white rice. When you make it yourself at home, you can add more pumpkin and use whatever meat and ingredients that you fancy.
Note: This post was first published on March 2017 and now updated with new pictures and recipe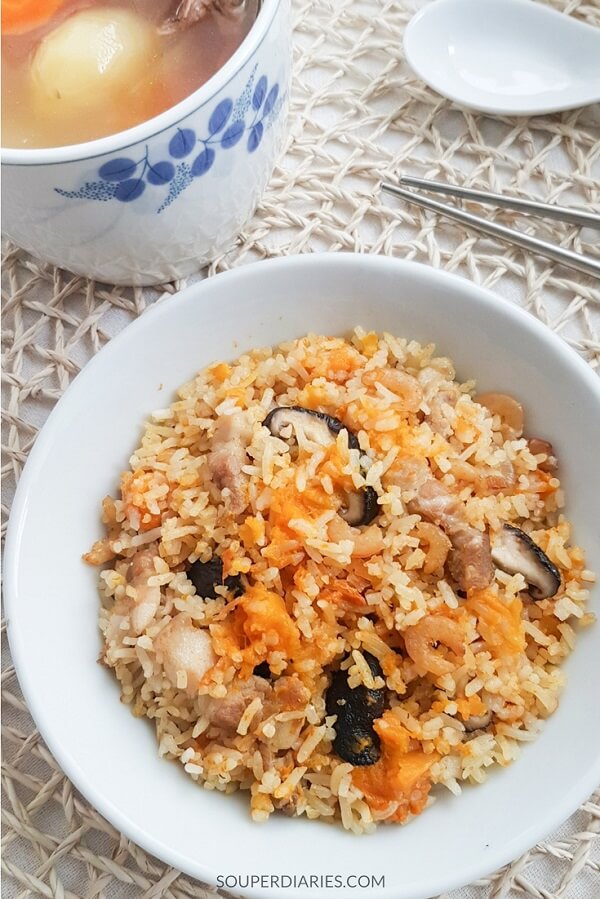 One-pot rice is something I do often. I call this my lazy day meal as I don't have to cook multiple dishes. Less dishes = less washing up.
Am I the only one who hates cutting pumpkin? Well, I do love eating it but not the prepping part. So, if you're like me, I recommend that you use Australian pumpkin for this recipe. They're more expensive but totally worth it. I find cutting these pumpkins a breeze compared to the other varieties.
Today, I cooked this rice with an ABC Soup. It's very satisfying to have a piping hot soup to wash everything down. Equally as satisfying is to eat this rice with some bird's eye chili. Super delicious!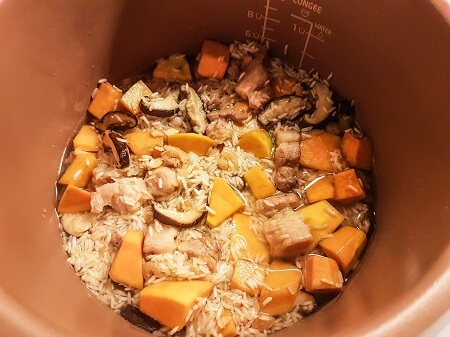 The Ox doesn't eat chicken so I made this pumpkin rice with pork. You can also cook with chicken meat if you like. If using chicken, don't use the breast meat as it would be too dry.
After frying the rice and all other ingredients in a wok, transfer everything into a rice cooker. Don't worry if the water level does not cover the rice. The pumpkin will release moisture when cooked.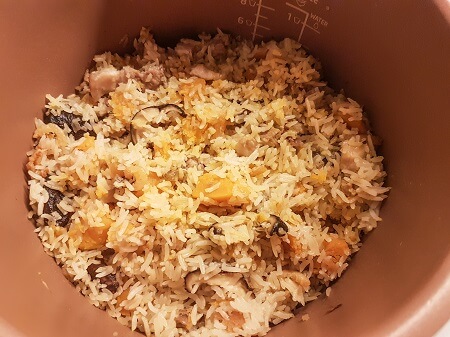 This is how the pumpkin rice looked when the cooking process was complete. Do not stir the pumpkin rice immediately after it's cooked in the rice cooker. I learnt this the hard way. I was so used to fluffing up cooked rice to loosen them that I didn't give it a second thought. So I stirred as per normal and to my dismay, the rice started to turn mushy and the grains broke easily.
Tip: If you need to stir the pumpkin rice, do so only when the it is halfway cooking or has cooled down.
Cooking notes:
1. There are 2 ways you can cook this pumpkin rice using a rice cooker. You can either dry fry the rice together with all the ingredients or partially cook the ingredients (without rice) in a wok before transferring them into a rice cooker to cook with the rice.
It does not matter which method you choose as it won't affect the taste much, if at all. What's more important is the amount of water used to get the right consistency for the rice.
2. Don't stir the rice right after it has finished cooking. Doing so will release more moisture from the pumpkin resulting in gummy rice.
3. For vegetarians, substitute the meat with firm tofu or vegan ham.
4. Cut the shiitake mushrooms into slightly thick strips and the pork into long thin strips instead of cubes or small pieces. This will provide a better mouthfeel when eaten with the cooked pumpkin.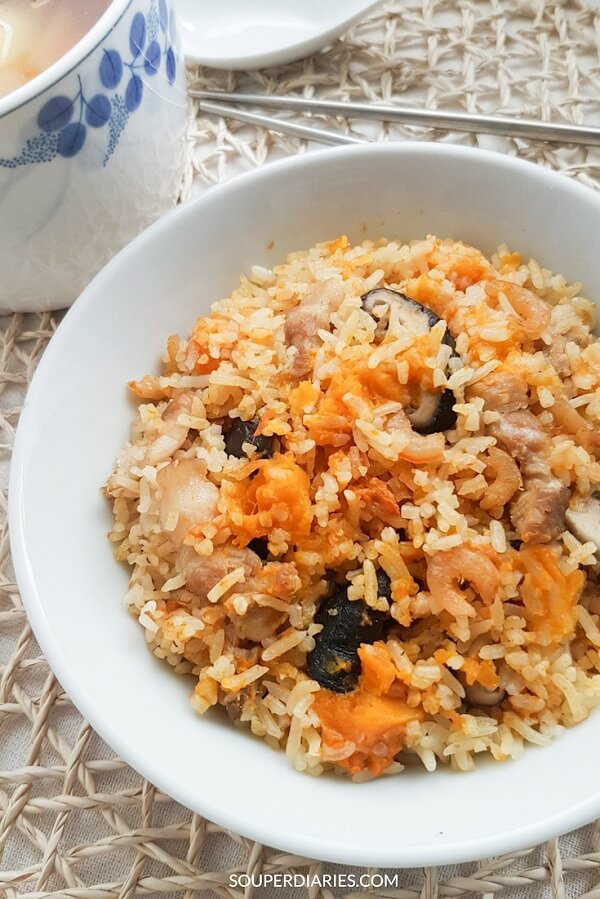 This pumpkin rice is both savory and sweet at the same time. The dried salted fish and dried shrimps elevate the delicious rice up a notch. Try this rice cooker pumpkin rice recipe and let me know what you think. Thanks for reading and happy cooking!
Other recipes with pumpkin:
Pumpkin Pork Ribs Soup
Roasted Pumpkin Apple Soup

Rice Cooker Pumpkin Rice
One-pot pumpkin rice with shiitake mushrooms and pork. Topped with crispy fried shallots and spring onions.
Recipe type:
Rice Recipes
Ingredients
2.5 rice cooker cups uncooked rice - washed and drained of water
200 g pork belly - sliced into thin strips
25 g dried shrimps (xia mi) - soaked for 5 mins and drained
15 g dried salted fish - soaked till soften and cut into small pieces
3 shallots - minced
3 cloves garlic - minced
350 g pumpkin - peeled and cut into small cubes (Australian pumpkin preferred)
8 fresh shiitake mushrooms - sliced
3 tbsp cooking oil
450 ml water (or about 400 ml if you prefer 'harder' rice)
Marinade for pork
¾ tbsp light soy sauce
¾ tbsp fried shallot oil (or sesame oil)
1 tbsp corn flour
Pinch of white pepper
Seasonings for Rice
½ tbsp dark soy sauce (optional. Add only if you want color for the rice)
1 tbsp light soy sauce
Salt to taste
Instructions
Heat up oil in a wok. Using medium heat, fry the salted fish and dried shrimps for about a minute till fragrant. Add garlic and shallots and continue to stir-fry.
Add pork. Fry for about 2 minutes. Followed by pumpkin and mushrooms and stir-fry for about about 1 - 2 minutes.
Add rice and seasonings and mix everything well. Turn off heat. The ingredients do not have to be thoroughly cooked at this stage as the cooking will be completed in a rice cooker.
Transfer everything in the wok into the rice pot. Place the rice pot next to your wok for easy transfer. Put the rice pot into the cooker. Add water and press start to begin the cooking process.
Stir the rice halfway through the cooking process. Once the cooking process is complete, let rest for about 10 - 20 minutes for best results. Optional: garnish with some fried shallots and/or spring onions and serve.
Cooking Notes
1. Don't stir immediately after the rice has finished cooking. Doing so will release more moisture from the pumpkin resulting in gummy rice. If you have to stir, do it while the rice is halfway cooking (and don't stir so vigorously). Then let the cooker continue to do its job right to the end.
2. Cooking time will vary with different rice cookers, type of rice used and the cooking mode selected if using a
fuzzy logic rice cooker
. I used Jasmine long grain rice for this recipe.