Learn how to make tang yuan with a creamy and runny peanut filling. They are an absolute delight to eat during celebrations such as Lantern Festival and Dongzhi (Winter Solstice) or whenever you crave for it. This peanut tang yuan recipe is gluten free and suitable for vegans.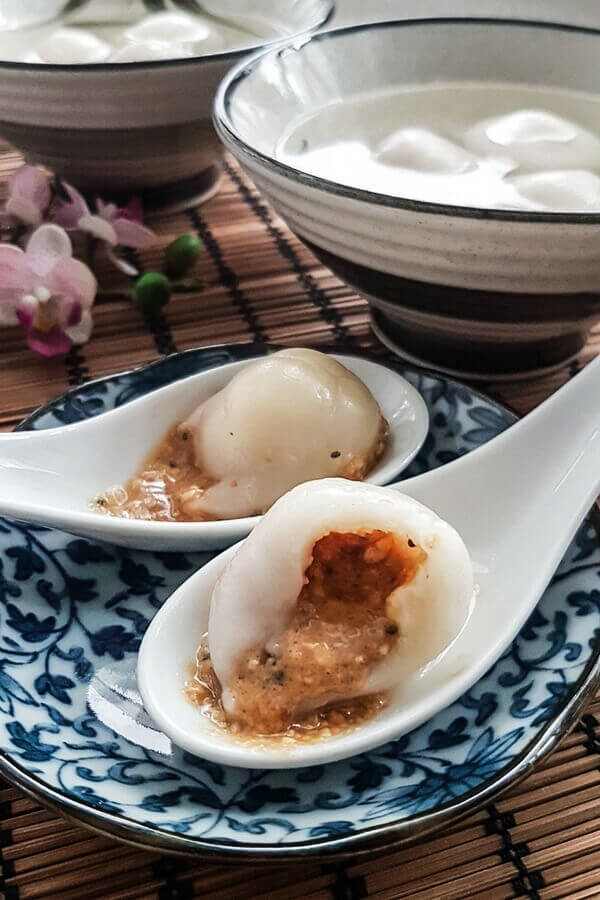 Just the previous week, my family celebrated the last day of Chinese New Year (yuán xiāo jié) with some homemade peanut tang yuan. While tang yuan (sweet rice balls or sweet rice dumplings) now come in many different colors and new flavors such as chocolate, pumpkin and sweet potato, peanut has remained one of my favorite fillings along with other classic flavors like red bean and black sesame.
Related post: Tang yuan in ginger syrup
Making peanut filling with a runny texture can be a little more challenging compared to other types of filling. This is because the filling has to be solid before it can be used for wrapping so you need to work fast and have a good workflow.
I made this peanut dumplings 3 times before I was finally happy with the taste. The first time was quite disastrous as I had not anticipated how quickly the peanut filling softened, making it impossible to wrap. The humid Singapore weather did not help at all. Also, I used butter and I did not like how the buttery taste dominated the taste of the peanuts.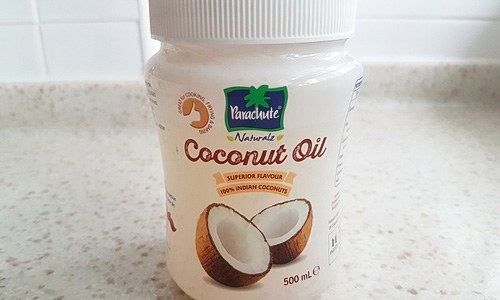 Traditionally, lard is used in peanut dumplings to create the oozy texture. I wasn't quite keen on lard so I experimented with coconut oil the second time. I'm happy to say that it produced a "cleaner" tasting dumpling, was much easier to measure and solidifies well in the fridge.
If you like a gritty texture in the peanut dumpling, don't grind the peanuts to a powdery consistency. I added some chia seeds for added texture. Chia seeds are rich in antioxidants, omega-3 fatty acids, good for the digestive system and is a natural beauty food. These are just some of its many health benefits. Together with the ground peanuts and fine sugar, they provide an interesting texture which complement the runny peanut filling.
It doesn't matter if the dumplings are not perfectly round. These are homemade dumplings after all. What is important is to make sure the dumplings are properly sealed. Otherwise, the filling will leak when you cook them.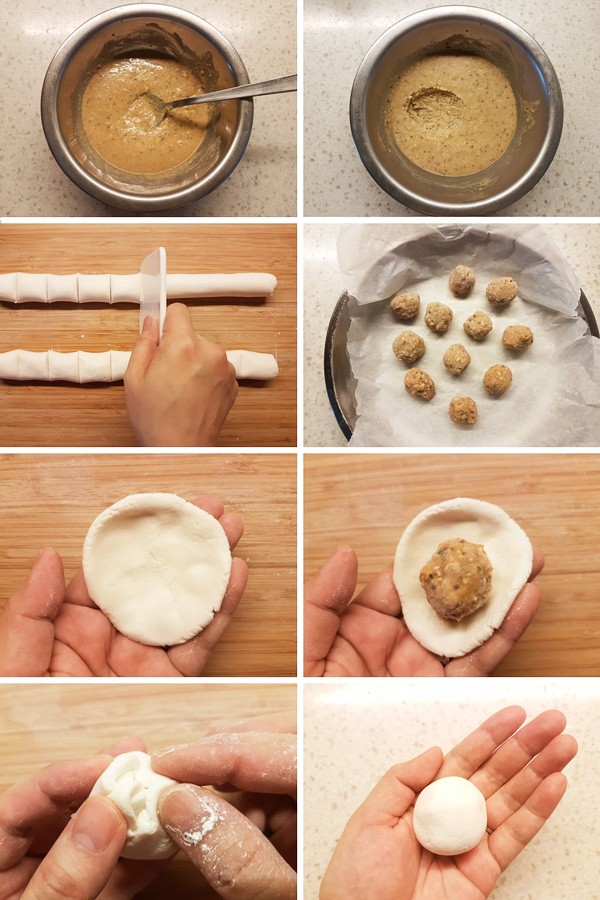 Cooking notes:
Toasting the peanuts makes it more aromatic. Try not to skip this process. You could also bake them in the oven if you want but make sure they don't get too brown or worse, burnt.
The harder the peanut filling, the easier it will be to wrap the dumpling.
Unless you're making this in frigid temperatures, work in small batches as the peanut filling melts very quickly. Prepare some parchment paper lined plates. Once you have about 6 to 8 peanut balls, transfer them to the freezer and keep them there until you're ready to wrap.
Cook as soon as possible after making the dumplings. Once the peanut filling inside starts to melt, it will seep out of the dumplings. If you can't finish the dumplings or plan to cook them another day, place them on a parchment lined plate and flash freeze them. Once they are completely frozen, transfer them to a ziplock bag.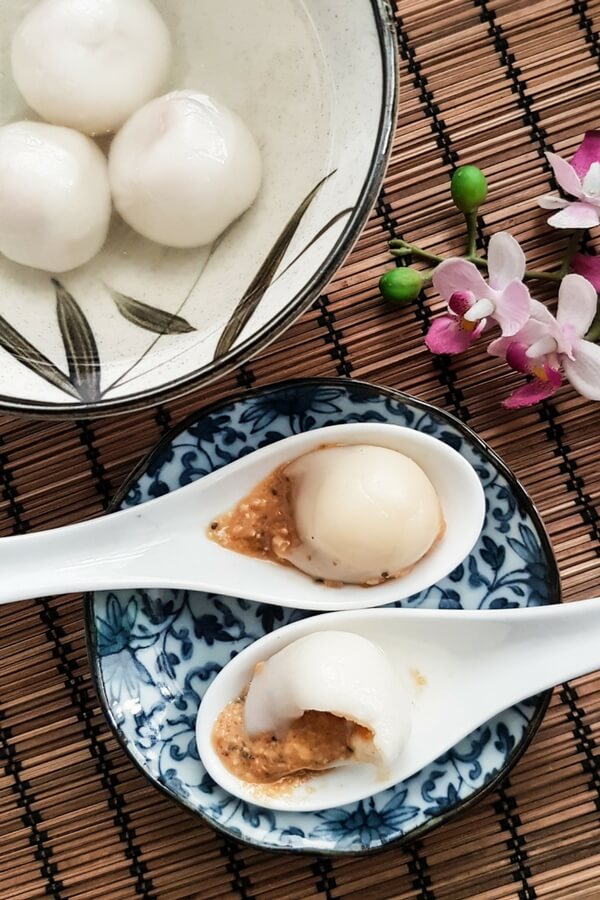 This peanut tang yuan takes some preparation time but they were all gone in minutes. Store bought dumplings has got nothing on this. The oozy peanut dumplings coupled with the gingery syrup just brings a warmth to your tummy and soul. It's a little bit sinful (but hey, you only eat tang yuan a few times a year?) and a whole lot of delish. You gotta make this. 🙂
Shop related products for this peanut tang yuan recipe:
(This post contains my affiliate links)
Peanut Tang Yuan
Tang yuan (glutinous rice dumplings) with a runny peanut filling. This recipe makes 18 to 22 peanut balls.
Ingredients
Filling
2 oz shelled peanut (55 g)
2 tbsp fine sugar
4 tbsp creamy peanut butter
1½ tsp chia seeds
3½ tbsp coconut oil or lard
1 tbsp honey
Dough
1½ cups glutinous rice flour
150 ml water (may need slightly more)
Ginger Syrup
4 cups water
30 g ginger
2 pandan leaves
Sugar (to taste)
Instructions
Filling. Lightly toast the peanuts on a dry pan till fragrant and lightly golden. Let cool for about 5 minutes. Grind the peanuts (not too finely) with a small food processor. Transfer to a bowl. Add chia seeds, sugar, peanut butter, honey and coconut oil. Mix well. Place the peanut mixture in the chiller (30 minutes to an hour) to harden until it is firm enough to be molded into balls.
Prepare 2 (or 3) small plates lined with parchment paper. Scoop out a rounded tsp of the filling and quickly roll into balls. Lay them on the plate with space in between each balls. After you have finished about 6 to 8, transfer the plate to the freezer. Continue to work on the rest of the filling until it is all used up. Place all the peanut balls in the freezer while you work on the dough. (See note 1)
Ginger syrup. Add all ingredients (except sugar) for syrup into a small pot and bring to a boil. Add sugar once you can smell the fragrance of the pandan leaves and ginger. Simmer till sugar dissolves. Set aside.
Dough. Gradually mix water with glutinous rice flour until it is smooth and pliable. Divide the dough into 2 portions and roll each portion into a long strip. Cut each strip into X dough pieces. The total number of pieces should match the number of peanut balls that you made earlier. Eg. if you made 20 peanut balls, cut each strip into 10 pieces.
Take half of the dough pieces and roll them into balls. Cover the remaining dough pieces with a slightly damp kitchen paper.
Wrap peanut filling. Take out 1 plate of the peanut balls out from the freezer (See note 2). Now work on one dough ball at a time. Flatten each ball with your palm and shape it into a small bowl. You can leave the center of the dough slightly thicker. Pinch out the sides more. Place one frozen peanut ball into the middle of the dough. Fold the dough around the filling till it is entirely covered. If you see any cracks or gaps, gently pinch the dough till it is well sealed. Then gently roll the dough into a ball. (See note 3) Place the rolled dough balls onto a parchment lined plate and keep them covered with a damp kitchen paper.
If you plan to eat the tang yuan on the same day, add water to a pot and bring to a boil. After you have made about 5 to 6 balls, gently drop them into the water and cook on medium heat until it starts to float up. Fish them out with a slotted spoon and portion into serving bowls. Pour ginger syrup water over the tang yuan and serve. Repeat the process of wrapping up all the peanut balls with the dough. Cook once you have 5 to 6. (See note 4)
If you can't finish eating all the tang yuan or plan to cook this another day, put the plate of filled tang yuan inside the freezer to flash freeze till they harden. Then transfer them into a zip-lock bag.
Cooking Notes
1. If you find the filling starting to melt, put it back into the fridge to chill again.
2. If this is your first time making this, I would suggest that you take out just 1 peanut ball out of the freezer to roll to get the hang of it. This is because if you take too long to roll the balls, the rest of the peanut filling will start melting.
3. Do not over-roll once you've wrapped the filling inside the dough as it will cause the dumpling to crack easily.
4. The filled tang yuan has to be cooked in batches. Don't start to cook the filled tang yuan only when have finished wrapping everything up. Because by then, the frozen peanut filling inside every dough ball will melt and seep out, wasting all your earlier effort.