It was only in my adult years that I began to appreciate the taste of kailan. Kailan (Chinese broccoli) has a slightly bitter taste and as a child, I avoided eating anything that was remotely bitter. Now that I've grown to like it, stir fried kailan with oyster sauce is a regular dish on my dinner table.

Hong Kong Kailan
There are different varieties of kailan and I enjoy eating the Hong Kong kailan (pictured below). Their stems are shorter compared to the longer stemmed variety. It is a good practice to peel off the outer layer of the stems as it is fibrous and tougher than the inside. Once peeled, the stems are really delicious when cooked.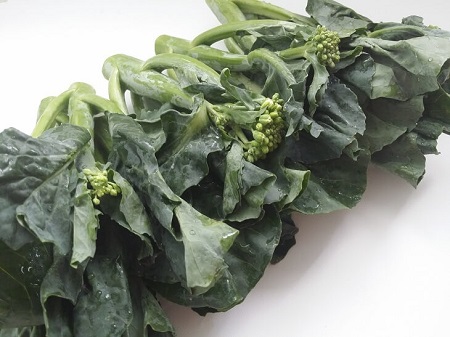 Preparation and Cooking
As kailan is slightly bitter, I was pleasantly surprised to discover that the peeled stems were not bitter at all and I really enjoyed eating them. Oyster sauce helps to tone down the slight bitterness of the kailan. Cut the stems into halves horizontally if you find them too thick.
Stir-frying is a quick way of cooking vegetables and you can cook all kinds of vegetables this way. Stir-fries call for a deft hand as the cooking time is short. Therefore, it is a good practice to have all your ingredients ready for the cooking process to be smoother and more enjoyable.

Drain the kailan before cooking so that the hot oil will not splatter when you tip them into the wok. As the stems are thick, fry them first before the leaves to give them more time to cook.
Besides stir-frying, kailan can also be cooked by boiling. You can do that for this Chinese Broccoli with Oyster sauce recipe. 
Oyster mushrooms are used in this stir-fry but you can use other types of mushrooms if you prefer. Sometimes I will add sliced carrots and baby corn too depending on what I have in the fridge.
How to Plan A Healthy Diet
Making the right food choices will help us to provide all the nutrients that our body needs.
DID YOU KNOW?

The recommended daily serving of vegetables is 2 per day.

1 serving equals 

¾ mug (250ml mug) cooked leafy or non-leafy vegetables (100g)
¼ round plate+ cooked vegetables
150g raw leafy vegetables
100g raw non-leafy vegetables
Read more about healthy food choices here.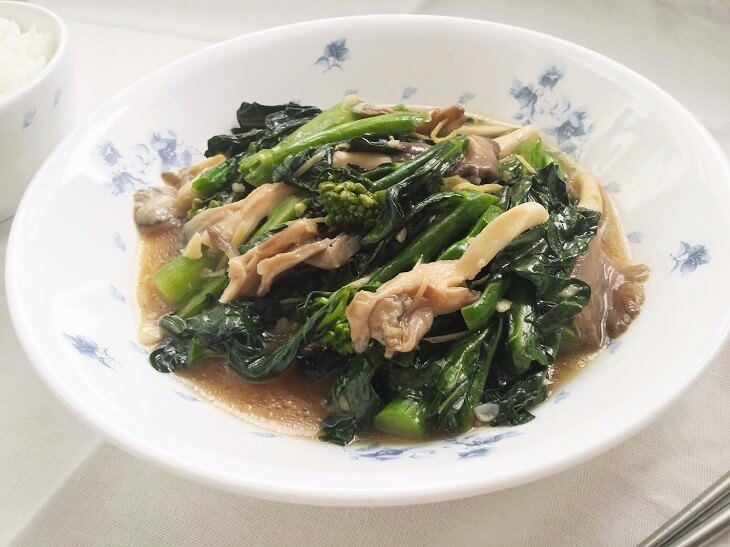 For me, a meal is not complete unless there are some vegetables. It can be inside a soup, a main dish or in this case, a simple stir-fry. This is a simple, delicious and healthy way to cook your veggies. What's your favorite way to cook kailan? Try this recipe and let me know what you think. 
Would you like to stay connected? Subscribe to Souper Diaries to receive updates and new recipes delivered to your inbox. See you soon and happy cooking! 🙂

Stir Fried Kailan with Oyster Sauce
Ingredients
1 bunch of kailan (about 240g)
2 tbsp vegetable oil
2 garlic cloves - minced
1 knob of ginger - julienned (or cut into thin slices if preferred)
50 g oyster mushrooms - shred into half (optional)


For the Sauce:
1½ tbsp oyster sauce
½ tbsp light soy sauce
1 tbsp Shao Xing wine
2 tbsp water
¼ tsp salt


Slurry (To Thicken Sauce) - Mix well
1½ tsp corn starch
2 tbsp water
Instructions
Wash kailan thoroughly and drain. Using a vegetable peeler or paring knife, peel off the outer layer of the kailan stems. Cut the stem into half if it is too thick. Separate the stems and leaves. Set aside.
Heat up oil in a wok. When the wok is hot, saute ginger for about a minute. Lower the heat then add garlic and stir fry till fragrant.
Increase the heat to medium-high. Pour in kailan stems and fry for about a minute before adding the kailan leaves and oyster mushrooms. Stir-fry for about 2 minutes.
Add the sauce and mix well with the kailan. Stir for another 1 - 2 minutes until the stems and leaves soften.
Pour in the slurry. Add a little water if you find that it is too dry. Mix well with the kailan.
Turn off heat. Remove kailan from the wok and serve immediately.
Cooking Notes
1. You can replace the oyster mushrooms with other types of mushrooms or vegetables (carrots, baby corn, etc) if you prefer.
2. Fried garlic/shallot bits can be sprinkled over the kai lan for extra texture and flavour.