In this post, learn how chrysanthemum tea benefits you and how to make chrysanthemum tea (菊花茶 Júhuā chá), a flower based infusion widely popular in East Asia and China with this ginseng chrysanthemum tea recipe.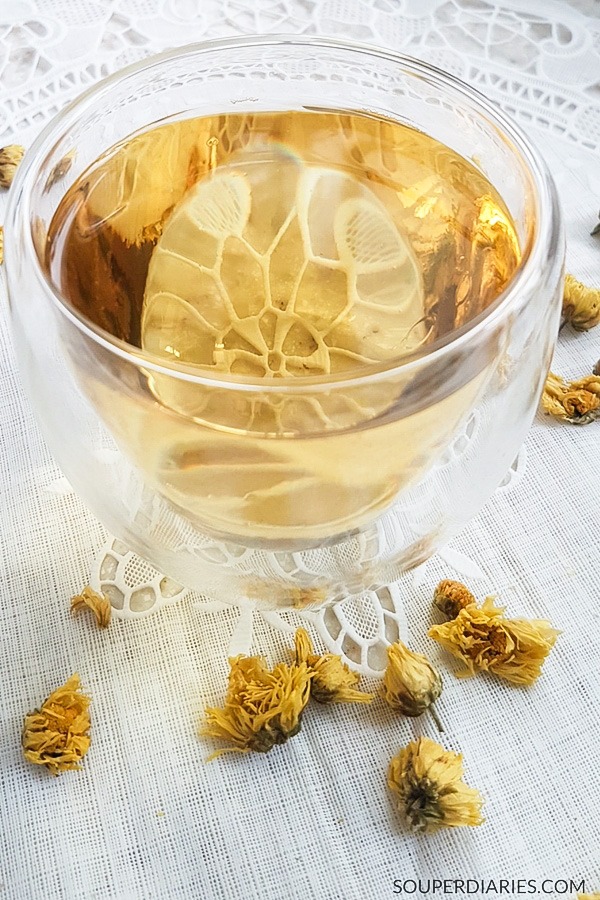 Herbal tea is definitely my go to whenever I want to relax. I've never been a coffee drinker as much as I love its aroma. For some reason, my body just can't tolerate coffee. It makes me feel… weird and nauseous. As I am writing this, I got my younger daughter to make me a cup of coffee. Half a cup down later… okayyy, I think I'll just stick to the tea.
Strangely though, I can eat coffee flavored foods with no issue. Chrysanthemum tea is naturally caffeine-free so it is suitable for people who can't handle coffee like me.
You're probably wondering:
"What are the health benefits of chrysanthemum tea and what can it do for me?"
There are plenty of well-researched benefits of chrysanthemum tea but here are what I consider the best reasons to drink chrysanthemum tea:
Top 5 Chrysanthemum Tea Benefits
1. Chrysanthemum Tea Cools Your Internal Fire
Chrysanthemum tea is one of the 'cooling' traditional herbal teas with a long history in Chinese medicine. From a TCM perspective (1), when there is excess heat in the body, it will manifest in a multitude of ailments and conditions.
Chrysanthemum tea is often used to ease heat related ailments such as fever, headache and heat rashes. A natural coolant, it helps to dispel wind, cool the body, soothe dry mouths and itchy throats, cough and inflammation.
It is very common for Chinese mothers to make or purchase chrysanthemum tea and other cooling drinks such as barley water for their family whenever anyone is running a fever or feeling under the weather.
2. Chrysanthemum Tea Benefits the Eyes
Spending hours in front of a computer or laptop, burning the midnight oil or working in an enclosed air-conditioned place can place gradual strain on your eyes. The good news is that chrysanthemum tea can help reduce eye strain, red eyes and blurry vision.
The Chinese often drink Chrysanthemum tea to address their eye issues ranging from eye dryness, floaters to pain behind the eyes. In Chinese Medicine (2), the liver manages the eye and ensures that qi (life energy in the body) is able to flow throughout the body.
When this function is impaired, insufficient blood flow will affect the eyes, causing them to dry out and weaken eye muscles. Chrysanthemum tea clears liver heat and thus is beneficial for our vision.
Tip: Combine chrysanthemum flowers with goji berries (a well known superfood for good vision) for a powerful boost to improve your eye health.
3. Chrysanthemum Tea is Calming and Caffeine-Free
Did you have a long or lousy day?
Chrysanthemum tea with its delicate fragrance and mildly sweet taste, helps to relax and soothe those frazzled nerves. I call this my 'Happy Tea' especially when it is combined with dried rose buds. Try inhaling the tea before you drink. It has such a wonderful floral aroma.
Chrysanthemum tea is naturally caffeine-free (3) so you won't get the side effects of caffeine such as anxiety, insomnia, rapid heart rate and increased blood pressure.
Unlike coffee or even green tea, you can take it any time of the day without tossing and turning at night. At the same time, it also energizes and stimulates you naturally without the need for caffeine which may become addictive.
Tip: Chrysanthemum flowers can also be paired with lavender for a restful night's sleep.
4. Chrysanthemum Tea Helps to Detoxify
The liver plays an important role in purging toxins from the body and promoting overall circulation. If this function is impaired, it can manifest in a variety of symptoms.
An overactive liver can cause symptoms like headache and dizziness. Drinking chrysanthemum tea helps to clear liver heat and soothe an overactive liver (4).
If you had too much spicy foods (think curry chicken), greasy or fried foods (lemon chicken – so addictive, who can resist?), taking some chrysanthemum tea will help to aid digestion (9) and leave a pleasant, floral taste on the palate.
5. Chrysanthemum Tea is Good for the Skin
Chrysanthemum tea is rich in beta-carotene, which is converted to vitamin A to serve different purposes in the body. Vitamin A is essential for healthy skin. It can promote wound healing, reduce wrinkles, decrease sebum production (thus it's beneficial for acne and pimply skin) and help to reduce the symptoms of rosacea (5).
Chrysanthemum benefits the skin whether it is imbibed or applied topically. It can be applied to the skin as a face mask with honey (6). The squeezed juice of the fresh flower can be applied to the skin for external infections (7).
From a Chinese medicine perspective, excess heat in the body can lead to a wide range of problems and diseases. They include skin conditions such as acne, skin irritation, eczema and redness.
Chrysanthemum's therapeutic effects manifests in the lung and liver meridiens and is useful to tackle this excess heat and heal breakouts and inflammation. (8)
Are There Any Side Effects?
Chrysanthemum is considered non-toxic, but if you're allergic to ragweed, marigolds and daisies, it is likely that you  may be allergic to chrysanthemum tea as they are from the same family. Individuals who have loose bowels and weak stomach should use with caution.
If you're suffering from a chronic condition and prefer to get relief with an alternative treatment, consult your health care provider. While chrysanthemum tea can help alleviate many (annoying) conditions, it is not a miracle cure all.
How To Make Chrysanthemum Tea
The basic ingredients for a chrysanthemum tea is:
Freshly boiled water
Dried chrysanthemum flowers
Rock sugar (or use honey)*
* If you're calorie-conscious or you're having a toothache or soreness of the gums, you can still enjoy the benefits of the tea. Just drink it unsweetened.
Chrysanthemum can be paired with other herbs to further enhance its health benefits:
It is very easy to brew your own chrysanthemum tea at home. Just like other teas, you'll need freshly boiled water to steep the dried flowers. To me, the best way to enjoy chrysanthemum tea is to let the flavors build up gradually.
It is not necessary to simmer and rapid boiling is definitely a no-no as it will turn the tea bitter. Prolonged simmering or boiling of the chrysanthemum tea will negate its health benefits.
Here are a few ways you can make chrysanthemum tea:
To make a large quantity of chrysanthemum tea, steep the chrysanthemum flowers inside a medium or large sized pot.
Use a teapot to steep the chrysanthemum flowers. The amount of water and chrysanthemum flowers to add will depend on the size of your teapot. Some teapots come with a built-in infuser. This is very useful as the petals of the flowers do get in the way of drinking.
If you're making this tea just for yourself, place about 8 to 10 dried chrysanthemum flowers in your cup and pour hot water over it. Let steep for a few minutes and sweeten with some honey if desired. Use a tea strainer to filter the petals when ready to drink.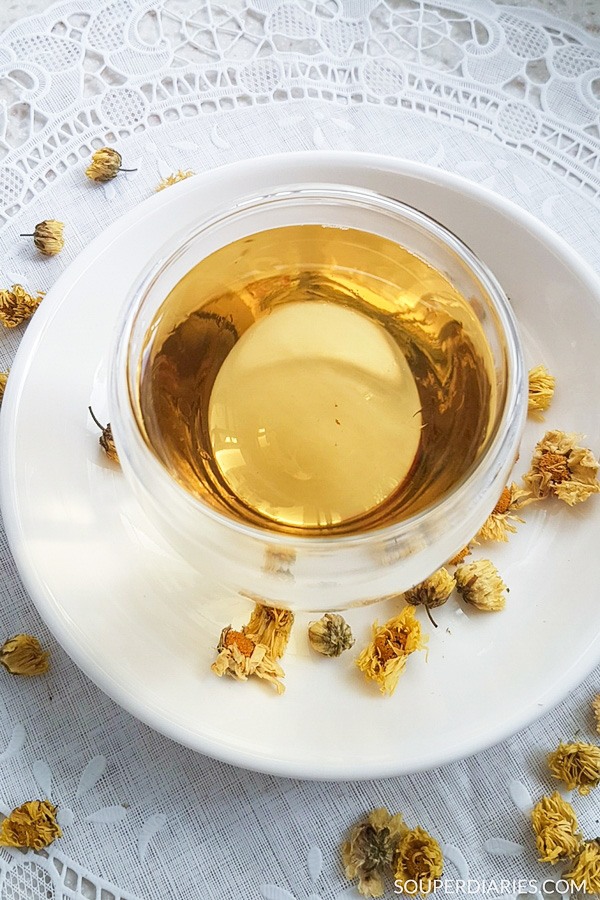 Where to Buy Chrysanthemum Tea
Chrysanthemum tea is available as a beverage in ready-to-drink (R-T-D) form such as canned, bottled or packet drinks. They are usually sold in Asian grocery stores, vending machines or convenience stores.
Although these R-T-D are very convenient, they often contain preservatives, artificial sweeteners and sugar. As far as possible, try to make your own chrysanthemum tea at home. It is a healthier choice as you can substitute sugar with honey or not use any sweeteners at all. It is also more economical to make your own if you drink it everyday.
Chrysanthemum tea come in many varieties and different grades. They are classified according to color, taste and origins.
Did you know?
The best chrysanthemums to make tea are those with small yellow buds. The petals will unfurl and release their fragrance when they are steeped in hot water.
You should be able to find dried chrysanthemum flowers at your local grocery store or herbal shop. But if you prefer the convenience of shopping from home, you can also get them online at Amazon.
Conclusion:
Chrysanthemum tea is a herbal tea I know you'll love. With its subtle floral taste and a wide range of health benefits, it is one tea that won't be difficult to integrate into your daily routine. Use the chrysanthemum flowers on its own or pair it with other herbs for an occasional change.
References:
Crysanthemum Tea with Ginseng
Cooling and refreshing herbal Chrysanthemum tea with ginseng helps to detox, clears internal body heat and promotes good vision.
Recipe type:
Drinks and Desserts
Ingredients
25 g dried chrysanthemum flowers
5 g ginseng beard
8 cups water
100 g rock sugar (or to taste)
Instructions
Rinse dried herbs and set aside.
Bring water to a boil in a pot. Add rock sugar and let it dissolve. Turn off heat.
Add dried chrysanthemum flowers and ginseng beard into the pot. Stir to let the ingredients submerge in the hot water.
Cover and let steep for 15 to 30 minutes. When ready to serve, pour out the tea through a tea strainer into serving cups. Alternatively, use a teapot with a built-in strainer.