Thermos, vacuum flask, insulated food jars or whatever you call it, these nifty appliances are really handy to bring hot homemade lunches to work or to keep your soup or coffee piping hot. Here are 10 of the best thermos for soup and hot foods to consider, from small and lightweight food jars to larger, multi-purpose containers.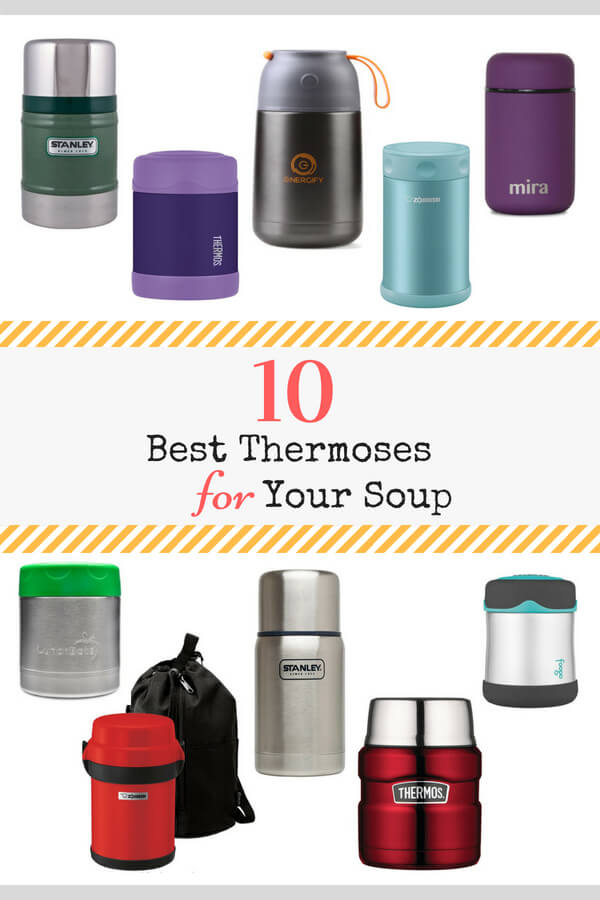 1. Thermos Stainless King Cranberry 16 Ounce Food Jar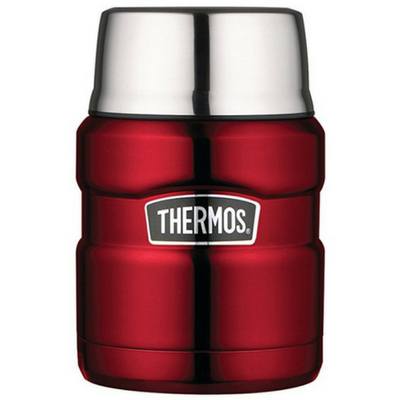 A classic and reliable brand, Thermos has been producing well, thermoses for over a century. The wide opening of this 16 oz stainless steel thermos makes it easy to fill, eat from and clean whether it's straight from the thermos or the insulated lid that doubles up as a serving bowl. Its thermal insulation technology promises to keep hot foods hot for 7 hours and cold for 9 hours.
Capacity: 16 oz (473 ml)
Dimensions: 5.6 x 3.7 x 5.6 inches
Color: Choice of 5 beautiful colors
Material: Stainless steel interior and exterior
Features:
Stainless steel folding spoon

Compact and insulated stainless steel serving bowl

Cool to the touch with hot liquids, sweat proof with cold
2. Energify Vacuum Insulated Food Jar 22 oz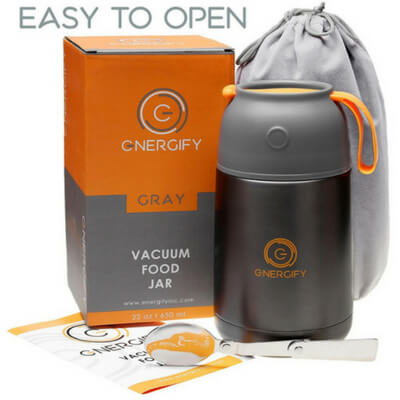 If you're tired of hard to open thermoses, the Energify vacuum insulated food jar may just be what you need. It has an air pressure release button to allow hassle-free opening. The insulated jar eliminates the need to reheat with a microwave, thus offering you a smarter choice for a healthier lifestyle. Moreover, the generous 22 oz capacity lets you hold sufficient food, beverages or soup, which makes it ideal for those who prefer a larger portion.
Capacity: 22 oz (650 ml)
Dimensions: 3.9 x 3.9 x 7.5 inches
Color: Gray
Material: Food grade 304 stainless steel (main body inside & outside) and 100% BPA-FREE
Features:
Flexible silicone handle for convenient carrying
Non-slip silicon base offers firm grip on any smooth surface and eliminates risk of scratching the surface
Air-pressure release button to remove excess air for easy opening
Wide mouth opening offers ease of filling, eating from and cleaning
Scratch resistant
Stainless steel foldable spoon
Velvet carry bag
eBook with meal ideas for the food jar
3.
Thermos FOOGO Charcoal/Teal 10 oz Food Jar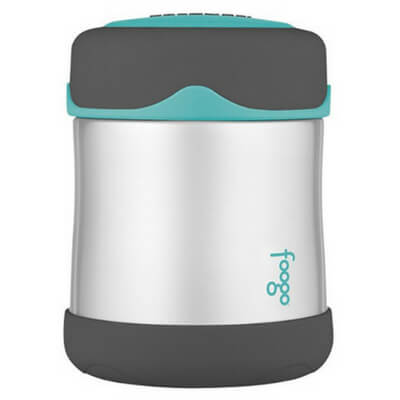 The Thermos FOOGO food jar is a popular choice for many parents to pack fresh and healthy meals for their toddlers. It has a durable exterior to withstand the rigors of daily use. Put your mind at ease with this product as it complies with applicable government and industry standard. Your toddlers will love using this lightweight and compact food jar for their school lunches.
Capacity: 10 oz (300 ml)
Dimensions: 8.5 x 6 x 3.5 inches
Material: Stainless Steel and BPA free materials
Color: Available in 7 color combinations
Features:
Anti-bacteria
Ergonomically-designed lid with a rubber lid for easy handling
THERMOS vacuum insulation technology provides maximum temperature retention, warm or cold
4.
Thermos Funtainer Purple 10 Ounce Food Jar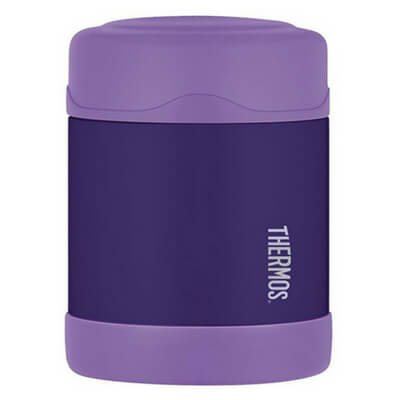 Another popular food flask for small kids is the Thermos Funtainer. It comes in multiple fun designs such as My Little Pony, Disney Cars, Minions, Hello Kitty, Frozen and an array of colors that will appeal to kids of different ages and the young at heart. The small 10 oz Funtainer is just right for kids and they'll keep contents hot for 5 hours or cold for 7 hours.
Capacity: 10 oz (295 ml)
Dimensions: 4.5 inches (H) x 3.5 inches (W) x 3.5 inches (D)
Material: Stainless Steel and BPA free material
Features:
Double wall stainless steel construction
Wide mouth opening makes food jar easy to fill and clean
Dishwasher safe
Easy for small hands to open
5.
LunchBots Wide Thermal 16 oz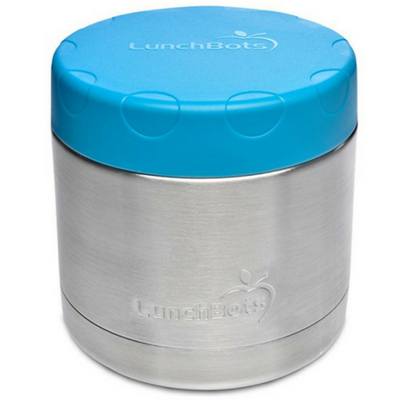 If eating from narrow and tall thermal jars make lunchtime a little awkward, try the Lunchbots wide thermal. It is specially designed to mimic a bowl shape, making it easy to eat from and convenient to fill. Its triple-insulated thermal technology keep foods hot for 6 hours and cold for 12 hours. Both the outer and interior including the underside of the lid is made of stainless steel so no plastic touches the food. The convenient 2-cup size is ideal for anything from soups, stews to fruit salads and oatmeal.
Capacity: 16 oz. (475 ml)
Dimensions: 4.5 x 4.5 x 4.5 inches
Material: All stainless steel interior
Colors: Available in 5 vibrant shades
Features:
6.
Zojirushi SL-JAE14RU Mr Bento Stainless
Lunch
Jar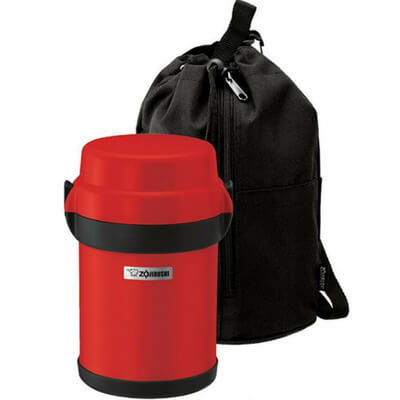 Make your lunches more interesting and healthier with 
Zojirushi Mr Bento Stainless Lunch Jar whether you're in the office or on the go. It has a soup bowl, a main bowl and two side bowls to offer you greater flexibility when packing your lunch. Ideal for those who want to bring a multi-course meal out.
Capacity: Varies as each container has a different size
Dimensions: 6 x 5.38 x 8.75 in
Material: Stainless Steel (Container) and Polypropylene (Lid), BPA free materials
Color: Available in four colors
Features: 
Durable stainless steel construction with excellent heat retention
Wide-mouthed lid
Microwaveable inner bowls
Easy to wash nonstick coated outer container
Spork included for convenience
Zippered bag with strap for easy transport
7. Zojirushi Stainless Steel Aqua Blue Food Jar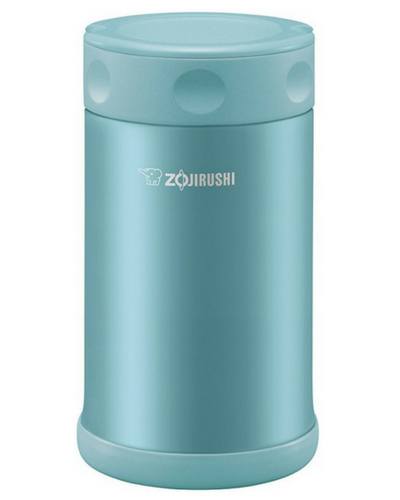 Meet the sleek Zojirushi Stainless Steel Food Jar. Beautiful and functional with excellent vacuum insulation to keep contents hot or cold for hours. For best results, pre-heat or pre-chill the food with hot or ice water for optimal heat retention. The dimpled lid can be removed completely for thorough cleaning. Great for holding hot meals, soups, oatmeal, cold desserts and much more. It is ideal for both adults and children.
Capacity: 25 oz. (0.75 Liter)
Dimensions: 7.25 inches (H) x 4 inches (W) x 4 inches (D)
Material: Stainless Steel and BPA free materials
Color: Comes in 5 gorgeous shades

Features:
Compact design uses minimal space while

maximizing capacity

Tight-fitted lid with gasket seals lid to minimize leaks and maximize heat retention
8. 
MIRA Vacuum Insulated Stainless Steel Lunch Thermos

Mira may not be as well known as the more established brands, but it does an excellent job of keeping foods hot for up to 5 hours or cold for up to 10 hours thanks to its high quality insulation. Enjoy your hot soups and stews, cold yogurt and more on the go with Mira.
Capacity: 13.5 oz. (400ml)
Dimensions: 3.2 x 3.2 x 5 inches
Material: Stainless Steel and BPA free
Color: Comes in 5 vibrant colors

Features:
Reusable and eco-friendly
Easy to fill wide mouth
Durable double wall

wall vacuum insulated construction for superior insulation

Durable powder coated finish

Satisfaction guaranteed
9. Stanley 17 oz Classic Vacuum Bottle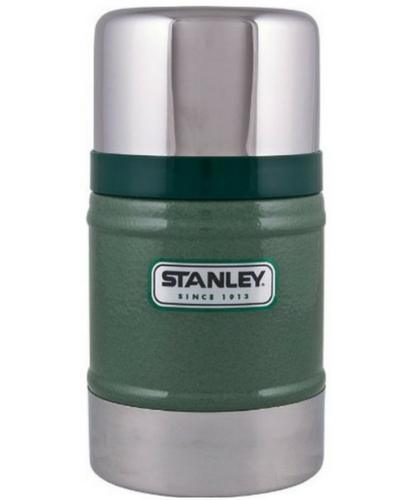 With a rich 100+ year history, Stanley is still going strong. It is an icon of durability and reliability for vacuum bottles. The Classic series is available in 2 colors and a range of sizes. Rugged and built to last, it is ideal for those who enjoy having their meals outdoors while doing their favorite activities. The 17 oz classic bottle is perfect for soup or chili and promises to keep hot foods hot and cold ones cold for 12 hours. All Stanley thermoses come with a lifetime warranty.
Capacity: 17 oz (500 ml)
Material: Rust-free 18/8 stainless steel, BPA-free
Features: 
Leak proof design

Insulated

Twist-off lid

Lifetime warranty

Replacement parts for Stanley Thermos available here
10.
Stanley Adventure Vacuum Insulated Food Jar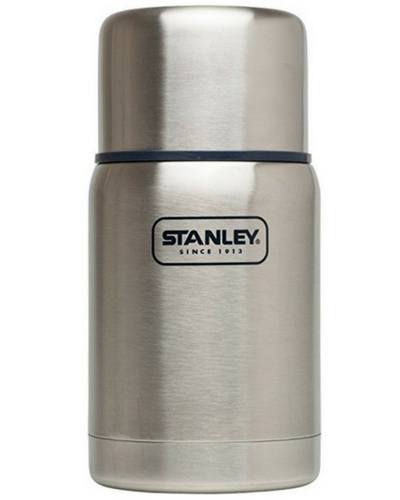 The Stanley Adventure food jar is a sleek vacuum bottle that will make you proud to take out. More importantly, the vacuum insulation will keep contents hot or cold for up to 15 hours. The wide mouth allows easy filling and cleaning. From keeping soup hot to keeping ice cream nice and cold, Stanley's Vacuum Food Jar will do it all. It is available in 3 sizes to suit different needs.
Capacity: 24 oz. (709 ml)
Dimensions: 3.9 x 3.9 x 7.9 inches
Material: 18/8 rust-free stainless Steel and BPA free materials
Features:
Spork included
Dry storage in stopper for fixings
Leak-proof and fully packable
Conclusion
So there's a lot of choices when it comes to keeping your soup steaming hot or foods icy cold! I admit it's quite a tough choice. I personally like the Thermos Stainless King. It is sturdy, beautiful and efficient at what it does. The Stanley Classic Vacuum Bottle also gets my vote simply because I'm a sucker for old-school designs. Both of these brands have an excellent reputation and can be trusted to retain heat for extended periods of time.
To find the best thermos, consider these factors:
Size
Insulation
Features
I hope this article helps you find the most suitable thermos to suit your needs.
If you like vacuum insulated products, check out these articles too:
What is a Thermal Cooker and Why it is a Kitchen Must-Have
What is your favorite thermos? I'd love to hear your opinions in the comments below!