Bean curd and meatballs soup with daikon. A delicious quick soup recipe for busy days.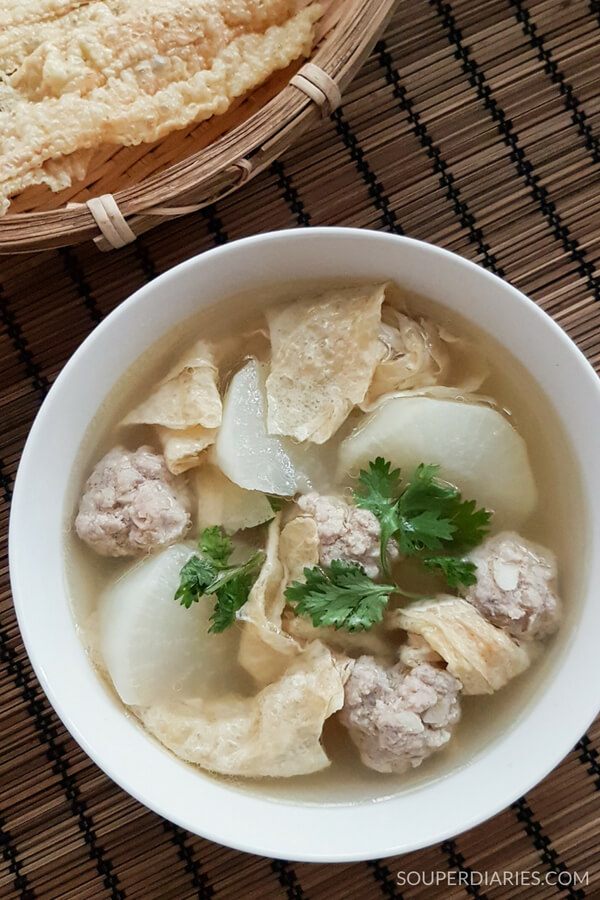 Dried bean curd stick (also known as foo chook in Cantonese) may not sound very appealing but it is so delicious and widely used in Chinese cuisine. I love using it for braising, soups and stir-fries. They're a must-have for me whenever I eat yong tau foo.
There are many different brands of bean curd stick. Some are rolled more tightly than others. You can also use dried bean curd skin. I bought mine from my local wet market. They only took a few minutes to soften. Get the ones for savory dishes and not those for desserts.
For this recipe, I used deep-fried bean curd sticks as my family prefers the texture. They are chewier compared to plain bean curd sticks. The downside is they're quite oily so what I do is to soak them in boiling water and then rinse to remove excess grease. (Note that all bean curd stick have to be soaked before cooking regardless of whether they're fried or not)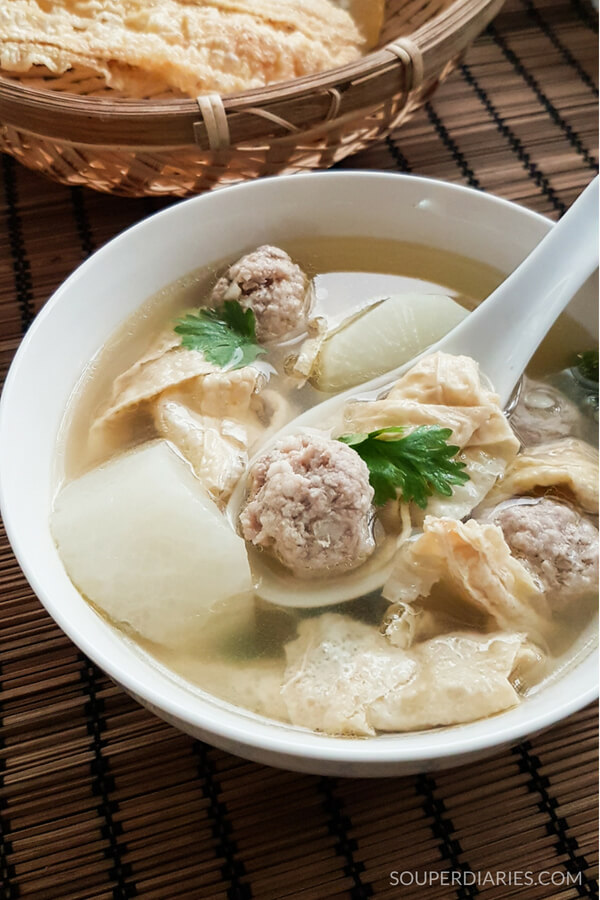 Quick soup recipes such as this bean curd and meatballs soup is very easy to prepare and my whole family love it. It's great for busy days when you don't want to spend so much time cooking. This soup can be an additional dish for a family of four or a light meal for two. Happy souping! 🙂
Other recipes with daikon:
Other recipes with meatballs:
Fish maw with prawn meatballs soup
Seaweed soup with pork balls and tofu
Bean Curd and Meatballs Soup
Bean curd with meatballs and daikon soup. A quick soup recipe that takes about 35 minutes to prep and cook.
Recipe type:
Quick soup recipe
Ingredients
100 g dried bean curd skin
30 g dried anchovies (ikan bilis) - rinsed (see note 1)
300 g daikon - peeled and cut into bite-sized chunks
¾ tsp peppercorns - lightly crushed (optional)
4 cups water
Salt
Meatballs
250 g minced pork (with some fat)
1 water chestnut - roughly minced
1½ tsp light soy sauce
¼ tsp salt
White pepper
Instructions
Cut bean curd stick into sections of about 2 inch length. Soak them in boiling water until they soften. Then rinse with water and set aside.
Add water, dried anchovies, daikon, peppercorns and reconstituted bean curd stick into a medium-sized pot. Bring to a boil and simmer for 10 minutes.
While the soup is simmering, combine all ingredients for meatballs and roll to form into balls. Add into the soup and simmer for 7 to 8 minutes or until fully cooked. Season with salt to taste. Turn off heat. Remove any excess oil with a fine mesh strainer. Garnish with coriander and serve.
Cooking Notes
1. Use
homemade chicken stock
if you have it.
2. You could also add fishballs into the soup.
3. To re-heat unfinished soup, remove the meatballs first before re-heating. When it boils, add the meatballs back into the soup and let cook for 1 to 2 minutes. This is to prevent the meatballs from becoming hard.