Bitter gourd (also known as bitter melon, bitter gourd, bitter squash, or balsam-pear) is popular in Chinese cooking, as well as in many South East Asian countries. Sometimes, I'll have a craving for this braised chicken with bitter gourd dish as it is so delicious especially when eaten with a bowl of steaming hot rice.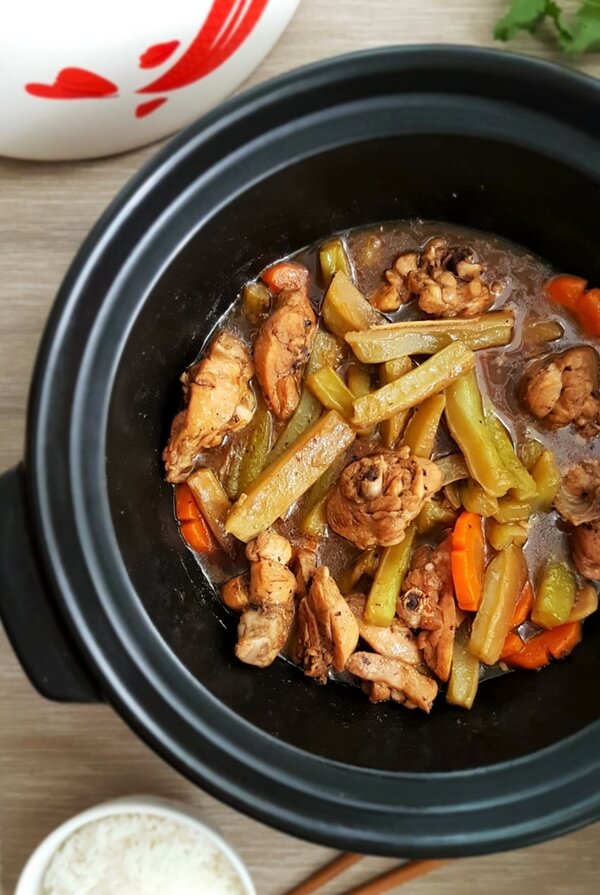 For many, the bitter flavor takes some getting used to. If you have not tried bitter gourd before, this braised chicken with bitter gourd will gently ease you into the world of bitter gourd. The light braising process and savory sauce mellows the bitter flavor and it makes for a very appetizing dish. A great comfort food to me.
Claypots are excellent for braising, soups and stews like this. Food cooked in a claypot is very tender, flavorful and fragrant as it retains heat well and seals moisture in the food. You can cook and serve directly from it. I used Tanyu claypot for this recipe, but you can use any other claypots too.
Health Benefits of Bitter Gourd
Traditional Chinese medicine considers bitter gourd as a cooling ingredient, capable of clearing body heat, reduces the symptoms of diabetes, purifies blood, improves stamina and energy, prevents constipation, helps with weight loss and also keeps skin free of blemishes and provides a glowing complexion.
Bitter melon contains charantin, an active substance with anti-diabetic properties which helps to reduce blood sugar levels.
Bitter gourd is also rich in vitamins A, B3, B5, B6, C and contains minerals like calcium, copper, iron, magnesium, manganese and zinc. It has twice the beta carotene of broccoli, twice the calcium of spinach and twice the potassium of bananas!
Love it or loathe it, bitter gourd is really good and beneficial for our health.
Bitter Melon Varieties
There are two types of bitter melon – Chinese bitter melon and Indian bitter melon. Both type of gourds have white seeds, thick warty skins and are bitter in taste. The skin turns yellow and the seeds become red when ripe. The biggest difference lies with their appearance.
Chinese bitter melon is broader and longer (growing up to 20 – 30 cm long), oblong with blunt ends and they're pale green in color. The Indian variety (commonly referred to as karela) is narrower, smaller with pointy ends a and a highly jagged surface.
How to Choose Bitter Melon
When buying bitter gourd, avoid those that're turning yellow as it is an indication that they're already ripe and therefore be too soft. The skin should also be free of blemishes and feel firm to the touch. A lady that I met in the market told me to observe the space between the ridges on the Chinese bitter melon. Apparently, the wider they are, the less bitter they will be.
How to Cook Bitter Melon
Bitter melon can be braised (as described in this braised bitter gourd with chicken recipe), stir-fried, scrambled with eggs, added to curries, boiled, etc.
Here are some examples of how bitter melon can be cooked:
Noodles or vermicelli
Egg drop soups
Braised with pork ribs
To reduce the bitterness of the bitter melon, rub the sliced bitter melon liberally with some salt. Let it sit for about 10 minutes before rinsing off the excess salt.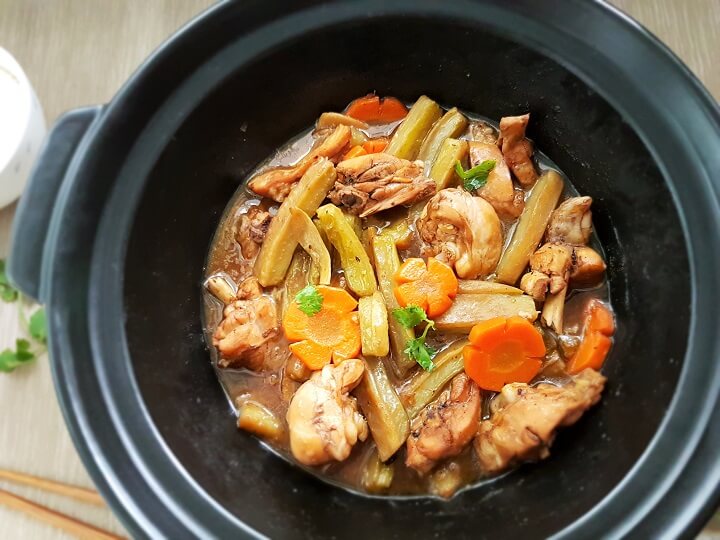 Simple and so delicious. The combination of chicken, bitter melon, fermented black beans and shaoxing wine work like magic. Every mouthful is an explosion of flavors. The gravy is savory with a tinge of bitterness. And this bears repeating. It is PERFECT served with steaming hot rice! I can eat this with just rice alone. 🙂
Don't want to miss a recipe? Sign up for Souper Diaries newsletter delivered to your inbox!
Connect with me on Facebook, Instagram, Pinterest, Twitter and Google+ for the latest updates. See you again and happy cooking! 🙂

Braised Bitter Gourd with Chicken
Tender chicken thighs with bitter gourd braised with light soy sauce, oyster sauce and fermented black beans cooked in a claypot.
Author:
Yvonne Oh (adapted from Hawkers' Fair Simplified)
Recipe type:
Chicken and Vegetable Recipe
Ingredients
2 chicken thighs - skin removed and cut into pieces (about 400 g)
1 small bittergourd (about 400 g) - remove seeds and cut into thick strips
1 small carrot - cut into slices
Ginger (20 g) - cut into thin pieces
3 cloves garlic - minced
Oil for frying - 2 tbsp


Seasonings
1 tbsp oyster sauce
1 tbsp light soy sauce
1½ tbsp fermented black beans
Shaoxing wine
150 ml water
1 tbsp cornstarch (mixed with 3 tbsp of the gravy from the stew to make a slurry. Use more cornstarch if you want a thicker sauce)
Salt to taste


Cooking equipment
Instructions
To reduce the bitterness, rub bitter gourd slices with salt. Let sit for 10 - 15 minutes then rinse. If you don't mind the bitter taste, you may skip this step.
Heat up oil in a wok or claypot. Stir-fry bitter gourd and carrots for about 3 minutes. Remove and set aside.
Add ½ tbsp of oil if required. Stir-fry garlic, ginger and fermented black beans till fragrant. Add chicken and fry till the surface is no longer pink.
Return the bitter gourd and carrot slices to the claypot. Pour in seasonings and mix everything well. Add water. It may seem a little but the gravy will be just nice when the stew is done. Cover and bring to a boil. Then reduce heat and simmer for about 15 to 20 minutes until the chicken is tender.
Have a quick taste. Adjust seasonings or liquid if necessary. Add salt to taste. Once you're satisfied with the taste, pour in the corn starch slurry to thicken. Finish off with a splash of shaoxing wine.
Cooking Notes
The chicken in this recipe can be replaced with pork ribs if preferred.