Looking for party food and appetizer ideas? Try this Chinese fried wonton recipe with a Thai twist. The addition of kaffir lime leaves infuses the crispy parcels with a wonderful flavor and aroma. Homemade, delicious and easy!
This recipe was updated on 20/7/18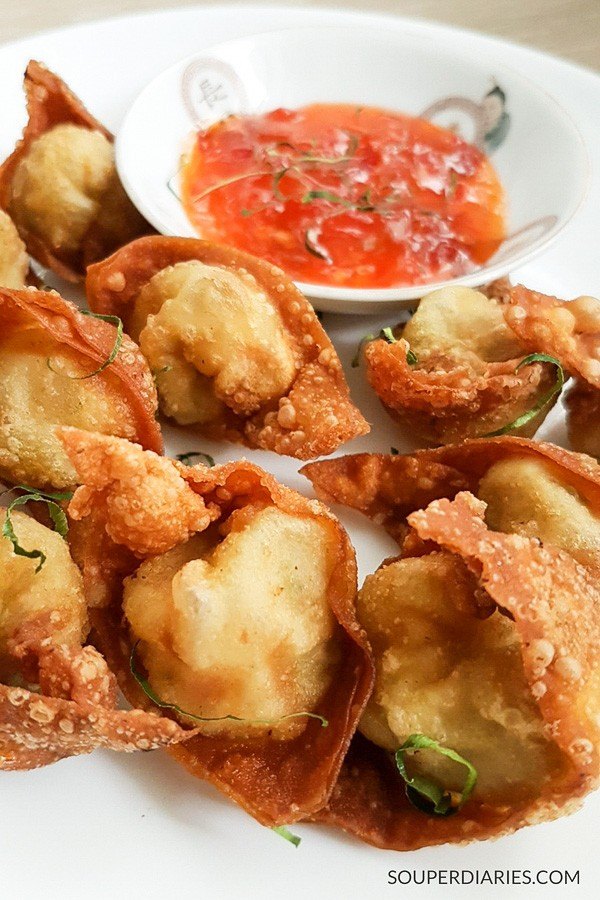 I love food sampling. Don't you? I was at a seafood store one Sunday with my family and we tried some fried wontons. Made with kaffir lime leaves as one of the ingredients, they were perfumed with the wonderful fragrance of the leaves, which was a nice change from the fried wontons that I usually make. And that's how I got inspired to make this fried wonton recipe.
It's not hard to make homemade fried wontons but wrapping them does require some preparation. Be sure to free up at least an hour of your time. Getting your family members to help you wrap the wontons will certainly speed up the process. Your efforts will be well worth it. I can assure you that they will disappear quickly as eating one is never enough!
I usually use whole kaffir lime leaves in my cooking but for this recipe, you'll need to grind them finely. Use a mortar and pestle (preferred method) or an electric grinder.
You may be interested to check out this short video by Saveur on how to julienne kaffir lime leaves. I used the julienned lime leaves as garnishing for the fried wontons.
Cooking Notes
When it comes to making wontons, you can get creative and adjust the filling to your liking. If you're a vegan, use a vegetable filling instead of meat.
I highly recommend using thicker wonton wrappers when making fried wontons instead of thin wonton wrappers. Those are better suited for wonton soup. The thicker wonton wrappers will yield crunchier fried wontons.
Are you planning a party or expecting company? Make the wontons ahead of time and keep them refrigerated. Fry them up just when your guests are about to arrive. Or, if you intend to save them for another day to cook, place the wrapped wontons on a parchment lined plate; making sure there's space in between each wonton. Then put the wontons in the freezer till they're semi frozen before transferring them to a ziplock bag.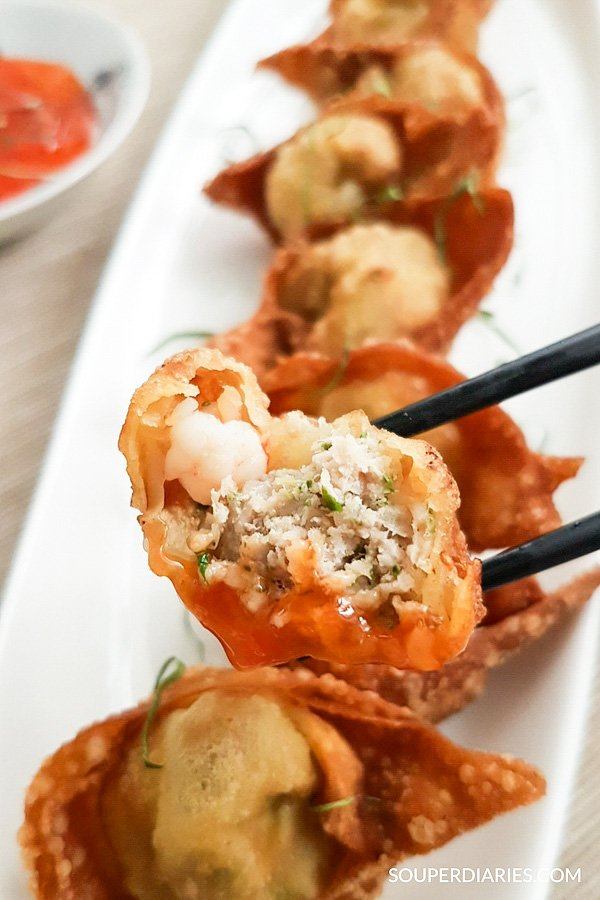 After frying, the wrapped wontons are transformed into crispy parcels of succulent textures and flavors. Serve them hot with some Thai sweet chili sauce. Make some today and share them with your friends and neighbours!
If you try this kaffir lime leaves fried wonton recipe, I'd love to know how it turns out. Leave a comment in the comment box below or hashtag #souperdiaries in Instagram or @souperdiaries in Twitter.
Other wonton recipes you may like:
Kaffir Lime Leaves Fried Wonton
Fried wontons with a savory shrimp and pork filling. The addition of kaffir lime leaves perfumes the crispy parcels with a wonderful aroma and flavor.
Serves:
30 big wontons or 50 small ones
Ingredients
250 g shrimp - (about 150 g after removing shell)
200 g minced pork (with some fat)
8 kaffir lime leaves
10 g ginger - peeled and minced
Seasoning
1½ tsp fish sauce
1 tsp minced coriander
½ tsp sesame oil
3 dashes white pepper
1 packet wonton wrappers
1 small bowl of water (for sealing)
Oil (for deep frying)
Garnish (optional)
2 kaffir lime leaves - thinly sliced
Instructions
Rinse, shell and devein shrimp. Cut into 1 cm pieces.
Rinse kaffir lime leaves and pat dry. Use a small sharp knife to remove the spine from each leaf. Grind 8 of the lime leaves using either a mortar and pestle or electric grinder. Roll the remaining leaves and slice finely.
Prepare wonton filling. In a bowl, add shrimp, minced pork, ginger, kaffir lime leaves and all ingredients for seasoning. Mix well until it forms a paste.
Refer to this post to learn how to wrap wontons. I used the triangular ingot wonton shape but you can choose any shape that you like.
Heat up oil for deep-frying. Cook the wonton in batches until golden brown. Remove with a slotted spoon and place on a wire rack or paper towel to drain excess oil.
Slice 2 kaffir lime leaves finely. Serve fried wontons with your favorite Thai sweet chili sauce and garnish with the sliced kaffir lime leaves.
Cooking Notes
1. You can add more kaffir lime leaves into the wontons if you want a stronger flavor of the lime leaves.