Is it just me or is the weather getting hotter and hotter in Singapore? It's making me crave for cold desserts and I just have to make this peach gum and pear soup. It's so refreshing to have a bowl of chilled peach gum dessert in this detestable weather. Especially after a long day of work. Ah.. sweet bliss.
I first heard about peach gum from a reader in my older post on red dates longan tea (written in 2017) and have been wanting to try it for the longest time now. After procrastinating for almost two years (I know right), I finally trooped over to my neighbourhood Chinese medical hall last weekend and got my very first bottle of peach gum.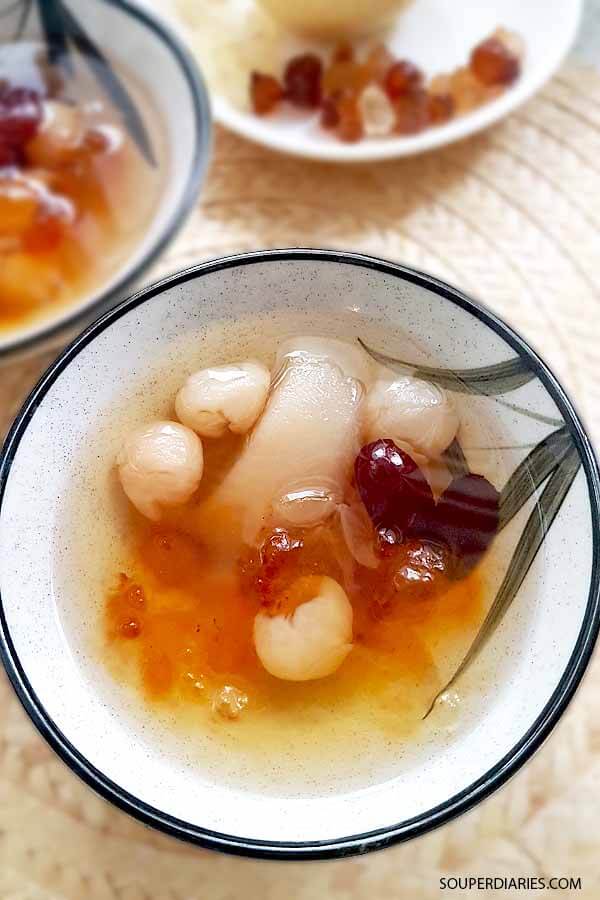 Alright. Make that two bottles of peach gum. Peach gum come in different sizes and I bought both large and smaller ones. Having tried out both, I would recommend that you get the bigger ones if you do come across them. It will be easier to pick out the itty-bitty dirt embedded inside and they provide a better mouthfeel.
Peach gum (桃胶) is the resin secreted from the bark of peach trees. The sap eventually solidifies into amber-like crystals. It is hard in its natural state. Therefore, you'll need to rejuvenate the hardened sap by soaking them in water before cooking.
Peach gum is usually cooked in Chinese desserts. Interestingly, I read that it can also be added into savory soups, noodles and dishes such as braised pork belly. Hmm.. I think I'll stick to the sweet peach gum dessert for now. Thank you very much.
In TCM, peach gum is said to benefit the spleen and stomach, tonify and promote blood circulation, replenishes qi and alleviate pain. Peach gum sweet soup is a popular beauty tonic as it improves elasticity and adds moisture to the skin. Apparently, it is a collagen boosting food with anti-aging properties but at a fraction of the cost of bird's nest (the auntie in me rejoiced!). However what I love most about peach gum is its intriguing gelatinous texture (imagine a denser and slightly chewy version of jelly).
Another natural skin food you can add into this dessert is the snow lotus seed (雪莲子). It is quite similar in texture to the peach gum and also needs to be soaked albeit a shorter time.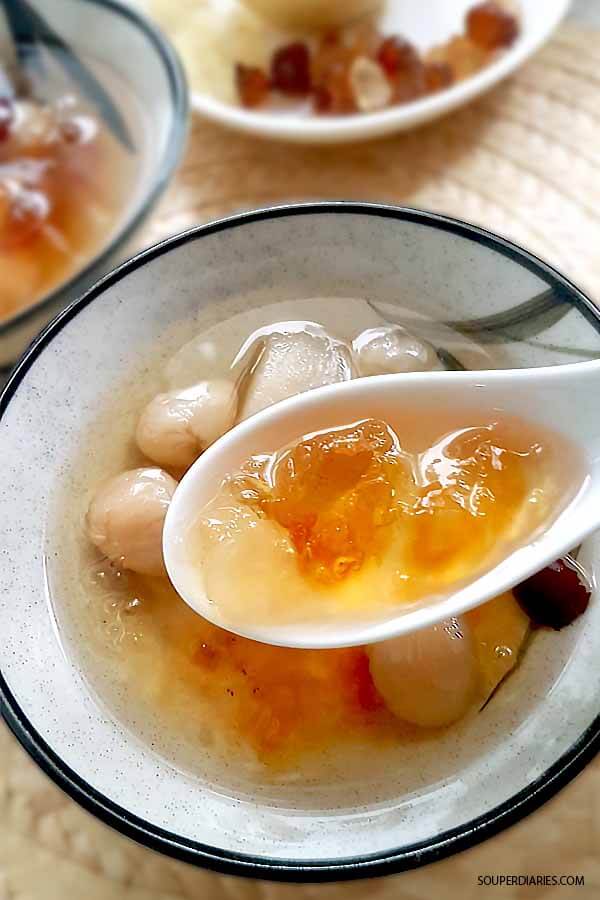 This peach gum and pear dessert soup tastes best when chilled. It's bound to be a wonderful treat for your family and loved ones.
Once you've tried a peach gum dessert, you'll want to make it again and again. Although the preparation may take some time, it is really easy to cook this. There are many variations of a peach gum dessert. Experiment with other ingredients of your preference.
Have a sweet tooth? Try out my other Chinese desserts here.

Peach Gum and Pear Dessert
Refreshing and nutritious peach gum and pear dessert. A delicious beauty tonic.
Ingredients
40 g peach gum - soaked overnight (for at least 12 hours)
20 g snow lotus seeds (optional) - soaked for 2 to 3 hours
6 dried red dates - rinsed
30 g dried longan - rinsed
1 pear - skin removed and cut into wedges
6 cups water
Rock sugar
Instructions
Remove dirt and impurities from soaked peach gum. Use a sieve to rinse and set aside.
Bring water to a boil. Add snow lotus seeds, dried red dates, dried longan and pear. Simmer for 30 minutes. Add peach gum and simmer for another 15 minutes. Add rock sugar to taste.
Serve warm or chilled.
Cooking Notes
1. The prep time in this recipe does not include the soaking time.
2. If not using snow lotus seeds, you can increase the amount of peach gum to 50g.