One of my favorite food from Hong Kong is the Cantonese wonton noodle soup. I simply love the delicate shrimp wontons topped with thin springy noodles in a hot tasty broth. There's nothing like a steaming bowl of wonton noodle soup on a cold, rainy day. Or any day in fact.
Dried flounder (also known as dried sole) works like magic when making soup stocks. It is an essential ingredient for the broth in a Cantonese wonton noodle soup. I used the dried sole powder not only in the soup stock but also for the wontons.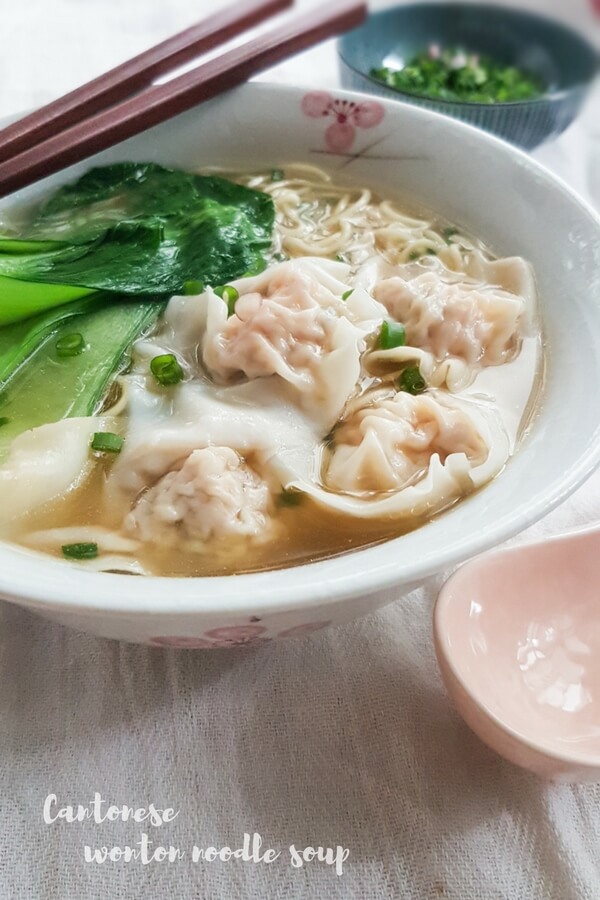 Recently, it rained so much in Singapore and I found myself holed up in my tiny kitchen wrapping wontons. I spent a quiet afternoon of wrapping wontons while listening to some music with the sound of the rain in the background. It was peaceful but nevertheless enjoyable.
The Broth
In a Cantonese style wonton noodle soup, the broth is made from pork bones, dried flounder and shrimp shells. It has a clean appearance with a rich flavor. Homemade broth is always the best for wonton soup. I find it much better than store bought ones as the ingredients are all natural with no additives added. Although it takes more effort to prepare homemade broth, most of the time, it is passive cooking. But if you don't have time to make one from scratch, I can totally understand. Sometimes, I use store bought broth too.
Here are some examples of the type of broth you can use for a wonton soup:
Store bought stock: I find that regular store bought stock to be too salty so when I use them, I always dilute with some water.
Chicken bones + dried flounder powder
Pork bones + chicken bones
Pork bones + chicken bones + jinhua ham
Pork bones + 1 whole dried flounder + dried shrimps + shrimp shells
Related post: Chinese chicken stock
How to Make Shrimp Crunchy
I've always wondered how do cooks make shrimp crunchy in dim sum dishes such as har gao. The shrimps inside are so springy that they seem to bounce in your mouth. I wanted that kind of texture for the shrimp in this Cantonese wonton noodle soup.
The magic ingredient? Baking soda. You can read more in detail from Rasa Malaysia's post here.
I wanted to use the shrimp as soon as possible and not have to marinate overnight so I did some experiments. Note that you'll need to start off with fresh shrimp. Nothing will rescue shrimp that have been left in the fridge for days.
Baking soda + cold water: Soaking shrimp in baking soda-spiked water for 30 minutes was sufficient to yield moderately crunchy shrimp.
Baking soda + salt + cold water: This yielded better results compared to using just baking soda alone. The shrimp had a firmer texture. However, be sure to gently rinse away all traces of the salt and baking soda. Otherwise, you may find that the wonton filling will be too salty after you season according to the recipe.
Dried Flounder
One of the 'secret weapon' to a delicious soup stock is dried sole (dried flounder). Also known as 大地鱼 or bian yu, it lends a smokey flavor and instant umami to the soup that you add them to. 
I seasoned the minced pork with a little dried flounder powder. You just need to add a little bit to the wonton filling. Go easy on it as you don't want the smokey flavor to overpower the rest of the seasonings. In Singapore, you can find dried flounder at Chinese dried goods stalls in the wet market and some supermarkets. These 3 pieces that you see in the picture below cost me S$5 from the wet market (supermarket ones cost lesser). Not exactly cheap but well worth it.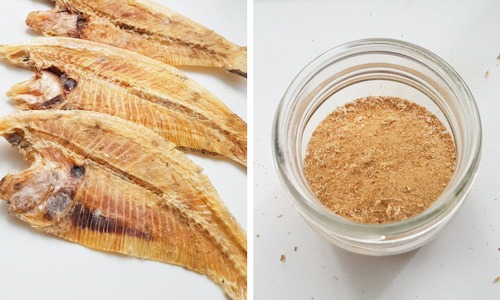 To prepare the dried flounder for the wonton and broth, refer to the cooking notes in the recipe at the bottom. Once you have grinded the flounder to powder, it can be kept in an air-tight jar for about 3 months.
I listed dried flounder powder as optional in the recipe as this ingredient is not as common compared with the other ingredients. But if you can find it where you live, do give it a try.
The Filling
Pork and fresh shrimps are the main ingredients for the wonton filling. Make sure that the pork has enough fat otherwise the wonton will be very dry and turn into a hard lump. Generally, the wontons are seasoned with some light soy sauce, sesame oil and ginger.
If you want to do a seasoning test, wrap one wonton and boil for about 3 to 4 minutes till fully cooked. Add more light soy sauce, salt, sugar, etc if necessary. In case you're wondering, sugar helps to balance the taste of the other seasonings.
Related Post: Shrimp Pork Wonton Recipe
Assembling Cantonese Wonton Noodle Soup
The wontons are cooked first and then placed in a bowl filled with a tiny bit of seasoning. This is followed by hot broth poured over the wontons to keep them warm and moist. The wonton noodles should be cooked last and placed on top of the wontons so that they don't sit too long in the hot broth and turn soggy. I don't know about you but I like my wonton noodles to have some leafy greens so I added some blanched baby bok choy on top.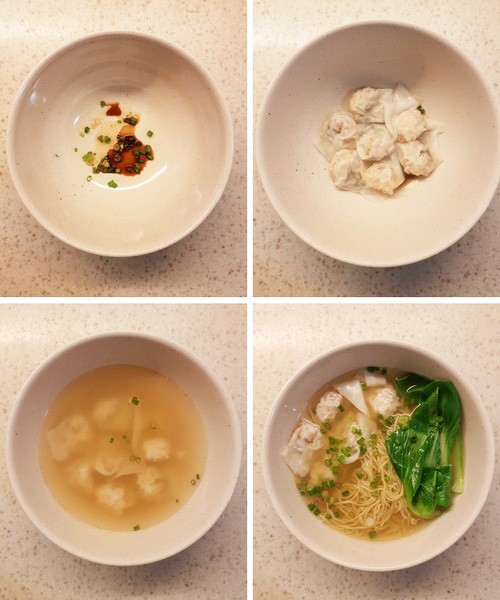 This Cantonese wonton noodle soup is perfect as a light meal. You could also cook this without the noodles and make it as an appetizer. This recipe makes 18-25 wontons, enough for four as an appetizer, or three for lunch. The number of wontons will depend on the shape that you choose and amount of filling inside. With smaller wontons, you can make the skin stick out more and the texture of the soft skin is really nice. For bigger wontons, you get to enjoy more of the filling.
Tip: Try not to stuff too much filling into the wontons or it will be more difficult to wrap and the skin will tear easily. Remember to push out any air pockets when wrapping. Otherwise, the internal pressure will cause the wonton skin to burst during cooking.
Related post: How to wrap wontons in different shapes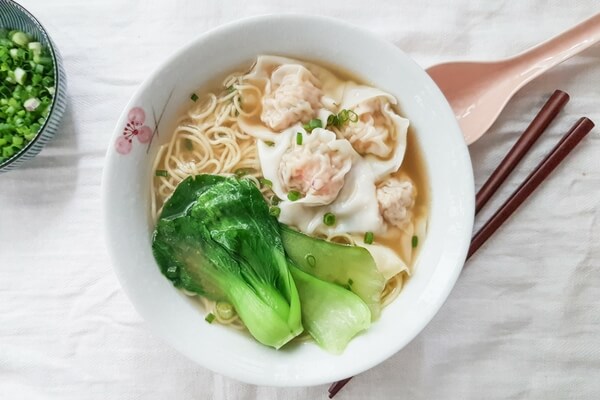 If you can't finish the wontons, the surplus can be frozen for a quick meal the next time. That's what I love about frozen wontons. If you have them and some pre-made broth and wonton noodles, this wonton noodle soup can be prepared in under 15 minutes. So easy and convenient for this busy mama. 🙂
Enjoy and I hope you'll like this recipe as much as I do.
Related post: Dry wonton noodles with char siu

Cantonese Wonton Noodle Soup
Hong Kong style shrimp wonton noodle soup. Crunchy shrimp wontons and springy noodles in a broth infused with dried flounder.
Ingredients
Wonton filling
80 g minced pork (with fat)
150 g shrimp (weight is after peeling)
2 tbsp chopped spring onions
1 tsp finely minced ginger
1 small egg yolk
¾ tsp dried flounder powder (dried sole powder) - optional
1 tsp corn starch
½ tbsp light soy sauce
½ tbsp sesame oil
Sugar to taste
Salt to taste
Pinch of pepper
Soup
3 cups homemade chicken stock
1 tsp dried sole powder - optional
¾ tsp light soy sauce
¼ tsp sesame oil
Some chopped spring onions
Others
1 packet of wonton wrappers (use the thinnest that you can find)
2 bundles of Hong Kong style noodles
Chopped spring onions for garnishing
Iced water
1 tsp baking soda
½ tsp salt
Useful tools
Instructions
Wonton
Place shrimp in a bowl and submerge with cold water. Add baking soda and salt and gently stir. Soak for 20 to 30 minutes. Drain and rinse well. Lay shrimp flat on a chopping board and pat dry thoroughly. Cut each shrimp into 3 - 4 pieces. No need to cut if you're using small shrimp.
Combine all the ingredients for wonton filling and mix well till it becomes a sticky and slightly wet paste.
Refer to this guide on how to wrap wontons.
Wonton Noodle Soup
Combine chicken stock and dried flounder powder in a pot. Bring to a boil and simmer for 10 minutes. In a separate large pan or wok, bring water to a boil.
While waiting for the water to boil, prepare 2 large bowls. In each bowl, add ¼ tsp sesame oil, ¾ tsp light soy sauce and some spring onions. Set aside.
When the water boils, drop 10 to 12 wontons carefully into the water. Gently nudge them after you put them in to prevent them from sticking to the bottom of the pot. Cook for 3 - 4 minutes (depending on size) till they start to float up. Take one out and cut open to check that they're cooked through. Once fully cooked, remove the rest immediately with spider/sieve spoon and divide between the serving bowls with seasoning. Ladle hot chicken stock into the bowls immediately to keep wontons warm and prevent sticking.
In the pan, blanch veggies for about a minute. Remove and set aside. Bring water back to a rapid boil. Loosen and cook 1 bundle of noodles for about 15 seconds. Remove and transfer to an ice bath. Then briefly cook again for another 5 seconds. Remove and place on top of the wontons. Repeat the process for the other bundle of noodle.
Arrange veggies on the side of the noodles and serve immediately.
Cooking Notes
1. To prepare dried flounder powder, toast them on a pan or grill them in the oven (11 to 13 minutes depending on size) till they are fragrant. Then pulverize them to a powder with a blender or food processor. Unused dried flounder can be kept refrigerated for about 3 months.