Bitter melon soup has cooling and anti-inflammatory effects and helps the body to detox and lower cholesterol. It also helps to relieve heat symptoms during the hot seasons. If you often stay up late or like to eat fried and spicy food, bitter melon soup is a suitable soup to drink.
Bitter melon pineapple soup may not sound very appetizing but I personally find this a very soothing and delicious soup.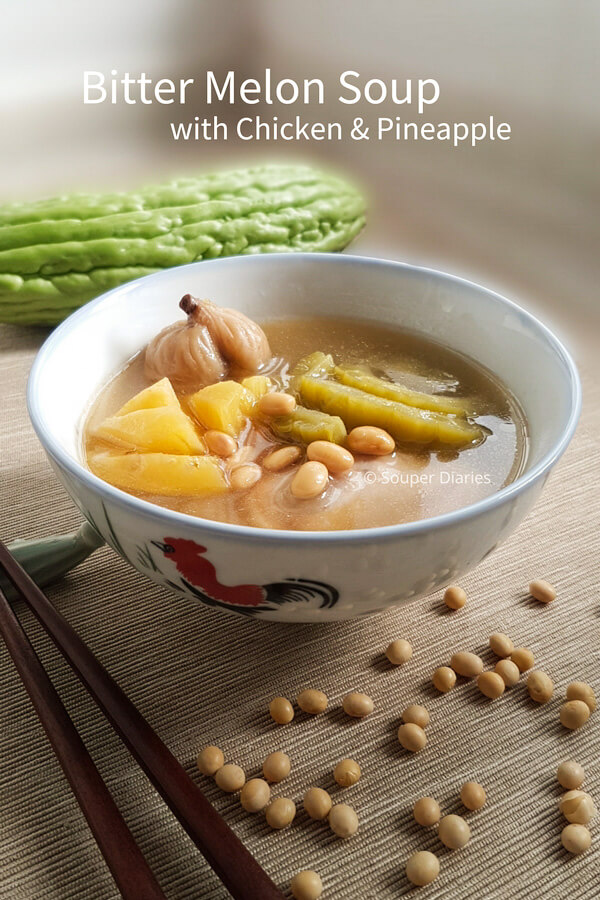 Bitter Melon
In Traditional Chinese Medicine, bitter melon is known to have various therapeutic effects. Besides helping to reduce and relieve internal body heat, it also has the following health benefits:
Reduces symptoms of diabetes
Purifies blood
Promotes good vision
Lowers cholesterol
Helps control and reduce the symptoms of diabetes (read more about bitter melon and diabetes here)
Related recipe: Steamed stuffed bitter melon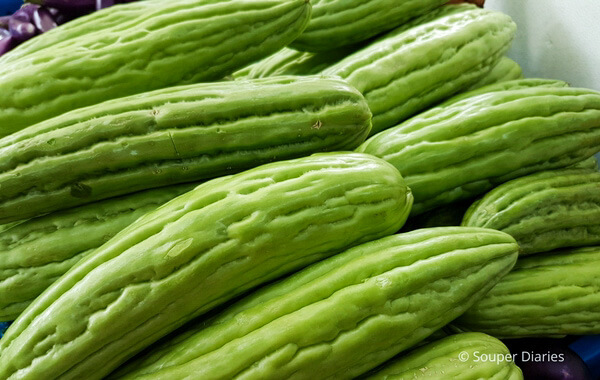 Thai honey pineapple
As bitter melon tastes bitter, I added some pineapple to balance the bitterness. I used Thai honey pineapple for this soup but you may use any type of pineapple that you like. Get the ready-cut ones so that it is easier to gauge the sweetness of the pineapple. I usually get the darker colored pineapple chunks as they are sweeter.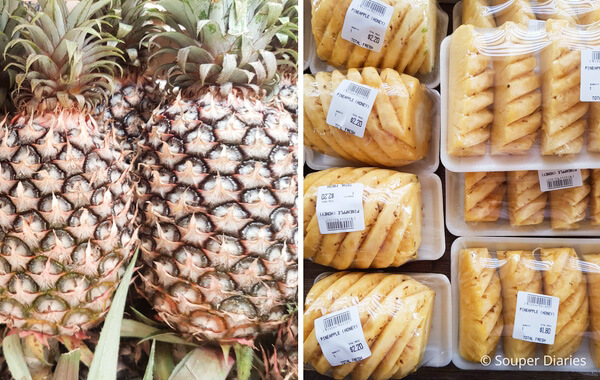 The first time I made this bitter melon soup with pineapple, I added the pineapple right at the beginning together with the rest of the ingredients. The soup was tasty but I didn't like how the pineapple became tasteless and flat. So the second time round, I added the pineapple in the last 10 minutes of cooking and the soup turned out great! I could still taste the bitter melon but its bitterness was toned down by the sweetness of the pineapple. You can say it was a bittersweet soup. 🙂
Soybean
Soybeans is neutral in nature and sweetens the soup naturally. I like adding them whenever I cook a yong tau foo soup and they are also suitable for this soup. Soybeans are highly nutritious and the nutrients can be easily absorbed. They are high in protein, fiber, vitamins and minerals.
Soybeans is not only beneficial for the body but for the skin too. It encourages collagen production and helps to keep the skin firm. Soy also has the ability to moisturize the skin and keeps it healthy. Note that if you have gout, leave out the soybeans for this recipe.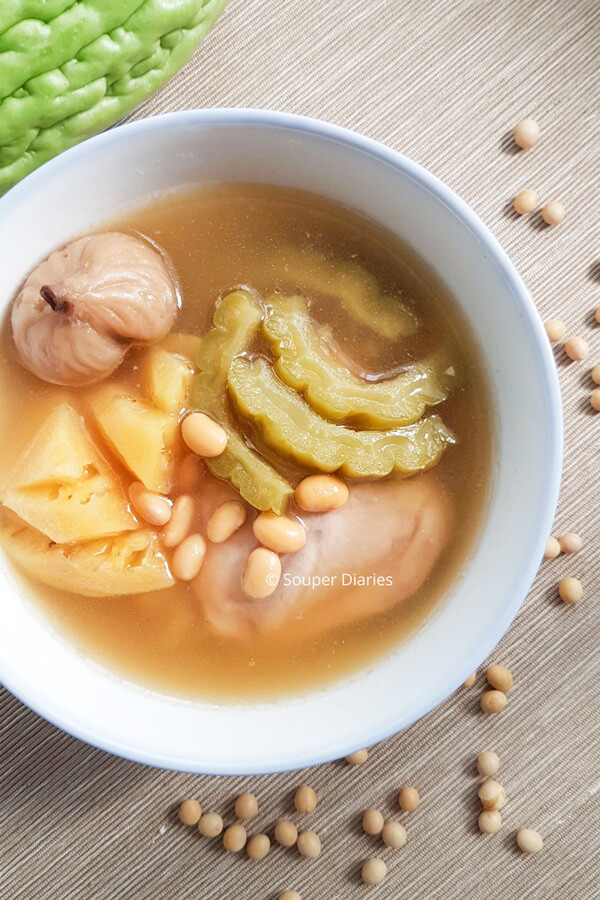 As bitter melon soup is rather 'cooling', it is not recommended for those with diarrhea, a weak constitution and pregnant women.
Let me know if you try this Chinese bitter melon soup recipe. Leave a comment and hashtag #souperdiaries on your social media. Thanks for reading and happy souping!
If you like fruity soups, try these recipes too:
Pear Soup with Pork Ribs
Apple Pork Ribs Soup
Green Papaya Fish Soup

Bitter Melon Soup with Chicken and Pineapple
Recipe type:
Slow Simmer Soup
Ingredients
450 g chicken (use thighs or drumstick) - skin removed
1 bitter melon (300 g)
60 g soya beans - soaked for 1 hour and discard soaking water
4 dried figs (optional) - *see note
250 g pineapple - cut into bite-sized slices
6 cups water
Instructions
Wash the bitter melon and cut into half lengthwise. Remove the white spongy part and seeds from the bitter gourd. Cut into slices and set aside.
Blanch chicken in hot water for 3 minutes. Remove and add into a soup pot together with soya beans, dried figs and water. Bring to a boil. Once it is boiling, lower heat and simmer for about 40 minutes.
Add bitter gourd and simmer for 20 minutes. In the last 10 minutes, add the pineapple chunks.
Serve immediately.
Cooking Notes
I used Turkish dried figs which are quite big. You may also use the smaller variety from China.